Axios Generate
March 13, 2020
Good morning. Today's Smart Brevity count: 1,230 words, 4.6 minutes.
This week on "Axios on HBO": Rep. James Clyburn, the Democratic "kingmaker" largely credited for Biden's surge, warns the U.S. "could very well go the way of Germany in the 1930s" (clip); DNC chair Tom Perez talks diversity, coronavirus and the future of the Democratic party; plus much more. Tune in Sunday 6 pm ET/PT on all HBO platforms. 
And it's Friday the 13th, so Stevie Wonder and Prince have today's appropriately titled (and brilliantly performed) intro tune...
1 big thing: Coronavirus spans the energy universe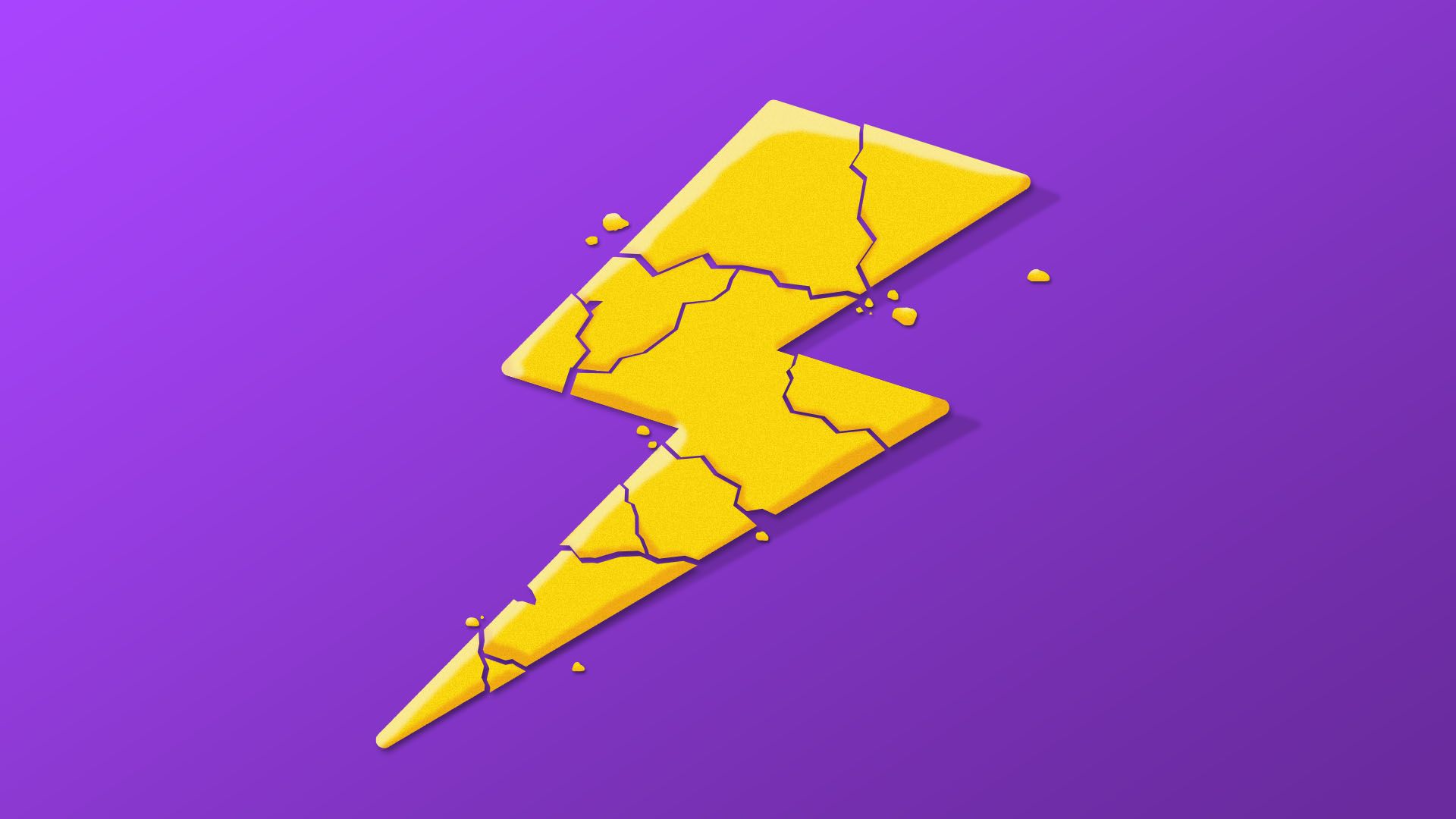 The effects of the novel coronavirus on renewable energy, electric vehicles and oil are all coming into sharper focus in recent days.
Driving the news: The research firm BloombergNEF said the addition of new solar power generating capacity could fall this year for the first time since at least the late 1980s. The biggest upheaval comes in China.
Why it matters: Their report yesterday provides a window onto the breadth of the virus' effects on a suite of energy technologies, not just use of oil, though we'll get to that in a moment, too.
BloombergNEF finds...
For wind, researchers see "considerable downside risk" to their prior forecasts for new wind installations of 75 gigawatts of new capacity, but still expect a record year. The amount of the drop will depend on how fast Chinese suppliers resume full production and the duration of construction delays in the U.S.
Another problem for the wind industry is that canceled events and company travel bans are "threatening to weaken transaction volumes" this year.
More broadly, they say the "distracted policymaker effects" of coronavirus could affect renewables and battery storage policies as legislative bodies shut down or work on emergency response.
For electric vehicles, they're not immune to the wider decline in car sales stemming from coronavirus, the report notes. In China, the largest market, they expect sales to be flat, but add that the numbers could fall if coronavirus recovery drags on.
In the U.S., the report provisionally sees flat EV sales this year, but adds, "this could be revised down." It cites other headwinds including uncertainty over fuel economy rules, expiring tax credits for some automakers' vehicles, and low oil prices.
But, but, but: There are also hopeful signs in the analysis. For instance, researchers see "minimal" effect on the offshore wind sector outside of China.
And BloombergNEF expects EV sales to "weather the storm better than sales of internal combustion vehicles."
It sees a 50% rise in Europe as automakers try to meet carbon emissions standards, and expect the Chinese government to announce a major stimulus program for the auto sector.
Go deeper: Coronavirus poses threat to China's electric vehicle goals (Financial Times)
Editor's note: This story has been updated to include information about estimated U.S. electric vehicle sales.
2. The big picture: Coronavirus and oil demand
Recent days are also bringing new estimates of the effects of COVID-19 on oil demand as the virus prevents travel and stymies other economic activity.
A number of forecasts now show global oil consumption dropping this year for the first time since the financial crisis over a decade ago.
What they're saying: Here's how analysts are sizing up the effects on demand in a world that uses roughly 99 million barrels of oil per day. The firm Rystad Energy, in a note yesterday, says it now projects global oil demand to fall by 600,000 barrels per day year-over-year compared to 2019 levels.
The firm sees jet fuel demand dropping 11% this year and road fuel demand staying flat instead of growing.
Goldman Sachs analysts, in a note last night, now see global oil demand falling 310,000 barrels per day in 2020 compared to last year.
S&P Global Platts Analytics has a "base case" that still sees demand growth this year but also modeled a "global epidemic" scenario that shows a reduction of 975,000 barrels a day compared to last year.
On Monday, the International Energy Agency estimated a drop of 90,000 barrels per day, but in their "pessimistic" case it swells to 730,000.
Bonus: Two more things about coronavirus and energy
Electricity: "Electric companies could see up to 40% of their workforce out sick as the coronavirus continues to spread, according to a bulletin issued by the Edison Electric Institute (EEI), which represents investor-owned utilities." (Utility Dive)
Climate: "The International Maritime Organisation (IMO) has postponed a significant meeting on environmental protection a day after the World Health Organisation declared the coronavirus outbreak a pandemic." (Climate Home News)
3. Visualizing the new crude landscape
This week the Energy Information Administration issued a forecast that shows U.S. crude oil production dropping next year on an annual basis for the first time since 2016 to average 12.7 million barrels per day in 2021.
Why it matters: It comes alongside a wave of announcements that U.S. producers are scaling back operations and cutting spending thanks to the collapse in oil prices.
Together, the findings help show how the price declines and coronavirus-induced demand loss are affecting the industry.
Where it stands: Goldman Sachs analysts looked at 10 announcements from shale producers that are revising their earlier capital spending plans for 2020 downward. They find that their average announced capital spending cuts will be 30%, totaling over $5 billion in reductions compared to prior plans.
Threat level: "Emergency cash-conservation measures taken by Occidental Petroleum and other energy companies may not be enough to stave off credit-rating downgrades, S&P Global has warned, saying it is prepared to take rapid action as it takes stock of the damage of coronavirus and the oil-price war between Saudi Arabia and Russia," the Financial Times reports.
4. The conflicting effects of Trump's power plant rules
Axios' Amy Harder reports...EPA regulations to control power plants' carbon emissions cut C02 but preserve more coal-fired power generation than having no rules in place, a recent U.S. Energy Information Administration analysis shows.
Why it matters: It's believed to be the first such EIA analysis of the Trump administration rules finalized last June, putting meat on the bones of one of President Trump's biggest moves to scale back Obama-era policies.
Where it stands: The conclusion, tucked away near the end of an EIA analysis released last week, found that the rule would preserve more existing coal electricity, but drop coal consumption due to increased efficiency at power plants. That increased efficiency would still result in a (slight) drop in C02 emissions.
The big picture: The rule would slow (slightly) America's overall decline in coal electricity, but it wouldn't revive coal like Trump has promised.
By the numbers: The timelines range between 2025 and 2050 (light-years away compared to the minute-by-minute coronavirus crisis…)
Nine gigawatts less coal-fired electric capacity is closed by 2025 under the rule compared to without the rule.
Coal consumption averages 5% more than without the rule, due to greater efficiency, between 2040 and 2050.
Therefore, power-plant carbon emissions are 5% more without the rule than with it in 2025, and 2% more in 2050.
The bottom line: The impact is, on an aggregate, minimal in any direction, but these details will likely matter as the regulation slogs its way through the court.
5. California issues a power mandate for our times
California regulators are requiring power companies to ensure their outreach around wildfires is offered in the languages spoken in their service areas.
Why it matters: The new California Public Utilities Commission rule is the convergence of two big dynamics: wildfire threats that are worsened in part from climate change, and the growing diversity of the nation's most populous state.
Driving the news: The rule requires companies to "conduct outreach to communities and the public before, during and after a wildfire in all languages 'prevalent' in their respective service territories."
"Prevalent" means spoken by at least 1,000 people, per the regulation adopted Thursday.
What they're saying: "Up until now, some of our neighbors who were most at risk from wildfires were least able to get timely and accurate information about them," said Martha Guzman Aceves, a member of the commission.
What's next: The CPUC says it may move to apply the requirements to communications around so-called Public Safety Power Shut-offs.
Those are the intentional blackouts that PG&E and others have imposed to cut risk of downed lines sparking wildfires in windy and dry conditions.
6. Ford touts Mustang Mach-E's winter performance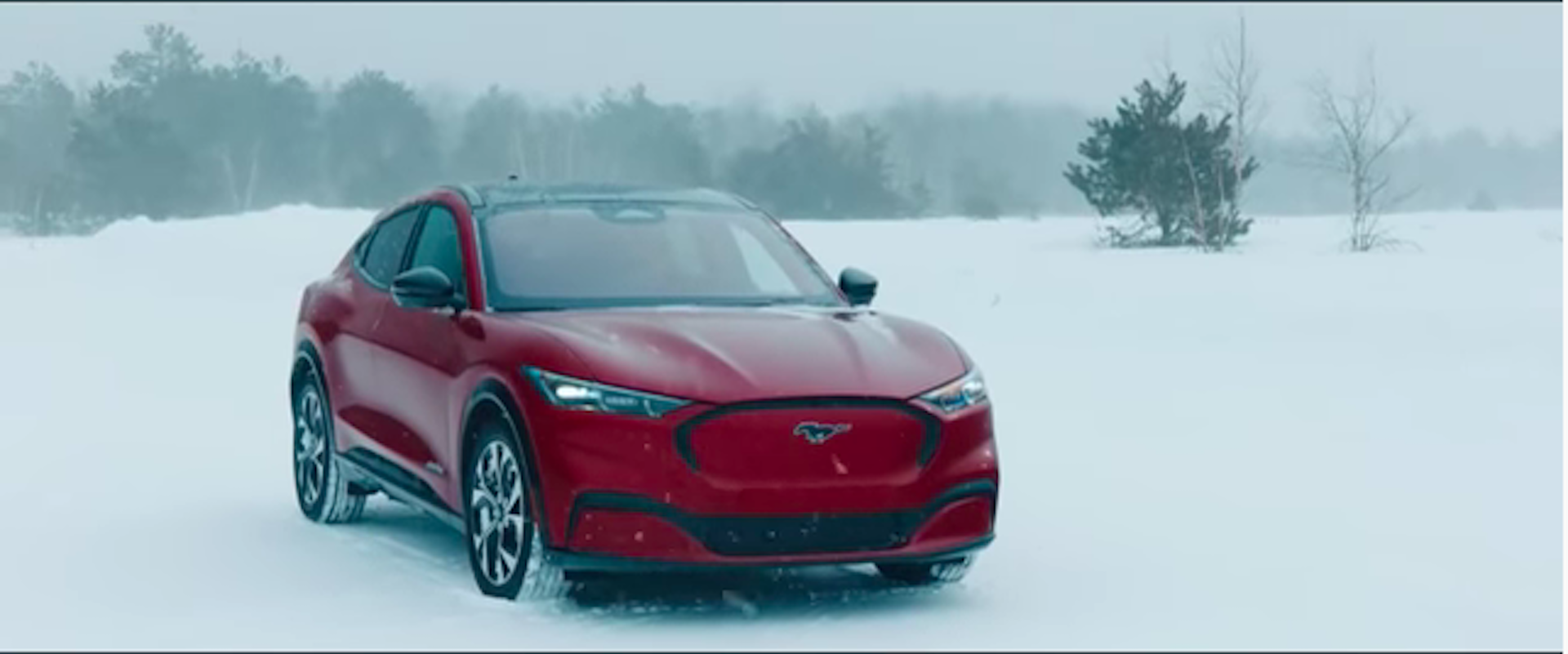 Ford is circulating a new video that touts the ability of the upcoming Mustang Mach-E electric vehicle to handle tough winter conditions.
Why it matters: Reassuring drivers that electric cars can meet all their needs just as well, or better, than their internal-combustion counterparts is important for pushing them into the mainstream.
"People don't think about electric vehicles in winter because there really isn't an electric vehicle out there that satisfies the needs of an all-wheel-drive SUV in winter, and the Mach-e for the first time really does satisfy those needs," Adam Deibler, Ford's all-wheel-drive calibration engineer for the car, says in the four-minute clip.
The video shows lots of footage of the Mach-E moving around at the Smithers Winter Test Center in Michigan.
What's next: Ford plans to begin deliveries of the car late this year. Axios' Joann Muller wrote about its high-profile unveiling late last year.
Go deeper: Watch the Ford Mustang Mach-E EV Crossover Drift Through the Snow (Motor Trend)