Axios Generate
June 19, 2019
Good morning! Today's Smart Brevity count: 1,063 words, or ~ 4 minute read.
June 15 marked 40 years since The Cure released today's intro tune (h/t to DJ @JakeRudh). So let's hide the tears in our eyes...
1 big thing: Trump's uphill battle to save coal
Wednesday will put a highlighter pen over 2 things: President Trump is swimming upstream in his bid to help coal, and the climate policy stakes of the 2020 election are huge.
Driving the news: EPA is expected to release final carbon emissions rules for coal-fired power plants that are weaker than a big Obama-era mandate (which never took effect).
Why it matters: Trump — as a candidate and then POTUS — has vowed to end what he calls former President Obama's "war on coal."
But the EPA rule, as I wrote about when the draft surfaced about 10 months ago, is unlikely to fundamentally alter coal's decline in U.S. electricity markets.
Meanwhile, the White House appears to have shelved discussions last year of directly propping up uneconomic coal plants with sweeping federal emergency powers.
The big picture: Coal is losing ground thanks to cheap natural gas, renewables, utilities seeing the writing on the wall, state policies, and federal regulations targeting other pollutants.
What to watch: How much the rule, if it survives court challenges, will slow the closure of uneconomic coal-fired units in the coming years. Nearly 14 gigawatts were retired in 2018, per Energy Department data.
Last year's draft focused on improving coal plant efficiency, abandoning the more aggressive — and contested — Obama rule that sought to use the Clean Air Act to drive more sweeping power system changes.
"The details of the plan and how it shakes out could set a precedent for how much a president can regulate greenhouse-gas emissions," the Wall Street Journal notes.
But, but, but: The EPA rule is also a 2020 story.
Democratic candidates are vowing climate policies that would go far beyond the Obama plan, which largely reinforced ongoing power market trends.
The contrast between the imminent EPA rule and the candidates' pledges is a stark reminder of the chasm between Trump and his major challengers, who are vowing to achieve steep U.S. emissions cuts from sectors across the economy.
What they're saying: Michelle Bloodworth, head of the lobbying group American Coalition for Clean Coal Electricity, tells Bloomberg that the rule could prevent some closures. "These improvements to coal plant competitiveness will help to increase the longevity of the existing fleet," she added.
Go deeper: Trump EPA finalizing rule to gut Obama coal plant regulations (Washington Examiner)
2. Chart of the day: the rooftop solar market
The balance of power in the growing residential solar market is shifting at Tesla's expense, a new report shows.
Driving the news: Wood Mackenzie Power & Renewables said Wednesday that Tesla fell to 3rd place among solar installers in the U.S. market in Q1.
It's the first time Tesla has slipped to 3rd since the consultancy began tracking in 2013, per their latest U.S. PV Leaderboard.
The report is the latest sign of Tesla's difficulty. Deployments fell 36% in Q1 compared to the prior quarter, Tesla noted in its financial report.
The big picture: In a separate report yesterday, WoodMac and an industry trade group said total U.S. solar installations (combined utility-scale, residential, commercial and more) in Q1 were 10% higher than the same period in 2018.
The 2.7 gigawatts of solar PV installed made it the best Q1 ever, though other quarters have seen bigger growth and it was a 37% drop from Q4, per WoodMac and the Solar Energy Industries Association.
Looking ahead, WoodMac forecasts 25% growth in 2019 compared to 2018.
3. A major oil sands pipeline moves ahead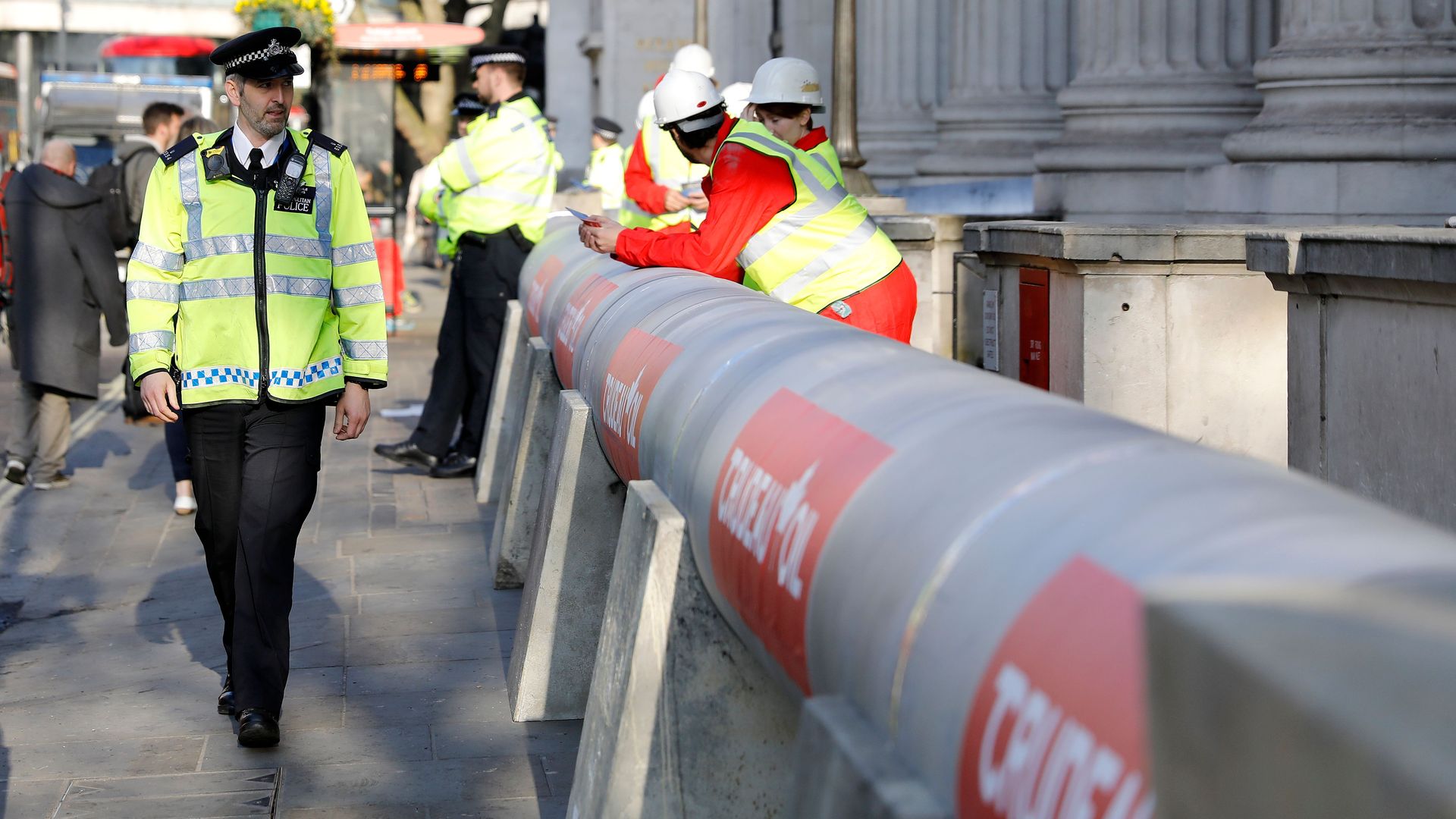 Canada's national government yesterday approved a major pipeline, called Trans Mountain, that would move hundreds of thousands of barrels daily from Alberta to the country's West Coast.
Why it matters: If the expansion project is ultimately built, it will be a win for oil sands producers seeking new avenues to reach global markets and fetch higher prices.
But, but, but: It faces heavy opposition from environmentalists and some indigenous groups, so look for them to launch new protests and other efforts. Yesterday's action is no guarantee it will be completed, says Gavin MacFarlane, a VP with Moody's Investors Service.
"[T]he project still faces significant political, regulatory, and judicial challenges, and ultimately we see a tremendous amount of execution risk up until the oil starts flowing," he said in comments circulated to reporters.
The intrigue: The multibillion-dollar project is politically tricky for Prime Minister Justin Trudeau, who is seeking to show his climate bona fides before Canadian elections while backing the project that aids the carbon-heavy oil sands sector.
Trudeau vowed yesterday that "every dollar the federal government earns from this project will be invested in Canada's clean energy transition."
His office estimates there could be $500 million annually in additional corporate tax revenues.
It would also include profit from sale of the pipeline, which the government bought from Kinder Morgan last year to advance the expansion plan.
The big picture: "After shipments from Burnaby to North American clients in British Columbia, Washington State and California are accounted for, there will be at least 500,000 barrels a day available for export to global markets," the Canadian government said.
Go deeper: Reaction to the approval of the Trans Mountain pipeline expansion (Vancouver Sun)
4. Catch up fast: renewables, Congress, Mozambique, Iraq
Renewables: Bloomberg, summarizing a big new analysis from the consultancy BloombergNEF, reports: "Nearly half the world's electricity will come from renewable energy by 2050 as costs of wind, solar and battery storage continue to plummet."
"That titanic shift over the next three decades will come as electricity demand increases 62% and investors pump $13.3 trillion into new projects," the story notes.
Congress: House Democrats unveiled legislation to revive and extend various tax incentives yesterday. It includes provisions on energy efficient buildings and a 1-year extension — until the end of 2020 — on the availability of tax credits for new wind projects.
The Ways and Means Committee will vote on the measure tomorrow, per the WSJ.
LNG: Per Reuters, "U.S. energy firm Anadarko Petroleum Corp on Tuesday gave the go-ahead for the construction of a $20 billion gas liquefaction and export terminal in Mozambique."
Why it matters: Their story notes it's the largest LNG project ever approved in Africa. More broadly, per S&P Global Platts, it's among several planned projects that give Mozambique "potential to be one of the world's top five LNG producers by the mid-2020s."
Of note: Anadarko's African assets will be sold to French oil major Total as part of Occidental Petroleum's expected takeover of Anadarko.
Attack in Iraq: Via the Associated Press, "A rocket hit an oil-drilling site in Iraq's southern Basra province early Wednesday, striking inside a compound housing energy giant Exxon Mobil and wounding three local workers, one seriously, Iraqi officials said."