Axios Generate
September 09, 2021
☕ Good morning. Today's Smart Brevity count is 1,265 words, 5 minutes.
📊 Data point of the day: $1.6 billion, the valuation of the renewable storage company Energy Vault in its newly announced SPAC deal. The WSJ has more.
🚨 Situational awareness: The Coast Guard and NOAA are investigating more than 2,000 reports of oil and chemical spills near the Louisiana coast linked to Hurricane Ida.
🎶 And happy birthday to the late great Otis Redding, who shares today's intro tune...
1 big thing: The case that power can get very clean very fast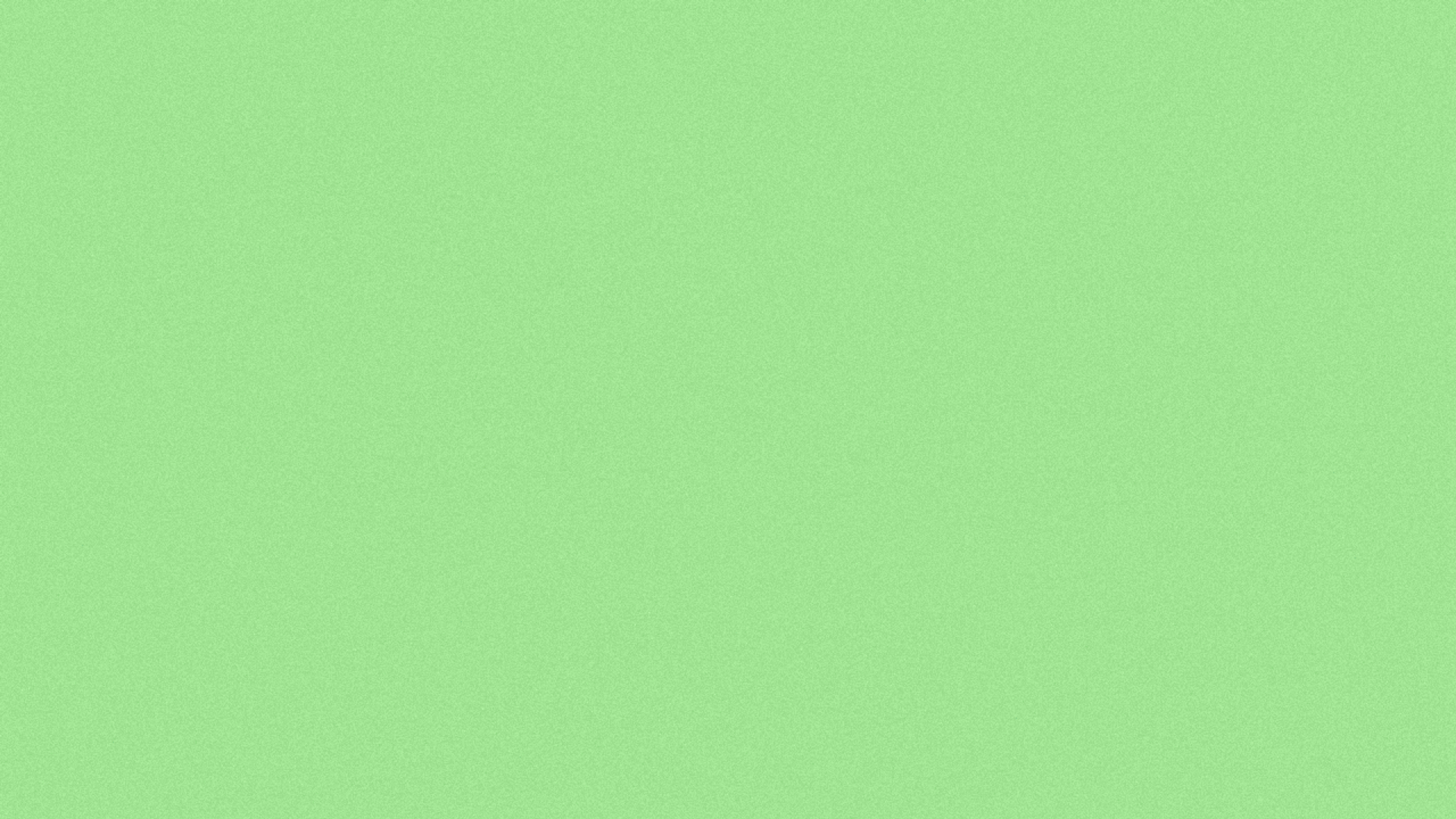 A pair of new analyses see feasible technological, policy and cost pathways to quickly decarbonizing U.S. electricity, but a lot needs to break right, Ben writes.
The big picture: The world is awash in shiny targets, and the U.S. is no exception, with the White House shooting for 100% carbon-free power by 2035. But how realistic they are is another story.
Driving the news, part 1: Enter an updated meta-analysis from the clean energy research firm Energy Innovation, which now explores 11 separate studies from academics, activists and think tanks.
They find agreement that hitting 80% carbon-free power by 2030 can be done with very modest price effects.
Several studies see annual net job increases in the 500,000 to 1 million range, and eight see 85,000 to 317,000 avoided premature deaths by 2050.
Driving the news, part 2: The Energy Department is out with detailed modeling of U.S. solar power's potential to grow from current levels of around 3%-4% of supply.
The topline finding: Solar, already growing fast, could provide up to 40% of supply by 2035 and 45% by 2050. That requires "aggressive cost reductions, supportive policies, and large-scale electrification," a summary notes.
Under their "reference" case of moderate cost reductions and existing policies, solar's at 18% in 2035 and 27% in 2050, though with faster renewable and storage cost reductions, it's 28% and 36%, respectively.
AP has a good look here.
Yes, but: Feasibility isn't destiny, for solar or power sector decarbonization overall.
The White House and Democratic leaders want big new spending and policies in Congress, including a "clean electricity payment program" of carrots and sticks to spur utilities to move faster.
Energy Secretary Jennifer Granholm, in comments alongside the DOE report, said it makes the case for renewables and climate measures brewing on Capitol Hill.
Overall, the very high clean power levels these analyses explore tend to rest on major new policies, investments and incentives that face large political hurdles.
Check out DOE's "scenarios definitions" (page 25 of the pdf). Huge solar deployments they envision assume a 95% cut in power sector emissions by 2035 achieved through some kind of policy-driven carbon constraint.
What they're saying: Policy is just one hurdle. DOE's analysis lays out many challenges, and outside analysts did too.
"For projects across multiple sectors, local siting restrictions and 'NIMBY'  objections to projects can pose serious delays and threats to projects under development," Wood Mackenzie analyst Michelle Davis said in a note.
2. First look: Tomorrow.io unveils flood risk index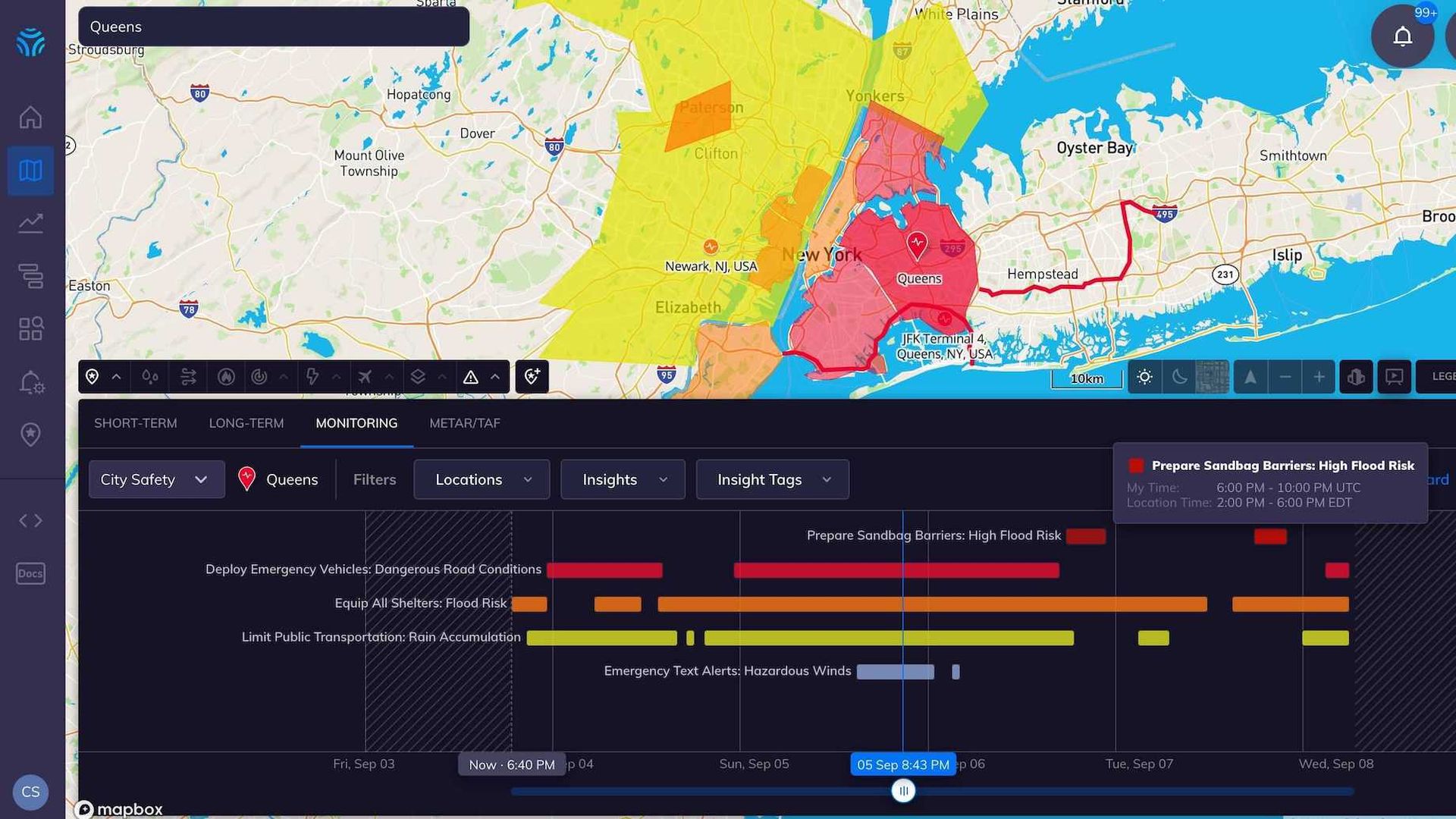 Tomorrow.io, a weather and climate intelligence provider, today unveiled a flood risk index for its data platform. Its goal is to help cities, companies and others better prepare for extreme precipitation events, Andrew writes.
Driving the news: The new forecasting product, first revealed by Axios, arrives after devastating flooding from Hurricane Ida, which left dozens dead in Pennsylvania, New Jersey and New York last week.
Details: According to the company, the flood risk index uses publicly accessible and in-house hydrologic models, along with historical data on runoff and streamflow, to identify the risk of river and urban flooding up to five days in advance.
The platform — think of it as a weather and climate version of a Bloomberg terminal — can alert designated personnel at a company or city-level if the risk of flooding exceeds certain criteria.
It can also recommend that individuals take particular, pre-programmed actions, such as closing floodgates to protect city infrastructure, preparing emergency alert messages and more.
Yes, but: Flood forecasting, particularly five days ahead of time, is extremely complex, involving variables ranging from instantaneous rainfall rates to data on precipitation to date.
There are also established, more focused companies in the field of flood monitoring and risk assessment, such as Fathom and the First Street Foundation.
Between the lines: In contrast, Tomorrow.io is a well-funded, brash upstart in the weather business, with a vision that now extends into space. It counts among its customers Uber, United, Delta, JetBlue and National Grid.
On Tuesday, Tomorrow.io announced it was selected as a subcontractor on a project aimed at helping the U.S. stay competitive in the field of atmospheric computer modeling, via a partnership between the National Oceanic and Atmospheric Administration (NOAA) and Raytheon.
3. Study: Most remaining fossil fuel reserves are "unburnable"
Vast quantities of oil, natural gas and coal need to stay in the ground in order for the world to have even a 50% chance of meeting the Paris Agreement's temperature target, a new study finds, Andrew writes.
Why it matters: The research paints a stark picture of a world in which fossil fuel production must begin declining either now or within the next few years.
Context: The study, published Wednesday in Nature, takes into account the Paris Agreement's goals and new scenarios of economic development and emissions.
It examines the economics of fossil fuel production in specific areas, as well as how much carbon is contained in the fuels coming from certain areas — Canada's oil sands, for example, are particularly carbon-intensive.
What they found: University College of London researchers found that overall, about 60% of oil and natural gas reserves and nearly 90% of coal reserves would be unburnable if the world is to meet the 1.5°C (2.7°F) temperature target.
All undeveloped Arctic oil and gas resources would need to remain untouched, the study states.
The scientists revealed an unequal burden facing certain countries, such as Canada, that would have to curtail their oil and gas production more steeply than other nations.
For example, 83% of Canada's oil reserves would not be extractable under a 1.5-degree scenario.
Between the lines: The study warns of "huge transition risks" for countries whose economies are heavily dependent on oil and gas production, such as Bahrain, Saudi Arabia and Kuwait.
4. Tom Steyer's next thing is "movement capitalism"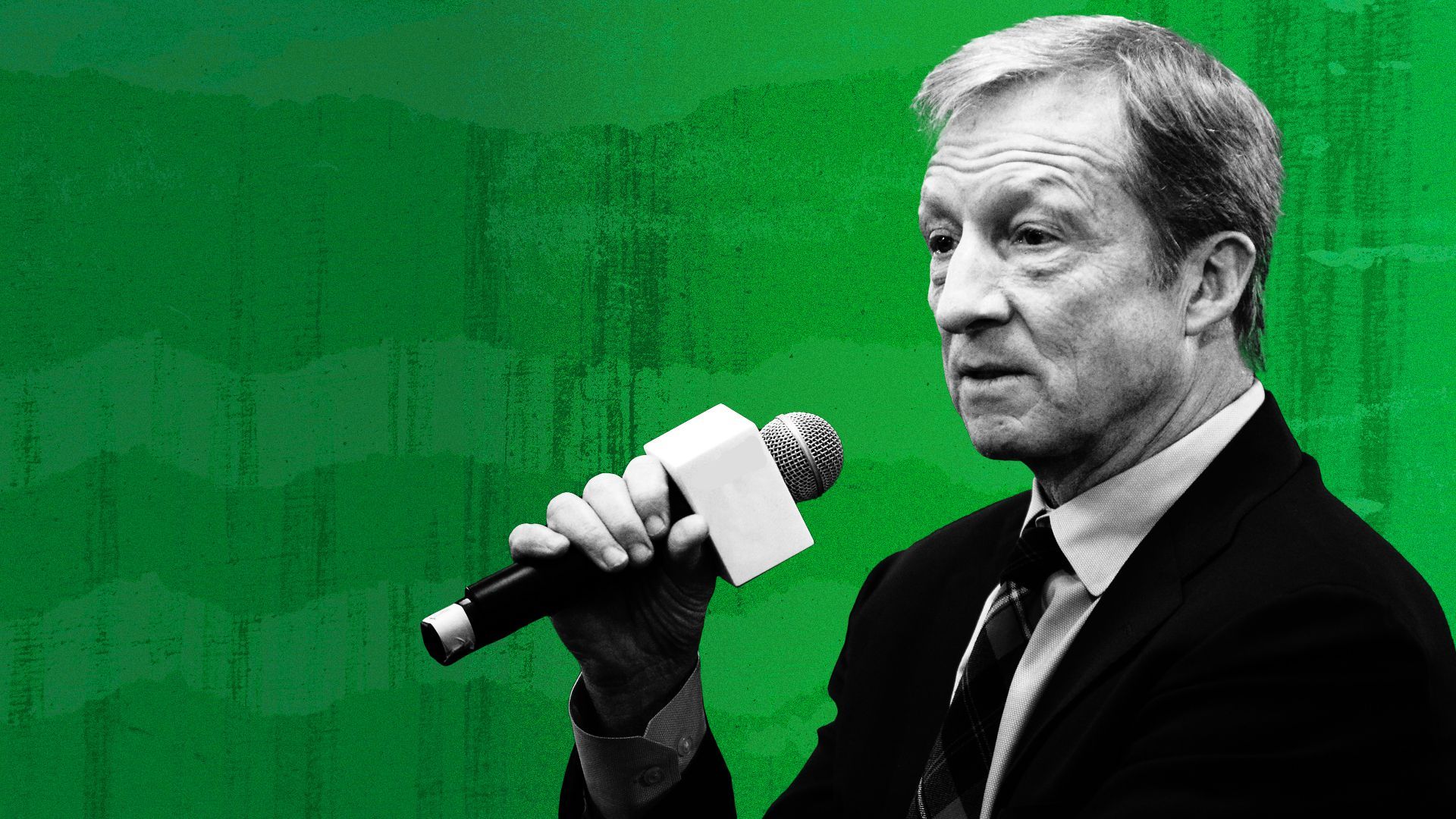 Billionaire activist and finance vet Tom Steyer just launched a new investment platform to stake clean tech while funneling a cut of the profits to advocacy groups, Ben writes.
Driving the news: Galvanize Climate Solutions, which brings together several longtime investment pros, plans to finance companies that can "produce and scale" emissions-cutting tech.
"Galvanize expects to have seed, venture, growth, private equity and project-oriented capabilities to support companies from inception through development hurdles and to commercialization," the announcement states.
It said it will practice "movement capitalism," with the fund and founders pledging to steer over 25% of the profits to "climate and climate justice organizations."
The details: Investors include Salesforce CEO Marc Benioff's Time Ventures and the Emerson Collective.
Steyer is launching Galvanize with Katie Hall, founder of Hall Capital Partners.
"Senior investment partners" include Veery Maxwell, a founder with the climate-focused VC firm Ajax Strategies.
What we don't know: The fund's size and first investors beyond Benioff and Emerson.
A Steyer spokesperson said Galvanize will "make investments across the spectrum in the billions" but didn't offer a timeline for investing that amount.
Go deeper: Steyer chatted with Axios' Dan Primack. Sign up here for Dan's Axios Pro Rata newsletter.
5. Catch up fast: Ida, carbon removal, fires, EVs
Offshore oil-and-gas: "Nearly four-fifths of U.S. oil and gas production in the Gulf of Mexico remains offline, more than 10 days after Hurricane Ida tore through Louisiana, as companies struggle to restart offshore platforms." (WSJ)
Carbon additions: Larger, more intense wildfires are overwhelming reforestation efforts in the West, which is leading to higher carbon emissions, Reuters reports.
Carbon removal: "The world's largest direct-air carbon dioxide capture and sequestration plant, developed by Climeworks and Carbfix, went online in Iceland on Wednesday." (Axios)
People on the move: "Ford Motor said on Tuesday that it had hired the senior executive who was leading Apple's secretive car project to help the automaker push further into electric vehicles." (NYT)
🙏 Thanks so much for reading and please tell your friends they can sign up for this newsletter for free. We'll see you tomorrow.