Happy Friday and welcome back to Generate. Today I'll be watching for signs that President Trump and Chinese President Xi Jinping talk about climate change at their meeting, but as I wrote yesterday, even a cameo at the talks is a long shot. But that's ok — there's plenty happening elsewhere. Let's dive in . . .
https://www.axios.com/newsletters/axios-generate-b5af58f5-fd22-4136-a4b6-3004d2198356.html?chunk=0#story0
Nuke industry to Trump: We're your base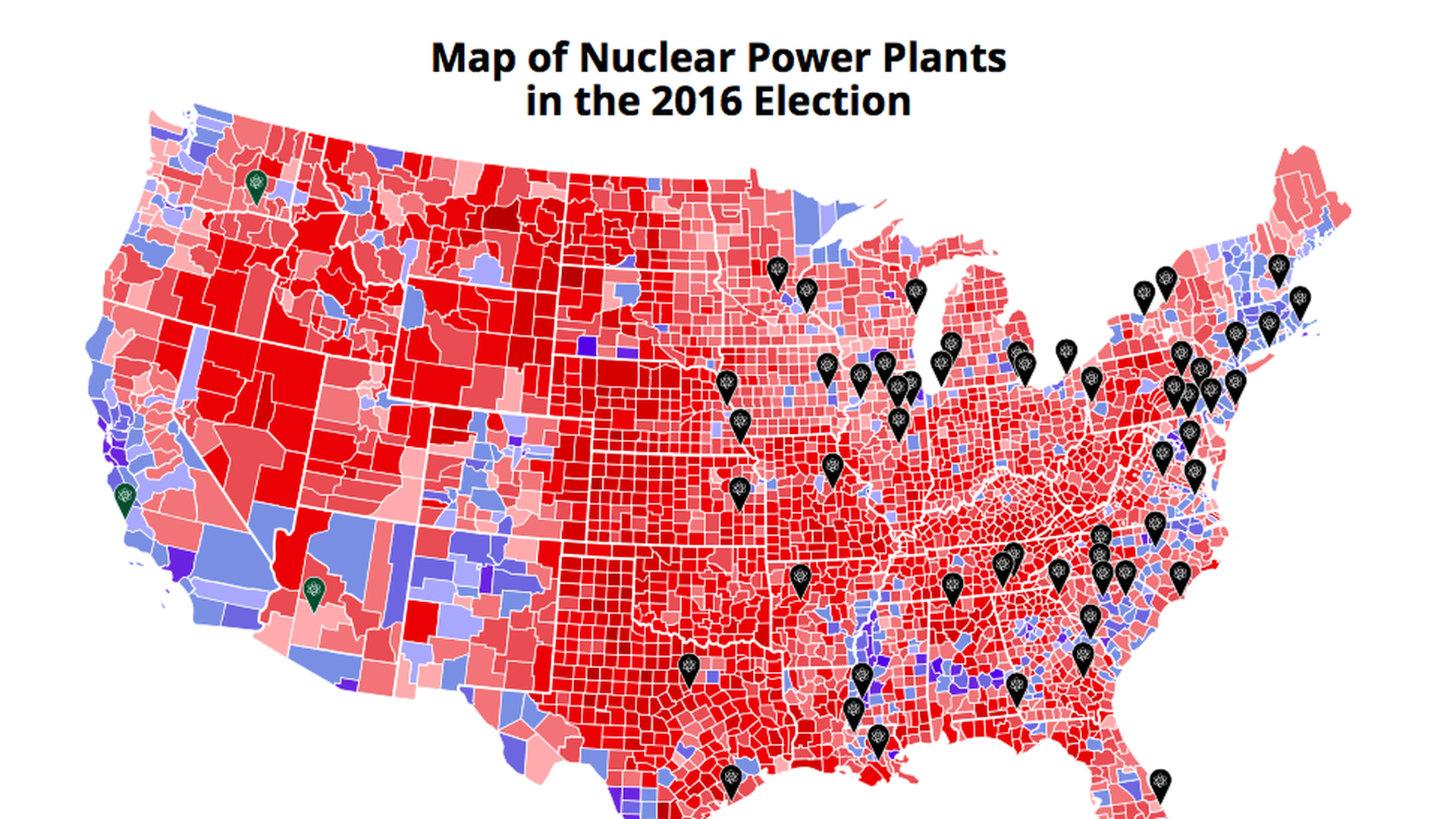 The embattled nuclear power industry is circulating an analysis in Washington that makes a rather blunt political point: Regions with nuclear plants are a "critical element" of the coalition that elected President Trump.
Their case: The Nuclear Energy Institute memo and maps (see example above) overlays the location of nuclear power plants with county-level results in the 2016 elections.
Trump carried 45 of the 61 counties that have reactors in the general election, and won all but 13 of them in the GOP primaries, according to NEI.
Their warning: "Given the razor-thin popular vote margin in the states that delivered the Electoral College to President Trump, these are voters he can ill-afford to lose," the memo states.
There are 22 reactors in six battleground states that flipped from Obama to Trump in 2016, the group said.
Why it matters: The nuclear industry wants help from the federal government. It has been stuck in neutral for years, with very few new projects getting off the ground and a number of existing reactors facing potential closure. It has set a series of policy goals at several agencies, including the Energy Department, the Federal Energy Regulatory Commission and the Nuclear Regulatory Commission.
To be sure:
The 100,000 people directly employed by the industry is not make-or-break for the economy in the big picture (the economy added 235,000 total jobs in February alone, for instance). But the memo argues that the industry is a vital economic driver in counties with nuclear plants through workers and their families, supporting other types of businesses, and providing a big chunk of the local tax base.
https://www.axios.com/newsletters/axios-generate-b5af58f5-fd22-4136-a4b6-3004d2198356.html?chunk=1#story1
It's electric
A few items on electric vehicles caught my eye....
The Rocky Mountain Institute is warning that utilities are hampering expansion of public charging stations for electric vehicles.
Too expensive: "The high cost of utility demand charges is a significant barrier to the development of viable business models for public [direct current fast chargers] network operators," states the think tank's new report, which suggests a series of best practices in rate designs to ease deployment barriers.
The Chinese electric vehicle company BYD is talking with lithium producers in Chile about supply deals for the companies batteries, the Financial Times reports.
Why it matters: The story notes that China wants to double electric vehicle battery capacity by 2020. "Chinese companies have sought out positions in the lithium-ion supply chain by buying up mining assets," the FT reports.
The New York Times explores why Tesla's share prices are so high. The company passed Ford in market value despite making a tiny fraction of the number of cars.
Key quote: "Tesla has ascended into a rarefied realm of so-called story stocks — companies that have so bewitched investors that their stock prices are impervious to any traditional valuation measures because their stories are simply too good not to be true."
https://www.axios.com/newsletters/axios-generate-b5af58f5-fd22-4136-a4b6-3004d2198356.html?chunk=2#story2
Syria's oil market impact
Reaction: The airstrikes against Syria sent oil prices upwards to a one-month high on Friday.
"Although Syria has limited oil production, its location and alliances with big oil producers in the region mean any escalation of the conflict has the potential to increase supply-side fears," Reuters reports.
But that said: The Wall Street Journal reports that the "fundamental equation in oil markets remains unchanged."
"[U]nless Iran or other regional actors react in a dramatic tension-escalating way, the attack is unlikely to kick prices much higher for long," their story notes.
https://www.axios.com/newsletters/axios-generate-b5af58f5-fd22-4136-a4b6-3004d2198356.html?chunk=3#story3
Renewables: the global picture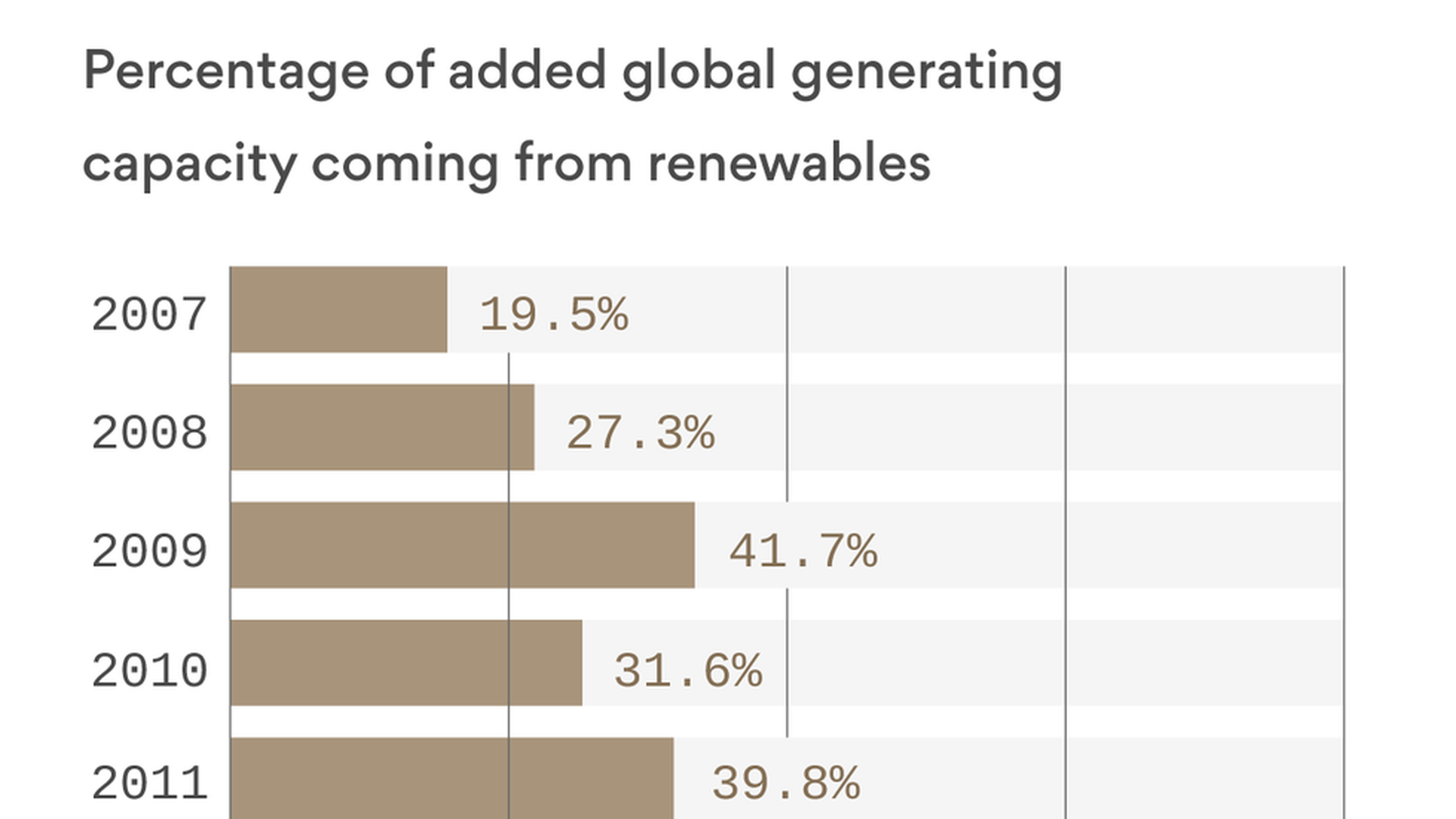 Renewable electricity sources claimed their highest share of new worldwide generation capacity additions last year, with new solar additions leading the way, the United Nations said in a broad report on the global state of play.
Check out the chart above: It shows that wind, solar and other renewables accounted for over 55 percent of new capacity last year, a new record. Some other takeaways from the report:
Global new investment in renewable generation in 2016 fell by 23 percent to $241.6 billion, partly due to a financing slowdown in China, Japan and some emerging markets.
But the report notes the story of 2016 is "more for less" as a good chunk of the drop in global new investment reflects the falling costs of technology for solar and wind. And, it points to a record installation of renewable power capacity worldwide in 2016.
R&D investment also dropped by 7 percent to $8 billion due to "slumped" corporate spending, which more than offsetting an uptick in government spending.
The global pie: Renewables are growing fast but still account for a small share of total global power supplies. Renewables (excluding large hydro dams) accounted for 11.3 percent of global power in 2016, more than double the amount from a decade earlier.
https://www.axios.com/newsletters/axios-generate-b5af58f5-fd22-4136-a4b6-3004d2198356.html?chunk=4#story4
Coal giant's Paris play
New Axios energy reporter Amy Harder broke the news yesterday that the CEO of America's third-largest coal producer has penned a letter to President Donald Trump urging him to stay in the Paris climate deal.
"U.S. leadership could take the world into a new era of global economic prosperity that also addresses concerns about climate and emissions," states the letter from Colin Marshall, CEO of Cloud Peak Energy, the third biggest coal producer in the U.S.
Why it matters: It's the latest sign of broad corporate backing for the pact, from which Trump pledged to withdraw while on the campaign trail. Big oil companies, including ExxonMobil, have also called on the president to stay in the deal.
To be sure: Fossil-fuel companies, including Cloud Peak, don't want the new administration to stick with the same commitments as the last one. Marshall writes in his letter that he wants the U.S. to "ensure that fossil energy remains a driver of global prosperity for the foreseeable future while addressing climate concerns."
Click here for the rest of the story.
https://www.axios.com/newsletters/axios-generate-b5af58f5-fd22-4136-a4b6-3004d2198356.html?chunk=5#story5
Lightning round (federal edition)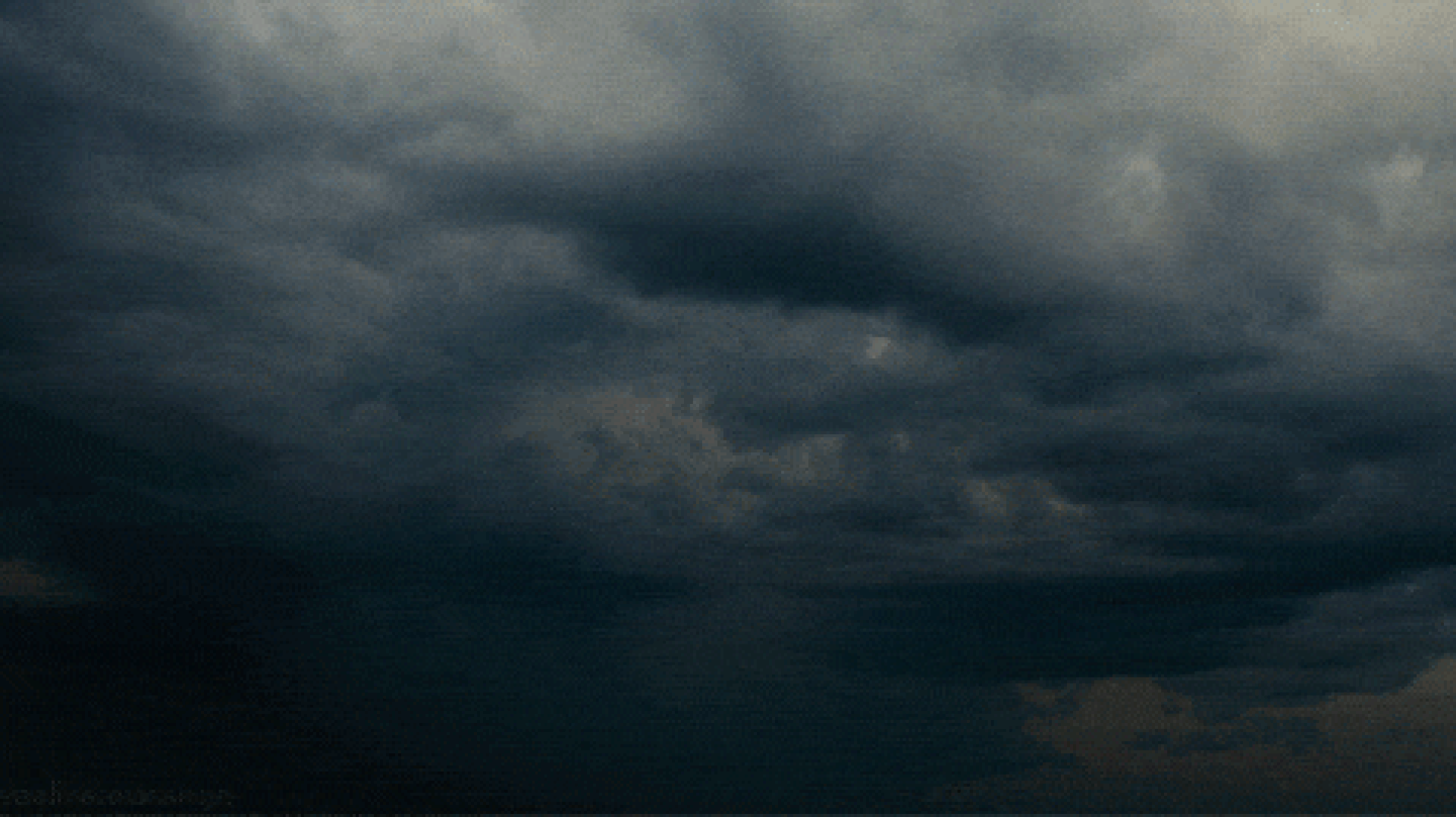 Trump is preparing an executive order aimed at making far more areas available for offshore oil-and-gas drilling and upending Obama-era restrictions, according to reports in Platts and Bloomberg.
Long road: The order will have Interior begin the lengthy process of writing a new five-year offshore leasing plan. Obama's 2017-2022 plan does not include lease sales in the Arctic Ocean or off the Atlantic coast, but Trump wants to schedule auctions in those waters.
Uncharted legal waters: Trump, according to the reports, also wants to overturn a separate action Obama took that's designed to permanently ban drilling in most Arctic waters off Alaska's coast and some of the Atlantic. But any effort to upend Obama's late 2016 maneuver is certain to face a court challenge on topics that have never been litigated.
Interior staffs up: Interior secretary Ryan Zinke announced two major hires yesterday.
Aurelia Skipwith will be deputy assistant secretary for Fish, Wildlife and Parks. She is co-founder and general counsel for AVC Global, which provides a computing platform for farmers, and has also worked for Monsanto and as a consultant to USAID, her LinkedIn bio shows.
Katharine MacGregor, a senior aide to House Natural Resources Committee Republicans, will serve as a deputy assistant secretary for Land and Minerals Management. MacGregor has already been at Interior since Trump's inauguration as a political appointee on the "beachhead" team, according to E&E News.
More Interior: An internal Interior Department memo obtained by Axios shows that Laura Keehner Rigas, the communications director for the Massachusetts Executive Office of Education, will be the next head of Interior's Office of Communications. Her prior jobs include serving as national communications director for the American Conservative Union.