Axios Generate
July 06, 2020
Good morning. I hope you had a safe and joyous Independence Day.
For the third year in a row, I'll check in on my January predictions (the magic eight ball didn't include COVID-19 back then...) in my column. Then Ben Geman will get you up to speed on other news.
Today's Smart Brevity count: 1,281 words, < 5 minutes.
1 big thing: COVID-19 topples 2020 predictions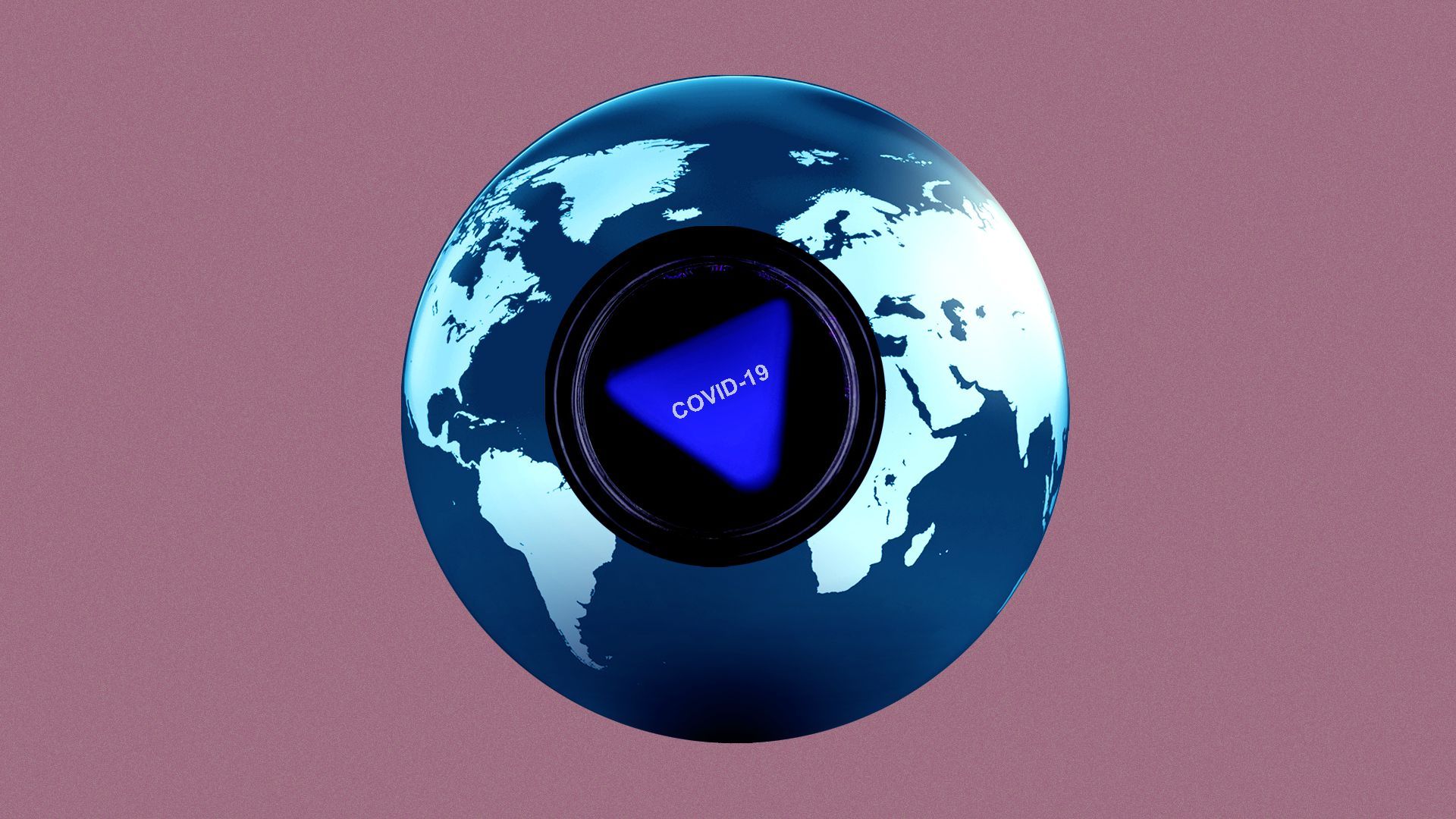 In early January, I laid out 10 energy and climate change issues to watch this year. Spoiler alert: A pandemic was not on that list.
The big picture: The coronavirus has left no part of our world untouched, energy and climate change included. Let's check in on my 2020 predictions at the halfway mark of this tumultuous year.
Here's a topline update for each, and go deeper with the whole column.
1. Politicking: Climate change was reaching a new high water mark for its role in the presidential contest among Democratic candidates. That focus has lessened significantly, along with an overall lack of attention to the election itself.
2. Bottom of the barrel for oil and gas: I predicted global oil prices would remain low throughout this year, but, boy, I didn't think they would go so low they would (briefly) go negative.
3. Big Oil's greenish shifts: Some big European oil companies, led by BP and Royal Dutch Shell, have maintained at least a rhetorical commitment to keep transforming into cleaner businesses.
4. Carbon taxes: The persistently long-shot campaign of a carbon tax on Capitol Hill has gone awfully quiet in the last few months as the pandemic grips the world.
5. Paris Agreement: The United Nations is delaying by a full year its high-profile conference where nations were supposed to announce increased ambitions, the first time since the climate agreement was first inked five years ago.
6. China rising: The pandemic has likely delayed China's intentions of launching a national system of trading carbon dioxide credits this year, experts tracking the news tell Axios. Instead, the country is building more coal plants.
7. Trade wars: The coronavirus has zapped the natural gas export boom, which had already been facing immense challenges brought on by Trump's trade war with China. Meanwhile, Europe's carbon tariff seems poised to move ahead because it's prioritizing clean energy in its economic recovery.
8. Renewable challenges: I had written that I would be looking out for the challenges facing wind and solar as their share of the electricity pie increases. While I still am, the pandemic showcased two unique attributes to these renewable sources, including the fact they're not traded in volatile commodity markets like oil.
9. Senior reactors: Less action is happening on this front than I anticipated — certainly compared to the tumultuous state of the world.
10. Climate change, in real time: The Australian bushfires — yes, they were this year! — are a prime example of more extreme weather occurring and scientists documenting it.
2. The stakes of Atlantic Coast Pipeline's demise
Duke Energy and Dominion Energy yesterday threw in the towel on the Atlantic Coast Pipeline, a proposed 600-mile natural gas line from West Virginia to North Carolina.
Why it matters: It ends one of the highest profile battles over fossil fuel infrastructure in recent years, and its demise is a win for the environmental groups that spent years fighting it.
It also underscores hurdles facing big pipelines and other projects, despite White House efforts to speed up approvals and scale back environmental reviews.
Catch up fast: Despite a favorable Supreme Court ruling last month, the project faced ongoing legal and permitting battles.
The price tag had reached $8 billion — far above initial estimates — and the project had become "too uncertain to justify investing more shareholder capital," the companies said.
The cancelation came the same day that Dominion announced sale of its gas transmission and storage assets to Warren Buffett's Berkshire Hathaway in a $10 billion deal.
Between the lines: Here are a few takeaways from the project's demise...
Paperwork matters: Reuters' David Gaffen yesterday re-upped his outlet's October 2019 story, which found that administration efforts to speed up permitting for pipelines had "backfired," because they created new legal vulnerabilities for projects already facing activist litigation.
States matter: A note from the research firm ClearView Energy Partners says that some states including Virginia — which is on the pipeline route — push policies that favor renewables. They called the cancellation a sign of "subnational greening" that makes it harder to build projects already facing opposition from environmentalists.
The 2020 election matters: This project may be dead, but the outcome of November's election will affect the trajectory of others. The Trump administration backed the project in the courts and politically, while Joe Biden would be less favorable to fossil fuel projects (the campaign did not provide comment on this decision).
Bonus: What they're saying on the pipeline tumult
"The decision to scrap the pipeline project reflects not just a desire of Dominion to shift focus to its utility business but also how much more costly and time-consuming it has become to pursue a pipeline project in the face of environmentalist opposition, a trend that will only intensify."
Who said it: Jason Bordoff, head of Columbia University's Center on Global Energy Policy, speaking to the Financial Times ($).
3. Biden's next climate choices
The climate policy task force that Joe Biden and Bernie Sanders created is slated to recommend that Biden seek a fully renewable electricity mix by 2035, the New York Times reports this morning.
Driving the news: Their piece also looks at other ideas emerging from the group tasked with making recommendations to Biden and the Democratic National Committee.
They include ideas on energy-efficient buildings and quick steps on auto-emissions mandates, NYT reports.
Why it matters: Their piece is the first I've seen on specifics coming out of the task force announced in the Spring.
Yes, but: Sorry to be a broken record here, but if Biden wins, the way he deploys his political capital and administrative focus will matter more than how his policy platform might get stronger.
His existing plans are already more expansive than what's likely to clear Congress or, when it comes to regulations, survive an increasingly conservative judiciary.
Catch up fast: Separately, the campaign created a "Climate Engagement Advisory Council" aimed at "mobilizing" voters who prioritize climate change and environmental justice, we scooped on Friday.
How it works: Members of the council named Friday are...
Tom Steyer, the billionaire activist and donor.
Cecilia Martinez, executive director of the Center for Earth, Energy & Democracy.
Lonnie R. Stephenson, head of the International Brotherhood of Electrical Workers.
Deb Haaland, a Democratic congresswoman from New Mexico.
Carol Browner, a top climate official in the Obama administration and current board chair of the League of Conservation Voters.
Harold Mitchell, Jr., a former South Carolina state representative and founder of the ReGenesis Community Development Corporation.
4. Trump administration vs. sustainable investing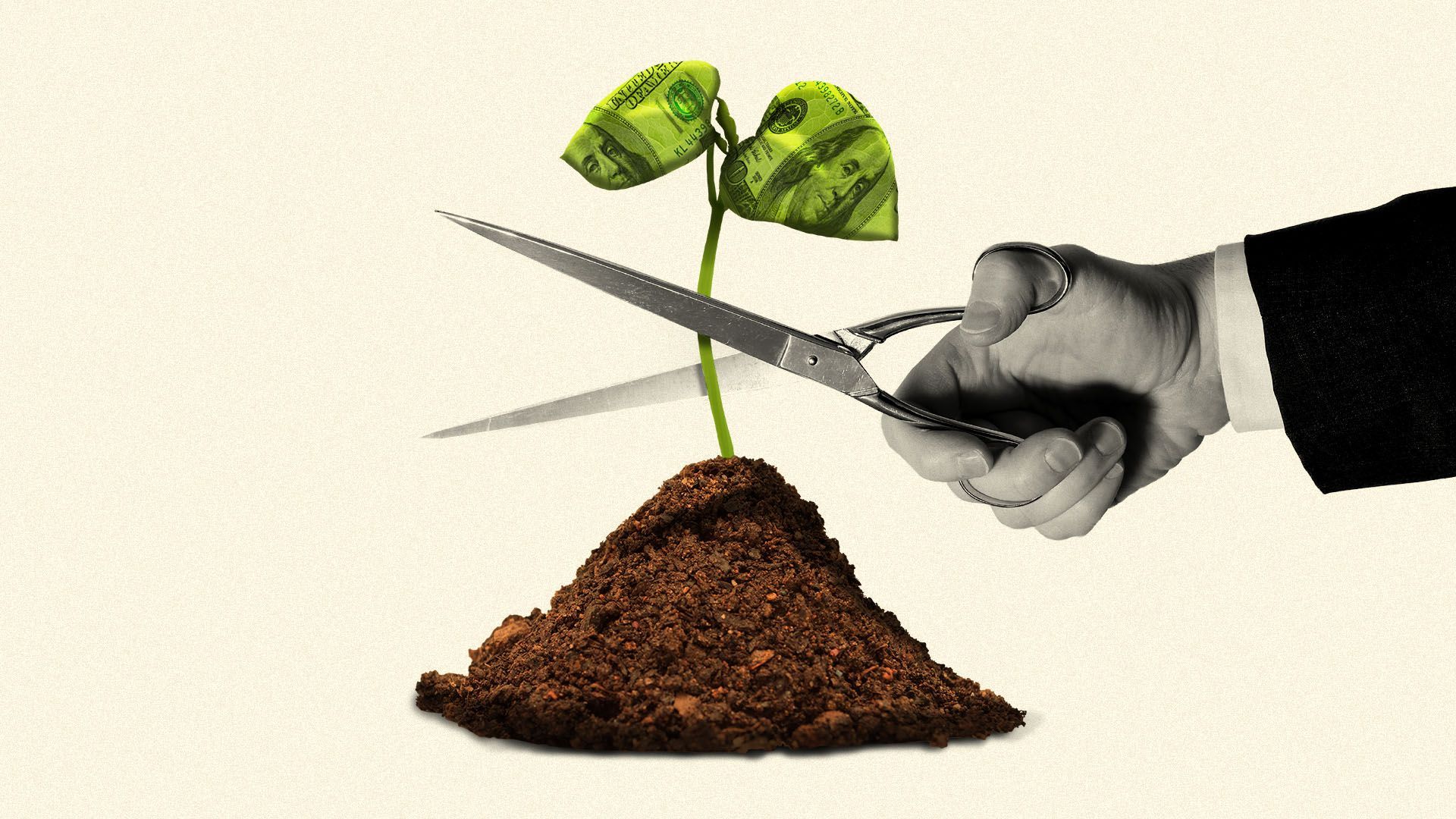 A new Trump administration proposal could throw a wrench into sustainable investment practices, but the plan has little support on K Street, Axios' Felix Salmon reports.
Driving the news: The draft rule would effectively ban pension plan managers from making ESG — or environmental, social, and governance — offerings part of the default option in 401(k) plans.
And it would discourage them from having any ESG options at all.
What they're saying: "When investments are made to further a particular environmental or social cause, returns unsurprisingly suffer," Labor Secretary Eugene Scalia wrote in an 0p-ed about the plan.
The rule itself claims that it will have a positive economic effect, saying that "investments' returns will generally tend to be higher over the long run" as a result of ignoring ESG factors.
Why it matters: Contra Scalia, ESG funds outperform their peers. And the case for ESG investing is straightforward: Long-term investors have a financial incentive to back companies that will thrive over the long term.
Such companies must be well-governed, have good stakeholder relations, and be well-positioned to help humanity minimize our onrushing environmental catastrophe.
Between the lines: The asset management industry is concerned about the rule, because it creates more work and potential liability for pension fund managers.
And even Scalia's natural bedfellows, like the American Petroleum Institute, are wary.
Quick take: This rule looks like lame-duck hippie-punching from a beleaguered administration wanting to throw a bone to climate-change deniers.
5. Chart of the day: Tesla's fresh stock surge
Tesla's stock reached fresh records in the holiday-shortened week, helped along by higher than expected second-quarter delivery numbers the electric automaker reported early Thursday.
The big picture: Morgan Stanley analysts, in a note, said the "demand for Tesla products has been remarkably resilient" considering the pandemic.
They point out that Tesla's deliveries were down just 5% from a year earlier, compared to 30% to 40% for other automakers.
Quick take: The market seems to be shrugging off CEO Elon Musk's volatile social media behavior, with the stock up higher in pre-market trading.
Go deeper: Tesla shines during the pandemic as other automakers struggle (NYT)