Axios Generate
July 18, 2022
👋 Welcome back! Today's newsletter, edited by Mickey Meece, has a Smart Brevity count of 1,207 words, 5 minutes. 
📬 Did a friend send you this newsletter? Welcome, please sign up.
🎶 At this moment in 1985, Loose Ends was #1 on Billboard's R&B charts with a terrific groove that's today's intro tune...
1 big thing: Unprecedented heat in Europe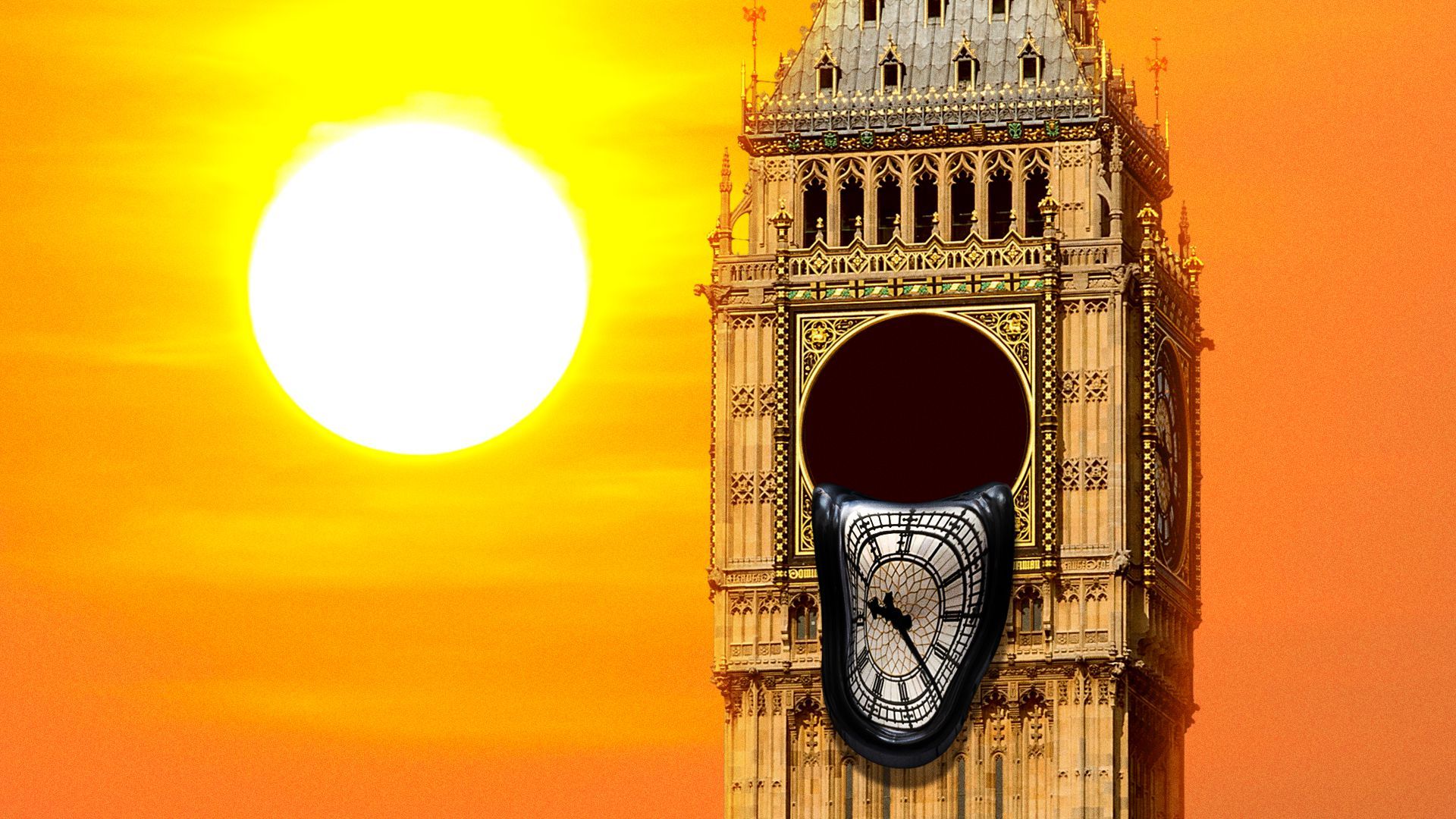 A deadly heat wave is underway in western Europe that is poised to topple all-time national high-temperature records in France and the United Kingdom, Andrew writes.
Why it matters: This is a climate change-related public health emergency. Already, hundreds are dead from heat-related causes in Portugal and Spain and the toll is likely to climb much further.
The big picture: The U.K. Met Office is forecasting the country's first-ever occurrence of 104°F (40°C) temperatures during this event, with a forecast high of 96.8°F (36°C) in London today.
The U.K.'s national temperature record stands at 101.66°F (38.7°C) set in 2019. That could fall as soon as today.
Météo-France is predicting the heat will peak there today.
The air mass responsible for this extreme event originated in northwest Africa. A head dome over Europe and an area of low pressure just west of Iberia are funneling the hot air northward.
Context: Attribution studies of individual heat waves have shown that by increasing the global average surface temperature by about 1.2°C in the past century, human-induced climate change has dramatically boosted the odds of extreme heat events, along with their intensity and duration.
European heat waves in particular have increased their occurrence three to four times faster than in other parts of the Northern Hemisphere, according to a recent study.
"The chances of seeing 40°C days in the UK could be as much as 10 times more likely in the current climate than under a natural climate unaffected by human influence," said Met Office climate scientist Nikos Christidis, in a statement.
Threat level: Extreme heat poses the greatest risks for the elderly, those with preexisting medical conditions, and anyone without access to cooling. This is a particular concern in Great Britain, where only about 3% of homes have air conditioning.
These events are especially dangerous when overnight temperatures remain high, depriving people of relief. The heat wave is also proving disruptive to transportation networks since hot temperatures can warp railroad tracks.
Rail service is limited across the U.K. today and more so tomorrow. Museums in London are closing early today and shutting down tomorrow.
Even air travel may be affected, as aircraft tires sink into hot concrete and planes require longer runways to take off.
By the numbers: Dozens of monthly and all-time temperature records have been set or tied in western Europe.
116.6°F (47.0°C): Preliminary national July high-temperature record was set Thursday in Pinhão, Portugal.
108.14°F (42.3°C): All-time high-temperature record set in Pamplona, Spain, yesterday.
102.2°F (39°C): Forecast high-temperature tomorrow in London, according to the Met Office.
16,000: Approximate number of people evacuated due to heat wave-related wildfires in southern France.
2. The U.S. keeps setting heat records, too
The U.S. seems determined not to be left out of heat wave headlines, Andrew writes.
Threat level: Temperatures in Texas tomorrow will be a few degrees higher than they were last week when the state's notorious electricity grid largely withstood a critical test, though not without hiccups.
Nearly every observing station in Texas could see temperatures at or above 100°F.
The same goes for Kansas and Oklahoma, too, where highs may be about 15°F above average for this time of year.
Zoom in: College Station, Texas, located about 80 miles northwest of Houston, is emblematic of what many locations in Texas and nearby states have experienced so far — a record hot June, with July on track for the same outcome.
What's next: This heat won't relent anytime soon. Computer models are projecting the intensification of a heat dome across the West during the next several weeks, setting up unusually hot and dry conditions from Colorado to California into August at least.
3. Europe faces "red alert" on gas supplies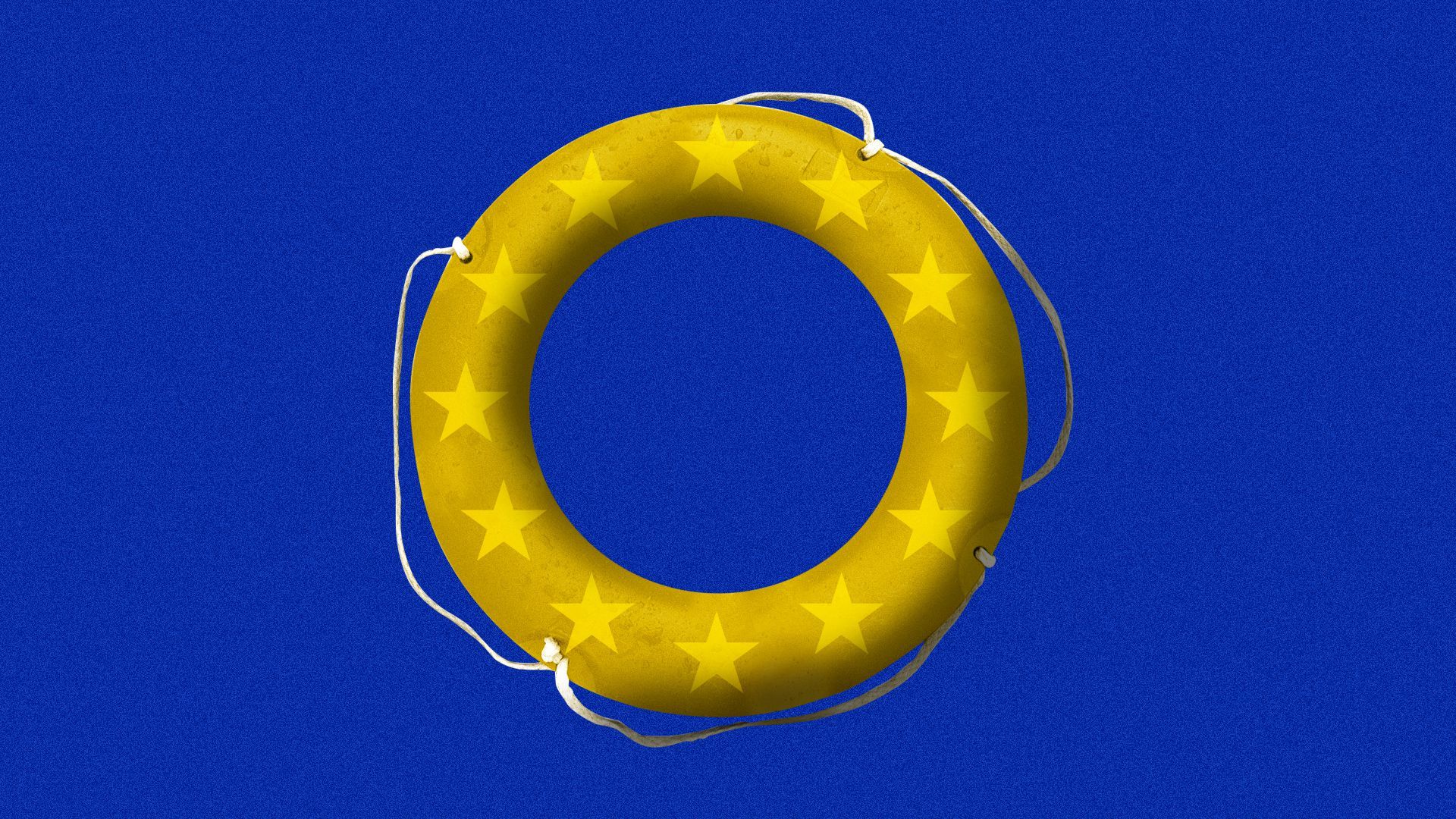 Scorching heat alongside reduced Russian natural shipments are worsening Europe's vulnerability to price and supply shocks both now and in coming months, Ben writes.
Threat level: Rystad Energy, in a note, warns that Europe is heading into a power crunch "earlier than expected despite recent moves to curb demand and increase supply."
"With temperatures rising, [gas] supply may not be sufficient to meet demand in addition to restocking ahead of next winter."
And International Energy Agency head Fatih Birol warns in a memo today: "Russia's latest moves to squeeze natural gas flows to Europe even further, combined with other recent supply disruptions, are a red alert for the European Union."
What's next: IEA and Rystad assess the difficult options for Europe to bolster gas supplies from elsewhere, boost other energy sources and cut demand.
Birol's memo says to ensure adequate gas storage for the winter, EU officials need to take steps beyond what's already in motion.
His five proposals include new incentives for industrial gas users to decrease consumption, more harmonized emergency planning across countries, and more.
Where it stands: "European natural gas prices jumped with a heat wave scorching the western half of the region, boosting demand for cooling and pushing energy costs higher," Bloomberg reports this morning.
4. What to watch after Dems' climate meltdown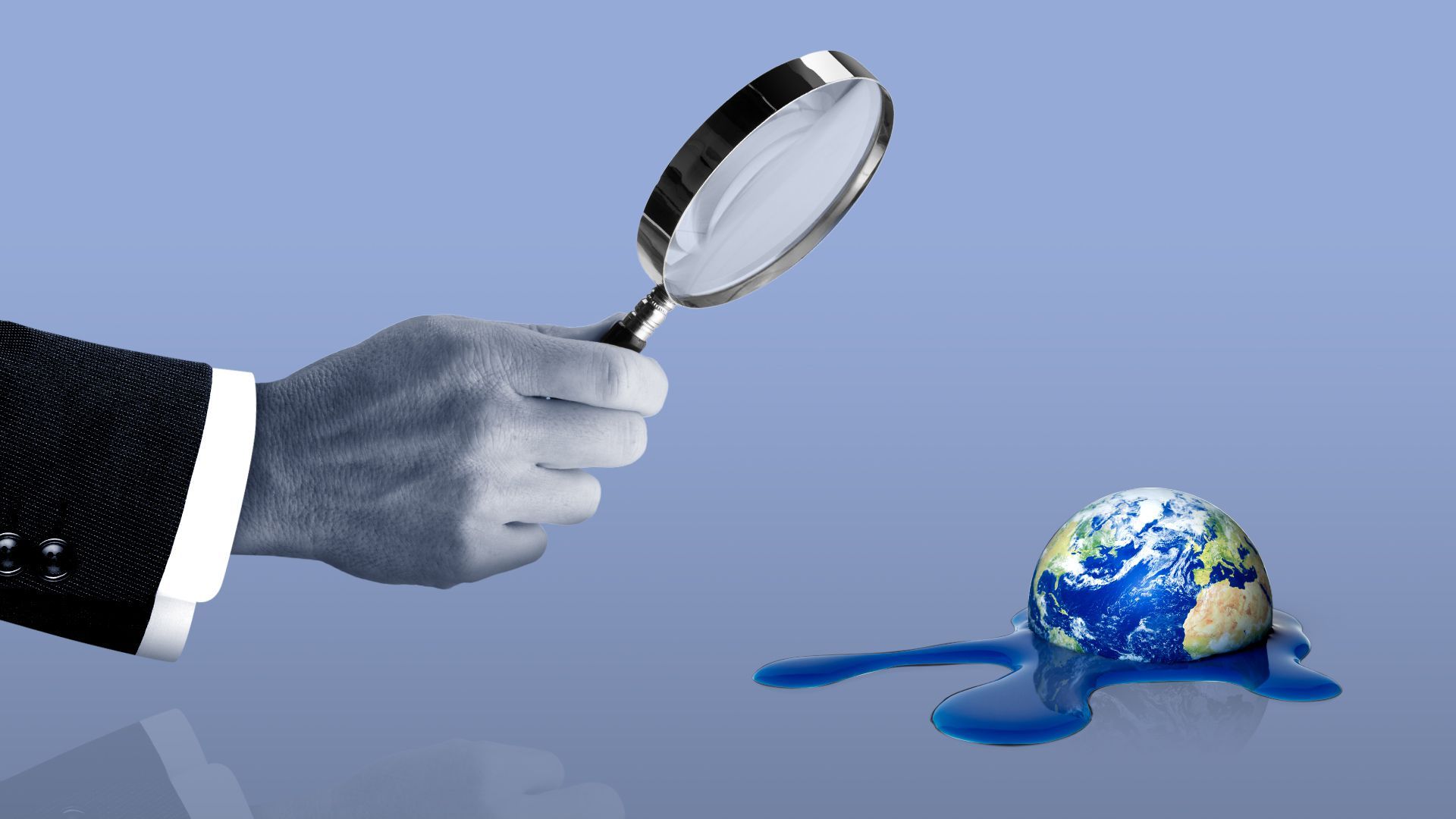 Here's what's on our radar after the collapse of Democrats' talks with Sen. Joe Manchin (D-W.Va.) over climate legislation, Ben writes.
Why it matters: The bill's apparent demise likely puts U.S. emissions targets under the Paris Agreement out of reach — even as heat waves on several continents underscore growing climate harms.
What we're watching...
1. Whether there's a faint pulse. Manchin on Friday dangled the possibility of more talks, but only after July U.S. inflation data arrives on Aug. 10.
2. White House moves. Biden said Friday that if the Senate won't move, "I will take strong executive action."
The White House could look to toughen planned regulations, though the Supreme Court has imposed new constraints.
Some activists are pressing Biden to declare a climate "emergency."
One question: Would a final rupture with Manchin prompt tougher drilling limits on federal lands and waters?
3. The scraps. Annual year-end tax "extenders" legislation could boost some incentives, though nothing close to the $300 billion-plus package now on ice.
4. The global fallout. International cooperation is already fighting for air amid Russia's war on Ukraine, commodity price shocks and economic headwinds.
Big United Nations climate talks late this year could show whether the U.S. impasse saps pressure on other nations.
5. 🗓️ Circle the date: Tesla's July 20 reveal
Tesla is slated to report second-quarter financials Wednesday that will reflect a difficult stretch for the automaker, Ben writes.
Why it matters: The company is the world's largest seller of battery-electric vehicles but faces growing competition.
The report also comes as CEO Elon Musk is embroiled in a high-stakes legal battle over his now-abandoned attempt to buy Twitter.
What they're saying: Via MarketWatch, analysts polled by FactSet expect adjusted earnings per share of $1.86.
That would be down significantly from Q1's $3.22 per share, but well above the April-June stretch in 2021.
Catch up fast: Tesla delivered about 255,000 vehicles in April-June.
That's down from 310,000 in the January-March stretch, as supply chain problems and China's COVID restrictions affected output.
However, Tesla said it achieved record production in June.
6. Quote of the day
"There is a build versus buy discussion happening within the core of Big Oil and their renewables businesses right now." 
— JPMorgan Chase analyst Christyan Malek,
via Bloomberg
European oil giants, stuffed with cash, may look to acquire huge renewable power players like Spain's Iberdrola, per Bloomberg.
🙏Thanks for reading and we'll see you tomorrow!