Good Monday morning, I hope everyone had a nice weekend, government shutdown aside. We're up and running, so let's dive into the news. 
My latest Harder Line column looks at why the lawsuits New York City and others are waging against big oil companies is flawed, with exclusive comments from BP CEO Bob Dudley. 
After I share the top of my column, Ben Geman will take things over to get you up on the rest of the news. 
https://www.axios.com/newsletters/axios-generate-b2c3f28f-ed1b-4a23-b05c-62180186c862.html?chunk=0#story0
The flawed climate gambit against big oil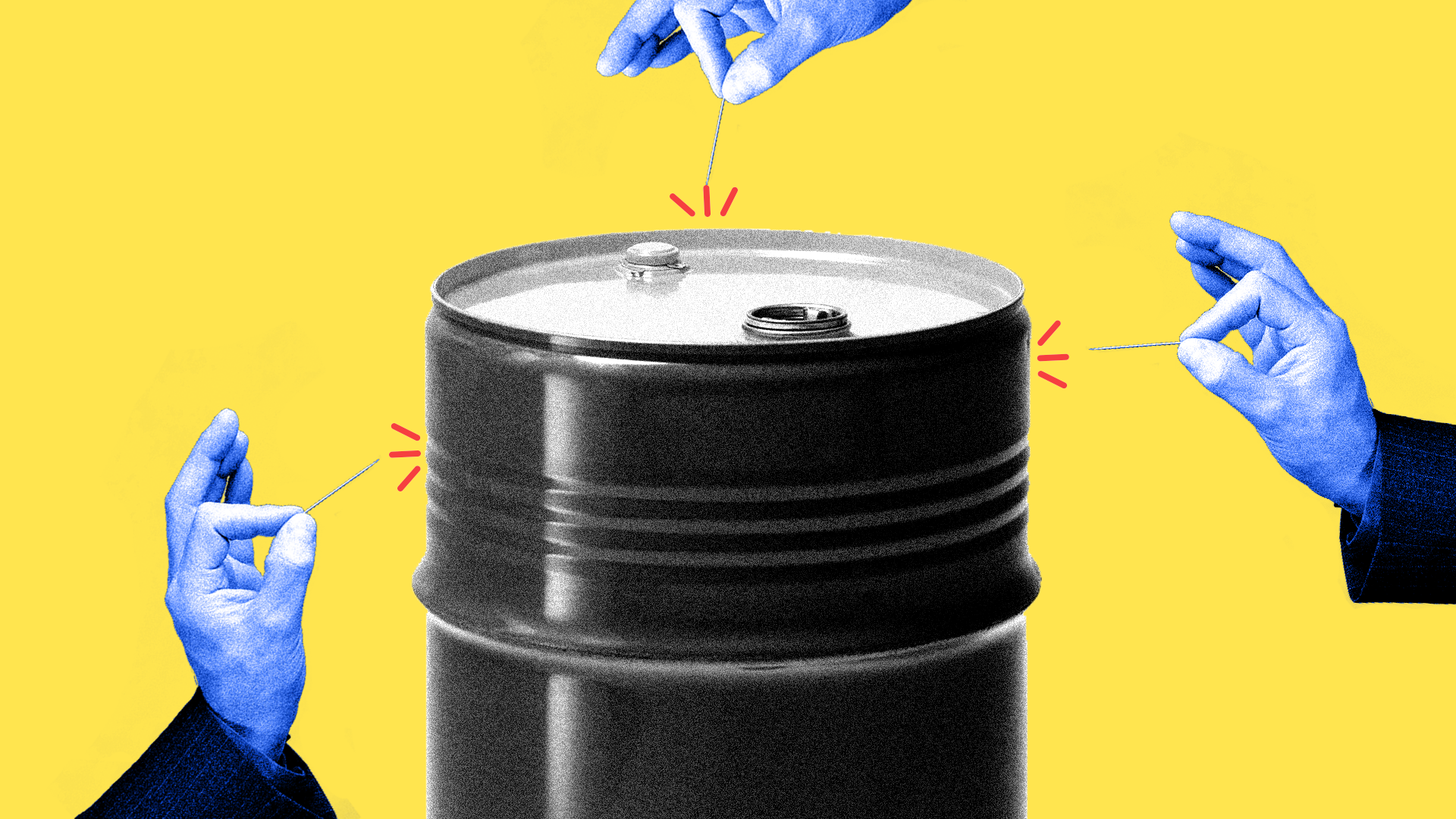 Illustration: Rebecca Zisser / Axios
New York City and several California municipalities are suing big oil companies, alleging they concealed what they knew about climate change and are liable for billions of dollars of damage caused by rising global temperatures.
Why that's flawed: The strategy is based on the 1990s lawsuits against tobacco companies, which found they concealed and misrepresented what they knew about the health effects of cigarettes.
But climate change is a global problem we're all collectively causing.
What's more, the legal roots of these claims today are untested and unlikely to succeed, lawyers supportive of the effort say.
Yes, but: The strategy behind these lawsuits is not just in the courtroom, but also to sway public opinion and pressure oil companies to genuinely advocate for a solution to climate change in Washington.
Why this isn't big tobacco: In a recent interview with BP CEO Bob Dudley, the most animated I saw him was when he brought up these lawsuits, which are targeting BP along with others.
"People don't need to smoke cigarettes, but they have needed energy for many decades," Dudley told me earlier this month. "If you're asking me can the legal system do something like that, I don't know. But do I think it's right? Absolutely not."
My thought bubble: A CEO publicly commenting on pending legal matters is rare, and it shows these lawsuits are rattling the industry despite their unlikelihood of success.
Go deeper: Drill down for the rest in the Axios stream.
https://www.axios.com/newsletters/axios-generate-b2c3f28f-ed1b-4a23-b05c-62180186c862.html?chunk=1#story1
Big this week, part 1: solar trade deadline
Crunch time: The White House faces a Jan. 26 deadline to decide whether and what degree of penalties to impose on imported solar panel equipment.
Two distressed U.S. panel manufacturers have asked for new tariffs that would hit imports from — among other places — China and Chinese-owned companies in Asia.
Why it matters: Two big reasons.
One is that the decision could signal whether President Trump is ready to carry through with plans to launch a wider trade fight with China that targets steel and other goods.
U.S. solar project developers and their allies have been lobbying against the manufacturers' petition, arguing that tough penalties could raise project costs enough to badly slow solar power's growth.
Go deeper: The Associated Press has a nice overview of the case this morning.
https://www.axios.com/newsletters/axios-generate-b2c3f28f-ed1b-4a23-b05c-62180186c862.html?chunk=2#story2
Interior leader's offshore move draws Trump's ire
My colleagues Jonathan Swan and Amy report on the volatile politics of Interior Secretary Ryan Zinke's surprise move two weeks ago to yank Florida from the agency's draft offshore oil-and-gas leasing plan. Here's part of their full piece...
Blowback: Trump has made clear to Zinke that he's angry about this move, according to two sources with direct knowledge. Zinke's decision is both legally and politically dangerous for the Trump administration. Zinke did not coordinate with anybody, and gave the White House no forewarning of his controversial action.
Trump specifically asked Zinke in the Jan. 10 cabinet meeting about the drilling decision, according to three sources with direct knowledge. That exchange was not contentious.
Why it matters: Zinke has put the administration in a sticky situation for three reasons, according to former Interior officials who spoke to Amy. One of those reasons is that the department's offshore leasing policies are guided by a strict process set by statute on how to take any areas out of consideration — which were not followed in this case.
***
ICYMI: A senior Interior offshore drilling official told Congress Friday that despite Zinke's announcement, Florida has not been formally taken off the table. Bloomberg looks at the action here, and your Generate host, who was out of pocket, offered a rare Twitter thread about the news here.
https://www.axios.com/newsletters/axios-generate-b2c3f28f-ed1b-4a23-b05c-62180186c862.html?chunk=3#story3
The future of Saudi-Russian oil cooperation
More than a fling: Yesterday I wrote in the Axios stream about Saudi Arabian oil minister Khalid al-Falih's suggestion Sunday that OPEC and Russia (and other non-OPEC producers) should extend cooperation beyond the end of 2018, when their production-cutting deal is slated to expire.
Why it matters: The prospect of an enduring relationship, while vague at this point, is another sign of how the U.S. production surge has altered the playing field.
The 2-year-old pact has helped to bolster prices that collapsed in 2014 and ease the global supply glut.
But OPEC's dominant producer believes more collaboration is needed as the cartel and Russia grapple with U.S. production analysts see soaring well past 10 million barrels per day this year.
Buzz: Hedgeye Risk Management's Joe McMonigle, in a new note, sees another factor in play for the Saudis as they tout the success of the pact thus far and float continued collaboration:
"With the Aramco IPO coming this year, the Saudis are now like an activist investor on oil prices and so we will continue to see bullish comments and verbal intervention from them throughout the year."
Go deeper: Last night, Platts posted a detailed dispatch and analysis from the Joint Ministerial Monitoring Committee, where al-Falih and Russian energy minister Alexander Novak spoke.
https://www.axios.com/newsletters/axios-generate-b2c3f28f-ed1b-4a23-b05c-62180186c862.html?chunk=4#story4
East Coast refiner's bankruptcy could fuel ethanol policy battles
Breaking last night: Reuters got the scoop that Philadelphia Energy Solutions, a major East Coast refiner, was filing for Chapter 11 bankruptcy protection.
"Following an agreement with its creditors, the company has secured access to $260 million in new financing, and said it expected the bankruptcy filing to have no immediate impact on its employees," they report, citing an internal memo.
Look for Beltway aftershocks: The bankruptcy is certain to fuel the political fight over the Renewable Fuel Standard, which is the national biofuels mandate that independent refiners say is imposing burdensome costs.
Philadelphia Energy Solutions said it has spent over $800 million on compliance credits to meet RFS requirements and that it has been the company's biggest expense after crude oil purchases, according to Reuters.
The company's bankruptcy comes as independent refiners and allied lawmakers are already pressing the Trump administration for RFS changes that ease the industry's costs.
https://www.axios.com/newsletters/axios-generate-b2c3f28f-ed1b-4a23-b05c-62180186c862.html?chunk=5#story5
One vital thing: China's global energy reach
Going big: Over the Axios stream, my colleagues Lazaro Gamio and Erica Pandey take stock of the largest infrastructure project in history (and one with lots of energy components).
China's Belt and Road Initiative that spans four continents and attempts to link the old Silk Road to Europe — and back to China.
It includes major pipeline developments (as the graphic above shows) as well as transmission and other energy-related infrastructure.
https://www.axios.com/newsletters/axios-generate-b2c3f28f-ed1b-4a23-b05c-62180186c862.html?chunk=6#story6
Big this week, part 2: Washington Auto Show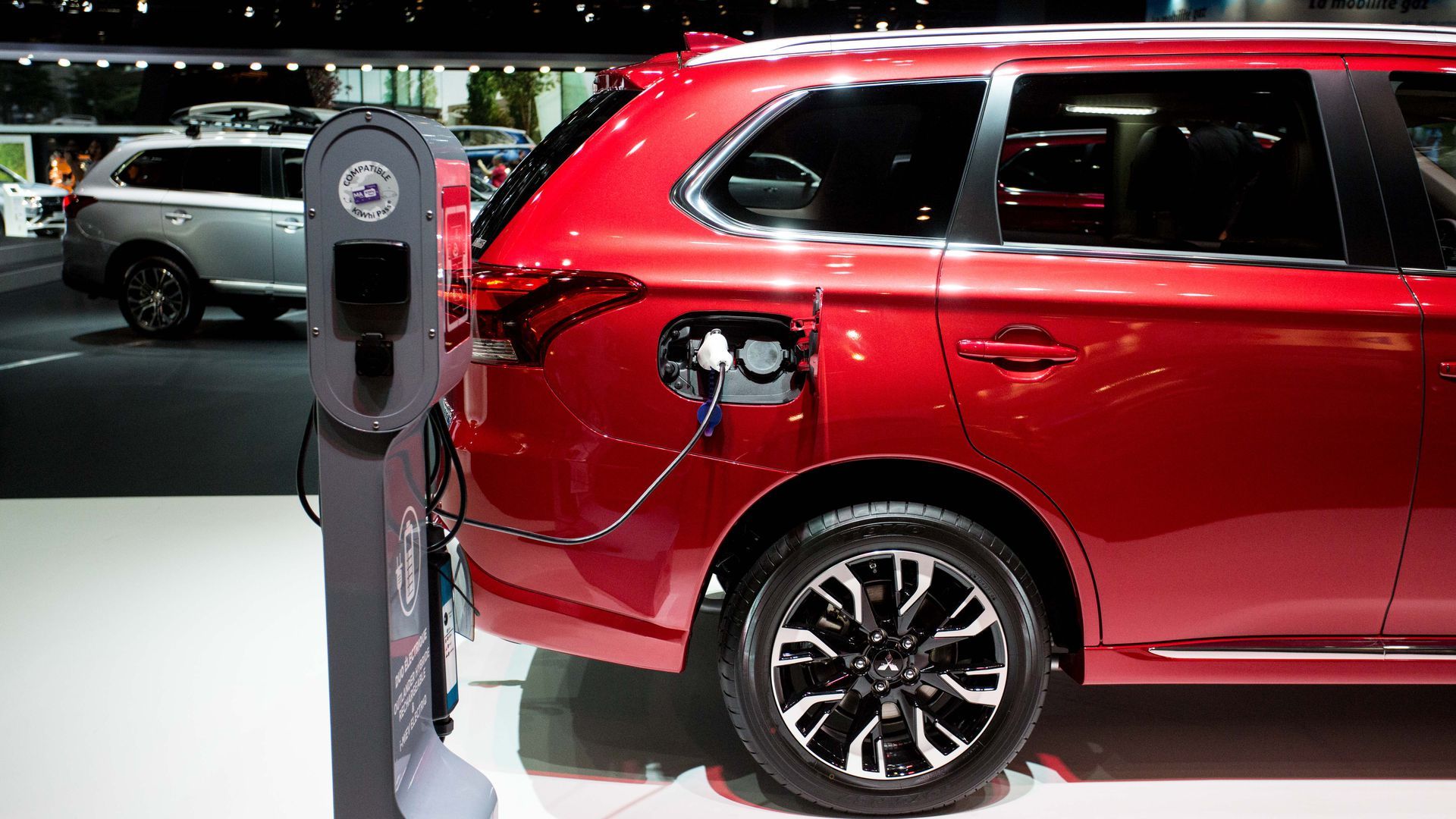 The Mitsubishi Outlander PHEV car, which will be displayed at the 2018 Washington Auto Show. Photo: Christophe Morin / IP3 / Getty Images
My Axios colleague Haley Britzky reports...
The 2018 Washington Auto Show begins on Tuesday, and will be displaying a variety of electric vehicles, as well as allowing lawmakers and regulators to discuss "unique challenges and opportunities" surrounding new transportation trends in the MobilityTalks International forum.
Why it matters: This year's show will have the most all-electric vehicles to date, according to the Washington Area New Automobile Dealers Association communications manager Mike Bushnell.
There will be a Senate Energy Committee hearing on the sidelines of the auto show events on Thursday, and a Senate Commerce Committee hearing on Wednesday.
Guest speakers include Senate Commerce chairman John Thune; Michigan Sen. Gary Peters; Lyft's director of government relations Rob Grant; General Motors' director of corporate finance Rachel Bhattacharya; and Jack Weast, the chief systems architect of autonomous driving solutions for Intel.
Bill Wehrum, who is EPA's top air pollution official, and Michigan Gov. Rick Snyder will be taking questions from the press on Thursday.
Cars that will at the consumer show include the Mitsubishi Outlander PHEV, the e-Golf, the zero-emission BMW i3, the Honda Clarity fuel cell car, and the Chevy Volt and Bolt.