Axios Generate
June 24, 2021
We're back in your inbox! Today's Smart Brevity count is 1,200 words, 4.5 minutes.
🛢️ Data point of the day: 76%. That's the share of 140 oil execs surveyed in the Dallas Fed region predicting a global crude oil supply gap in the next 2-4 years.
🎶 And happy birthday to Hope Sandoval of Mazzy Star, which has today's intro tune...
1 big thing: New VC money for making homes climate-friendly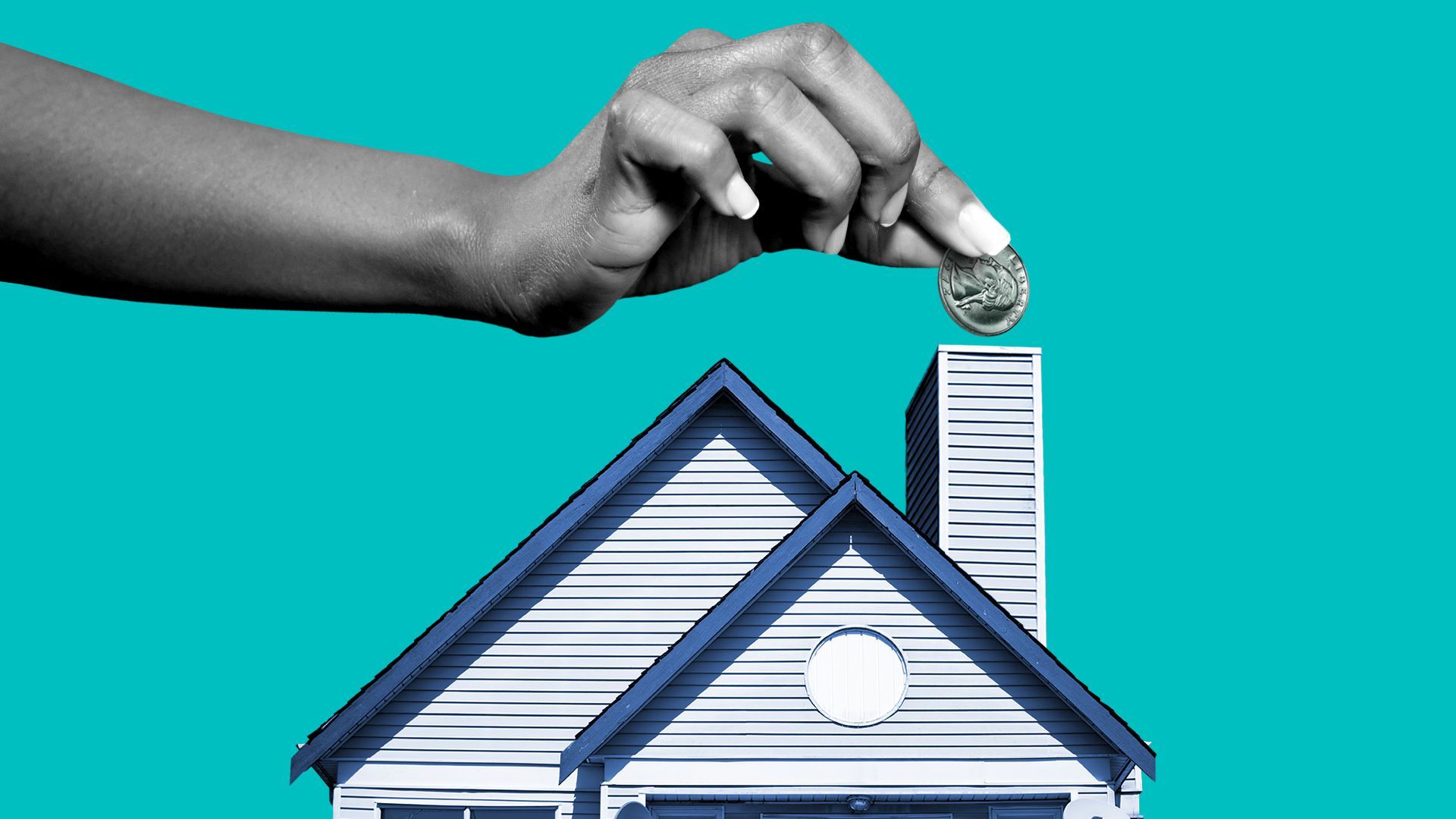 Sealed, a startup that helps homeowners overcome cost barriers to efficiency upgrades and electrification, just raised $16 million to fuel its expansion into more states, Ben and Andrew report.
Why it matters: Many important climate tools rely on the far wider deployment of well-known methods and concepts — in this case upgrading homes to waste less energy.
Homes account for an estimated 20% of U.S. carbon emissions, and they can be lowered by addressing leaks and installing modern equipment.
Driving the news: The New York-based company raised the Series B funding from investors including the real estate-focused VC firm Fifth Wall and Robert Downey Jr.'s FootPrint Coalition Ventures.
How it works: Sealed assesses homes' energy profiles, drafts upgrade plans and oversees them.
It matches customers with contractors for services like better insulation and sealing, modernizing heating and cooling, and changing from oil heaters and boilers to electric heat — a way to cut emissions as grids get cleaner.
They cover upfront costs, track performance and structure repayment around how much energy is actually saved — the company vows that if energy use isn't reduced, it doesn't get paid.
The big picture: Sealed said it has now raised $33 million and has partnerships with all the major New York State power companies including Con Edison.
The company said the latest fundraise will help it expand beyond New York, starting with New Jersey and Connecticut, with launches in additional markets, eyed over the next year.
What they're saying: "Sealed is a company that's on a mission to take homes off of fossil fuels. And we're doing that by trying to modernize home heating and cooling," CEO and co-founder Lauren Salz tells Axios.
"What Sealed is doing is lowering the barriers to doing it by making it as easy and affordable as possible," she said.
Salz also said: "We've created technology that is very accurate at predicting people's future energy usage based on the improvements that they're going to make. And that's what enables us to have this unique financing product."
The intrigue: A big part of the pitch is to enhance comfort and value, not simply appeals to the planet or lowering energy bills, and Salz said this helps Sealed position itself.
"Traditionally...the value of the improvements has been undersold by just focusing on the planet or energy savings," she said.
The proposition "allows us to capture a much bigger portion of the market."
Bonus VC notes: Carbon removal and hydrogen
TechCrunch reports on $2.7 million in new seed funding for Holy Grail, a Silicon Valley startup with a novel idea for carbon removal: going small.
"The startup is prototyping a direct air carbon capture device that is modular and small — a departure from the dozens of projects in the U.S. and abroad that aim to capture CO2 from large, centralized emitters, like power plants or industrial facilities," it reports.
Meanwhile, Electric Hydrogen just raised $24 million in Series A funding from backers including the Bill Gates-led Breakthrough Energy Ventures.
"Using low-cost renewable electricity, the company will produce clean hydrogen gas, an ideal medium for the decarbonization of many polluting industrial sectors," the announcement states.
2. U.S. blocks some solar imports over Chinese forced labor
The Biden administration is blocking the import of some materials used in solar panels from the Xinjiang region of China over the Chinese government's human rights abuses against Uyghurs and other Muslim minorities there, Ben writes.
Why it matters: The action against Hoshine Silicon Industry Co. and other new steps today represent an escalation of pressure against China over allegations of forced labor and other abuses in a region that produces large amounts of silicon-based materials.
What they're saying: "The United States will not tolerate forced labor in our supply chains and will continue to stand up for our values and for U.S. workers and businesses," the White House said this morning.
"This includes maintaining support for the development of transparent and diverse clean energy supply chains at home free of forced labor," it added.
The big picture: Via Bloomberg, the Xinjiang region "produces roughly half of global supply of polysilicon, a material critical for solar panels and semiconductors."
3. Historic heat wave headed for Pacific Northwest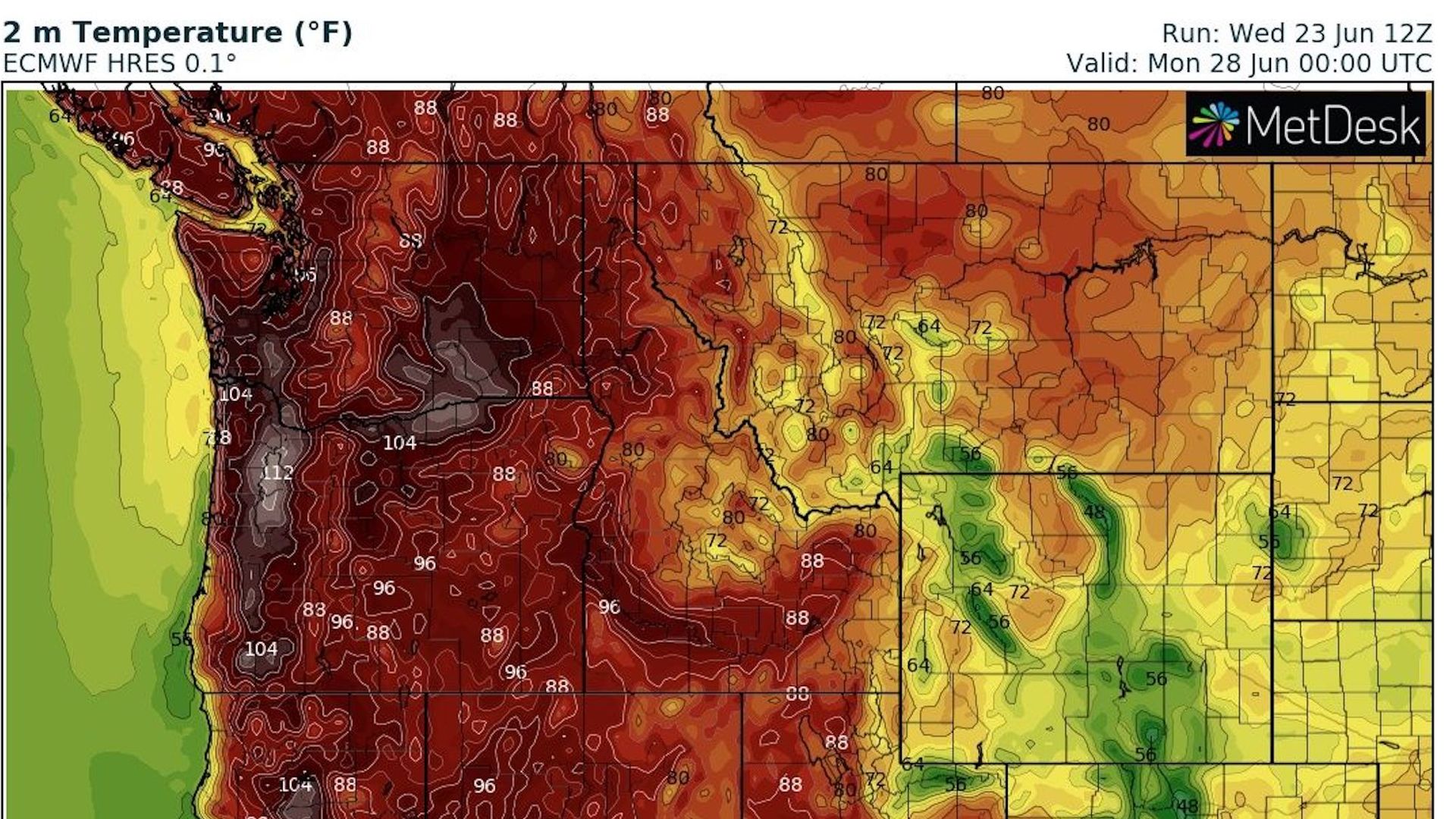 An "unprecedented" and potentially deadly heat wave is headed to the Pacific Northwest into southwestern Canada this weekend through at least early next week, Andrew writes.
Why it matters: The heat wave will affect a region where many people lack central air conditioning, raising the likelihood of public health impacts.
In addition, power demand is likely to spike at a time when hydropower resources are running relatively low due to drier than average conditions.
Driving the news: A highly unusual weather pattern is moving into place over the Pacific Northwest, with a record strong high-pressure area aloft, colloquially known as a "heat dome," parked over the region.
The heat will raise the risk of wildfires across multiple western states.
The big picture: Heat waves like this are one of the clearest manifestations of human-caused global warming, with studies showing that climate change boosts the odds of their occurrence and heightens their severity.
Details: In Seattle, where the average high temperature this time of year is in the low-to-mid 70s, the National Weather Service predicts a high of 102°F on Sunday, which would break the record for the city's hottest temperature during the month of June.
Portland, Ore., is forecast to reach low triple-digits on Saturday through at least Monday. The city is likely to break its June heat record, its record for most 100-degree days in June, and surpass its all-time high of 107°F.
The heat will be most intense in inland areas of Washington and Oregon. There, temperatures are forecast to soar to between 100°F and 114°F on Saturday and Tuesday and remain extremely hot through much of next week.
What we're watching: Any emerging trends in computer model data that keep the heat in place through all of next week.
4. Chart of the day: The march of Texas wind
Check out this helpful Energy Information Administration primer on the growth of U.S. wind power installations and where it's happening.
The big picture: Texas.
5. Catch up fast: Interior, Exxon, Reliance
Policy: "Interior Secretary Deb Haaland told lawmakers on Wednesday that there is not currently a plan to permanently ban new drilling leases on public lands and waters." (The Hill)
Litigation: "A Superior Court judge on Wednesday denied two requests from ExxonMobil Corp. to dismiss a lawsuit brought by Attorney General Maura Healey alleging that the company deceived Massachusetts consumers and investors about the impact of climate change." (Boston Globe)
Finance: "Reliance Industries Ltd will invest 750 billion Indian rupees ($10.10 billion) in a new energy business over the next three years, Chairman Mukesh Ambani said in the company's annual general meeting with shareholders on Thursday." (Reuters)
It will include solar and batteries, it reports.
6. Quote of the day
"I was doing bed karate this morning thinking about how promises made at gunpoint are rarely kept. Exxon only makes promises at gunpoint."
— Chris James, founder of the investment firm Engine No. 1
The context: Via the New York Times, that's a text James sent colleague Charlie Penner just ahead of Exxon's May 26 meeting, where Engine No. 1 saw three of its dissident board candidates elected.
Catch up fast: The text refers to Exxon's pledge for expanded carbon capture work as it was opposing the nominees.