Axios Generate
November 19, 2021
🍺 It's Friday! Today's Smart Brevity count is 1,370 words, 5.5 minutes.
🎶 Today marks 49 years since Linda Ronstadt released a classic single that's today's intro tune...
1 big thing: Americans see climate change in their lives
According to new results from a national poll from the Yale Program on Climate Change Communication, a record high of 7-in-10 Americans said they are at least "somewhat worried" about global warming. This beats out the findings from the same question dating back to 2008, Andrew writes.
Why it matters: Americans are increasingly perceiving climate change as a current danger affecting them personally, a development that could shift attitudes toward federal policy.
Context: The extreme weather events that occurred during the past year show up in the results.
Virtually every part of the U.S. saw extremes tied largely to climate change, such as the unprecedented heat wave in the Pacific Northwest, wildfires in the West and more.
Details: 55% think people in the United States are being harmed by global warming "right now," which is a record high for this polling that dates back to 2008.
Similarly, a record high of 52% of respondents said they have personally experienced the effects of global warming, the first time there has been a majority.
A broad majority think global warming is happening, outnumbering climate doubters by a ratio of 6-to-1, the survey found.
The poll also found that 6-in-10 Americans understand that global warming is mostly human-caused, while about 27% think it's mostly natural in origins.
Half think they will be harmed by global warming (a record high), with larger majorities saying climate change will harm people in the U.S. (68%), the world's poor (70%), and future generations (74%).
Yes, but: Despite the record highs in recognition of the threat climate change poses to them, 61% of Americans said they "rarely" or "never" talk about global warming with family and friends.
And the Yale results contrast with findings from a Washington Post-ABC News poll released last week, which showed a widening partisan divide on climate change.
It found the proportion of Democrats who see climate change as a serious threat has gone up during the past seven years, to 95%.
But during the same period, the share of Republicans who say climate change is a serious problem fell by 10 points, to 39%.
The Yale poll was conducted between Sept. 10-20 and has a margin of error of plus or minus 3 percentage points. The Post-ABC poll was conducted Nov. 7 to 10 and has a margin of error of plus or minus 3.5 percentage points.
2. Oil falls steeply as COVID bites again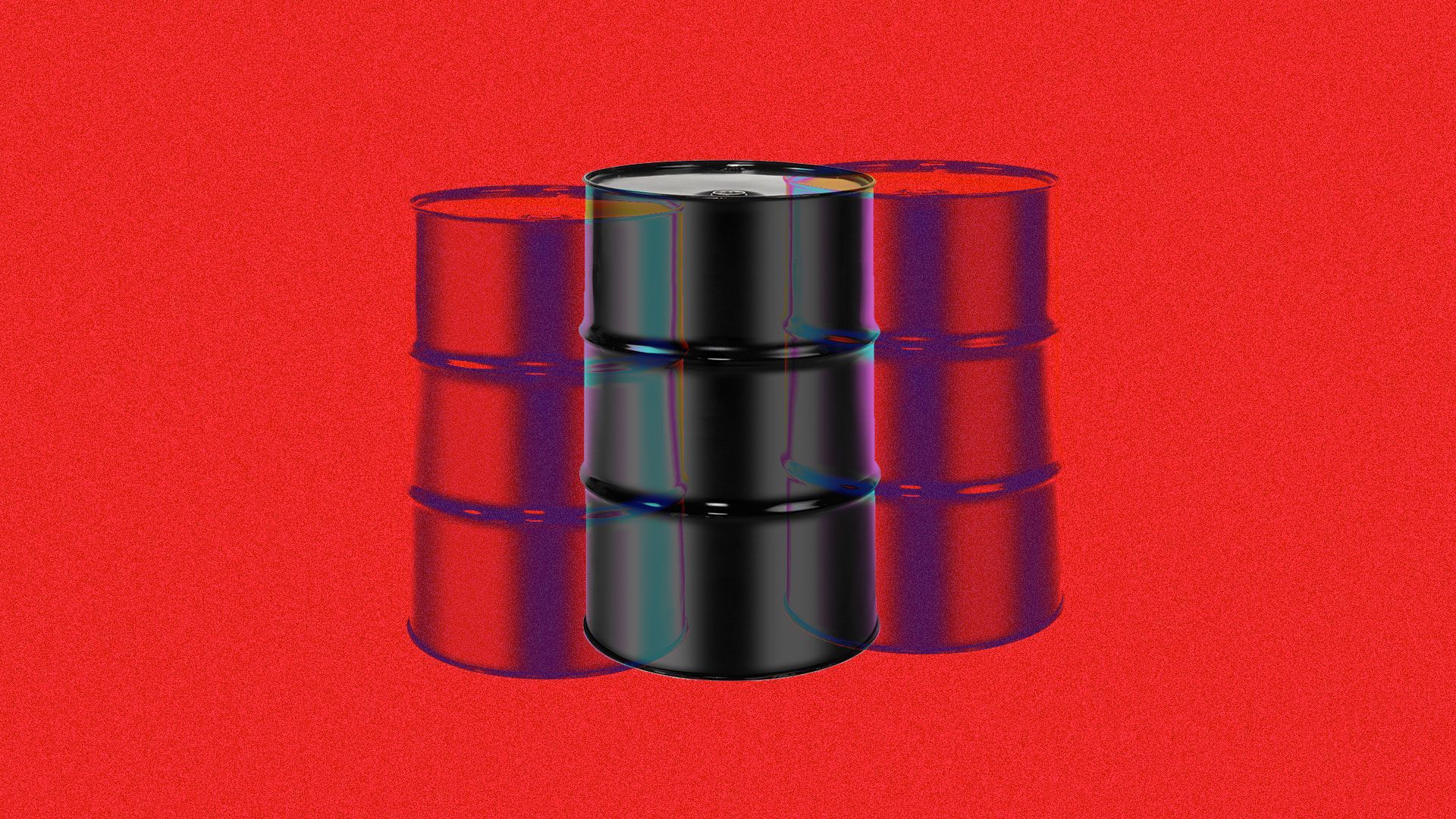 Crude oil prices are heading sharply downward this morning as traders react to fresh signs of the pandemic's persistence, Ben writes.
Driving the news: Prices fell by over $2.50 per barrel, before regaining a little ground, in the latest declines that have pushed crude to its lowest level in roughly six weeks.
This morning's drop comes after new lockdowns in Austria and restrictions elsewhere in Europe as cases rise.
What they're saying: "The market still remains fundamentally in a good position but lockdowns are now an obvious risk to this if other countries follow Austria's lead," Oanda analyst Craig Erlam said in a note.
The intrigue: Even before today's decline, oil had fallen from multiyear highs in October.
Bloomberg has an interesting piece about the effects of Biden administration threats of actions like releasing crude from strategic stockpiles.
"President Joe Biden, battling the political consequences of the strongest inflationary surge in decades, has spent a good month trying to talk down the price of oil. And for now, it's working," it reports.
3. What moves the climate communications needle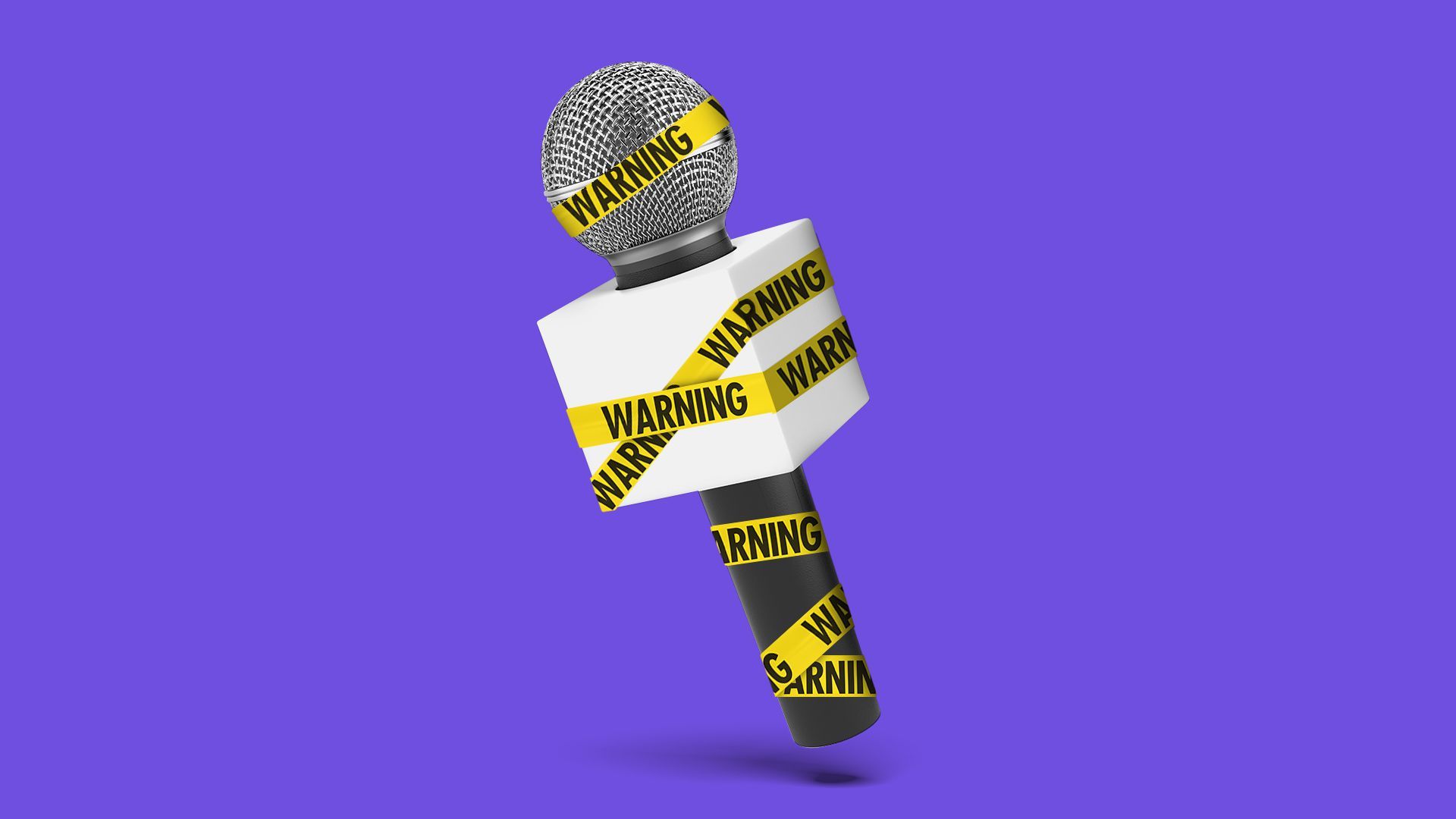 A new paper finds that words used in news stories to label climate change are less consequential than whether stories emphasize harm or solutions, Ben writes.
Driving the news: Researchers tested engagement with "climate crisis" and "climate emergency" — phrasing that has gained media traction — and "climate change."
They also showed survey participants stories focused on impacts (such as wildfires), solutions (such as U.S. states' climate plans), and a mixed set.
How it works: The survey involved tweets of stories under the Associated Press handle but actually from multiple outlets, and showed a headline, image and story lead.
What they found: Climate phrasing doesn't really move the needle, Rutgers and University of Michigan researchers found in the peer-reviewed study in Climatic Change.
"[T]erminology did not have any effect on public engagement with climate change, measured in terms of fear, hope, collective efficacy beliefs, policy support, and intended political action."
And to a small degree, the "emergency" frame "reduced perceived news credibility and perceived newsworthiness."
Yes, but: Long-term exposure to "emergency" and "crisis" framing may build support for action — or could bring "disengagement" among some audiences. The survey did not measure long-term impacts, and future research is needed, they write.
Turning to story content, "news about climate impacts decreased hope and efficacy beliefs, and increased fear, compared to news about climate actions."
The bottom line: The results "emphasize the importance of focusing on actions and efficacy information in news coverage of climate change, either alone or in combination with impacts, regardless of the terminology used."
4. Why U.S. weather forecasting is about to get better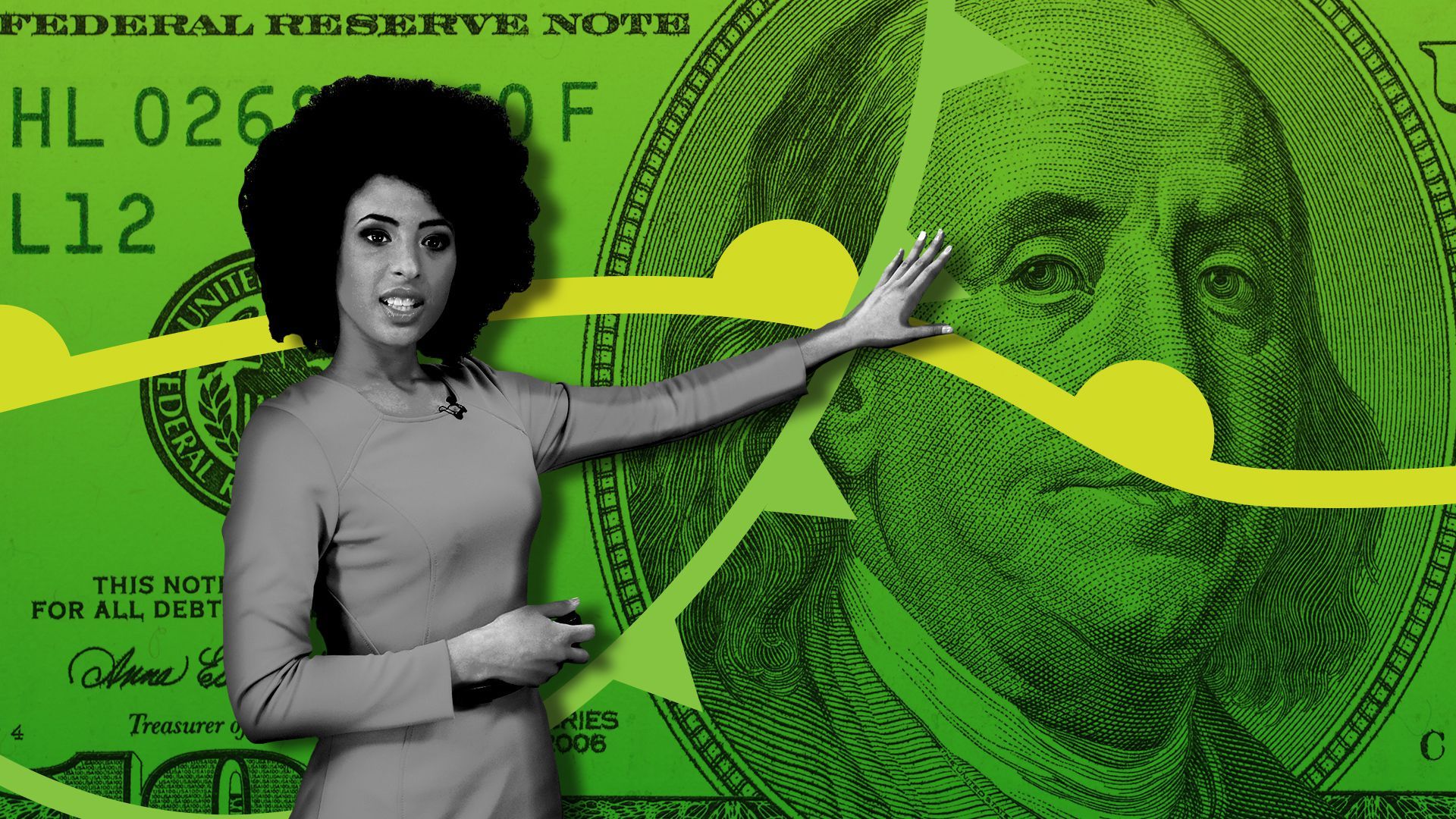 The Bipartisan infrastructure bill (BIF) includes large sums for improving the accuracy of weather and climate forecasts from the National Oceanic and Atmospheric Administration (NOAA), Andrew writes.
Why it matters: Making wildfire detections and forecasting more accurate, as well as honing weather and climate projections, are increasingly vital tasks as the weather grows more extreme due to human-induced climate change.
Driving the news: According to a Nov. 15 memo from NOAA administrator Rick Spinrad, the BIF provides nearly $500 million for NOAA's coastal and inland flood mapping, forecasting and water modeling. It also includes:
$50 million for improving wildfire forecasting.
$50 million for new instruments and equipment to aid in the detection, observation and modeling of wildfires.
$80 million for buying research supercomputing resources for advancing forecast accuracy.
Context: In addition to annual appropriations, the infrastructure law is the latest move by lawmakers to provide funding boosts for the nation's top weather and climate agency, whose computing power and weather model accuracy had fallen behind other nations in recent years.
NOAA's public affairs office told Axios the agency received more than $60 million in bills enacted in 2018 and 2019 to "accelerate improvements in weather forecasting," among other purposes.
Recently, NOAA also saw increased funding, on the order of $105 million for the fiscal year 2022, to improve its forecasting capabilities.
At the same time, NOAA has also been upgrading the GFS model and its ensemble system, which helps forecasters quantify the uncertainty associated with a given projection.
What's next: With all this added money, there's an expectation on and off Capitol Hill that NOAA's forecasts will be more on par with its peers around the world.
5. Catch up fast: Ford, deforestation, Tesla
Electric vehicles: "Ford Motor plans to increase its production capacity of electric vehicles to 600,000 units globally by 2023, which CEO Jim Farley expects would make the company the second-largest U.S.-based producer of EVs, behind Tesla." (CNBC via Automotive News)
Amazon: Axios' Kierra Frazier reports: Deforestation in Brazil's Amazon rainforest reached a 15-year high after it soared 22% in one year, according to data published Thursday. Go deeper
Tesla: A woman working at Tesla's Fremont, California factory has filed a lawsuit "alleging Tesla fostered a climate of sexual harassment," the Washington Post reports. "Three current and former Tesla workers corroborated aspects of [Jessica] Barraza's account in interviews with The Post," the story notes. Tesla did not comment.
6. The Apple car buzz got loud again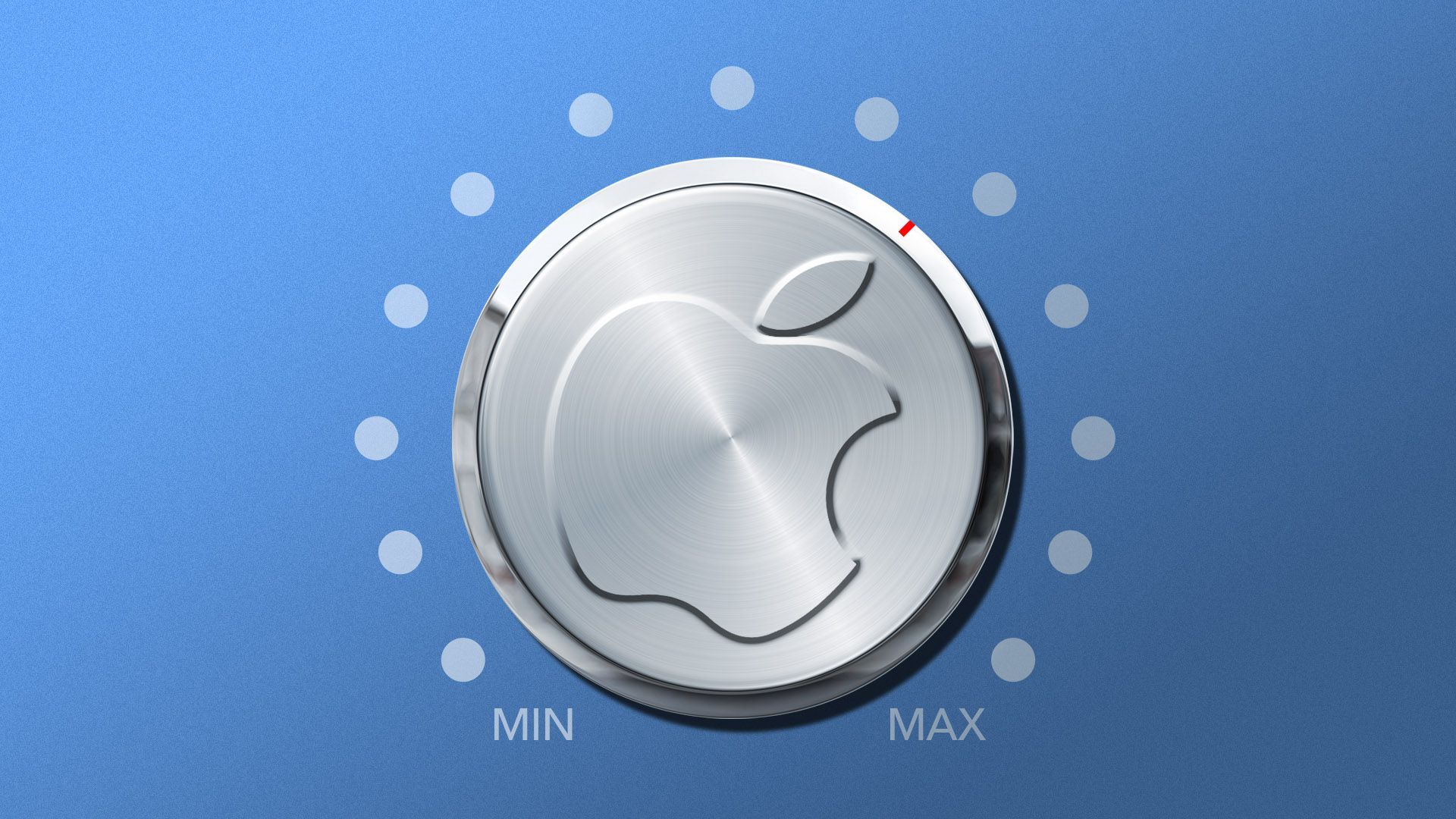 Bloomberg has fresh reporting on Apple's secretive plans to develop an autonomous electric car, Ben writes.
Driving the news: Apple plans to "accelerate development" and is "refocusing the project around full self-driving capabilities."
The target launch date is 2025, but could easily slip, they report in the story attributed to anonymous sources familiar with the effort.
Why it matters: If the plan ever comes to fruition, it would mark a major new entrant in the auto space, given Apple's brand recognition, balance sheet and track record.
Yes, but: Apple keeps its cards close to the vest, and the effort has long been a moving target.
What they're saying: Wedbush Securities analysts said Bloomberg's reporting matches their view that an Apple car — probably in partnership with another company — will likely arrive mid-decade.
"We would assign the chances of Apple unveiling its own standalone car by 2025 as 60%-65%," they said in a note.