Axios Generate
December 10, 2020
Good morning! Today's Smart Brevity count: 1,213 words, 4.6 minutes.
🚨Amazon this morning said it's investing in 26 new wind and solar projects across several countries that total 3.4 gigawatts of generating capacity. The additions make Amazon "the largest-ever corporate purchaser of renewable energy," it said.
Bloomberg has more.
🎸This weekend brings the birthday of guitarist Jeff "Skunk" Baxter, whose playing animates today's intro tune...
1 big thing: Clean power's new (but familiar) voice in Washington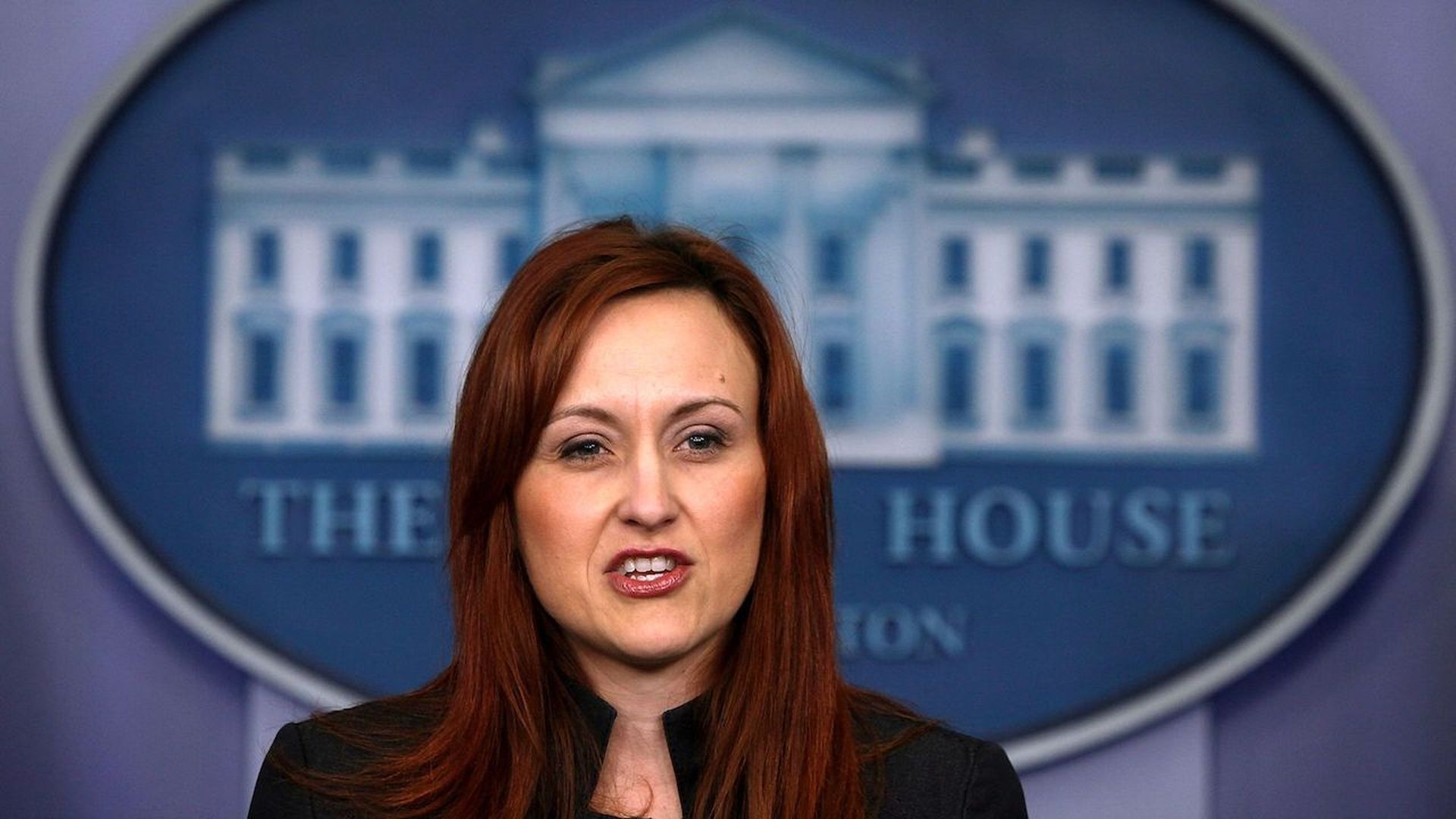 Axios' Amy Harder scoops...A new renewable-energy trade group has announced its chief executive as Heather Zichal, a top adviser to former President Barack Obama.
Why it matters: President-elect Joe Biden has promised to drastically increase clean energy, so this group — the American Clean Power Association — will be at the center of Beltway debates in coming years.
What they're saying: "We've gone from a point in time when the voice in Washington for the renewable sector is no longer a nice to have, it's a must-have as we think about our climate and economic agenda," Zichal told Axios.
Flashback: Since the Obama administration, Zichal has recently worked at The Nature Conservancy and as executive director of another climate-oriented group, the Blue Prosperity Coalition.
She had been mentioned as a possible candidate for a Biden administration role, and early in her career worked for then-Sen. John Kerry, a top climate official in the incoming administration.
Kerry told Axios that Zichal "strategic and smart" and that she was fighting climate change "long before it was cool."
Where it stands: The American Clean Power Association, which was announced in September and formally launches Jan. 1, stems from the 46-year-old American Wind Energy Association broadening its mission to include other forms of renewable energy.
It will have more than 800 member companies, the vast majority of which were members of AWEA.
When making its September announcement, AWEA said (per Greentech Media) the broader group better reflects the array of firms in the renewable energy space, including manufacturers, construction firms, transmission and storage companies.
The big picture: Renewable electricity, led by hydropower and wind, makes up nearly 18% of U.S. electricity. A decade ago, wind and solar were around 0% (hydropower has remained steady for decades.)
The intrigue: It is a tough task getting a bunch of distinct but similar interests on the same page, as is necessary for trade associations.
Other longstanding renewables groups, including the Solar Energy Industries Association and the National Hydropower Association, are not merging with the group.
Zichal plans to work with existing trade groups. But the American Clean Power Association (coined ACP) will have a "larger budget, a bigger footprint and I believe a larger impact," she said.
By the numbers: The goal in the coming years is for ACP's budget to be roughly triple the size of existing renewable-energy trade groups, said an official involved with ACP who requested anonymity to discuss details before a formal launch. (For comparison, AWEA's total 2018 expenses were around $22 million.)
What we're watching: Biden has repeatedly said he wants to ensure the renewable-energy jobs he helps create are labor-friendly with unions. Renewable energy is historically less unionized than other energy types.
This tension's not lost on Zichal, who said one of her first calls was with the United Steelworkers. A union spokesperson confirmed the meeting to Axios.
2. John Kerry's China tightrope
John Kerry is beginning to signal how he'll approach his new gig as President-elect Joe Biden's special envoy on climate change — including the fraught relationship with China, the world's biggest carbon emitter.
Driving the news: Kerry tells NBC News that he sees an opening to work with China even amid tensions between the countries on trade and other topics.
"History is full of opposing nations, nations that are competitors and potentially adversaries coming together around things that are imperative," he said.
"We will continue to try to address critical issues between us regarding trade, regarding theft of intellectual property, regarding access to market."
And in remarks to NPR, Kerry said he will talk to China about their financing of coal-fired power in other nations, but in a way that "doesn't force people into a corner to hunker down and head towards conflict."
Where it stands: Elsewhere, Kerry tells NPR that he's begun discussions with energy companies, albeit with constraints.
"I'm reaching out to them because I want to hear from them right now. We have to wait till January 20th before we engage substantively promoting any policy," he said.
3. Charting the U.S. methane problem
The amount of natural gas released or burned at oil-and-gas wells reached a record high in 2019 due to growth in Texas and North Dakota, per Energy Information Administration data.
Why it matters: Venting directly releases the highly potent planet-warming gas methane, while flaring (or burning) produces CO2 emissions and also allows some methane escape.
What we're watching: The incoming Biden administration has vowed to crack down on the practice, while a number of oil-and-gas companies have also pledged to improve performance.
4. Planet FWD debuts carbon-neutral snacks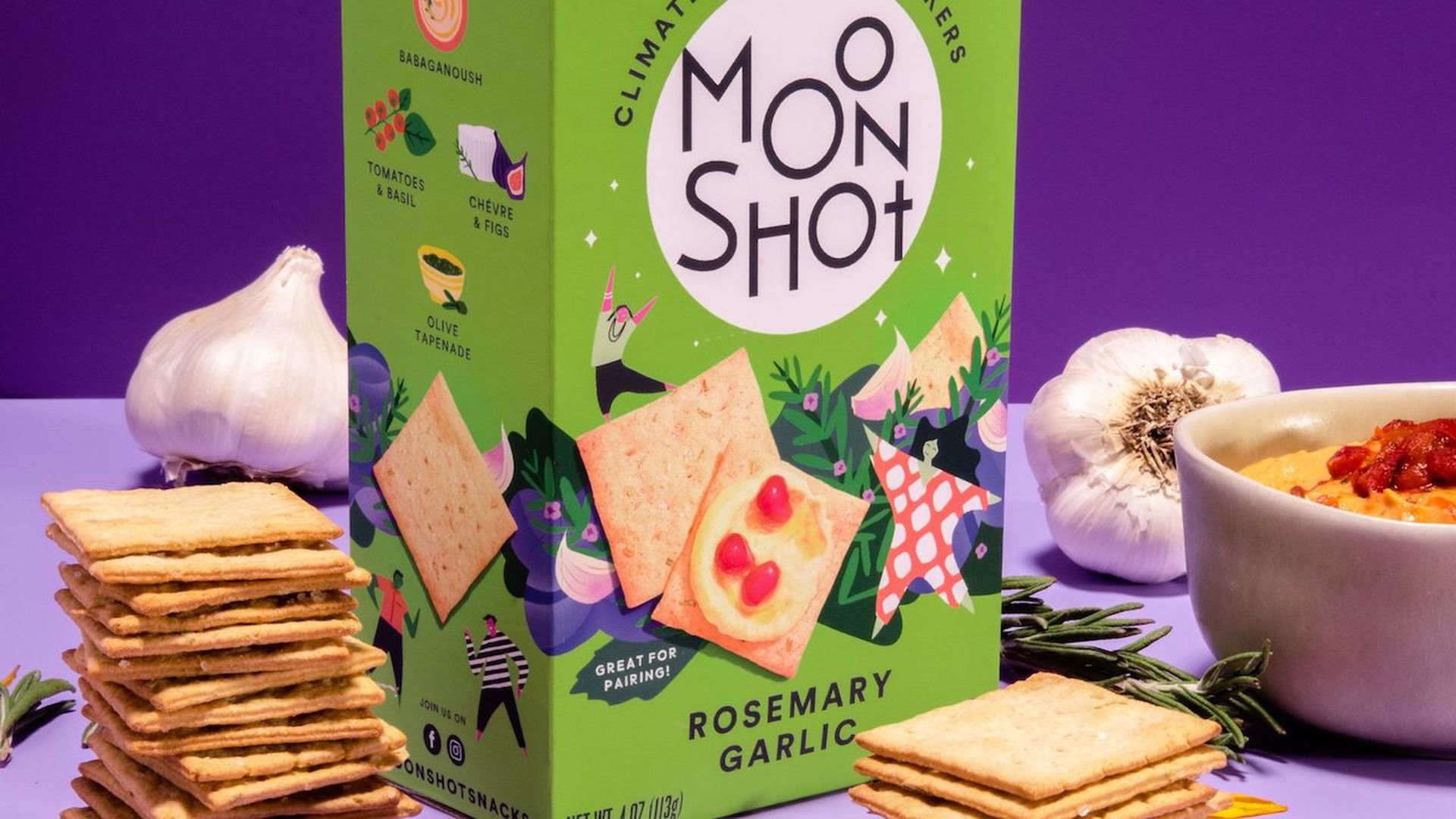 Axios' Kia Kokalitcheva reports...Agriculture startup Planet FWD has raised $2.5 million in additional seed funding and is debuting its first product: a snack cracker that the company says boasts a fully carbon-neutral manufacturing process.
Why it matters: About 25%-30% of global greenhouse gas emissions come from the food production system, according to research from the United Nations.
Background: Planet FWD focuses on regenerative agriculture, a set of practices that offset carbon emissions.
What's new: Moonshot, the company's fancy cracker, will be sold directly online and via Zero Grocery for $5.99 a box.
Planet FWD has partnered with environmental consulting firm Native Energy to offset whatever carbon it couldn't eliminate from its production.
Much of those emissions come from third parties it works with, so the company can't directly control them.
The big picture: Planet FWD aims to make software tools it built available to other companies looking to produce carbon-neutral foods, founder and CEO Julia Collins, who previously co-founded pizza robotics company Zume, told Axios.
What's next: The company is currently providing a small number of initial customers with some tools to assess their manufacturing. It will kick off a pilot program in February or March with tools focused on sourcing ingredients.
Emerson Collective led Planet FWD's new financing, with Concrete Rose, MCJ Collective and Arlan Hamilton, BBG Ventures, January Ventures, Kapor Capital and others also participating.
5. BlackRock eyes tougher climate stance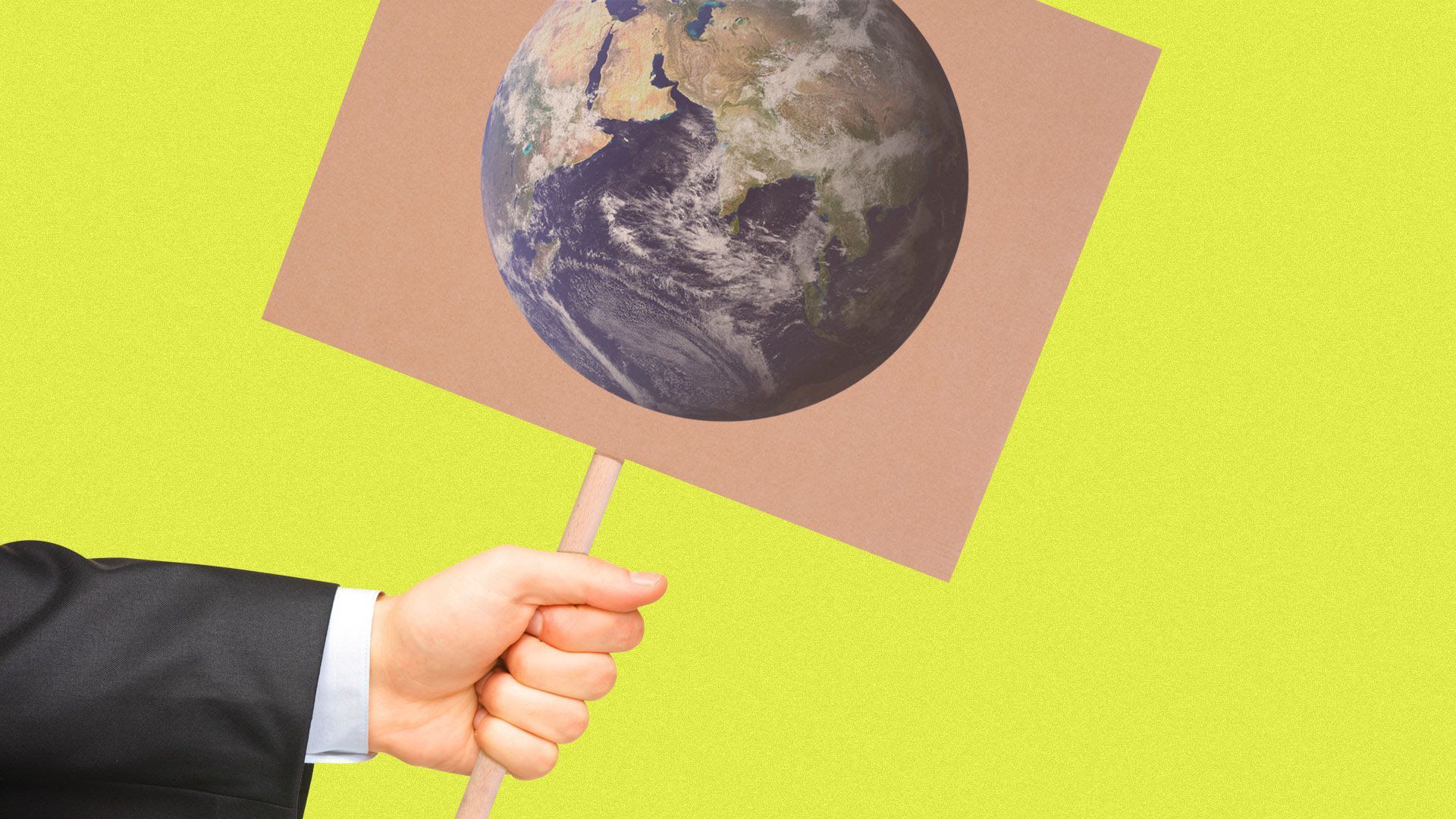 Via the Financial Times this morning: "BlackRock has vowed to back more shareholder resolutions on climate and social issues at annual meetings, as the world's largest asset manager faces growing pressure to use its clout to change companies' behaviour."
Why it matters: BlackRock is an influential company, but on its own won't dictate the fate of resolutions in shareholder meetings next year and going forward. So we'll be watching how its posture could influence other big investors too.
Where it stands: "In a report on Thursday, the company said it had increased its support for climate- and social-related shareholder proposals since July 1, backing 11 out of 22," Reuters notes.
The big picture: The voting approach is part of a wider memo from BlackRock Thursday on its sustainability stance and plans to push companies harder on climate.
BlackRock has long been under fire from activists despite vowing a series of steps in January to make climate more central to its mission.
What we don't know: How BlackRock will approach the newly launched effort from the investment group Engine No. 1 to place four new directors on Exxon's board, which is in part aimed at making Exxon move faster on climate.
BlackRock did not comment on the effort to change Exxon's board when I asked the company earlier this week.
6. Catch up fast: Interior, EVs, Exxon
Cabinet: Native Americans are pushing Biden to select Rep. Deb Haaland as Interior secretary, arguing the New Mexican would add unique and necessary perspective to the Cabinet agency as a woman from their community. (Axios)
Electric vehicles: "Arrival, the U.K. electric vehicle startup that plans to become a publicly traded company through a merger with special purpose acquisition company CIIG Merger Corp., has picked Charlotte for its North American headquarters." (TechCrunch)
Pressure: "D.E. Shaw & Co. has built a sizable position in Exxon Mobil Corp. and is calling on the company to cut spending to improve performance and maintain its dividend, according to people familiar with the matter." (Bloomberg)