Axios Generate
October 28, 2022
🍺 Happy Friday! Today's newsletter has a Smart Brevity count of 1,087 words, 4.5 minutes. 
🚨European Union officials have reached a deal to end sales of petro-powered cars in 2035. Go deeper
🎶 This week in 1986 the pop craftsmen XTC released the album "Skylarking," which provides this week's final intro tune...
1 big thing: Russia's shrinking energy future
Russia will never regain its stature in global oil-and-gas markets following its break with Europe, the International Energy Agency projects, Ben writes.
Why it matters: The findings in IEA's new World Energy Outlook show how the invasion of Ukraine is upending markets — and will have lasting effects on trade flows that weaken Russia.
In 2021 Russia was the world's largest gas exporter and is a huge source of oil for global markets, too.
Zoom in: The chart above shows Russia's projected gas exports in last year's version of the annual IEA report compared to the updated study out this week.
They've also significantly cut projected Russian oil exports in the years ahead.
Under IEA's long-term outlook to 2050, Russia's exports never return to 2021 levels.
The big picture: IEA had previously projected a long-term decline in Europe's reliance as the bloc pursued more climate-friendly sources, but now "the rupture has come with a speed that few imagined possible."
The analysis notes that Asian buyers will make up some of the difference, but Russia won't find markets for all the huge volumes that once went to Europe.
"Russia's reorientation to Asian markets is particularly challenging in the case of natural gas, as the market opportunity for large-scale additional deliveries to China is limited."
"Longer-term prospects are weakened by uncertainties over demand, as well as restricted access to international capital and technologies to develop more challenging fields and LNG projects."
What we're watching: In the nearer term, the effects of EU restrictions on Russian oil that take effect in December and the G7 efforts to impose a price cap on the country's barrels.
S&P Global Commodity Insights has more.
2. Exxon's new profit record — almost $20B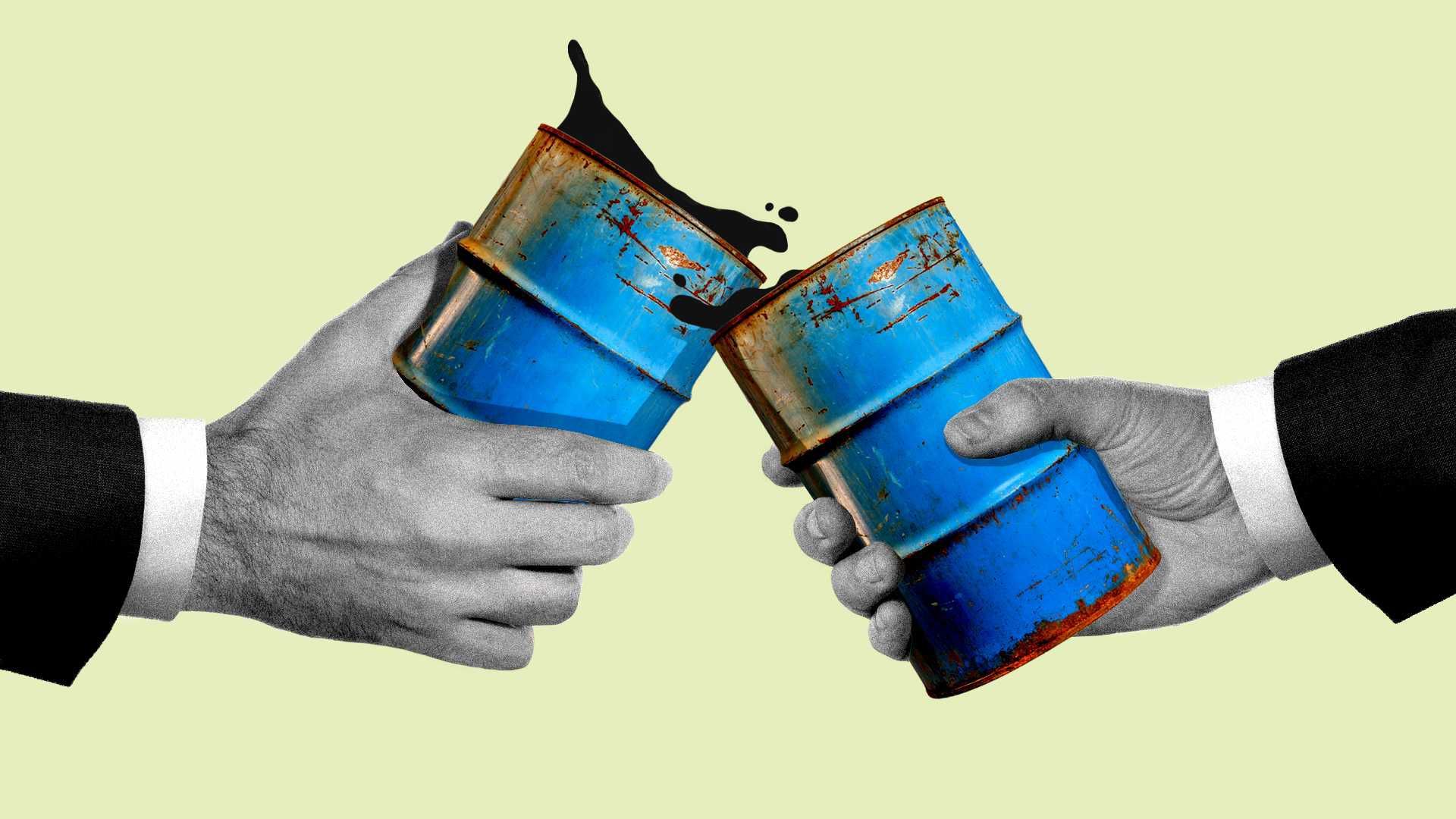 Exxon announced a record $19.7 billion Q3 profit this morning while U.S. peer Chevron booked $11.2 billion for the same period, its second-highest haul, Ben writes.
Why it matters: The significant earnings reflect high oil and natural gas prices but are also likely to draw fresh criticism from Democrats ahead of the midterm elections.
Driving the news: Exxon cited a mix of record refining volumes and high earnings on natural gas that "more than offset lower crude realizations and weaker industry refining margins."
Both companies' earnings reports exceeded analysts' estimates and their stock prices are up in pre-market trading.
The big picture: "Even as the supermajors bask in profits unimagined just two years ago during the darkest days of the pandemic, oil executives are under pressure to cut emissions and improve shareholder returns, and have been hesitant to expand costly exploration programs, adding to commodity-price pressures," Bloomberg reports.
Yes, but: Exxon and Chevron said their production in the prolific Permian Basin hit record highs in Q3 and emphasized supply investments.
What we're watching: The political fallout.
The White House has ramped up criticism of the industry as companies have reported big profits in recent quarters, alleging they're failing to help consumers.
Industry officials say the criticisms don't accurately portray how global commodity and fuel markets work.
Go deeper: Exxon and Chevron Rack Up Giant Profits (NYT)
3. John Kerry eyes the exits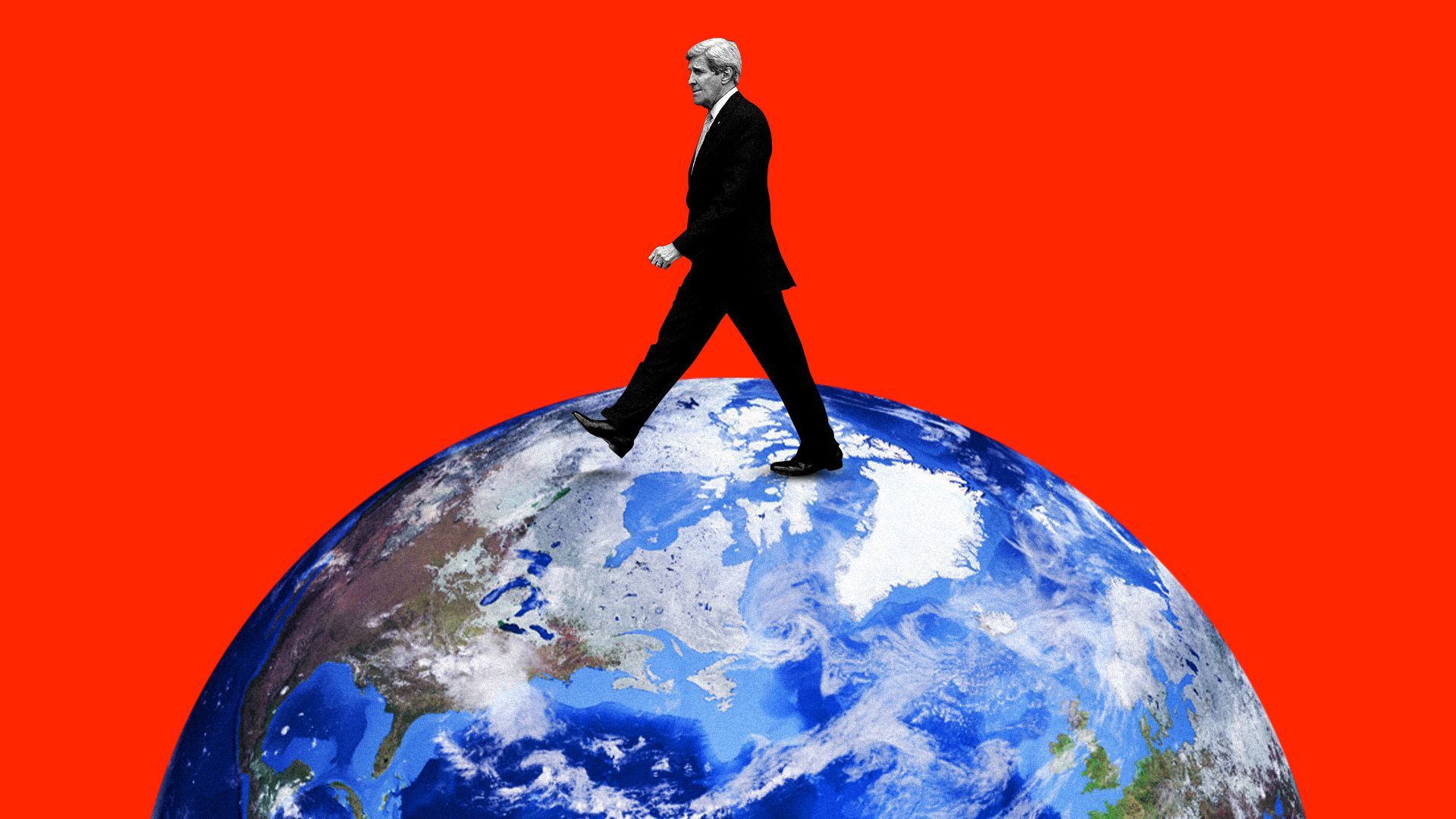 Special climate envoy John Kerry is actively considering leaving the Biden administration after next month's COP27 summit, according to people familiar with the matter, Axios' Hans Nichols scoops.
Kerry's soliciting advice from friends and colleagues on how to stay involved in climate efforts from the private sector, these sources said.
Why it matters: President Biden has relied on Kerry, a former secretary of state, senator and the Democratic presidential nominee in 2004, to corral more multilateral buy-in for emissions cuts and keep climate on the radar despite economic headwinds and the Russia crisis.
The big picture: He was in the thick of COP26 negotiations in Glasgow last November that produced, for the first time, an explicit pledge to move away from coal and fossil fuel subsidies.
But with the U.S. and China staring each other down on both trade and security issues, the prospects for further joint action with Beijing on climate have diminished.
What they're saying: Kerry hasn't made a final decision and could decide to remain in his role.
"I can't stress enough: Secretary Kerry has no plans to depart, and his sole focus is COP27, period, and anything else is baseless speculation," said Kerry spokesperson Whitney Smith.
4. 🏃🏽‍♀️Catch up fast on tech finance
☀️ First Solar said it's investing $270 million to create an R&D center in Perrysburg, Ohio, focused on next-generation thin-film tech. ABC has more.
Yes, but: The news came as the panel company also reported a Q3 loss of 46 cents per share, sending its stock price lower.
🔋Ascend Elements, a Westborough, Mass.-based lithium-ion battery recycler, raised $200 million in Series C funding led by Fifth Wall Climate, Axios' Dan Primack reports.
Why it matters: Recycling could be key to helping electric vehicle manufacturers meet rising demand. Read more
🏭 ArcelorMittal, the huge steelmaker and mining company, and mining giant BHP are teaming up with Mitsubishi Heavy Industries to test carbon capture at steel plants. Bloomberg has more.
Why it matters: Cutting emissions from heavy industries like metals production, cement, chemicals and more is key to keeping global climate goals from slipping away.
🔋Ionblox (fka Zenlabs Energy), a lithium-ion cell company, raised $24m in Series B funding from eVTOL maker Lilium, Applied Ventures and Catalus Capital.
5. One hot job: fixing EV chargers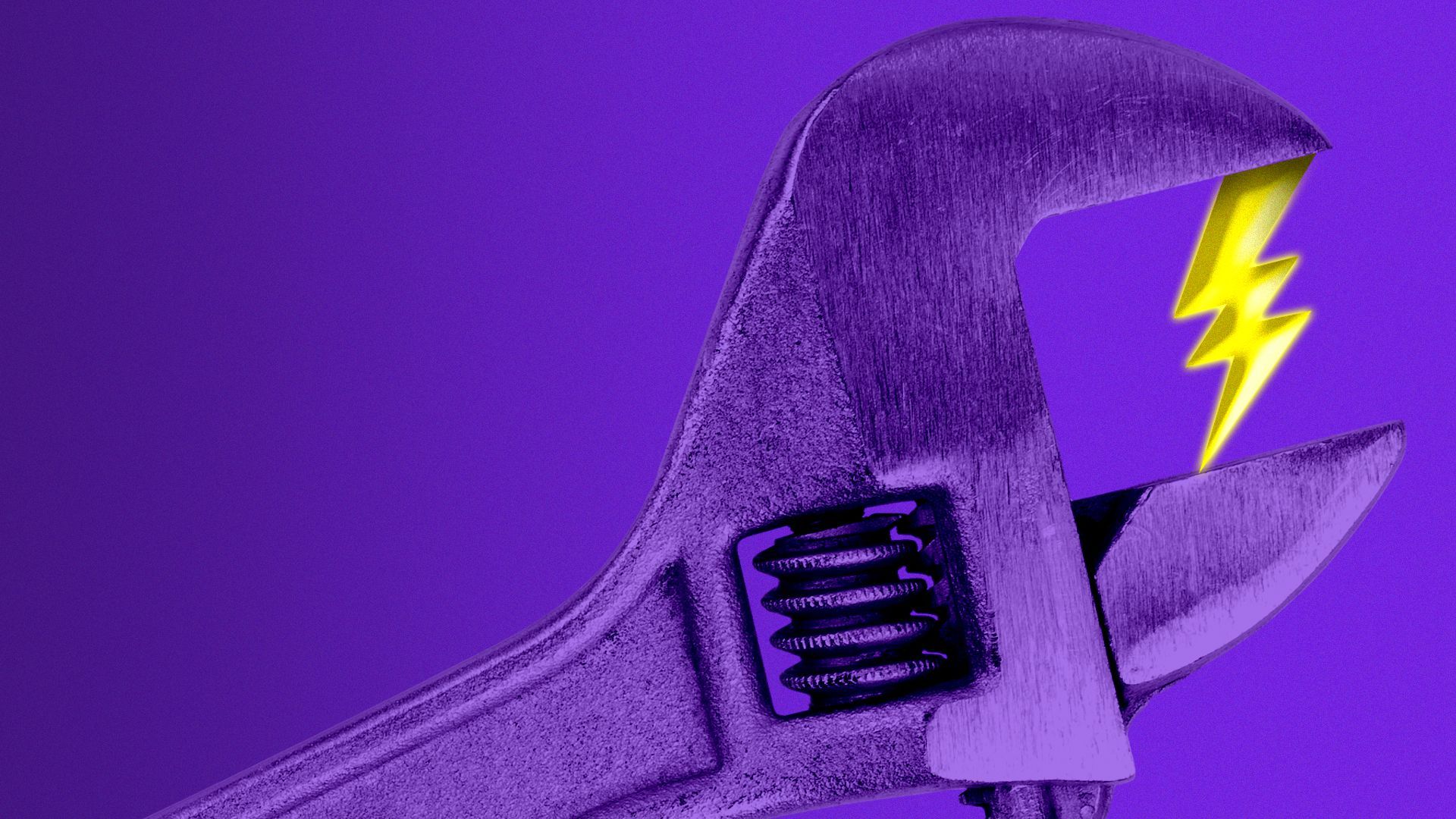 There's a growing demand for certified technicians to service EV charging stations that are popping up everywhere, Axios' Joann Muller reports.
Why it matters: The EV movement could stall if drivers can't find a charger when they need one — or worse, if they meticulously plan out charging stops but get thwarted by broken plugs.
Threat level: One recent study found that about a quarter of the San Francisco Bay Area's 181 public chargers were malfunctioning.
Plenty can go wrong — broken screens, damaged plugs, power interruptions, faulty card payment systems and more.
The big picture: About 48,000 public chargers currently dot the U.S. That number will only grow, in part thanks to a $5 billion federal program.
But the industry is fragmented, with many players and business models — and no clear line of responsibility for maintenance and upkeep.
What we're watching: Kameale Terry and Evette Ellis, two Black women from Los Angeles, founded ChargerHelp, a startup dedicated to fixing broken chargers.
They first have to recruit and train a new workforce that can diagnose and repair the wide range of chargers.
So far ChargerHelp has trained about 500 technicians, but thousands more are needed to keep up with the expected rollout of charging infrastructure, they tell Axios.
📬 Did a friend send you this newsletter? Welcome, please sign up.
🙏Thanks to Mickey Meece and David Nather for edits to today's newsletter. Have a great weekend and we'll see you Monday!