Axios Generate
February 08, 2022
🌞 Hi readers! Today's Smart Brevity count is 1,277 words, 5 minutes.
🔮 Join Axios virtually at our 1st What's Next Summit on April 5. Register here for livestream discussions on trends that will revolutionize our future.  
🎶 At this moment in 1995 the incredible TLC was enjoying a monthlong reign atop the Billboard Hot 100 with today's intro tune...
1 big thing: Geothermal startup nabs $40M for deep drilling push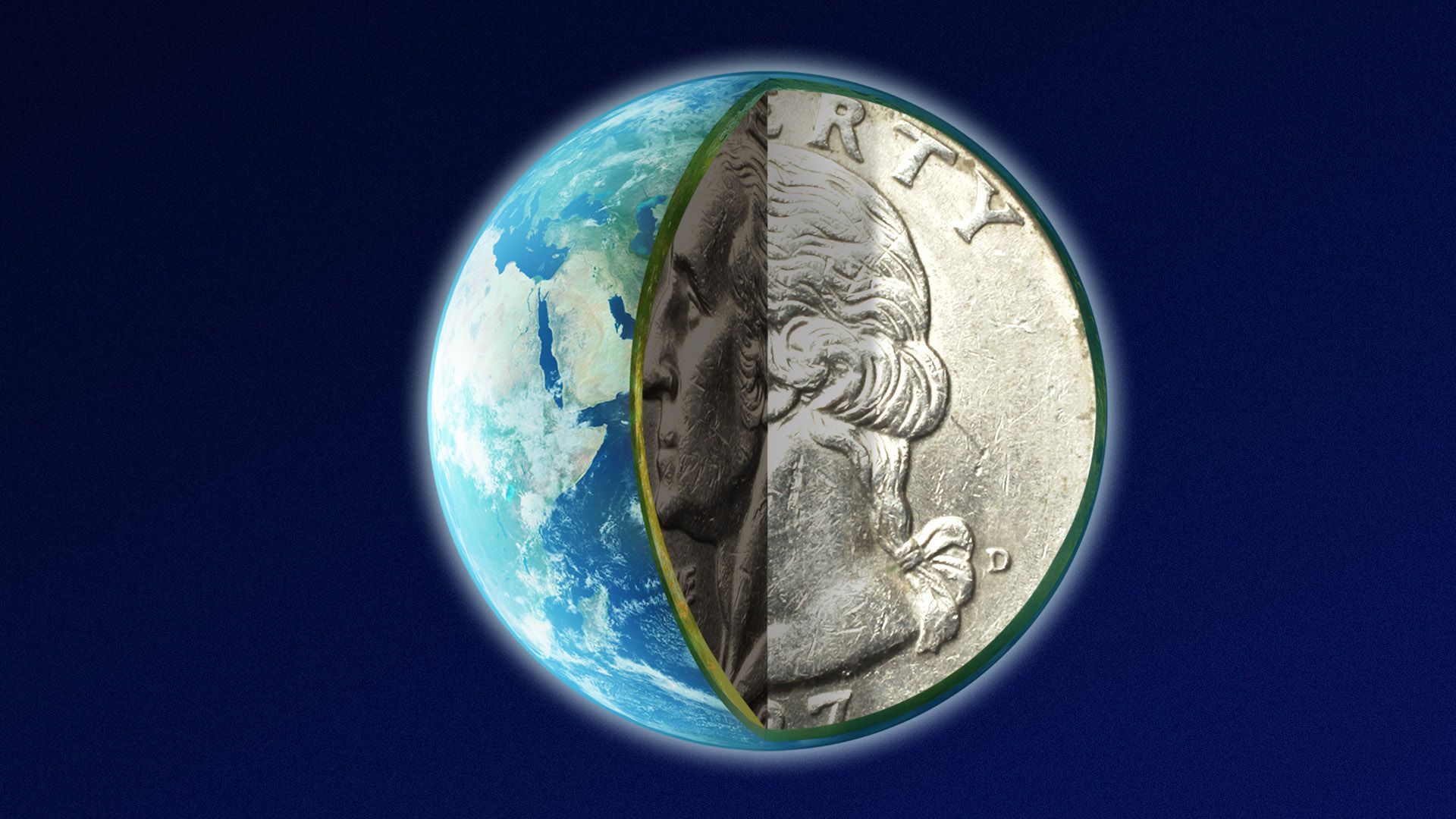 Quaise Energy, a company with experimental tech to access hugely energy-dense geothermal resources 6 to 12 miles below Earth's surface, this morning announced $40 million in Series A funding, Ben writes.
Driving the news: Safar Partners, Prelude Ventures, Fine Structure Ventures, The Engine and others are backing the Cambridge, Massachusetts startup, which spun out of MIT in 2018.
It brings total funding to $63 million to date, including a $5 million Energy Department grant.
Why it matters: Quaise is among the startups looking to scale geothermal by tapping hard-to-access, deeper and hotter resources with emerging drilling and conduction technologies.
The big picture: Geothermal is an old energy source that remains niche compared to the immense potential.
Companies with differing methods — and degrees of difficulty — have been attracting investor cash in recent years. Startups raised almost $452 million in venture funding from 2017 to 2021, per PitchBook.
Fervo Energy, a company with so-called enhanced geothermal tech, raised $28 million in Series B funding last year.
Eavor raised $40 million last year from backers including VC arms of BP and Chevron for developing its "closed loop" system.
Zoom in: Quaise targets "supercritical" geothermal resources at massive depths and temperatures.
Quaise is experimenting with a "millimeter wave" drilling system to tap high-energy resources at temperatures in the 500° C range.
"Our technology allows us to access energy anywhere in the world, at a scale far greater than wind and solar, enabling future generations to thrive in a world powered with abundant clean energy," CEO Carlos Araque said in a statement.
Yes, but: The tech and engineering challenges are quite significant. This helpful Vox explainer on the geothermal taxonomy calls supercritical the "far horizon" of next-wave concepts.
A 2019 DOE report on geothermal says accessing supercritical resources demands "entirely new classes" of drilling, processes and more to handle "extreme temperature, pressure, and chemical conditions."
What's next: Quaise, working with Oak Ridge National Laboratory, plans to move from indoor drilling to in-ground field under lab conditions allowing expansion to depths around 10 meters this year, Araque told Axios via email.
The new funding will help enable Quaise to advance to test larger-scale field drilling by 2024 at depths from 100 up to 1,000 meters and expand their team, said Araque, who spent 15 years with the oilfield services heavyweight Schlumberger.
They're working with the big oilfield services company Nabors, which is also an investor through its venture arm.
The intrigue: Quaise says widely distributed supercritical resources would enable coal- and gas-fired power infrastructure to be powered with geothermal instead.
Araque said Quaise has had visits to an undisclosed New York State power plant and has identified 100+ U.S. plants as candidates.
2. Key White House climate official is out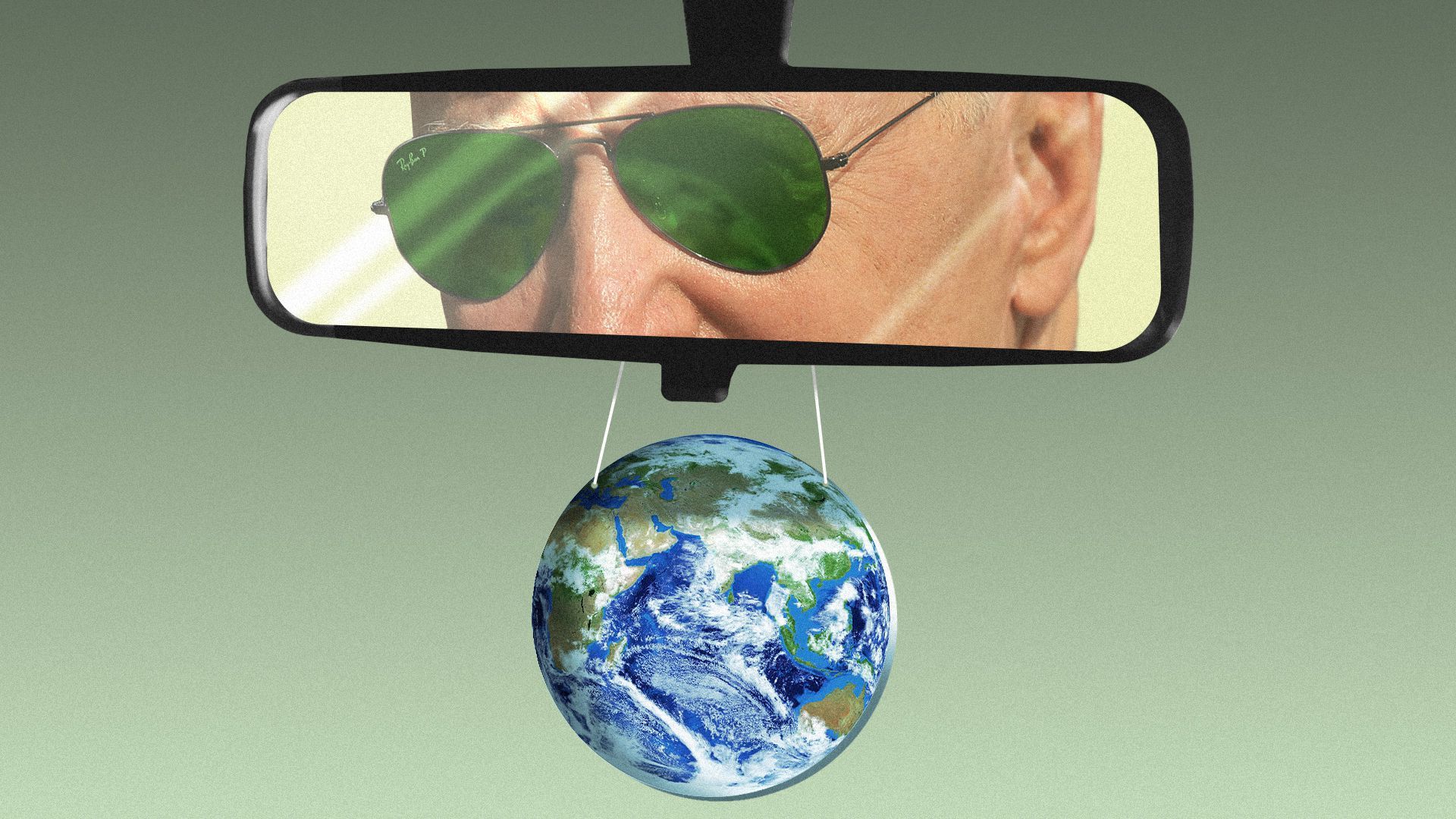 The resignation last night of White House science adviser Eric Lander means the administration is losing its highest-ranking climate science official, Andrew writes.
Why it matters: Lander has turned the White House Office of Science and Technology Policy (OSTP) into a new power center within the government for climate and energy research and policy.
It's responsible for overseeing the U.S. Global Change Research Program, which coordinates climate research at 13 federal agencies and produces the National Climate Assessment, which examines the effects of climate change on the U.S. and comes out every four years.
Catch up fast: Lander, a prominent geneticist and molecular biologist, resigned after an investigation found that he violated the Biden administration's workplace policy, the White House confirmed.
The intrigue: The question now facing OSTP and the Biden administration more broadly is whether its ambitious science agenda will be delayed or knocked off course by Lander's behavior and any disruption associated with his departure.
Details: Biden is the first president to give the director of OSTP cabinet ranking, elevating its visibility and authority to the top tier of the federal government.
Although Lander was working on many issues, climate and energy were in his mandate from Biden since the outset.
Between the lines: Lander boosted OSTP's climate and energy work by bringing in top experts and setting up new, or renaming existing, divisions.
In addition to former NOAA administrator Jane Lubchenco's position as deputy director for climate and environment, Lander recently added Stanford University researcher Sally Benson to be OSTP's deputy director for energy and chief strategist for the energy transition.
Carnegie Mellon University energy expert Costa Samaras also took on an energy role.
3. BP expands low-carbon push as profits soar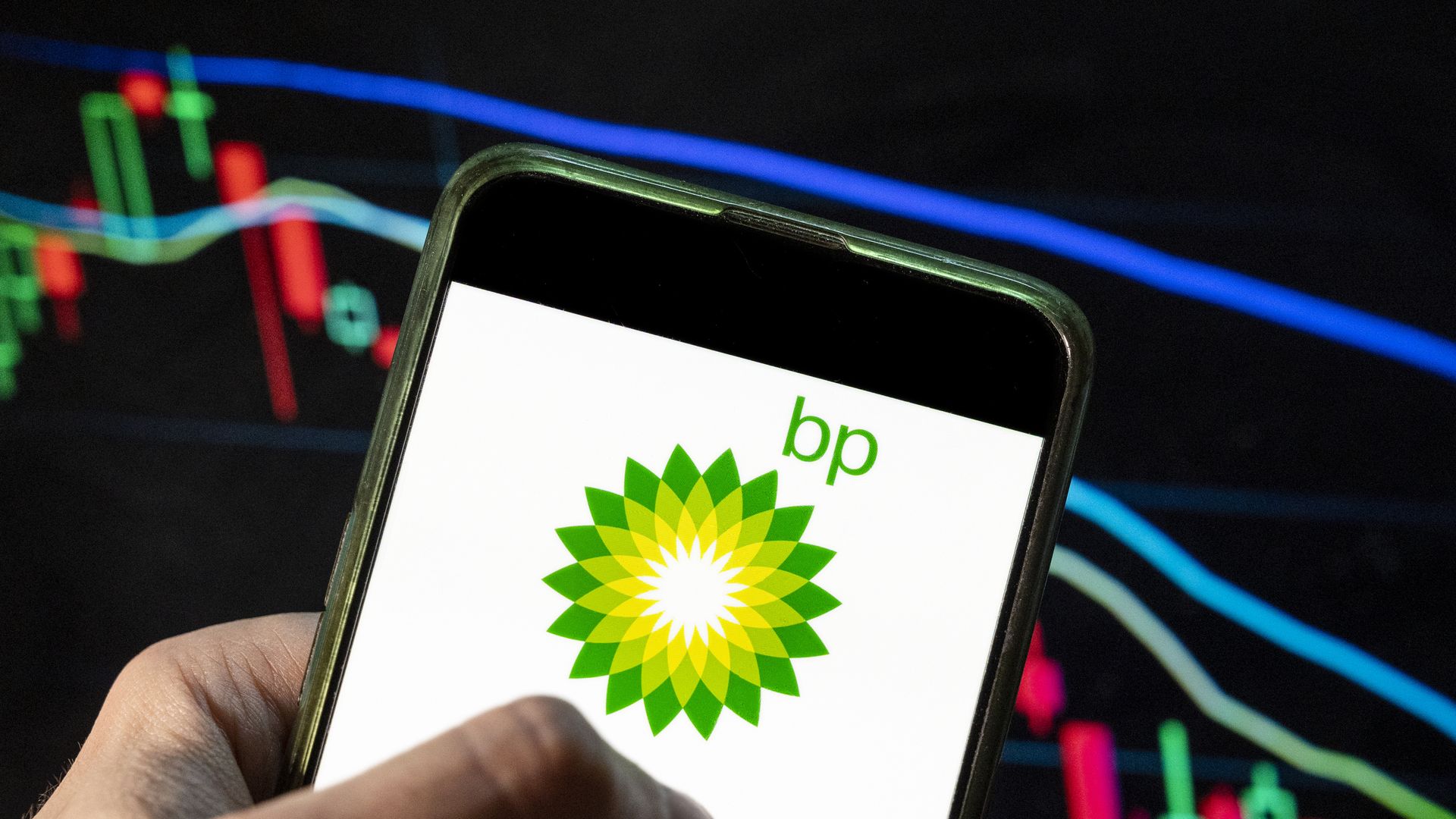 BP this morning announced its highest profits in eight years and unveiled new targets for investments in low-carbon energy, Ben writes.
Driving the news: The U.K.-based company reported $4.1 billion in Q4 2021 profits and a full-year haul of $12.8 billion.
BP also offered new details on its wider — and previously announced — goal of becoming a "net-zero" company by 2050.
The company now expects that by 2025, over 40% of its capital investments will go toward its "transition growth businesses" that include renewables, EV charging, hydrogen and other areas.
Why it matters: The earnings signal Big Oil's financial recovery on the strength of higher commodity prices.
The targets show the majors — especially Europe-based multinationals — are diversifying even as fossil fuels remain their main business.
Go deeper: Energy giant BP speeds up green makeover plan (Reuters)
4. The EV revolution comes to auto service providers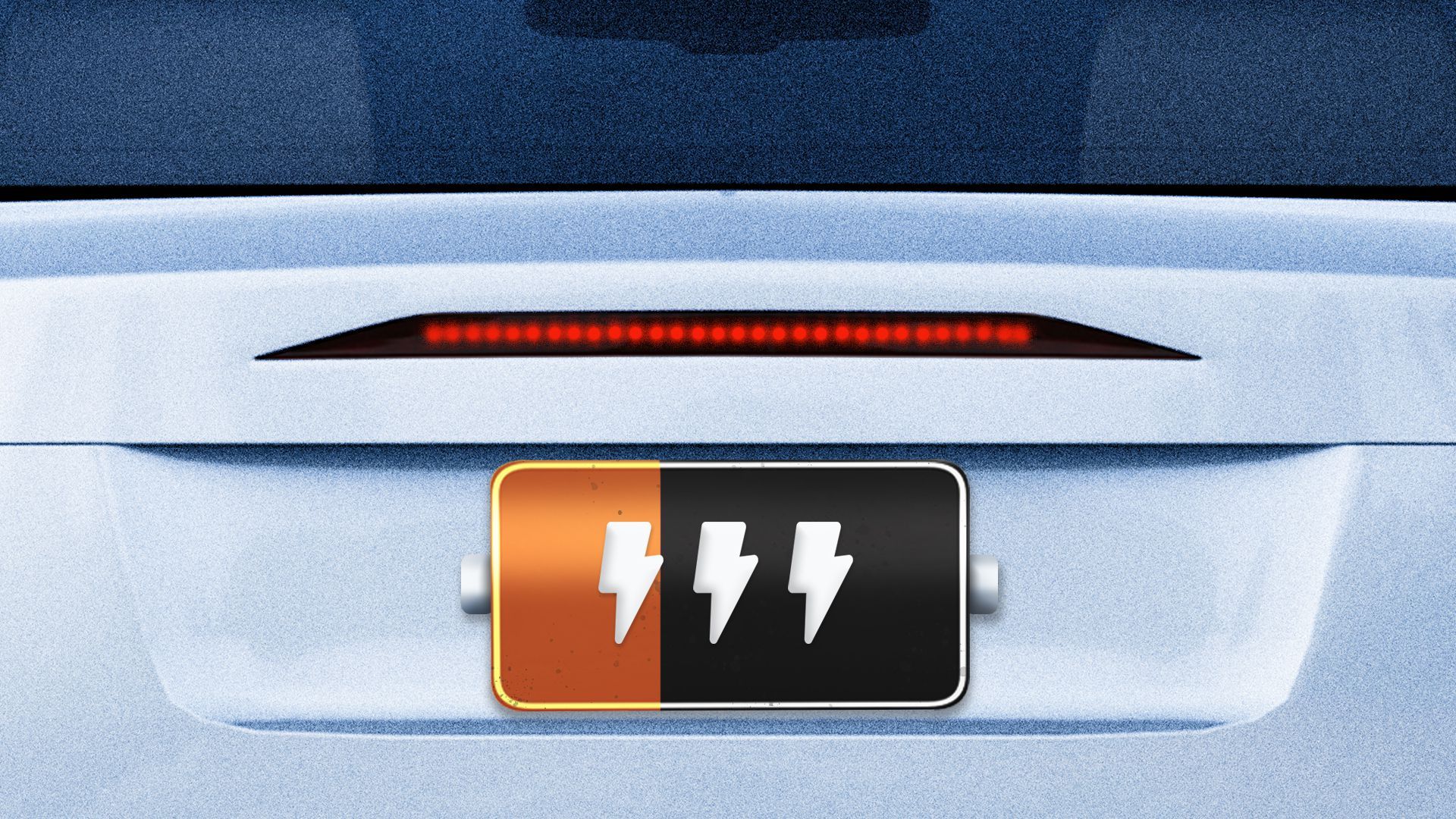 The auto services and products provider Valvoline is launching offerings tailored to electric vehicles in some retail locations, Ben writes.
Why it matters: Valvoline's announcement yesterday is the latest sign of how incumbent auto-related companies are adapting to the growth of EVs.
Catch up fast: In late January, for instance, Bridgestone said it would offer expanded EV services at dozens of Firestone Complete Auto Care and Wheel Works centers in Austin and San Francisco.
Jiffy Lube in late 2021 announced it was beginning to expand EV-tailored services in some locations, Charged Fleet reports.
Valvoline has a partnership with the EV startup Arrival — which is targeting the van, bus and ride-hailing market — as one of its U.S. service providers.
Zoom in: Valvoline said it's piloting services like inspection and maintenance for EV owners.
Some of it is about the type of maintenance needed for gas-powered cars too — think tire rotation, wipers and such — but overall will have a "specific focus" on EVs, the company said.
Bonus: charting EV sales growth
One reason auto service companies want in on EVs is that sales are growing rapidly, as you can see above.
5. Climate insurance startup kWh raises $20M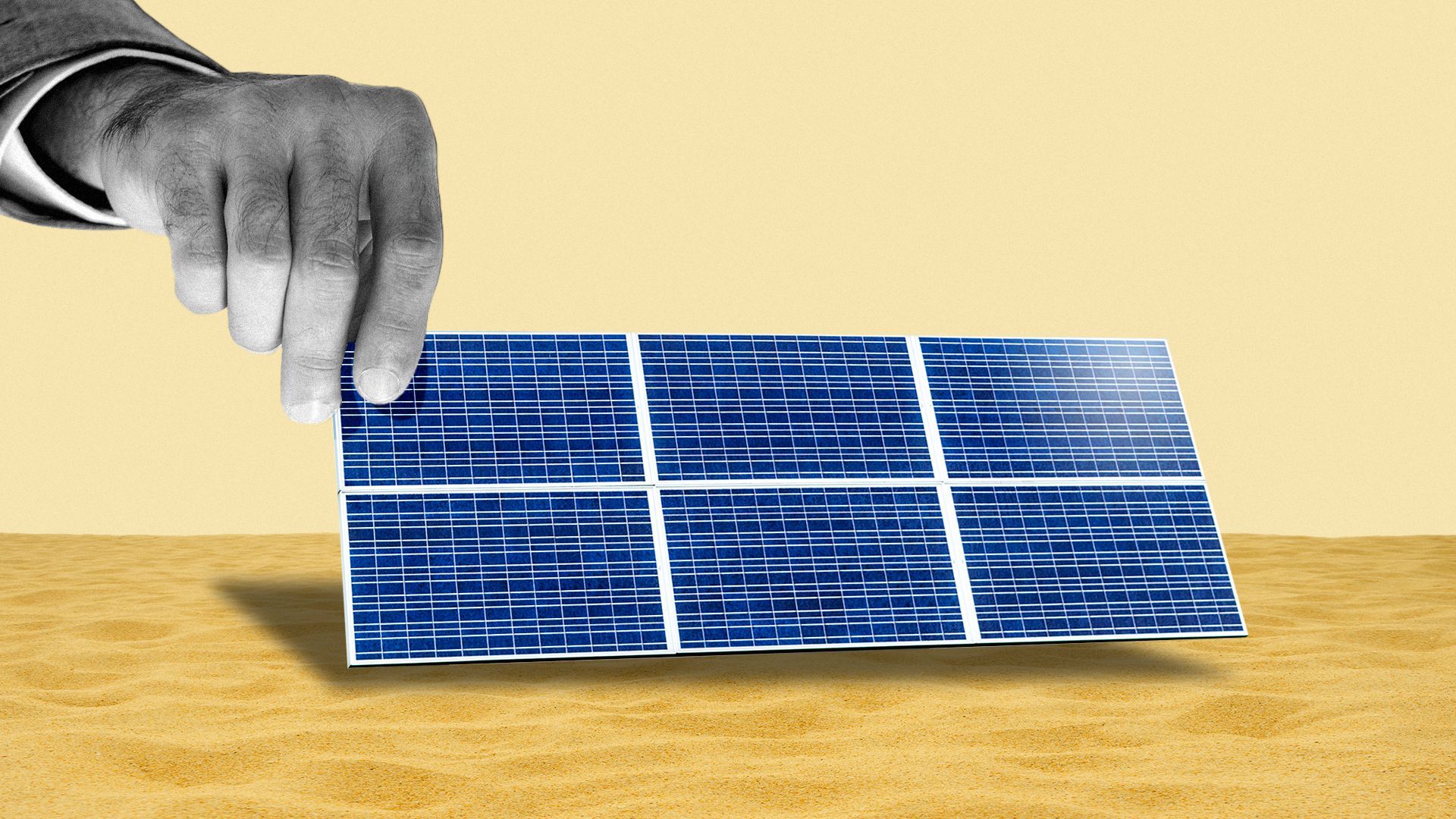 kWh, a company that tailors insurance policies for renewable energy installations such as wind and solar facilities, has raised $20 million in a Series B round, the company announced this morning, Andrew writes.
Driving the news: The company says it will use the money to help rapidly scale up renewable energy facilities by helping developers gain access to capital.
Richard Matsui, kWh's founder and CEO, told Axios that traditional insurers don't have the data needed to underwrite risk for new types of power plants, and instead, still focus on writing policies for more conventional energy facilities.
Details: Matsui said kWh Analytics has the world's largest database of renewable energy project performance, with details on about 300,000 operating assets in the U.S., which it uses to understand and predict how renewable projects will perform.
Its first product, known as the Solar Revenue Put, can be used to guarantee a certain amount of solar power output, lowering the cost that solar developers incur for accessing capital.
Along with the funding, the company announced the debut of all-risk coverage to protect solar, energy storage and wind projects from physical damage.
kWh Analytics has now raised about $30 million from investors including Lacuna Sustainable Investments, Anthemis Group and Engie, as well as individual investors Matthias Weber and Chuck Wallace. It also received funding from the Energy Department's SunShot Initiative.