Good morning and welcome back!
Your Generate host is under the weather, so let's keep our energy and spirits up with some cheesy but well-crafted '80s stuff as today's intro tune...
https://www.axios.com/newsletters/axios-generate-a6420a19-2433-4fdf-9f2c-6a3a01434d73.html?chunk=0#story0
What drone delivery could mean for climate change
A new study in Nature concludes that using battery-powered drones for consumer package deliveries can be more climate-friendly than diesel trucks under certain circumstances.
Why it matters: The analysis of greenhouse gas emissions from competing delivery methods comes as corporate giants like Amazon, Google and UPS are piloting or exploring the use of drones. This provides an early glimpse at how tech-driven shifts in consumer preferences could affect the environment in the decades ahead.
The details: The research team modeled total emissions from trips using various drone sizes, package weights, warehousing needs and electricity sources in both California (where natural gas, renewables and nuclear energy provide the electricity mix) and Missouri (where coal is the dominant power source).
They found deliveries with small drones carrying lighter packages have substantially lower GHG emissions compared to ground-based diesel freight.
It's 54% lower than using diesel trucks in California, and 23% lower in Missouri.
What we're hearing: Two major companies in the drone delivery space tell Axios that the climate effect of the technology is part of their analysis.
"At Amazon, we are putting our inventive culture to work on sustainability and protecting the environment, which includes Prime Air, our future drone delivery service. Prime Air will offer an additional delivery option that we believe will benefit our customers and the planet," Gur Kimchi, VP of Amazon Prime Air, says.
Similarly, an official with Project Wing, the drone delivery project of Alphabet's "moonshot" technology division X, says providing environmental benefits from the technology is front and center.
Go deeper: Read the full story here.
https://www.axios.com/newsletters/axios-generate-a6420a19-2433-4fdf-9f2c-6a3a01434d73.html?chunk=1#story1
Electric vehicle news and notes
Scoot: My Axios colleague Kia Kokalitcheva reports that electric scooter-sharing startup Bird has raised $15 million in Series A funding, led by Craft Ventures.
Why it matters: Bird founder Travis VanderZanden is no stranger to successful transportation startups. He previously was head of driver growth at Uber and, before that, was COO of Lyft (spurring a legal spat).
Supply chain: Canadian company Sigma says it is developing a mine in Brazil that "could put the country on the map as a high-grade lithium producer," the Financial Times reports.
The lithium could be used for lithium-ion batteries in electric vehicles amongst other uses, FT says.
Tesla-China: Disagreement over a proposed Shanghai factory is threatening Tesla's dream to get a foothold into China's emerging EV market, Bloomberg reports.
"Without a local partner, every Tesla sold in the world's biggest EV market faces a steep import tax," Bloomberg writes.
One possible future: A new World Economic Forum report offers suggestions for how the trends of urbanization, EVs, ride-sharing, autonomous vehicles and decentralized energy systems (whew!) can better converge to provide environmental and social benefits.
"Energy, mobility and infrastructure enterprises, along with policy-makers, regulators and urban planners, can collectively define a new paradigm for cities. The paradigm would go beyond today's industry divisions in search of complementary municipal, regional and national policies," it states.
https://www.axios.com/newsletters/axios-generate-a6420a19-2433-4fdf-9f2c-6a3a01434d73.html?chunk=2#story2
ExxonMobil and climate pressure
There are two interesting pieces discussing ExxonMobil and the forces it is facing on climate change issues from various sources: activist investors, consumer pressures and regulatory investigations and fines.
Exxon CEO interview: Forbes has an exclusive interview with CEO Darren Woods, who offers a peek into what Forbes said could be the company's "attitudinal sea change" towards climate change.
But, but but: Forbes also points out "Exxon is not about to leave oil in the ground, as the anti-carbonistas would prefer. In fact, by 2025 the company intends to boost its U.S. oil production by more than 600,000 barrels a day and to get another 200,000 bpd from giant new discoveries off the coast of Guyana."
Aggressive response: Bloomberg reports ExxonMobil's legal team is going after at least 30 people and organizations, including the attorneys general of New York and Massachusetts, for allegedly conspiring against the company in a coordinated campaign.
ExxonMobil is hitting them with suits, threats of suits or demands for sworn depositions, Bloomberg says.
The company calls the campaign "The La Jolla playbook," the article says, and claims about two dozen people met six years ago in La Jolla, Calif., to develop a strategy against ExxonMobil.
https://www.axios.com/newsletters/axios-generate-a6420a19-2433-4fdf-9f2c-6a3a01434d73.html?chunk=3#story3
Pruitt: Security issues to blame for pricey travel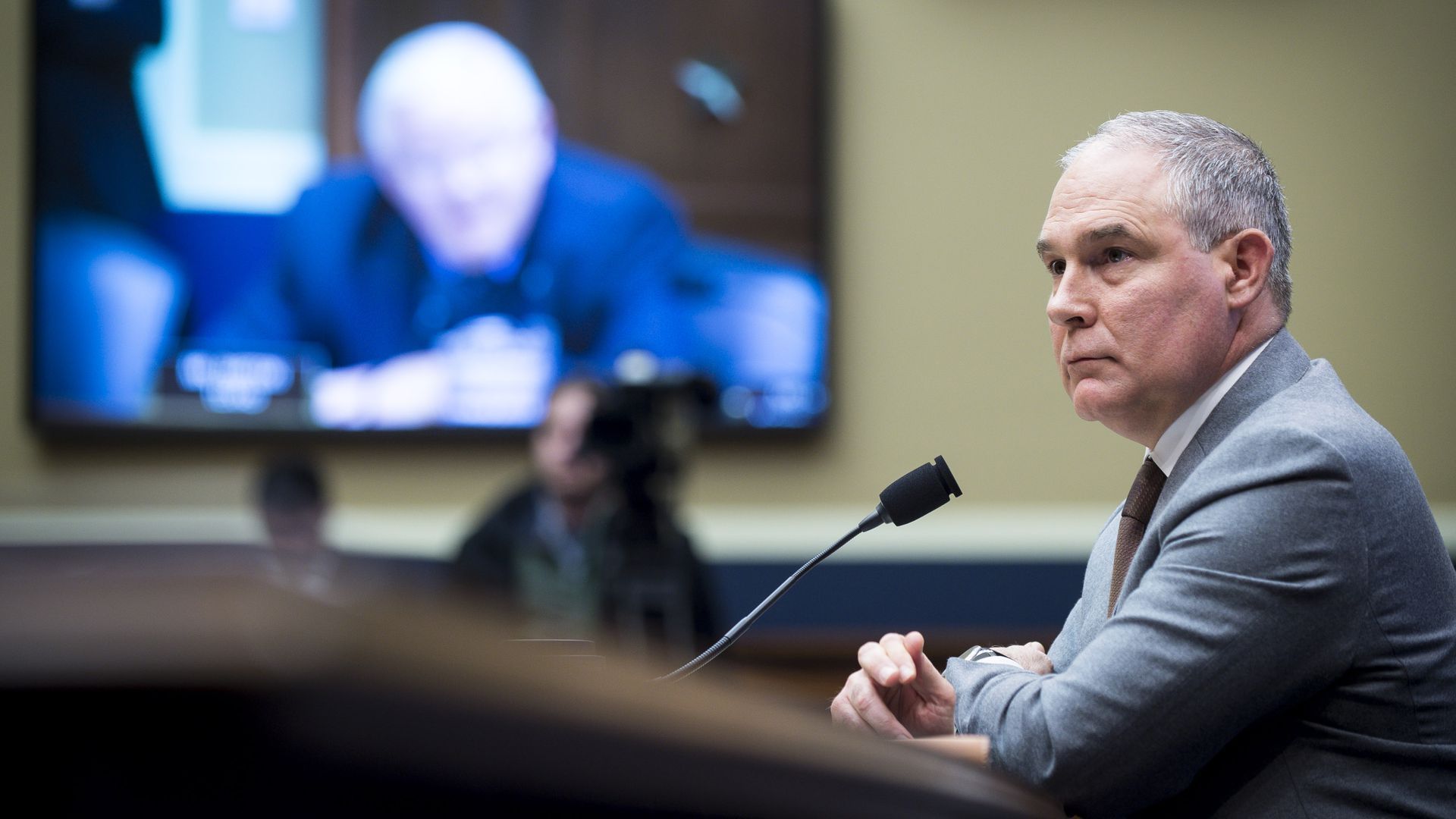 Axios' Khorri Atkinson has a report on the scrutiny that Environmental Protection Agency head Scott Pruitt is currently facing on his expensive travels...
Pruitt says the reason he's been taking numerous first-class flights or military jets at the expense of taxpayers is due to security concerns.
What's happening: The Washington Post reported on Sunday that tax-funded travel by Pruitt and his top aides cost at least $90,000 during a two-week stretch in June of last year.
Why this matters: A handful of Trump administration officials including Pruitt have been under intense scrutiny for flying charter, military or private jets paid for by taxpayers.
Reality check: There's no sign yet that Pruitt's travel habits are undercutting his standing with the White House or congressional Republicans, who have applauded his aggressive moves to unwind Obama-era regulations.
But the revelations have given fresh political ammo to Democrats and green groups, and arrive on the heels of discoveries that Pruitt strongly attacked Trump during campaign-season radio interviews in 2016.