Axios Generate
July 13, 2021
Good morning! Today's Smart Brevity count is 1,289 words, 5 minutes.
📊 Data point of the day: Over 2,100. That's the number of oil-and-gas drilling permits on public lands issued under the Biden administration so far, per AP.
🚗 Situational awareness: "Volkswagen said on Tuesday it expected battery electric vehicles to account for half of its global vehicle sales by 2030." (Reuters)
🎧 Andrew joined the Axios Today podcast to discuss how extreme western weather threatens power grids. Listen here
🎶 And 35 years ago, Simply Red hit #1 on the Billboard Hot 100 with today's soulful intro tune...
1 big thing: The extraordinary scope of urban heat disparities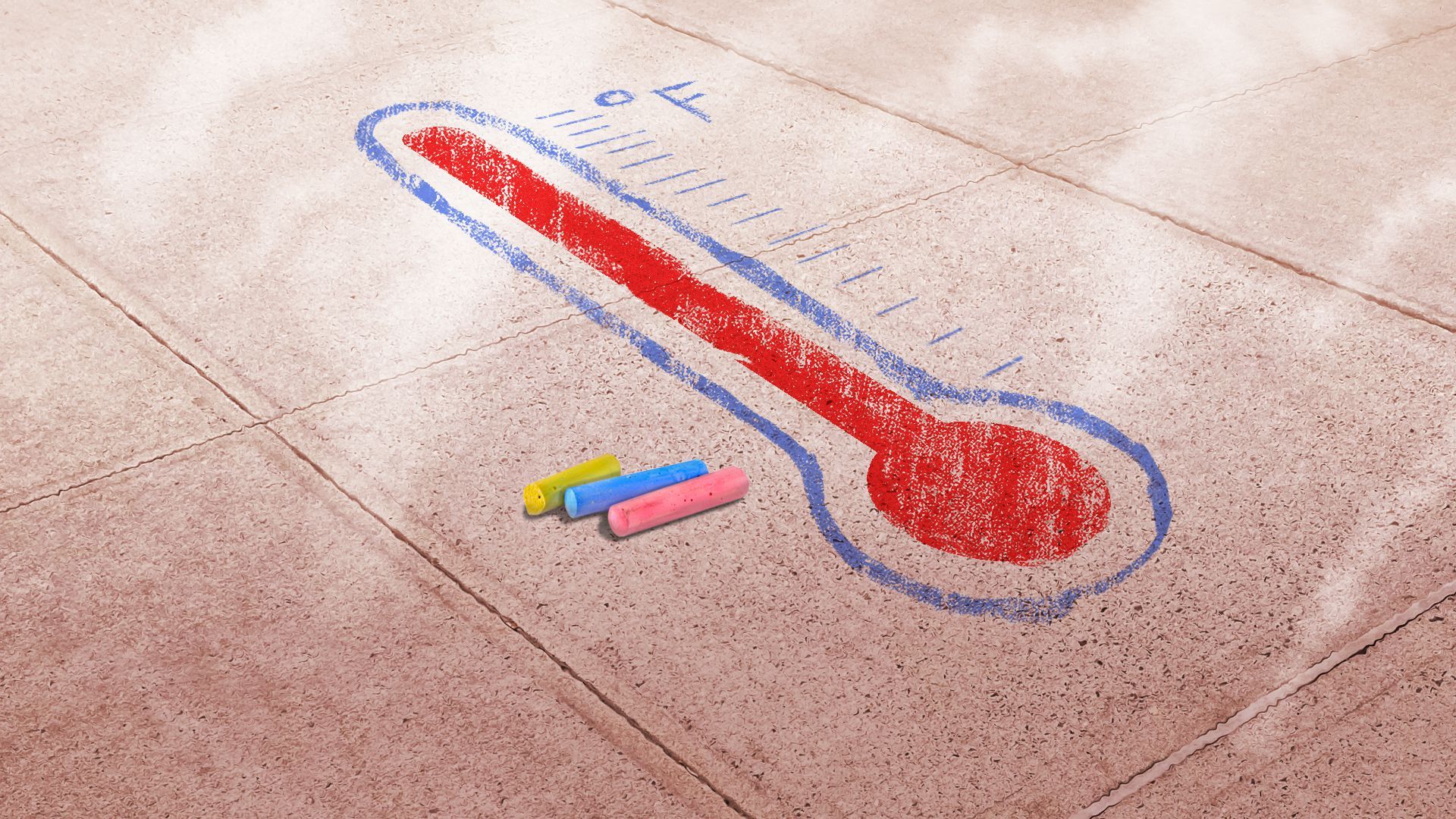 New peer-reviewed research shows that low-income residents and communities of color in the U.S. face much higher and more dangerous urban heat extremes than people living in richer and whiter city neighborhoods, Ben and Andrew write.
Driving the news: Areas with higher rates of poverty can see summer land surface temperatures up to a whopping 4°C, or 7°F, higher than the richest areas, the paper in Earth's Future finds.
Overall, the University of California-San Diego researchers found statistically significant disparities in summer heat extremes in over 70% of 1,056 urban counties nationwide.
"[W]e also find that neighborhoods with higher Black, Hispanic, and Asian population shares are hotter than the more White, non-Hispanic areas in each county," the paper states.
They find racial disparities are present in that share of the counties even when controlling for income.
Why it matters: Extreme heat is deadly, and even short of acute health risks, very high temperatures can sap productivity.
The paper comes amid record-setting heat in the western U.S. that shows how climate change is worsening already dangerous temperature extremes.
The findings add highly detailed and geographically sweeping data to existing scientific literature on disparities in heat exposure.
It shows one of many ways the poor and minorities face greater environmental burdens. Trying to address these gaps is part of the Biden administration's climate and environmental policy agenda.
The big picture: The analysis said the disparities tend to have a common set of drivers despite vast geographical differences in the areas examined.
These are "driven by high population densities, more built-up areas, and less vegetation in the most affected communities."
The disparities, if unaddressed, could affect cities far into the future as climate change-influenced heat waves worsen, co-author Jennifer Anne Burney said.
"These kinds of urban heat disparities threaten the future functionality of our cities — hotter neighborhoods will feel more health impacts, will require more electric power for cooling, etc.," Burney told Axios.
What they're saying: "Right now, two people living in the same city are experiencing wildly different heat waves from the moment they wake up," said Jeremy S. Hoffman, chief scientist at the Science Museum of Virginia.
The bottom line: "[U]nderstanding who is affected by urban heating and what drives exposure disparities is therefore critical for crafting just and effective policy responses, particularly under warming climate conditions," the authors state.
2. Oil markets: What a mess!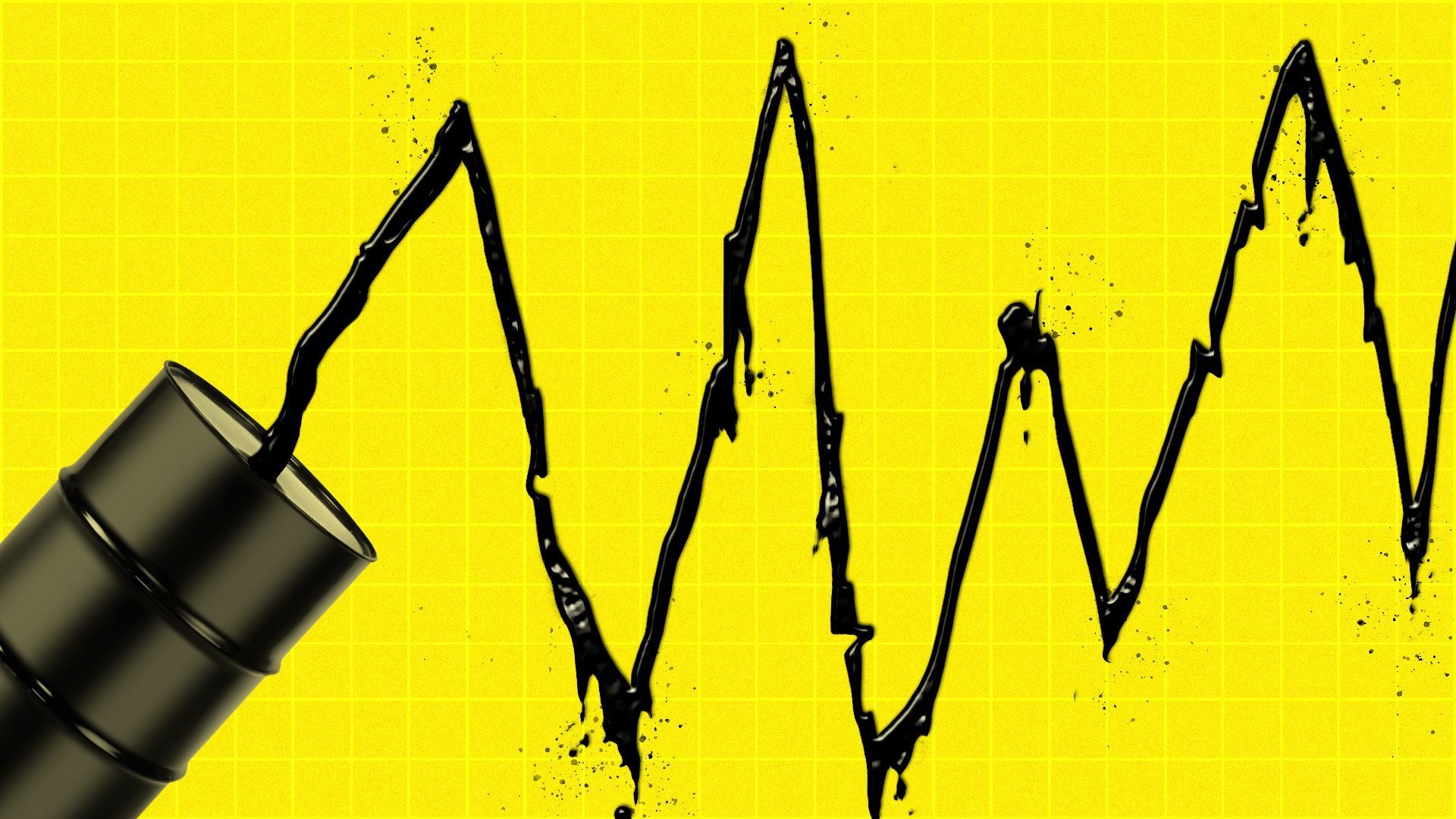 Crude oil markets are "likely to remain volatile" until OPEC+ sorts out its production impasse, and that could have wide-ranging spillover effects, the International Energy Agency said Tuesday, Ben writes.
Why it matters: "[V]olatility does not help ensure orderly and secure energy transitions — nor is it in the interest of either producers or consumers," IEA said in its latest monthly review.
Driving the news: OK, there's a lot going on as prices have been bouncing around lately.
Demand "surged" by over 3 million barrels per day in June amid rising vaccinations, robust economic growth and easing restrictions.
The possibility that OPEC+ production increases won't materialize soon has also fueled upward pressure on prices too at a time when last year's supply glut has been worked off.
But at the same time, "uncertainty" around the Delta variant's economic effect is pushing the other way.
Threat level: The future of the OPEC+ plan is a wildcard, especially if things really deteriorate.
"[T]he possibility of a market share battle, even if remote, is hanging over markets, as is the potential for high fuel prices to stoke inflation and damage a fragile economic recovery," IEA said.
The big picture: IEA notes that high oil prices can help speed the pace of electric vehicle updates, they can also be a "drag" on economies in emerging and developing countries.
Go deeper: OPEC+ deadlock is bad news for oil producers, consumers and energy transitions, IEA warns (CNBC)
3. New polling shows popularity of clean tech spending
New polling data released today by Bill Gates' Breakthrough Energy finds spending public money on clean tech in order to cut greenhouse gas emissions is extremely popular nationwide, Andrew writes.
Why it matters: Congress is writing legislation that would direct the largest amount ever spent in the U.S. on clean tech research, development and deployment. The polling supports the position of Senators seeking to pass this legislation.
What they did: Pollsters from the Global Strategy Group asked respondents if they think it is important to spend money to develop steel and cement manufacturing processes that are carbon-free, to produce clean jet fuels, and develop direct air capture technology to take carbon out of the air and safely store it deep underground.
What they found: When asked if they support investing $75 billion in clean energy technology, battleground state swing voters indicated their support by more than a two-to-one margin.
Interestingly, out of the specific technologies, direct air capture had the least support, though still a majority, with 71% of national voters saying it's important for the government to invest in it.
Clean tech spending holds a wide 40-point margin of support among voters who voted for different presidential candidates in 2016 and 2020.
Voters see clean tech investments as a way to create new blue-collar jobs, matching the rhetoric coming from the Biden administration.
The results also align with the priorities of Breakthrough Energy, which is pursuing investments in technologies that are high risk but also high reward.
Yes, but: The poll sample is relatively small, with 801 voters sampled for the national results and 3,112 voters in six key 2022 battleground Senate states.
The margin of error is 3.5% for the nationwide sample and 1.8% for the combined Senate battleground.
4. United's latest foray into electric aircraft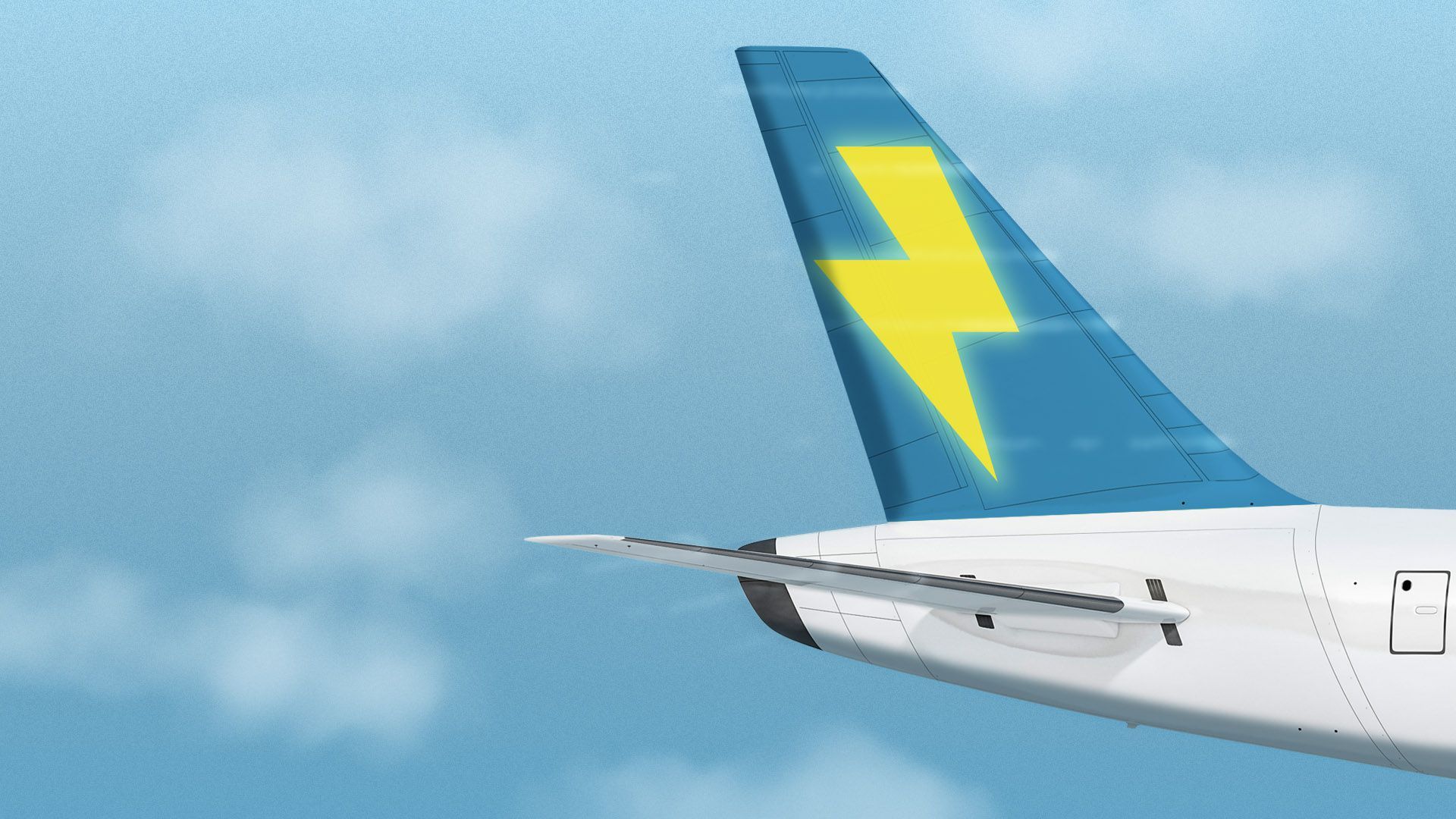 United Airlines and the regional carrier Mesa Air Group this morning announced conditional plans to buy 100 planes each — and an option for more — from the electric plane startup Heart Aerospace, Ben writes.
Driving the news: The two airlines are also investors in a $35 million Series A funding round for the Swedish startup that hopes to bring a 19-seat electric plane into service by 2026.
Other investors include Breakthrough Energy Ventures and Lowercarbon Capital.
Why it matters: Air travel is a significant source of carbon dioxide emissions, and electric, hydrogen and other clean fuel technologies offer the potential to address the problem — if they can be successfully commercialized.
The big picture: "Tuesday's deal is the latest in a series of bets on new aircraft concepts yet to be tested but that United said could help it reduce carbon emissions," the Wall Street Journal reports.
The airline industry is increasingly staking — and announcing preliminary orders — for various kinds of electrified flight.
United is backing the vertical takeoff and landing startup Archer, and American Airlines and Virgin Atlantic recently invested in the U.K.-based Vertical Aerospace.
Reality check: These investments and preliminary purchase orders are the early stages of plans to electrify flight, hardly a guarantee the models will be built or incorporated into the airlines' routes.
5. Battery startup SES is going the SPAC route
Another one! The lithium-metal battery startup SES just announced it's going public via merging with the special purpose acquisition company Ivanhoe Capital Acquisition Corp. at an implied valuation of $3.6 billion, Ben writes.
Why it matters: SES, which spun out of MIT nearly a decade ago, is backed by investors including General Motors and Hyundai in a sign of how big automakers are investing in battery tech and future supply.
Driving the news: The deal is expected the provide SES with up to $476 million in proceeds to fund its expansion, the announcement states.
Backers of the new transaction include those automakers I mentioned above, as well as China's Geely Holding Group, Koch Strategic Platforms, LG Technology Ventures and several others.
The company says its "hybrid Li-Metal approach provides the superior energy density of Li-Metal via the proven manufacturing efficiencies of lithium-ion batteries."