Axios Generate
September 14, 2023
🎙️ We've got a big interview today, and that's just the tip of the (melting) iceberg. But this edition still has a Smart Brevity count of just 1,290 words, 5 minutes.
🗓️ Join Axios journalists at 8am ET Tuesday in Washington for an event on food sustainability. Guests include USDA boss Tom Vilsack. Register.
🎸 This week in 1980, pop craftsmen XTC released the album "Black Sea," which provides today's intro tune...
1 big thing: Gore blasts fossil fuel industry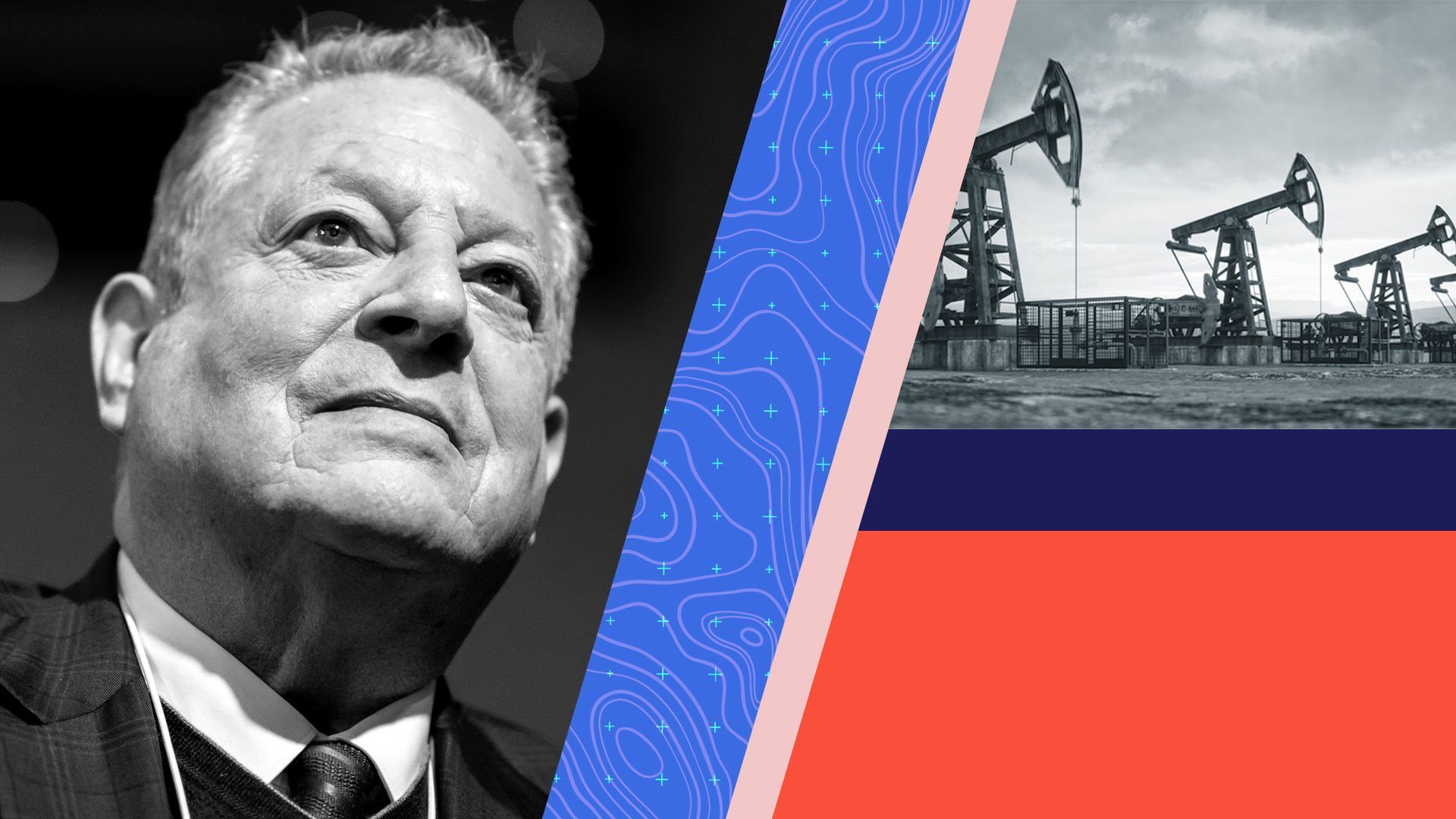 In a wide-ranging interview with Axios, former Vice President Al Gore discussed his investment firm's latest insights on the state of the world's transition to a low emissions economy.
He also detailed his increasingly confrontational stance toward the fossil fuel industry, Andrew writes.
Gore said there are signs of a tipping point for clean energy, but the necessary ingredients are not there yet.
Zoom in: "The crisis is still getting worse faster than we're deploying the solutions. But the new momentum that is being built up is continuing to increase. And there's reason for believing that soon we will be able to gain on the crisis itself," he said.
But there were also flashes of the fiery, call-it-like-you-see it, clear-eyed side to Gore, which he displayed during his July TED talk. On that occasion, Gore sharply shifted his public stance toward the oil and gas industry.
Between the lines: The fossil fuel industry plans to continue to rely on fossil fuels as their core business, Gore argued.
He blasted talk of becoming more diverse energy players, or moving beyond their oil and gas divisions, as greenwashing and distraction.
The intrigue: He criticized the selection of Sultan Ahmed al-Jaber as the president-designate of the upcoming climate summit in Dubai.
What they're saying: The UAE COP28 leadership argues that inviting all parties to the talks, including oil and gas firms, is a move toward getting meaningful proposals from all players.
Yes, but: Gore sees fossil fuel companies as locked into their current business models.
"It has probably never been realistic to expect the fossil fuel industry to play a genuinely meaningful role in helping us decarbonize society," Gore told Axios.
The bottom line: What animates Gore is a perceived disconnect between how fossil fuel companies portray themselves on climate, and what they're actually doing.
"They have had an incentive to portray themselves as the the prime source of the advice we need to solve this crisis. And they have apparently, parlayed that perception into a series of strategies to delay and block action," Gore said.
2. Oil, gas drive inflation — and political jousting
A sharp rise in gasoline prices helped nudge overall inflation higher last month, Ben writes.
State of play: The latest Labor Department Consumer Price (CPI) Index figures arrive as the presidential campaign is heating up.
Yes, but: As Axios' Courtenay Brown reports, when viewing "core" CPI — that is, excluding food and energy — the picture is slightly more encouraging than the headline suggests.
Overall CPI rose 3.7% in the 12 months through August, up from 3.2% in July.
The core gauge rose 4.3%, easing from 4.7% the prior month.
What they're saying: "Overall inflation has also fallen substantially over the last year, but I know last month's increase in gas prices put a strain on family budgets," President Biden said in a statement.
He said he's "laser-focused on cutting energy costs, including by investing in clean energy to bolster our energy security."
The other side: "Inflation lives and dies with the cost of energy. Biden's energy policy is driving up the costs. It's crushing people's hopes," Sen. John Barrasso, the Energy Committee's top Republican, said in a statement.
3. 🏃🏽‍♀️Catch up fast on hydrogen and tech finance
🛢️ Oil giant TotalEnergies this morning announced what it's calling a "massive" solicitation for green hydrogen — that is, the stuff produced using renewable energy — for use at its European refineries, Ben writes.
Driving the news: The company said it's seeking 500,000 tons annually and called the request for suppliers a key part of its efforts to cut emissions from its operations.
💰 Galvanize Climate Solutions, an investment firm co-founded by billionaire activist Tom Steyer, announced the close of its new Innovation + Expansion Fund at over $1 billion. The fund is backing early- and growth-stage climate tech startups.
Why it matters: Galvanize notes it's "one of the largest climate venture funds raised to date."
4. Tracking the U.S. "clean" money surge
Domestic investment in manufacturing and climate-friendly energy tech has surged 37% over the past year compared to the prior 12 months, Ben writes.
Driving the news: That's a headline finding in fresh analysis from the Rhodium Group and MIT researchers.
But their new, interactive "Clean Investment Monitor" goes way deeper, too.
It explores public and private investment by tech area, region, specific facilities and more.
Why it matters: The 2022 climate law and "CHIPS and Science" law, and the 2021 infrastructure law, are spurring unprecedented outlays.
Timely and detailed tracking is hard, yet vital to "assess on-the-ground progress in the country's transition to a cleaner economy," the analysis notes.
Of note: Battery investments are the biggest part of the "manufacturing" seen in the bucket above.
"Energy and industry" is capital for things like solar and storage projects and ways to cut industrial emissions.
"Retail" means home and business purchases of tech like EVs, heat pumps and other equipment.
5. Tesla looms over UAW fight with Detroit automakers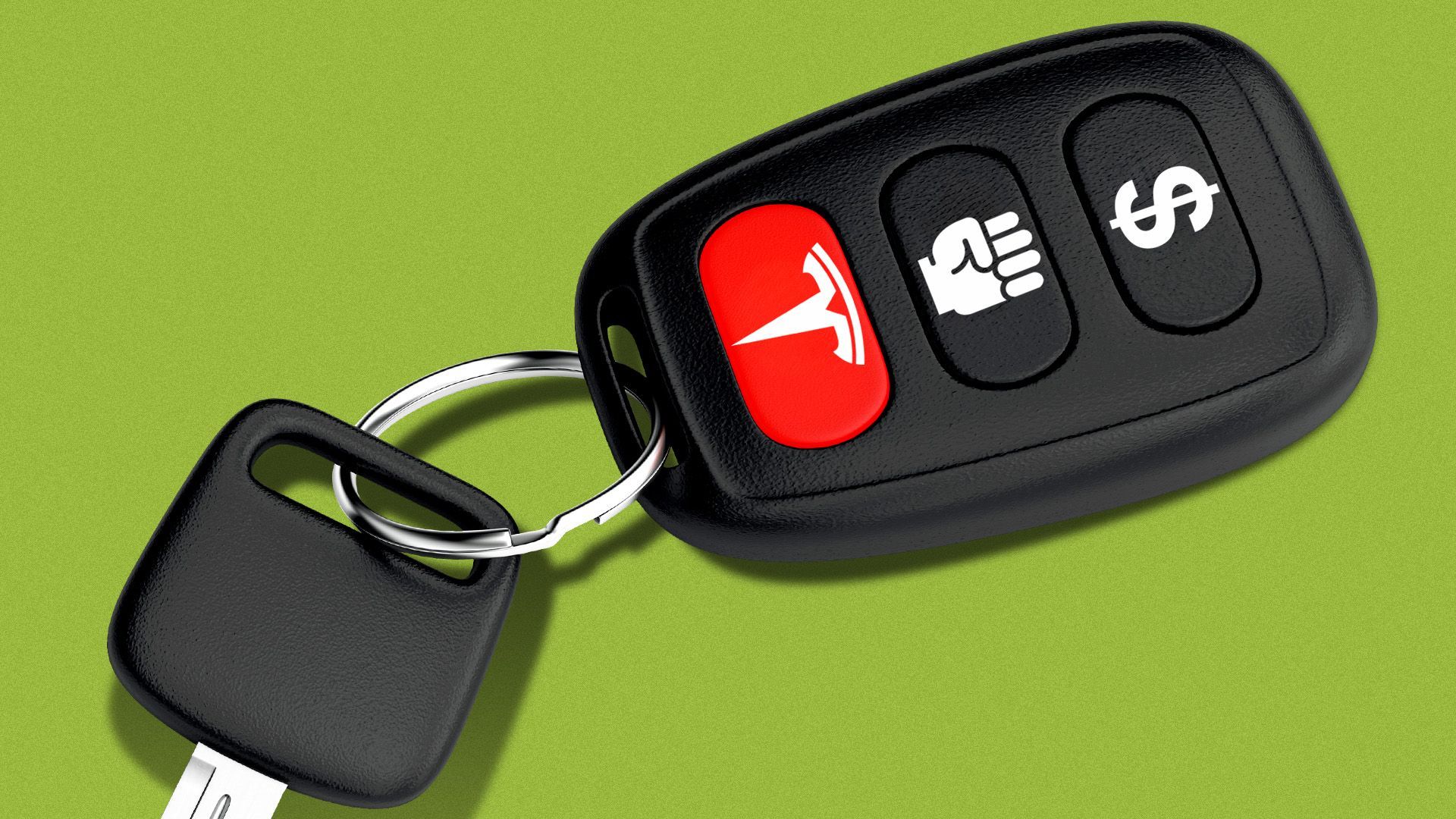 Tesla isn't involved in the United Auto Workers' negotiations with General Motors, Ford and Stellantis, but it's the elephant in the room, Axios' Nathan Bomey and Joann Muller report.
Why it matters: For the Detroit Three, the competitive threat from non-unionized Tesla heightens the importance of reaching a reasonable contract that allows them to build affordable electric vehicles.
Meanwhile, the UAW has a vested interest in obtaining lucrative deals if it ever wants to resuscitate its efforts to organize Tesla workers — or those at any other automaker.
State of play: The UAW's deals with GM, Ford and Stellantis expire at 11:59 p.m. today, and a strike appears likely.
Zoom in: Behind the scenes, automakers say the cost gap between them and Tesla is a big reason they're struggling to compete with the EV titan.
Tesla currently makes vehicles at an estimated labor cost of $45 to $50 per hour, whereas the Detroit Three are around $64 to $67 per hour. Both figures include wages, benefits and profit-sharing.
6. A new look at a world off-track on climate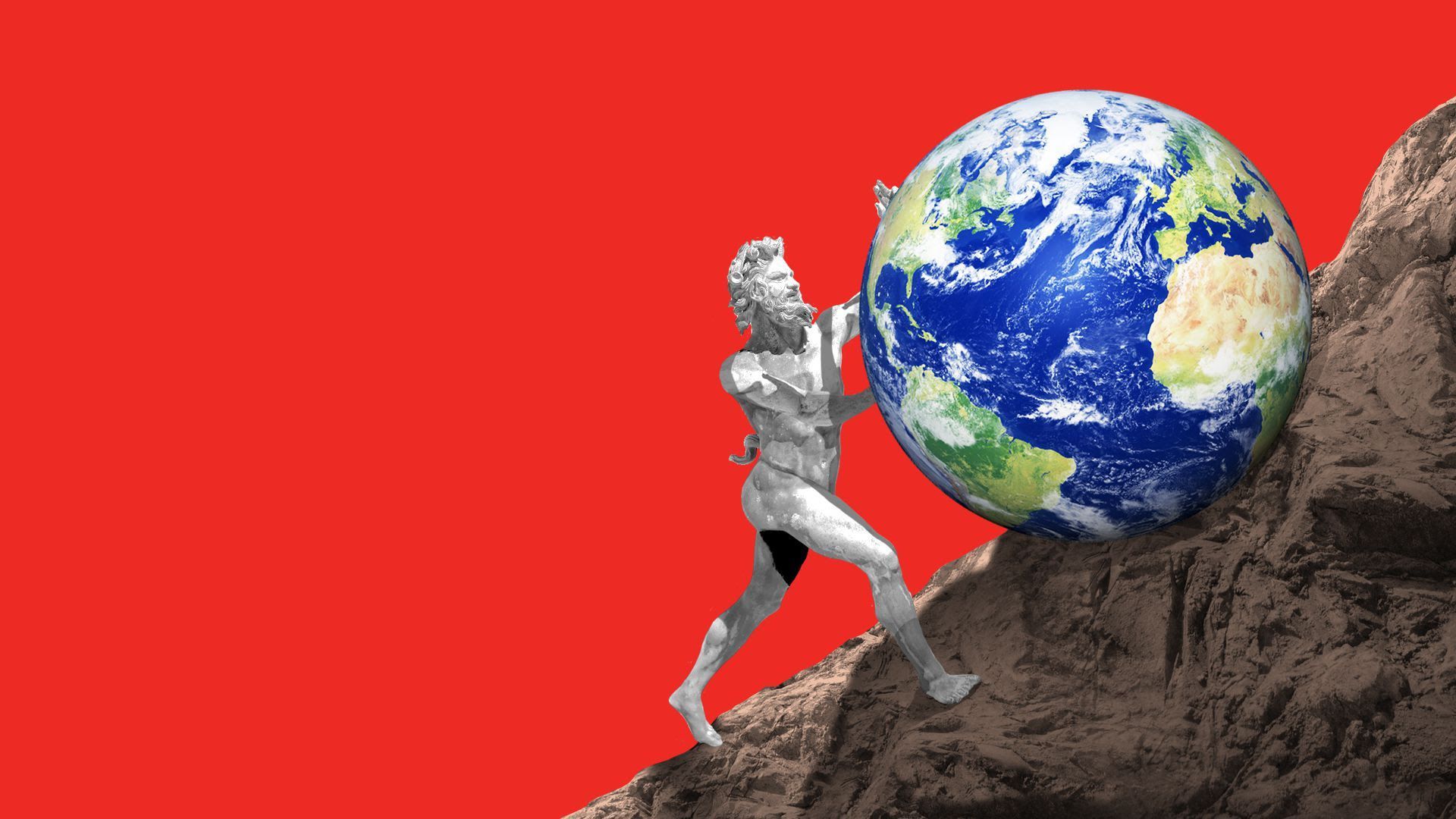 Prominent analysts just dropped a report that puts finer points on a reality Generate readers already know: the world is far from reaching Paris Agreement goals, Ben writes.
Driving the news: Some highlights from Wood Mackenzie's latest long-term outlook...
Their "base case" — which models evolution of current policies and tech trends — shows warming of 2.5°C (4.5°F) above preindustrial levels. (Remember lots of awful stuff happens in a world that hot — even today's warming levels have dangerous effects.)
A pathway to "net-zero" emissions in 2050, consistent with the most ambitious Paris goal of 1.5°C, requires $2.7 trillion in annual investments.
State of play: Some kind of net-zero pledge covers 88% of global emissions.
But action isn't meeting ambition — no major country is even on track for 2030 interim targets, they find.
Renewables are growing fast but also face headwinds amid high interest rates, cost inflation and more.
A Paris-friendly pathway isn't just about more money. For instance, they cite urgent needs around permitting and supply chain constraints.
The intrigue: Woodmac's estimates differ somewhat with the International Energy Agency.
IEA now sees oil and natural gas demand peaking this decade. Woodmac's "base case" sees oil demand peak in the early 2030s, and gas in the 2035-2040 timeframe, analyst David Brown told reporters.
A reminder: peaks matter less than what follows. Woodmac's base case sees oil demand at a robust 92 million barrels per day in 2050.
7. 🛢️Quote of the day
"Our strategy hasn't changed."
— BP interim CEO Murray Auchincloss
That's the new CEO following the shock resignation of Bernard Looney the day before, per a BP copy of his remarks to employees Wednesday, Ben writes.
Why it matters: BP's been perhaps the most aggressive oil major on low-carbon transition. Auchincloss is tamping down speculation that a pivot looms.
Yes, but: The devil's in the details as BP makes specific investment decisions in the years ahead.
Did someone forward you this newsletter? Welcome, and please sign up.
🙏 Thanks to Chris Speckhard and Javier David for edits to today's edition, along with the talented Axios Visuals team.