Axios Generate
September 25, 2023
☕ Good morning! Today's newsletter has a Smart Brevity count of 1,250 words, 4.5 minutes. It's Yom Kippur. Wishing an easy fast to those who are observing.
🗓️ Join Axios New Orleans reporters at noon CT tomorrow for an event on modernizing the power grid, featuring New Orleans City Council President JP Morrell. Register to attend virtually or in person.
🎶 At this moment in 1985, Dire Straits were No. 1 on Billboard's album charts with "Brothers in Arms," which provides today's overlooked intro tune...
1 big thing: China says no fossil fuel "phaseout" at COP28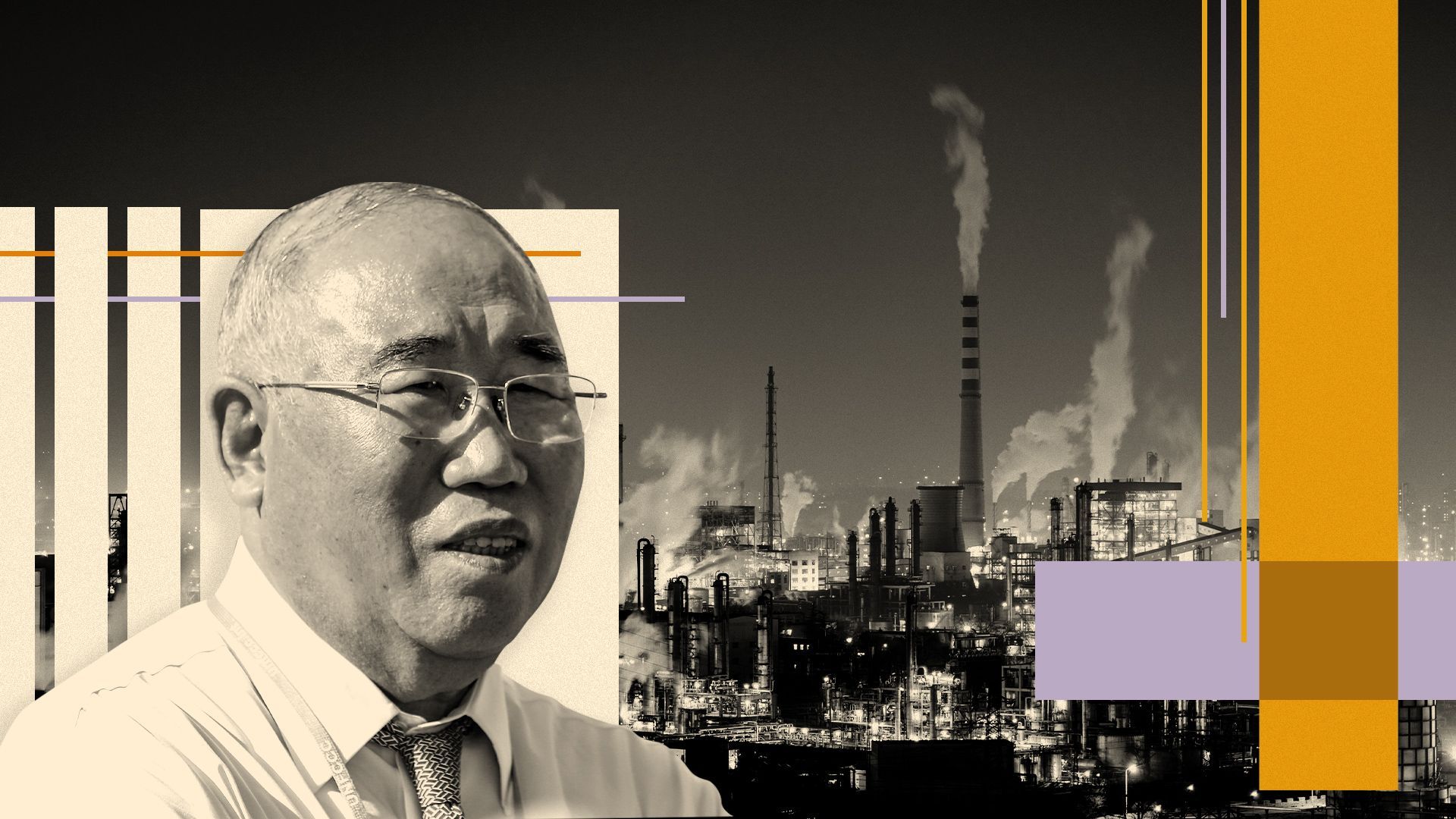 China's chief climate diplomat, Xie Zhenhua, has laid out that country's climate positions in advance of the UN climate summit in Dubai later this year, Andrew writes.
Why it matters: China is the world's top current emitter of greenhouse gases, and it can help either pave the way or block a new climate agreement.
Significantly, in remarks Thursday before the Center for China and Globalization think tank in Beijing, Xie said China opposes fossil fuel "phaseout" language, which puts the country against small island states and some other countries that are pushing for such language to be in any COP28 agreement.
Xie also expressed a willingness to travel to the U.S. or a third country to meet with John Kerry, Biden's special climate envoy, before COP28.
The big picture: Kerry has consistently tried to carve out climate change from the many sources of tension between the U.S. and China.
Xie's comments may signal China's willingness to travel further down that road.
Though Xie said China is opposed to fossil fuel "phaseout" language, he noted support for a renewable energy expansion target.
The COP28 president-designate, Sultan al-Jaber of the United Arab Emirates, told Axios last week that there is an emerging consensus for a COP28 outcome calling for a global goal of tripling renewables by 2030.
Yes, but: China's opposition to a phaseout provision is in line with the U.S., which is a fossil fuel production powerhouse in its own right and an increasing exporter of natural gas.
According to a Reuters report on Xie's comments, which Axios independently confirmed, Xie called a phaseout "unrealistic," pointing to the intermittency of renewables and lack of a ready supply of large battery storage infrastructure.
Flashback: At COP26 in Glasgow, China was among the countries that, at the 11th hour, pushed to change language on a fossil fuel "phaseout" to a "phase down," and also included a reference to technologies that would catch carbon emissions at the source, such as carbon capture and storage.
The intrigue: China has been approving dozens of coal-fired power plants in recent years, an issue Kerry reportedly raised during meetings last week.
A recent report from the Al Gore-cofounded Generation Investment Management found that until China's coal buildup stops, global emissions are likely to climb.
What they're saying: "In a nutshell, both sides are testing the water gingerly and trying to see if they should de-escalate the relationship ahead of the APEC summit," said Li Shuo of Greenpeace Asia. "If they do so, it will have big (and hopefully positive) implications for global issues, including climate and COP28."
The APEC Summit runs from Nov. 15-17 in San Francisco.
2. Big this week: elusive "net-zero" path and more on our radar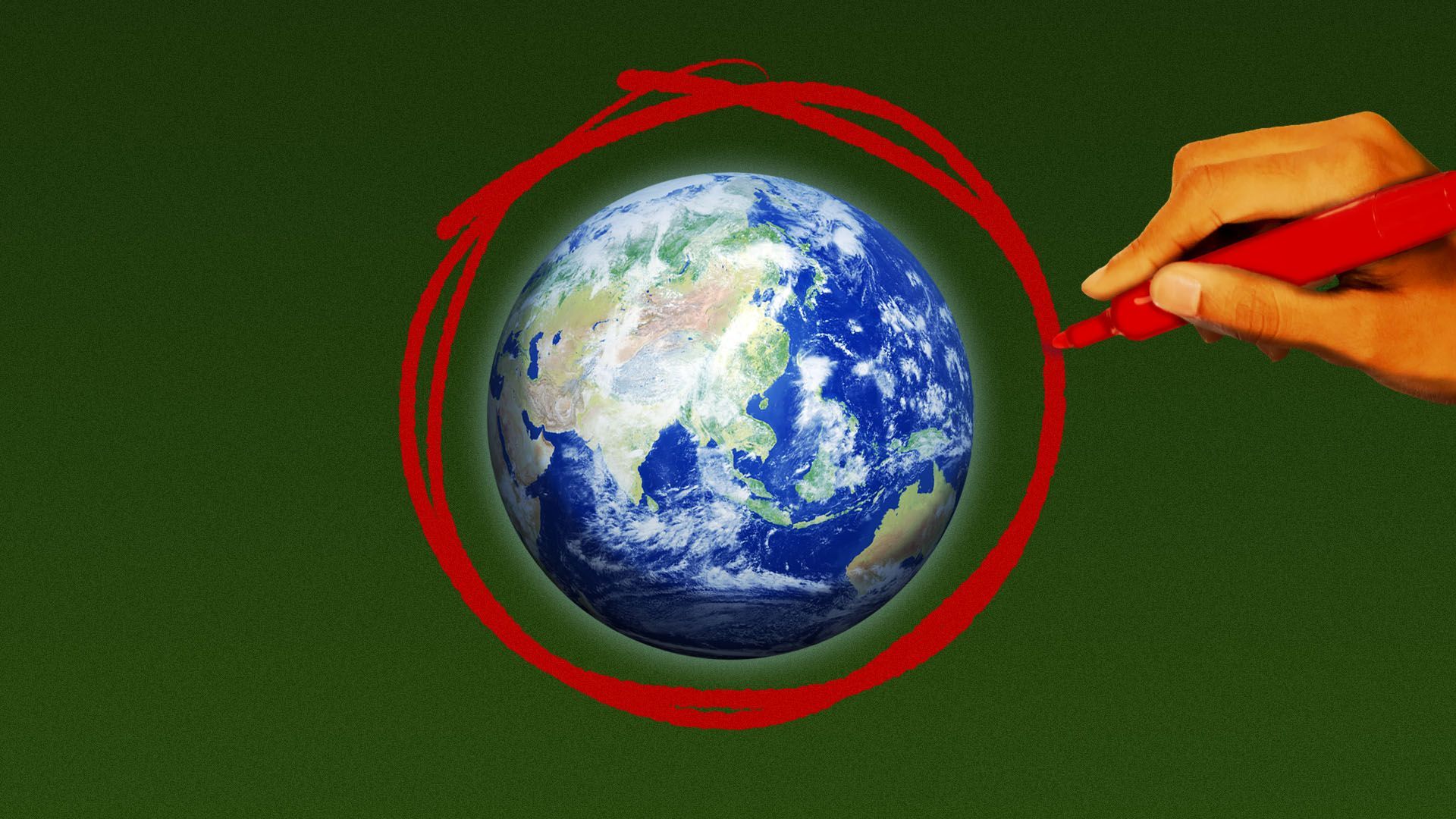 📉 The International Energy Agency is updating its 2021 roadmap to net-zero energy-related CO2 emissions — a narrow, hypothetical path to limiting temperature rise to 1.5 ̊ C above preindustrial levels, Ben writes.
Why it matters: It's getting narrower and more hypothetical all the time. IEA, in a preview of tomorrow's report, notes CO2 emissions rose again last year.
A few other things we're watching this week...
🗳️ GOP White House hopefuls (minus, uh, runaway front-runner Donald Trump) debate on Wednesday in California.
What we're watching: We'll have coverage in Thursday's Generate if there are noteworthy energy and climate moments.
🛢️ The Dallas Fed on Wednesday releases its latest survey of oil and gas execs in the region that includes the prolific Permian Basin.
Why it matters: These surveys are a closely watched snapshot of conditions facing companies and their plans.
🔥 A hot topic's on the agenda at Thursday's Senate Energy Committee hearing: China's dominance of critical mineral supply chains and how to counter it.
🃏 A wildcard: the next Gulf of Mexico lease sale. It was supposed to be Sept. 27.
State of play: A Louisiana federal judge, in a win for oil companies, last week issued an injunction against the Interior Department's withdrawal of acreage offered and new environmental restrictions.
What's next: Unclear! The judge ordered the sale, under the prior terms, to occur by Sept. 30. But Interior has appealed the injunction. Stay tuned.
3. Global climate heads into even rarer territory
This summer featured some of the hottest days yet recorded worldwide. Now the first month of meteorological fall is trying to set new milestones, Andrew writes.
The big picture: As climate scientist Zeke Hausfather points out, the past few days in September have registered the largest temperature departures from average, or anomalies, so far this year.
This is reflected in temperature data from the Japan Meteorological Agency, which shows temperature departures from average of greater than 1°C (1.8°F), and 0.5°C (0.9°F) above the previous record anomaly for this time of year.
It is also visible in another daily data set, maintained by NOAA. This data shows that Sept. 22 had the largest temperature anomaly compared to the 1979-2000 average, of any day this year.
What they're saying: "What makes September so unusual is just how anomalously warm it is relative to what's usual [at] this time of year compared to any prior September or any other month since records began," Hausfather told Axios in an email.
What's next: 2023 is on track to be the hottest year on record, aided by both human-caused global warming and an El Niño event in the tropical Pacific Ocean, which temporarily adds more heat to the climate. Expect 2024 to be even warmer, however.
4. 🖥️ On my screen: Exploration spending and hydrogen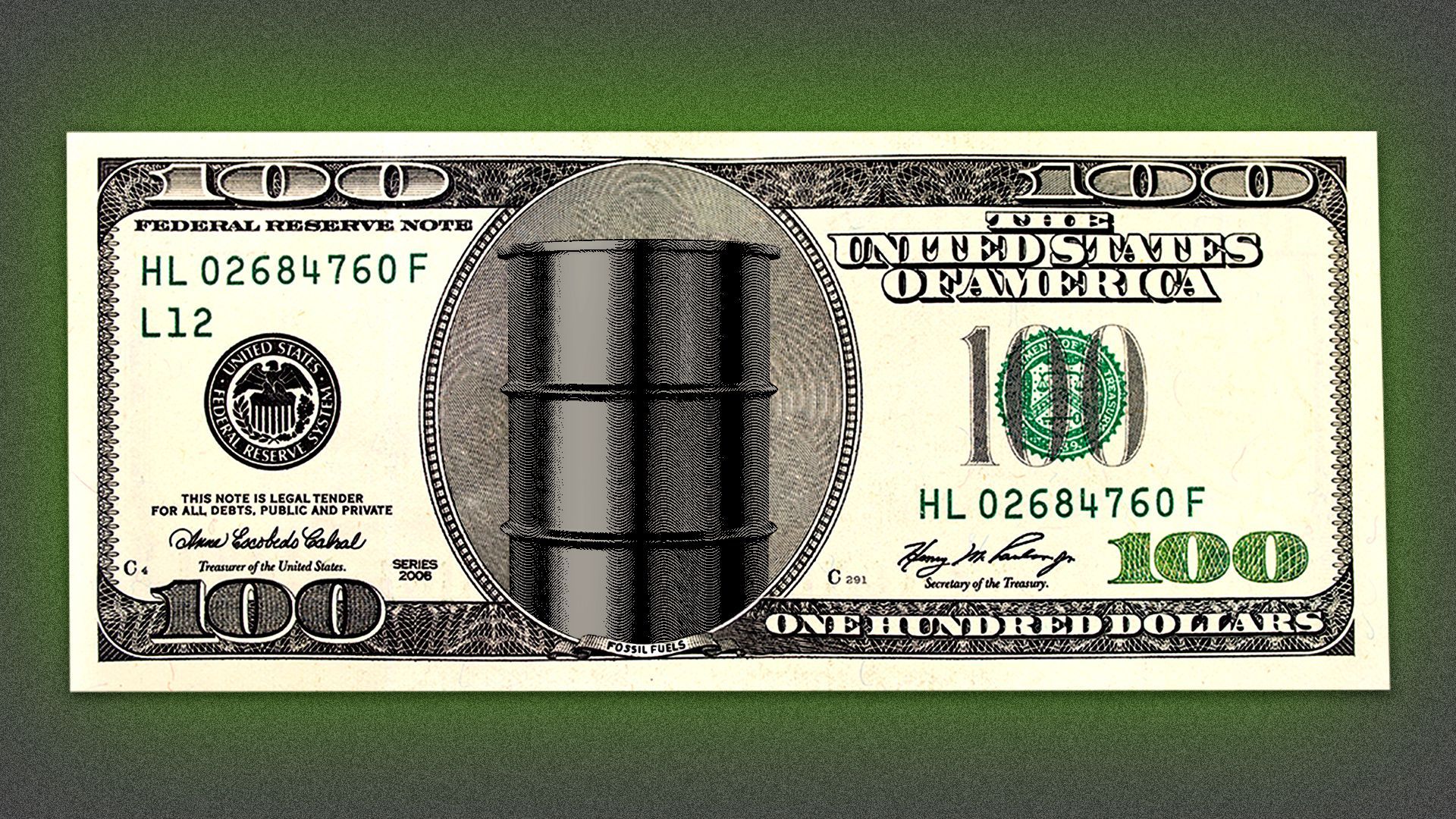 🛢️ For all the talk of moving away from fossil fuels, Wood Mackenzie analyst Julie Wilson points out that companies' spending on oil and gas exploration is back on the rise, Ben writes.
The big picture: "Our analysis indicates that while exploration will never return to the heady heights of the 2006-2014 boom, spend[ing] is recovering and will remain healthy over the next few years," her column notes.
State of play: Wilson cites several forces pushing in the same direction. They range from companies' strong balance sheets after years of big profits, to emerging prospects like Namibia, to a political vibe shift.
The intrigue: On that last point, she notes, "The energy shock caused by the Ukraine war has shifted the political narrative towards energy security and affordability, softening attitudes to fossil fuel use."
😬 Low-emissions hydrogen production — think use of renewable inputs or CO2 capture — is facing strong headwinds thanks to "stubborn cost pressures" and "slow" implementation of various governments' economic support systems, the International Energy Agency said.
Zoom in: Climate-friendly production — notably use of renewable energy — meet less than 1% of global hydrogen demand, a new report finds. On the plus side, the number of clean hydrogen projects is growing fast, yet "only 4% of this potential production has at least taken a final investment decision."
What they're saying: The report's recommendations call for faster rollout of support schemes and permitting. But it cites other policy goals, too, like better international harmonization of standards and certification schemes to prevent fragmentation and enable "market interoperability."
5. 🔋 Number of the day: 15 storage projects
The Energy Department is awarding up to $325 million for 15 long-duration energy storage projects using a wide range of technologies, Ben writes.
Why it matters: Long-duration storage — here that means north of 10 hours up to multiple days — can "minimize the frequency and length of power interruptions caused by events such as severe weather or cyberattacks on the grid," DOE notes.
It also helps integrate high levels of renewables onto grids.
1 fun thing: Computer model edition
Sometimes when keeping an eye on extreme weather, one comes across computer model gems that are too good not to share...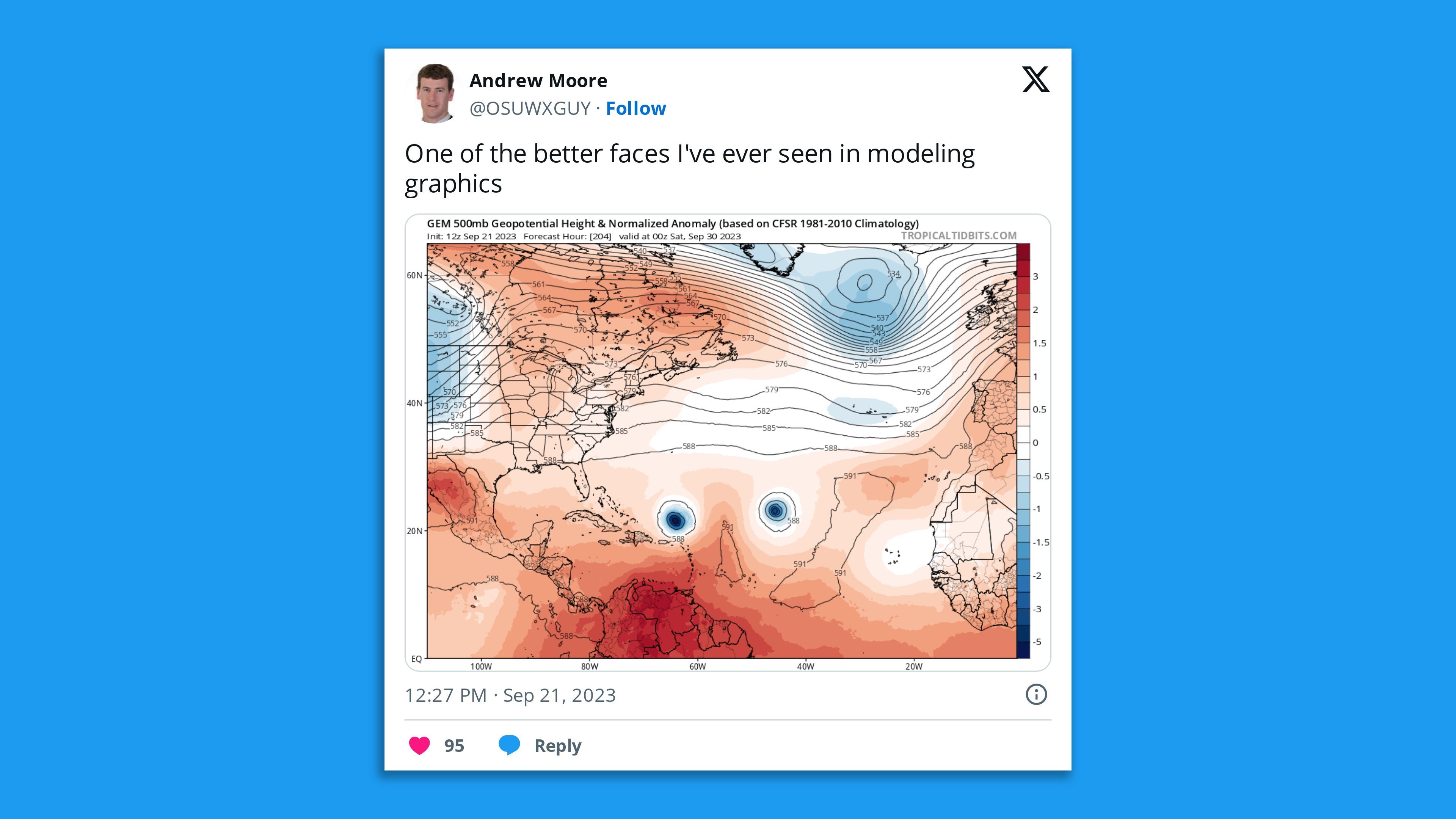 Did someone forward you this newsletter? Welcome, and please sign up.
🙏 Thanks to Chris Speckhard and Chuck McCutcheon for edits to today's edition, along with the talented Axios Visuals team.