Good morning and welcome back! Thanks to my Axios colleague Amy Harder, who wrote such great newsletters while I was away for a few days. Your tips and feedback are always welcome at ben@axios.com. Ok, there's a lot happening, so let's dive in . . .
https://www.axios.com/newsletters/axios-generate-9ff56dcb-6b0f-4cf8-9f45-8ab42e8fa79e.html?chunk=0#story0
Trump's Paris breakup will be televised
Planet TV airs today: President Trump tweeted last night that he'll announce his decision on the Paris climate change accord in the Rose Garden at 3 p.m. today.
But in case you missed it, Generate reported yesterday that Trump is planning to announce that the U.S. will exit the pact, which is designed to prevent runaway global warming. (Amy breaks down the decision and its consequences here, and Mike and Swan have the latest buzz here.)
To be sure: the mercurial president's decision isn't final until it actually happens, and pro-Paris voices — including a number of very large fossil fuel and tech companies — are urging him not to jump.
Please keep an eye on the Axios stream today for more coverage, and here's a few reads and notes to get ready for one of the biggest environmental decisions of Trump's presidency . . .
https://www.axios.com/newsletters/axios-generate-9ff56dcb-6b0f-4cf8-9f45-8ab42e8fa79e.html?chunk=1#story1
Coming really soon: US crude production high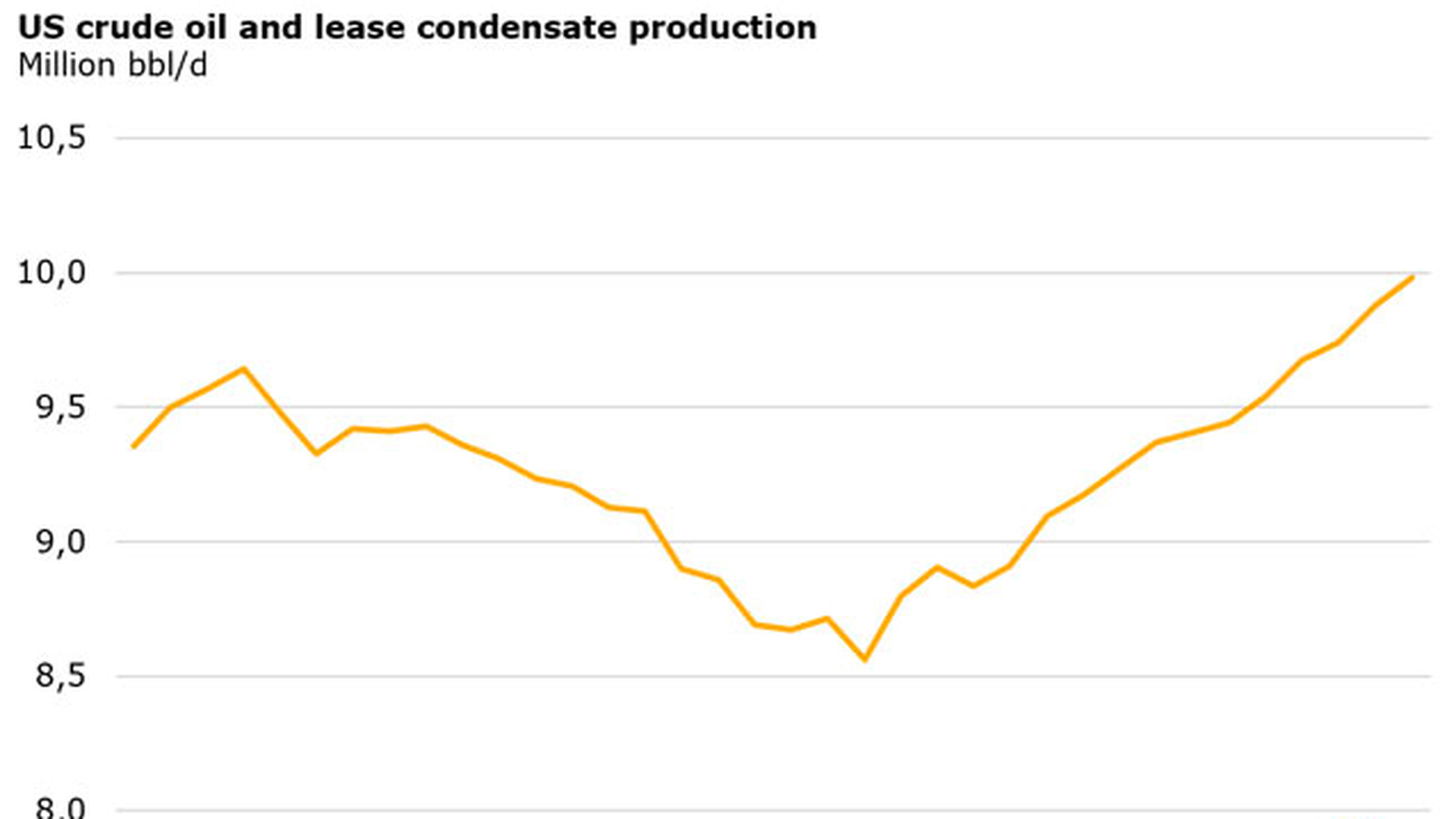 Wow — the consulting and data firm Rystad Energy is predicting that U.S. crude oil production is rising so fast that it could match the 1970 record of 10 million barrels per day by the end of 2017.
Why it matters: The forecast signals how fast shale is bouncing back and profitable even at modest prices, underscoring the challenge facing OPEC and other market players.
"[T]his very steep growth comes with US oil prices locked below the price most analysts estimated as a minimum to grow US oil production," the company said in a note Wednesday.
Go deeper:
Rystad sees faster growth than the most recent Energy Information Administration
forecast
, which predicts crude output moving past 10 million late next year.
https://www.axios.com/newsletters/axios-generate-9ff56dcb-6b0f-4cf8-9f45-8ab42e8fa79e.html?chunk=2#story2
The State Department's post-Paris role
A big question if Trump indeed abandons the Paris climate accord is how the State Department will seek to advance low-carbon energy globally.
Under the radar: State's Bureau of Energy Resources could play an important role, especially as Trump seeks to eviscerate State's separate climate initiatives.
What's next: your Generate host reached out to David Goldwyn, who was State's top energy official early in Hillary Clinton's tenure as secretary, for his predictions and views.
Assuming the bureau survives Secretary Tillerson's planned State reorganization, it could actually see an expanded role.
Diplomacy on non-climate topics like market and governance reforms could have collateral emissions benefits, because steps like cutting fossil fuel subsidies make other other forms of energy and efficiency tech more competitive.
The bureau could up its participation in diplomatic forums like the International Renewable Energy Agency, the Clean Energy Ministerial, the Energy and Climate Partnership of the Americas, "and programs which may be relabeled 'environmental' rather than climate."
Flashback: Tillerson, during his confirmation process, said in January that the bureau manages critical work that allows the U.S. to capitalize on the country's leadership in clean energy innovation and help U.S. cleantech companies tap foreign markets.
Very recent flashback:
The White House budget proposal last week would spare the bureau from the very deep cuts envisioned for some other programs, suggesting a reduction of roughly $1 million.
https://www.axios.com/newsletters/axios-generate-9ff56dcb-6b0f-4cf8-9f45-8ab42e8fa79e.html?chunk=3#story3
Listening notes
Energy analyst Chris Nelder is out with the latest edition of his Energy Transition Show podcast — a deep, 50-minute dive with Benjamin Sovacool of the University of Sussex about strategies for lower carbon power, heat and transportation systems. They roam pretty far, but a few snapshots . . .
Think bigger: Sovacool ponders why the U.S. energy mix still includes a relatively small amount of renewables compared to the overall potential.
"It's this weird, seamless web of economic, political, social and cultural dimensions that fuse together, and for far too long, planners and policymakers have focused on only one dimension."
Europe is a mixed bag: Underneath the continent's cross-border carbon and energy markets lies a messy patchwork of policies on decarbonization, with uneven progress. "You have a very complex landscape that is unfortunately only getting more complex with things like Brexit."
To be sure, different regions call for different strategies based on geography and other factors.
Nuclear realism: "My own take is, you can probably do nuclear safely, or you can do it cheaply, but you probably can't do both." Is it worth the risk? "When you fully make those risks transparent, yes, for those communities that choose to adopt it."
Click here to listen to part of the interview, or pay for a subscription through that site to hear full episodes (it's a good idea).
https://www.axios.com/newsletters/axios-generate-9ff56dcb-6b0f-4cf8-9f45-8ab42e8fa79e.html?chunk=4#story4
From Amy's notebook: Big Oil & Beltway swap roles on climate
My Axios colleague Amy Harder has a little more on the Paris saga. Take it away . . .
This juxtaposition is striking and would have been unthinkable a year ago:
Oil and investors leading: ExxonMobil's shareholders voted in Dallas Wednesday to urge the company to disclose how climate-change regulations could hurt its business. Exxon management opposed the non-binding proposal, but now says it will consider the issue, and the company has emerged as a vocal proponent of the Paris climate pact.
Washington reversing: President Trump is readying a decision to withdraw the U.S. from the historic Paris climate deal, which nearly every other country in the world supports.
Why it matters:
The contrasting actions underscore the widening gulf between corporate America and Trump. Most companies back the Paris accord, and they're not going to change course if Trump follows through with his decision to withdraw, industry officials told Amy yesterday. More important to businesses is certainty around environmental regulations that Trump has already signaled he'll repeal, regardless of what happens with the global deal.
https://www.axios.com/newsletters/axios-generate-9ff56dcb-6b0f-4cf8-9f45-8ab42e8fa79e.html?chunk=5#story5
​On my screen
Oil: The Center for Strategic and International Studies has a look at Iran's efforts to boost its oil output to nearly 5 million barrels per day in the next few years, and how that's tethered to continued U.S. sanctions relief.
Hassan Rouhani's reelection and the recent U.S. sanctions waiver are good signs for attracting foreign investment needed to ramp up production, but it may be be slow to emerge, given the possibility of the U.S. taking a harder line in the future.
Grids: Utility Dive unpacks a new state-by-state report on grid modernization policies published by the North Carolina Clean Energy Technology Center at North Carolina State University.
"[U]ntil now, there was no easily-accessible tool to track the myriad regulatory actions on advanced metering, non-wire alternatives, ratemaking reform and the like."
Venture capital: the Harvard Business Review takes stock of the recent Brookings Institution report that sounded several alarms about the state of VC funding for next-wave clean energy technologiesEVs: Bloomberg explores the aggressive policies that made Norway—with a population of just five million people—fourth place globally in the number of electric vehicles on its roads.