Good morning and welcome back! I learned something on the internet: the Saturday Night Fever soundtrack was released 40 years ago today.
Let's get into today's newsletter with some music that's way better than the mockery of the era would suggest . . .
https://www.axios.com/newsletters/axios-generate-98065fee-6cc3-4ba8-bb55-a7b09f2de786.html?chunk=0#story0
Parsing Schwarzenegger's advice
Let's spend some more time with my colleague Amy Harder's reporting yesterday on Arnold Schwarzenegger telling activists that they need to talk about health and pollution, not climate change.
ICYMI: "You can have the best product in the world, but if you don't know how to communicate it, you have nothing," Schwarzenegger, the former GOP governor of California, said at the UN climate talks in Germany.
Reality check: It's tempting to think that the climate movement's struggles are a problem of messaging that can be solved by tweaking the presentation.
But in reality environmentalists and their allies have long done what Schwarzenegger suggests, and tried lots of other messaging approaches too.
A few examples...
In 2014, President Obama promoted EPA climate rules for power plants in remarks at Children's National Medical Center, where he said the policy would help reduce asthma attacks and heart problems.
In 2010, when then-Senator John Kerry was crafting cap-and-trade legislation, he said, "What we are talking about is a jobs bill. It is not a climate bill. It is a jobs bill, and it is a clean air bill. It is a national security, energy independence bill."
The main coalition of environmental groups pushing cap-and-trade legislation in 2009-2010 was called "Clean Energy Works" – a nod to the economic opportunities of expanding low-carbon energy industries.
The bottom line: Making seismic changes in emissions levels and energy policy worldwide is hard. It means confronting sticky challenges that go far beyond finding the right messaging — and lots of people have spent years trying to crack the PR code.
https://www.axios.com/newsletters/axios-generate-98065fee-6cc3-4ba8-bb55-a7b09f2de786.html?chunk=1#story1
Oil news and views: Russian mystery, shale, Saudi game changer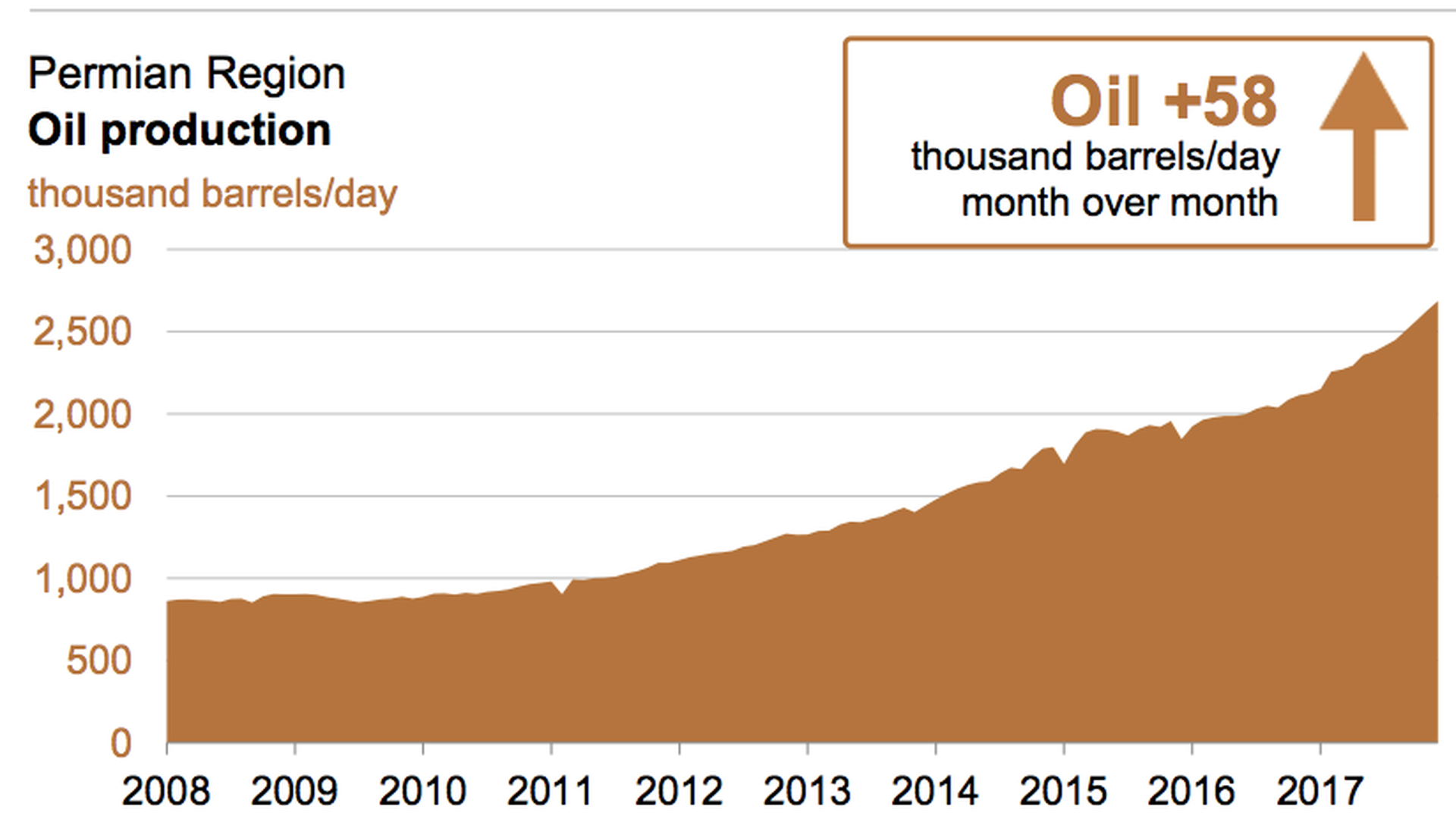 Latest shale numbers: The federal Energy Information Administration's latest analysis of U.S. shale oil production forecasts a rise of 80,000 barrels per day next month to 6.17 million, with the Permian Basin again leading the way (check out the chart above).
Russia uncertain on future cuts: Via Bloomberg, "OPEC has yet to convince Russia that it's necessary to reach an agreement to extend oil-output cuts at a meeting in Vienna later this month, as officials and oil bosses in Moscow still haven't decided how long the production deal should last."
To be sure: "Russian domestic oil producers are committed to a global deal to cut oil output, the Energy Ministry said on Wednesday after the energy minister discussed the matter with company officials," Reuters reports.
One big question: A guest column in the Financial Times explores the dueling market forces of shale supply (which moderates prices) and the political upheaval in Saudi Arabia (which has lately pushed prices up).
"[T]he oil market and energy prices have entered a new period of political uncertainty despite the near-certainty of higher shale production," writes Mohamed El-Erian, the chief economic adviser at Allianz.
Going forward, a lot depends whether what has been billed as an anti-corruption crackdown leads to better governance and faster economic reforms, which will push prices gradually lower again, he writes, or whether the crackdown is a "leading indicator of political and geopolitical uncertainty."
Don't forget: The Senate Energy and Natural Resources Committee will consider legislation today that would open the coastal plain of Alaska's Arctic National Wildlife Refuge to oil exploration.
https://www.axios.com/newsletters/axios-generate-98065fee-6cc3-4ba8-bb55-a7b09f2de786.html?chunk=2#story2
Bonn update: looking at America's non-federal climate pledges
Over in the Axios stream, Amy also unpacks something that's getting lots of press from the Bonn talks — the pledges by states and cities and other non-federal actors to cut carbon amid the White House decision to leave the Paris deal.
Behind the news: Michael Bloomberg and California Gov. Jerry Brown are leading a group that just released a report stating if these non-federal entities were a country, their economy would be the third largest in the world. It also said the group represents nearly half of all Americans and more than half of the U.S. GDP.
The group largely represents America's coasts, where a lot of people live in big cities, but that's not where most of the greenhouse gases are emitted from coal, oil and natural gas production. The group represents up to 35% of America's total greenhouse gas emissions, according to the report's appendix data. That means this group represents roughly less than 5% of the world's emissions, despite comprising an economy that's the world's third-largest.
Why it matters: The 35% figure — not highlighted as part of the report's release — underscores why federal action is essential in making sizable cuts in greenhouse gases.
Big picture: "Diplomats began wrapping up negotiations on advancing the Paris climate accord Tuesday at a global conference in Germany, setting the stage for political leaders to fly in and provide a final shot of momentum," CBS reports.
Top U.S. diplomat stays home: Amy reports from Bonn that the senior State Department official who was supposed to be America's lead climate negotiator at the UN talks won't be at the event. The department said Tom Shannon isn't coming because of a family emergency and Judith Garber, a lower level State Department official, will represent the U.S.
https://www.axios.com/newsletters/axios-generate-98065fee-6cc3-4ba8-bb55-a7b09f2de786.html?chunk=3#story3
U.S. petroleum now a trade "juggernaut"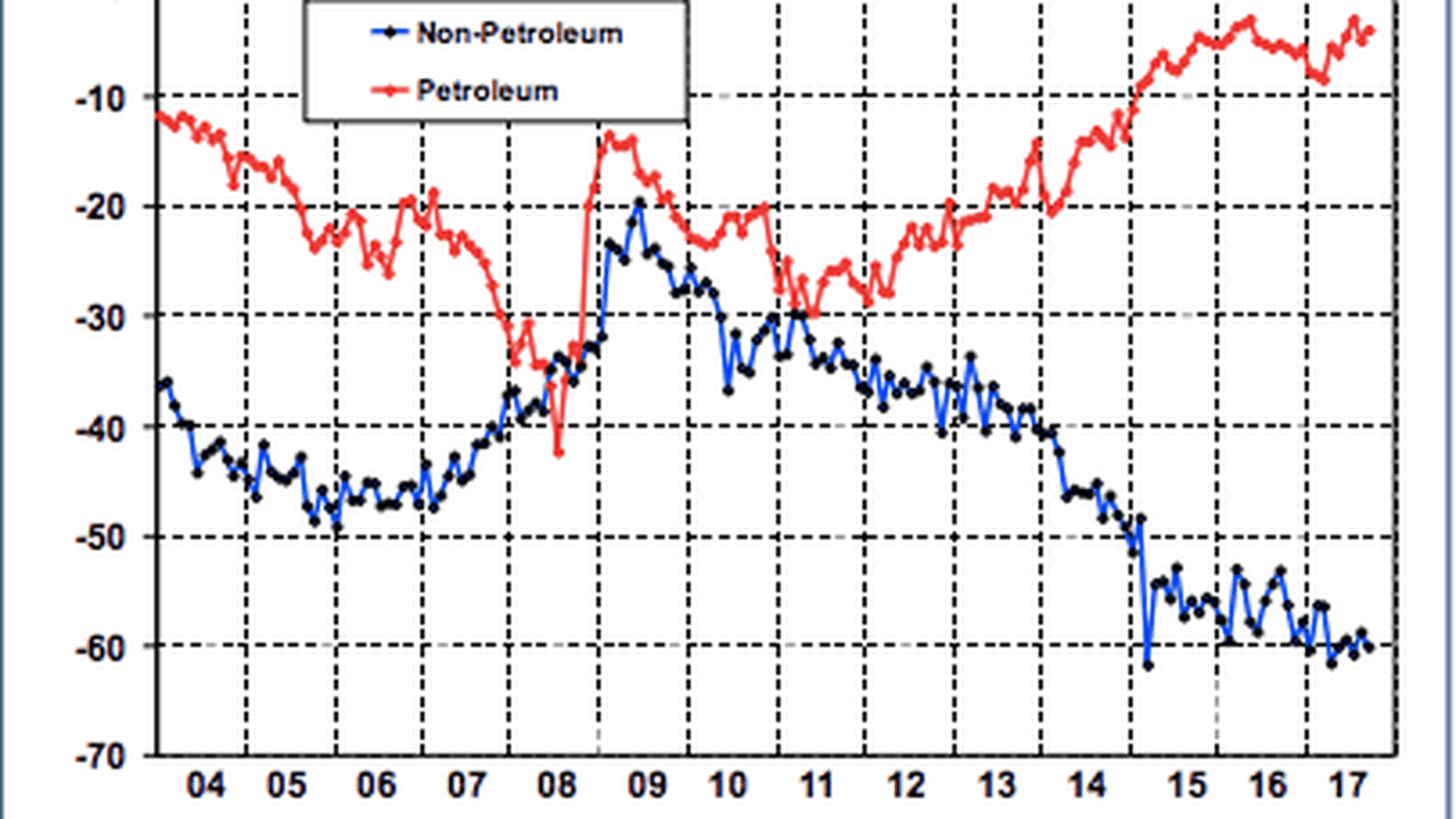 Big picture: "The U.S. energy industry has become an economic juggernaut with regards its contribution to the U.S. macro trade picture. Its contributions include reduced oil imports, increased oil exports (both product and crude), increased natural gas and LNG exports, and increased NGL exports," concludes a newly available report from S&P Global Platts Analytics.
Why it matters: The report takes stock of how the U.S. petroleum production and export surge has influenced the country's global fiscal position more broadly.
By the numbers: The wealth of data in the report includes a look at the trade balance in petroleum compared to other goods and services (see the chart above).
"While the overall deficit has remained large, the shift on the oil vs. non-oil side has been substantial. In 2011, the monthly deficit in petroleum ran about $30 billion, but has since narrowed to only $5.8 billion."
"Annual petroleum imports have been reduced in nominal value from $439.3 billion in 2011 to $186.3 billion, annualized in 2017, or -58%, while exports have grown from $113.6 billion in 2011 to $116.6 billion, annualized in 2017, or 2.6%."
Go deeper: Read the whole report here.
https://www.axios.com/newsletters/axios-generate-98065fee-6cc3-4ba8-bb55-a7b09f2de786.html?chunk=4#story4
On my screen: FERC, awkward energy marriage, lobbying
What's next for FERC, part 1: A new note from ClearView Energy Partners games out the future of DOE's push for the Federal Energy Regulatory Commission to write rules that boost compensation for coal and nuclear plants. The clock is ticking for some kind of action in mid-December.
One topline is that they see a 55% chance that FERC takes some kind of action that somewhat extends the regulatory process and puts it on a path to finalize a new rule by mid-2018.
What's much dicier is whether interim FERC chairman Neil Chatterjee can successfully win action on a nearer-term "lifeline" for at-risk plants. While a "limited program with tight criteria" could potentially get a majority vote, there are plenty of factors acting against this option, including the upcoming arrival of two new commissioners and legal vulnerabilities that a fast action would face, they note.
What's next for FERC, part 2: Via Utility Dive, "The Department of Energy is 'confident' the Federal Energy Regulatory Commission will 'dutifully consider and adopt a rule that will address price formation in the electric markets,' a senior DOE official told state utility regulators."
Lobbying: A few filings that have popped up in the Lobbying Disclosure Act database recently...
Relationship advice: A piece in Foreign Affairs criticizes the Trump administration's efforts to bolster coal-fired and nuclear power at the same time, exemplified by the Energy Department push for FERC to write wholesale power rules that would aid plants at risk of retirement.
"As the largest source of clean energy in the United States, nuclear energy will be crucial to limiting global greenhouse gas emissions and confronting climate change. Yet because the Trump administration links its support for nuclear to that for fossil fuels such as coal, it cedes any appearance of responsible environmental stewardship and strains strategically important relationships," writes Varun Sivaram and Madison Freeman.
https://www.axios.com/newsletters/axios-generate-98065fee-6cc3-4ba8-bb55-a7b09f2de786.html?chunk=5#story5
Apocalyptic headline of the day
Clear and present danger: A new Bloomberg story about the prospect of Trump administration imposing new penalties on solar panel imports is titled: "Cheese and Bourbon Face Risk of Backlash From U.S. Solar Tariff."
They report that if the White House decides to impose new tariffs, "Wisconsin cheese and Kentucky whiskey may pay the price."
The story explains that tariffs the White House is weighing would likely prompt World Trade Organization challenges and open the door to retaliatory measures against U.S. goods.
"If we tell the WTO to shove it, China may target Kentucky bourbon and Wisconsin dairy, creating natural opponents to the tariffs in Mitch McConnell and Paul Ryan," said Clark Packard of the R Street Institute tells Bloomberg. The free-market think tank opposes tariffs.