Good Monday morning! Did you have a good weekend? I hope so!
My latest Harder Line column reveals how the American Petroleum Institute is diving into the power fights against coal, nuclear power, and renewables. It's a timely piece in anticipation of the Energy Department's study on the electric grid due out soon.
I'll give you a preview of my column, and then hand things back to Ben who will host you the rest of the newsletter. Questions, comments, complaints, tips, etc., you can always reach me at amy@axios.com.
https://www.axios.com/newsletters/axios-generate-97dc248a-975e-41c7-ba66-3bb420553c75.html?chunk=0#story0
Big oil's electric fight against coal and nukes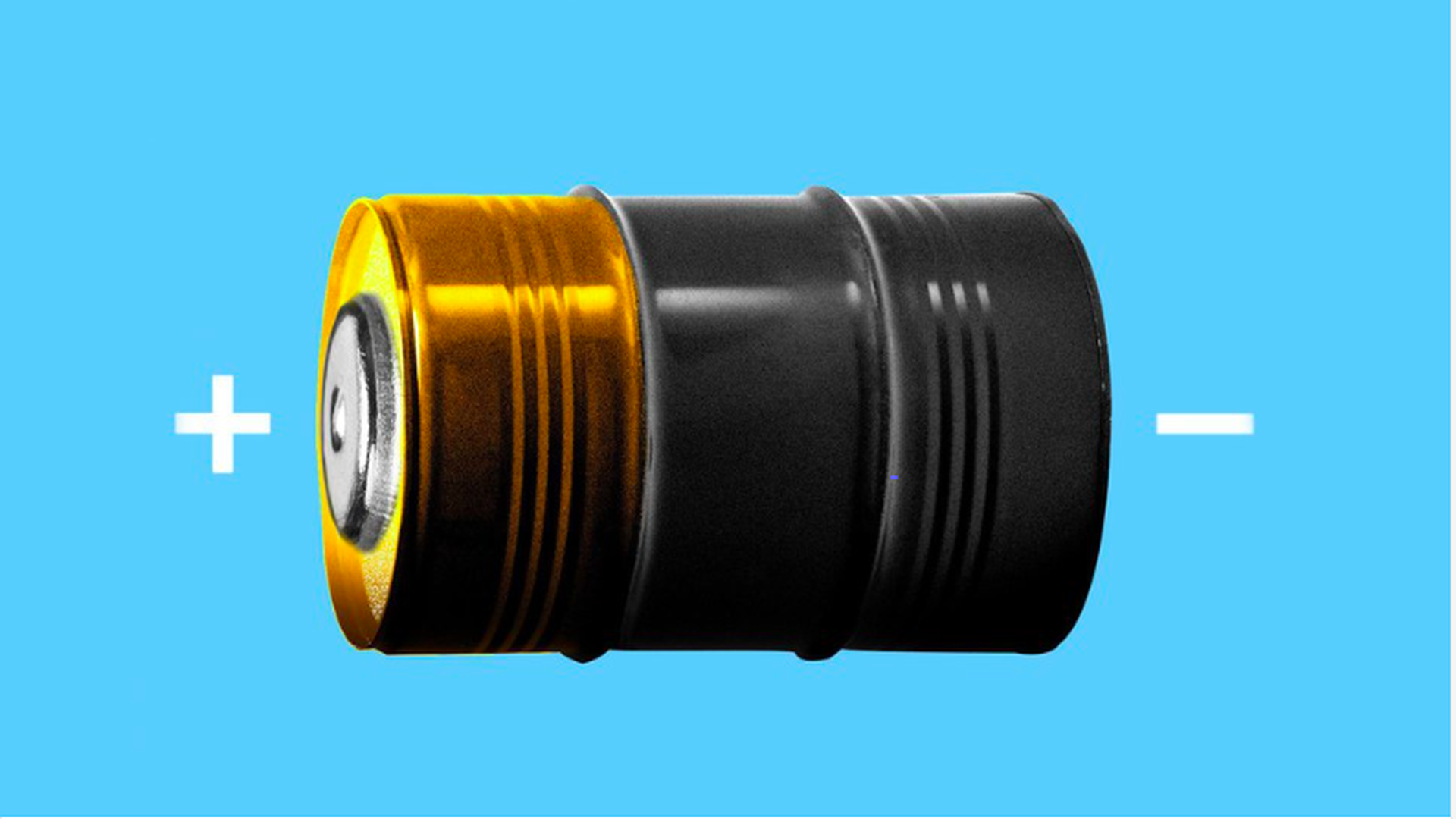 The American Petroleum Institute, the nation's biggest and most influential lobbying group for the oil and natural gas industry, is fighting nuclear power subsidies across the U.S., plans to oppose any efforts to expand renewable electricity, and is telling the Trump administration that its study on the power grid better not hurt natural gas in an effort to help coal and nuclear energy.
Why it matters: The entry of API into the debate over power generation is a turning point in an industry long dominated by coal and nuclear energy. It's also a shift at an organization traditionally known for focusing on drilling and the transportation sector. API's members, including Exxon Mobil Corp. and Royal Dutch Shell, are increasingly producing natural gas, and now the group is fighting to make sure that fuel becomes America's dominant source of electricity.
Go deeper:
Read the rest of the Harder Line column
https://www.axios.com/newsletters/axios-generate-97dc248a-975e-41c7-ba66-3bb420553c75.html?chunk=1#story1
More oil notes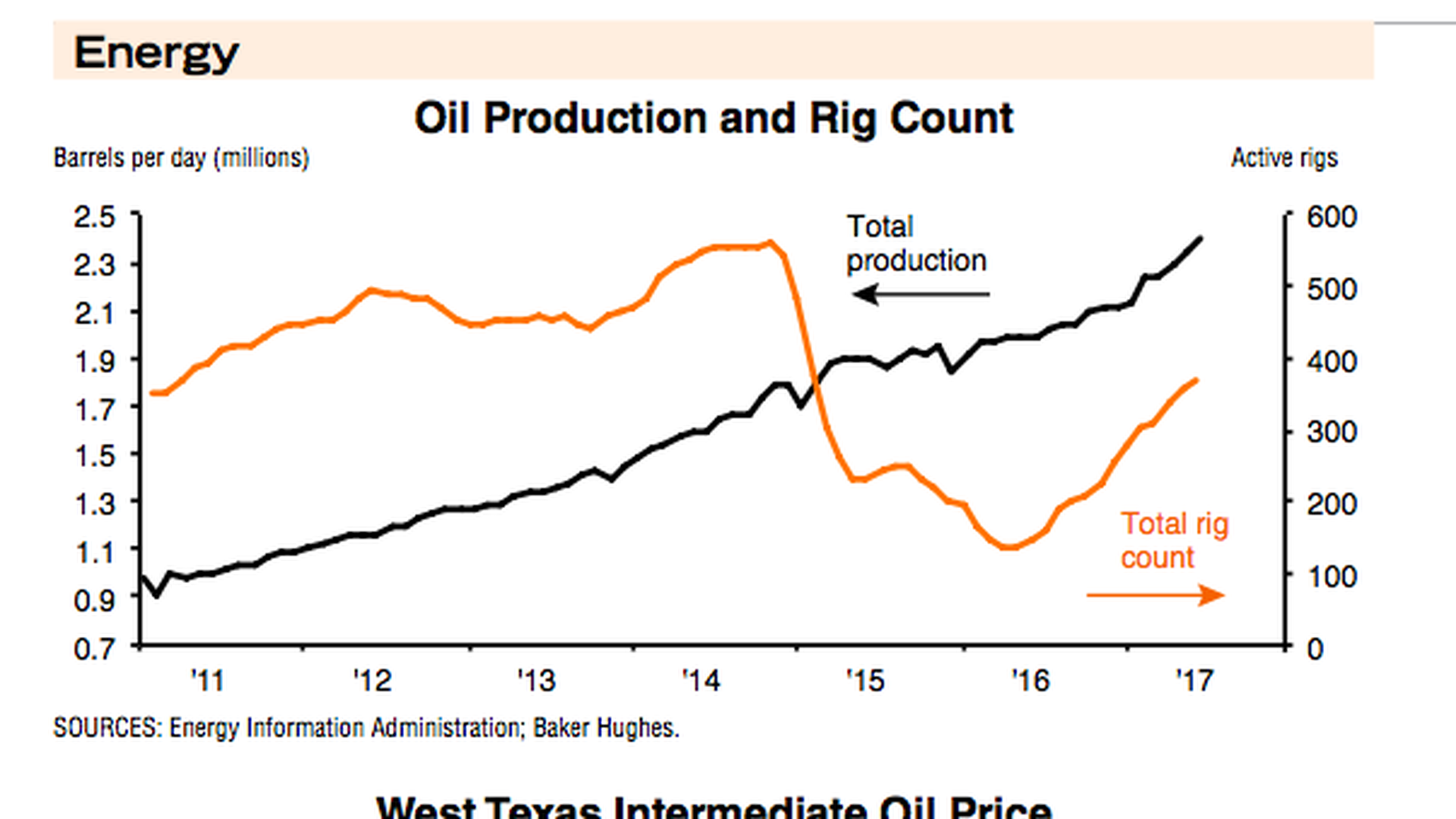 A resilient Permian boom: The Dallas Fed's latest snapshot of the Permian Basin released Friday stacks two charts together (see above) that nicely illustrate how the Permian's production surge has just kept chugging along even when oil prices fell.
Why it matters: The industry's ability to keep growing production at modest prices — thanks to factors including lower service costs and tech advances — is an important reason why OPEC is struggling to tame the global glut.
Finance: Elsewhere in new research, the Kansas City Fed is out with its latest quarterly survey of oil-and-gas companies in its district, which included the energy-rich states of Colorado, Wyoming, and Oklahoma. It shows that expansion of activity continued, but at a slower pace than the prior quarter.The average price needed for a "substantial" drilling increase is $56 per barrel, lower than the $60 average in the fourth quarter of 2016 but still well above today's prices.75% of the companies surveyed said that private equity financing has become more available in recent months, while somewhat over half said financing from banks and bond markets has become less available.The latest: Reuters reports that Brent crude oil prices rose to roughly $49 per barrel in trading Monday as the slowdown in the growth of drilling rig deployment in the U.S. "eased concern that surging shale supplies will undermine OPEC-led cuts."
https://www.axios.com/newsletters/axios-generate-97dc248a-975e-41c7-ba66-3bb420553c75.html?chunk=2#story2
Buzzing about electricity as DOE study looms
ICYMI: On Friday Bloomberg got its hands on a draft copy of the closely watched upcoming Energy Department study on the power grid.
"The findings — which are still under review by the department's leadership — contrast with [Energy secretary Rick] Perry's arguments that 'baseload' sources such as coal and nuclear power that provide constant power are jeopardized by Obama-era incentives for renewable energy, making the grid unreliable," Bloomberg reports.
Quick take: While DOE emphasized that the report is still evolving, the leak of the draft conclusions is significant. If the final report differs substantially from the staff draft, it will fuel allegations that DOE leadership is launching a political attack against renewables that's at odds with expert opinion.
Another look: Amy and Axios Visuals' Rebecca Zisser just published this nifty card deck on U.S. electricity sources.
https://www.axios.com/newsletters/axios-generate-97dc248a-975e-41c7-ba66-3bb420553c75.html?chunk=3#story3
Climate magazine story really broke through
A couple more notes on the sobering and important New York Magazine climate cover piece.
It really traveled: The magazine's PR staff said Friday that it's the most-read story in the publication's history, getting over 2.5 million readers online and counting.
Why it matters: It's unusual for a climate story to become such a talked about thing beyond wonk and activist circles.
Refresher: David Wallace-Wells warns that left unchecked, global warming could make parts of Earth "close to uninhabitable, and other parts horrifically inhospitable" as soon as the end of this century. However, he also says that the worst outcomes are unlikely because people will take more action after "devastation along the way" shakes their complacency.
Scientists and other advocates have a complicated relationship with the piece. Some are happy to see the topic brought into the mainstream, yet there's heartburn over what several scientists call mistakes and contextual problems.
Thought bubble: One thing complicating the reaction is that Wallace-Wells' post-publication framing, such as in this follow-up, is somewhat softer than the underlying story.
My recommendation: Listen to this joint interview with Wallace-Wells and Princeton scientist Michael Oppenheimer on WNYC's Brian Lehrer show. In this, Wallace-Wells emphasizes he's laying out "worst-case scenarios." He told Lehrer he's describing what could occur if there's "absolutely no action" and if warming effects land on the outer margin of scientists' projections.
https://www.axios.com/newsletters/axios-generate-97dc248a-975e-41c7-ba66-3bb420553c75.html?chunk=4#story4
Polling focus: Trump and climate change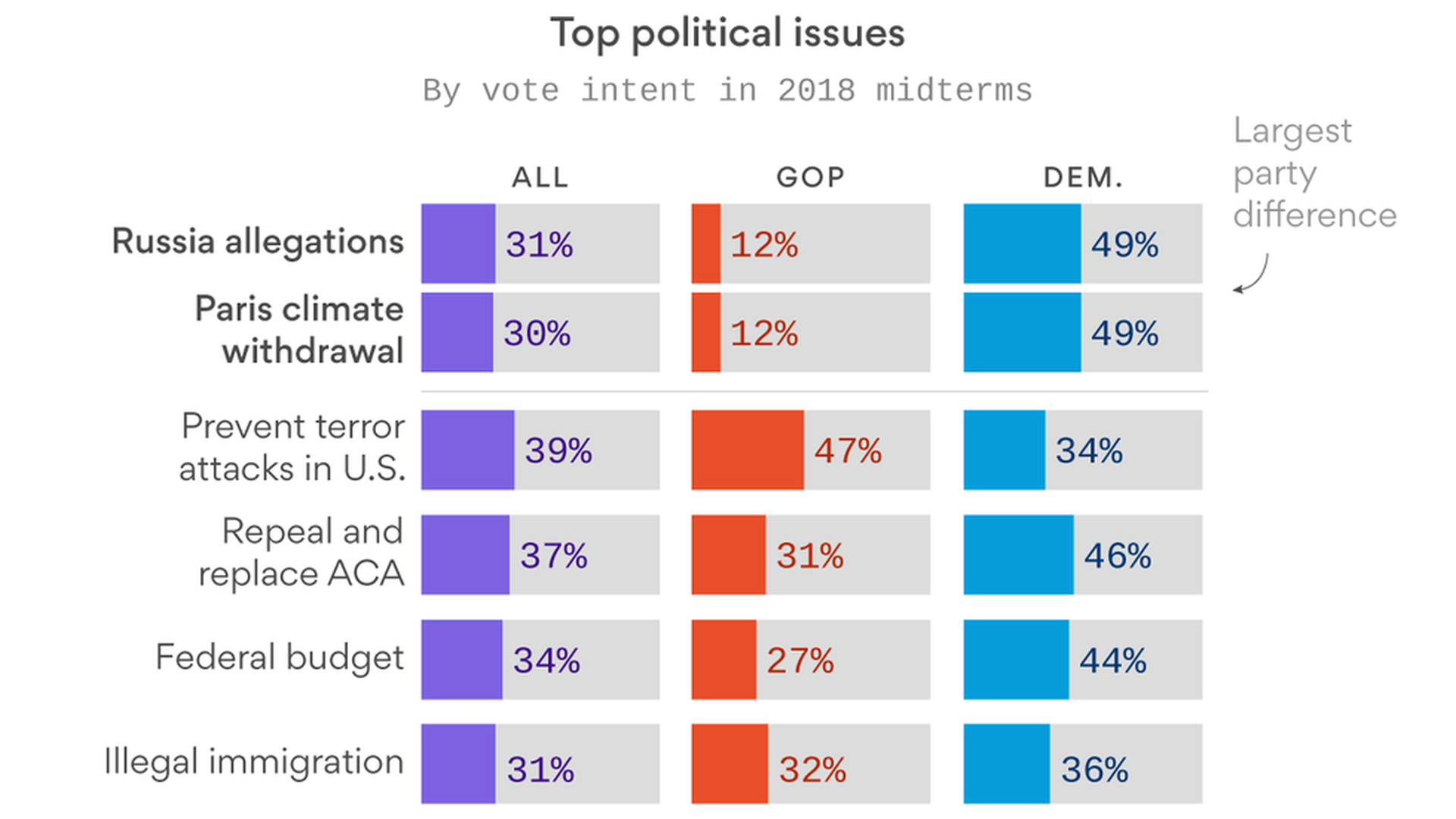 Midterm motivation: In case you missed it, a joint Harvard-Politico poll released Friday explored topics that are important to voters' 2018 midterm election decisions. As the chart above notes, there's a very wide gap over Trump's decision on the Paris climate agreement.
The pollsters found that it's "extremely important" to almost half the people who intend to vote for a Democratic candidate, compared to just 12% of respondents who plan to vote for GOP candidates.
Do we care: A Bloomberg poll released Monday showed that 10% of respondents listed climate change as the "most important" issue facing the country right now, which ranks it far below health care but on par with immigration and terrorism.