Good morning and welcome back! A reminder that Sinocism's Bill Bishop, one of the smartest minds on China, has moved his weekly newsletter to Axios. The next edition lands tomorrow, so sign up here to get this must-read commentary and analysis on the most important U.S.-China news of the week.
Ok, here we go . . .
https://www.axios.com/newsletters/axios-generate-9762a671-f061-4267-9b20-67bfc771237f.html?chunk=0#story0
Breaking in Bonn: Nations announce 2030 coal phaseout
Big news from the UN climate talks in Bonn, Germany, today is that multiple countries are forming a coalition to phase out power generation from coal before 2030.
Ganging up: "At least 15 countries have joined an international alliance to phase out coal from power generation before 2030, delegates at U.N. climate talks in Bonn said on Thursday," via Reuters.
The nations: Britain, Canada, Denmark, Finland, Italy, France, the Netherlands, Portugal, Belgium, Switzerland, New Zealand, Ethiopia, Chile, Mexico and the Marshall Islands, according to the story.
Why it matters: Coal is the most carbon-intensive fossil fuel, and cutting emissions from coal-fired power generation is key to driving global greenhouse gas output downward in the future.
Yes, but: The world's biggest coal-consuming nations — notably China, the U.S. and India — are not currently part of the initiative.
The other side: George David Banks, a top White House adviser who is in Bonn this week, said the administration is considering forming a "clean coal alliance," adding to comments Energy secretary Rick Perry made recently in Africa.
"The administration is interested in the idea and would like to explore exactly what that means," Banks told Axios' Amy Harder and other reporters at a briefing Wednesday.
Gritty details:
Banks said the following countries would probably be interested: Japan, Australia, India, Vietnam and some African countries.
He said the alliance would focus on first and foremost on technology known as "high efficiency, low emission," which offer gains of up to 30% less carbon emissions compared to older plants, according to the World Coal Association.
Looking at more expensive — but more effective — technology that captures up to 90% of carbon emitted from a coal plant would be another focus.
https://www.axios.com/newsletters/axios-generate-9762a671-f061-4267-9b20-67bfc771237f.html?chunk=1#story1
Reality checking Trump's energy adviser
https://www.axios.com/newsletters/axios-generate-9762a671-f061-4267-9b20-67bfc771237f.html?chunk=2#story2
Get ready for Elon Musk's electric semi-truck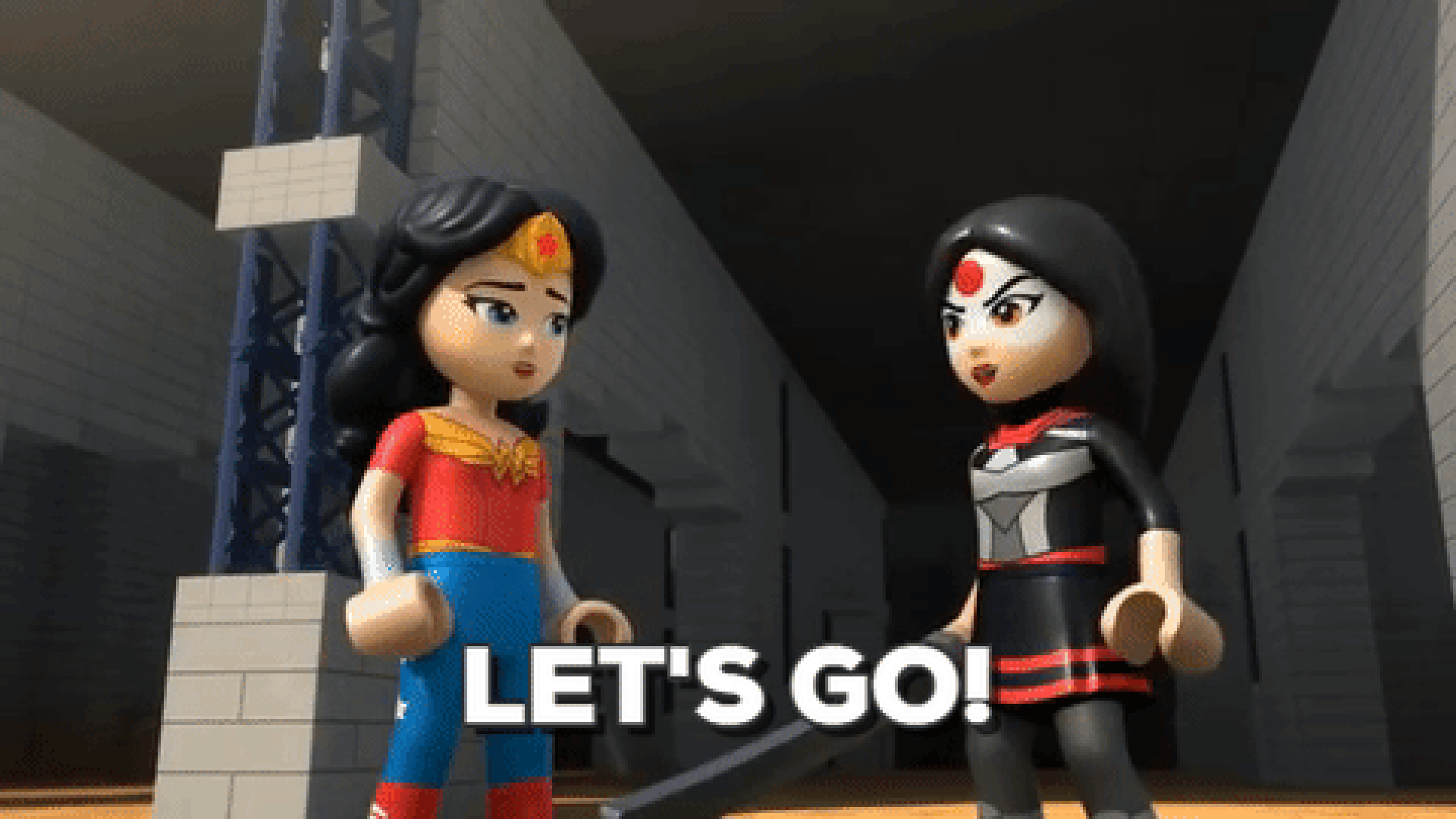 Ahead of the news: My Axios colleague Steve LeVine previews Elon Musk's Thursday night rollout of an electric semi-truck prototype with self-driving technology, and notes it's a move to capture a piece of one of the most promising sectors of robotization.
Here's more from Steve...
According to one estimate, its enormous battery could make it double the price of a standard diesel-propelled vehicle. But Musk has said he already has customers waiting for the vehicle.
The jobs impact: There are about 3.5 million truckers in the U.S., in addition to about 5 million workers in other parts of the industry. Many of those jobs are threatened in a future of autonomous freight transportation.
Much is made of the future of self-driving, but the biggest early impact — with huge money on the line — is likely to be cargo trucks, and not passenger vehicles.
The U.S. trucking industry had $676 billion in revenue last year, according to the American Trucking Association, a sum that experts expect to surge over the coming decades with the global population boom to 9 billion people.
Numerous startups in Silicon Valley and elsewhere are hoping to capture that flow of revenue.
Click here for the rest of Steve's story, including a look at battery costs and range estimates.
https://www.axios.com/newsletters/axios-generate-9762a671-f061-4267-9b20-67bfc771237f.html?chunk=3#story3
Why trucks are pivotal to oil's future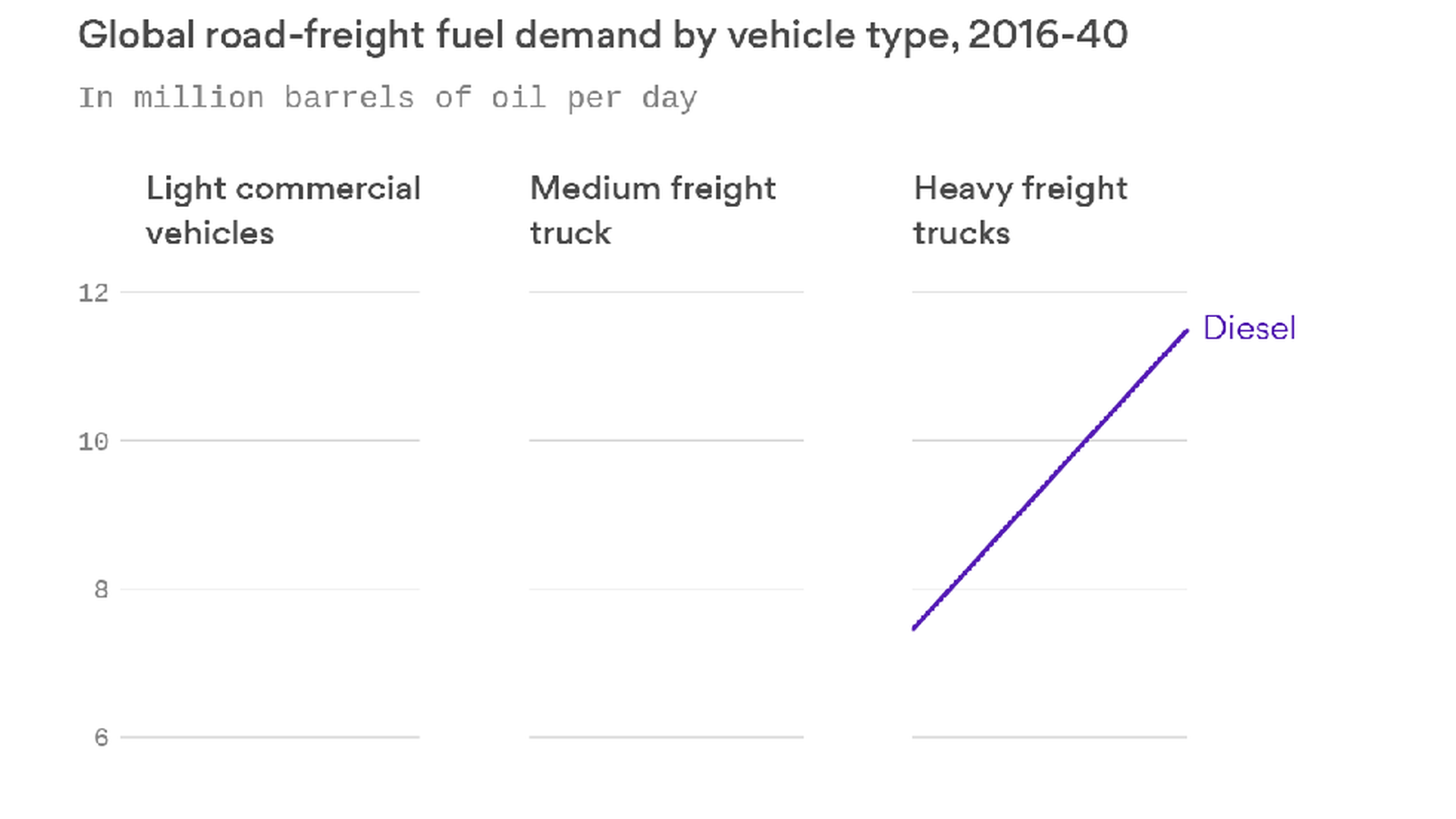 Let's spend a little more time on electric trucking. Bloomberg notes that Tesla is hardly the only player in this nascent market as big companies like Daimler and Cummins are moving toward commercialization.
Why electric trucks matter: Trucks, especially big rigs, are a small percentage of vehicles on the road but use lots of oil. (Check out the chart above, reconstructed from the International Energy Agency's new World Energy Outlook 2017.)
In what amounts to IEA's base case (a model of existing and officially announced policies), oil demand for trucking swells to 20 million barrels per day in 2040, led by that sharp increase you see in diesel demand for heavy-duty freight.
It's one reason, though hardly the only one, why IEA does not forecast a peak in global crude oil demand through the end of their analysis period in 2040.
The bottom line: Widespread deployment of electric heavy-duty trucking — alongside other alternative fuels and stronger fuel efficiency mandates for diesel-powered rigs — could alter the trajectory of oil demand in coming decade if Musk and other players can make it cost-effective.
https://www.axios.com/newsletters/axios-generate-9762a671-f061-4267-9b20-67bfc771237f.html?chunk=4#story4
Congress and policy notes: FERC, Arctic drilling, lobbying
DOE personnel: Trump is nominating a senior official with the nuclear energy industry's main lobbying group to serve as the Energy Department's liaison to Congress, the White House announced Wednesday evening.
He's tapping Melissa F. Burnison, the director of federal programs at the Nuclear Energy Institute, to be DOE's assistant secretary for congressional and intergovernmental affairs. Before joining NEI, she was a senior adviser at DOE and worked on Capitol Hill as a House Natural Resources Committee aide.
FERC and coal: Utility Dive has the clearest look yet at how interim Federal Energy Regulatory Commission chairman Neil Chatterjee hopes to throw a "lifeline" to coal-fired and nuclear power plants as it grapples with Energy secretary Rick Perry's push for new wholesale power market rules that aid those sectors.
From their story:
"Chatterjee told Utility Dive the commission could issue a 'show cause' order directing RTOs and ISOs to update their tariffs to keep plants online that provide 'necessary resilience attributes,' or show why they should not be required to do so," they report, referring to regional transmission organizations and independent system operators.
Drilling: "Oil and gas drilling in Alaska's Arctic National Wildlife Refuge moved closer Wednesday as a key Senate panel approved a bill to open the remote refuge to energy exploration," AP reports.
Latest in lobbying: A few new files of note in the Lobbying Disclosure Act database...
More drilling: Platts reporter Brian Scheid reports via Twitter that the Interior Department's draft proposal to open far more offshore areas to oil-and-gas exploration in coming years has been pushed back until mid-December.
Background: Trump administration officials are planning to rewrite an Obama-era plan keeping the Atlantic and Pacific coasts and Arctic waters off limits for new leasing and development.
https://www.axios.com/newsletters/axios-generate-9762a671-f061-4267-9b20-67bfc771237f.html?chunk=5#story5
How tech giants fare on conflict mineral mining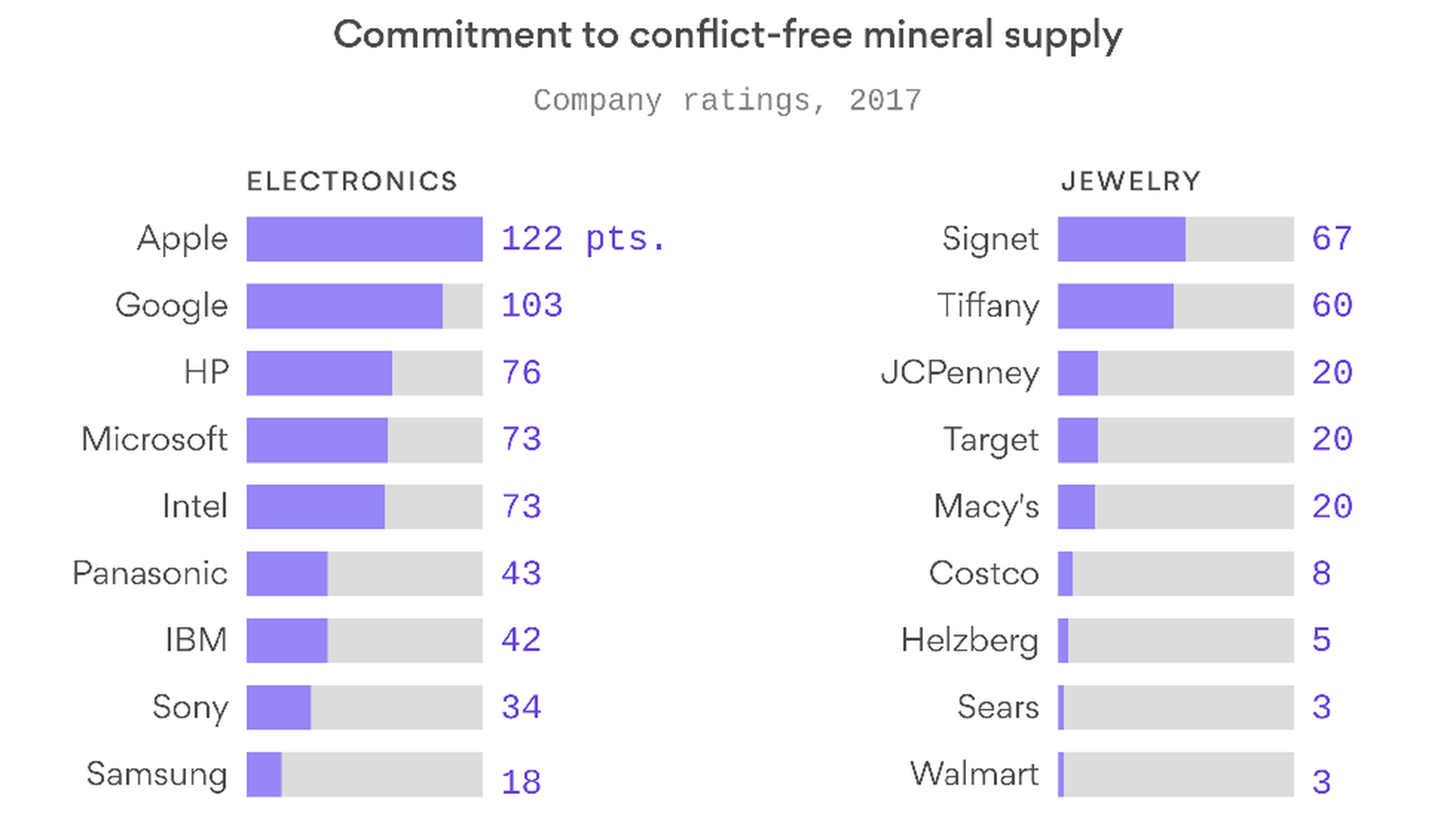 Axios tech writer Ina Fried has an interesting mining-related item...
Supply chains under the microscope: The advocacy group Enough put out a list of the tech and jewelry companies doing the most and least around use of conflict minerals — things like gold, tin, tungsten, and tantalum that are mined in violence-torn parts of the Congo.
Tech giants Apple, Google, Microsoft and HP were at the top of the group's list, with retailers like Costco, Sears, Nieman-Marcus and Walmart at the bottom.
Not all tech companies good: While the leaders were all big names in tech, a number of companies got low marks, including Samsung and Toshiba.
Not all retailers bad: Similarly, while the lowest marks went to companies that sell jewelry, some such companies got higher scores, including Signet and Tiffany & Co.