Good morning and welcome back to Generate!
Before we get started, I want to mention that the latest edition of Future of Work — the Axios newsletter on robots, artificial intelligence, jobs, and global economics and much more — comes out later today. Click here to sign up for Future of Work and all of our daily and weekly newsletters.
Ok, let's dive in . . .
https://www.axios.com/newsletters/axios-generate-96111a78-4bb8-4164-93ff-d07713d9d2b7.html?chunk=0#story0
Modeling Trump's coal conundrum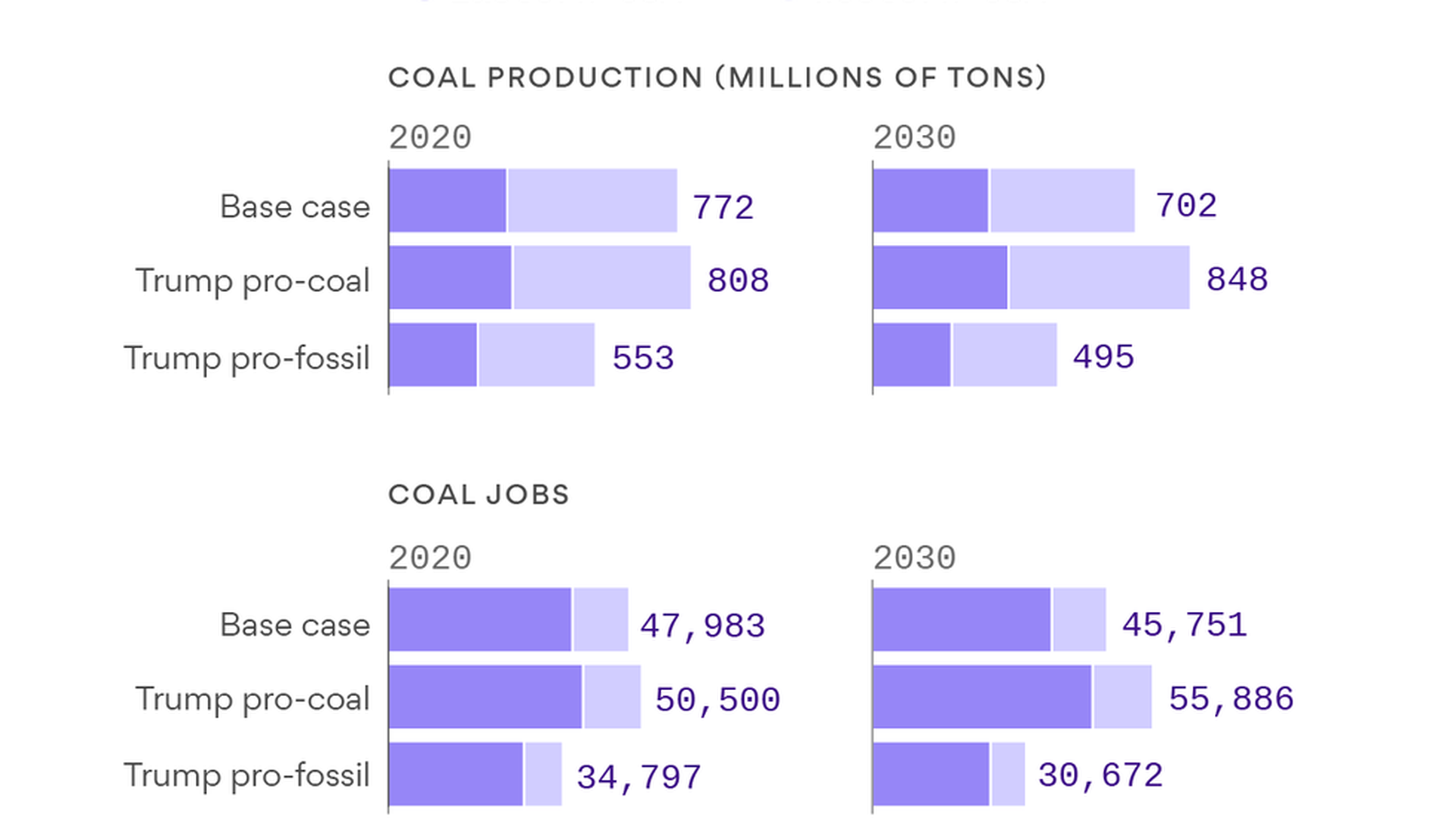 An analysis circulated Tuesday concludes that President Trump's sweeping push to bolster fossil fuels across the board by cutting regulations and production constraints means natural gas will likely keep and even expand its advantage over coal in electricity markets.
Why it matters: The presentation from the Brattle Group, an energy-focused consultancy, highlights a major tension running through Trump's pro-fossil fuel initiatives: Helping coal is tougher when you're supporting natural gas too.
What they examined: Brattle forecast the production and employment effect of pro-coal policies, like killing EPA's big power industry climate rule and rolling back mining regulations, in concert with the Trump administration's wider support of fossil fuels.
The bottom line: Their analysis predicts that the pro-coal efforts in isolation would indeed likely boost production of coal used for power generation and mining jobs, compared to what's expected under the baseline of Obama-era rules in the near-term (2020) and medium term (2030).
Yes, but: Combined with policies that affect oil-and-gas producers, like making more areas available for drilling and cutting royalties, Trump's overall approach (the "pro-fossil" case in the chart above) is actually forecast to be worse for coal than the Obama policy baseline.
https://www.axios.com/newsletters/axios-generate-96111a78-4bb8-4164-93ff-d07713d9d2b7.html?chunk=1#story1
Market updates: Aramco pushes back, Iran, the limits of shale
Aramco IPO: Via Bloomberg, "Saudi Arabia is still aiming to complete both international and domestic portions of the initial public offering of its state oil company in 2018, Oil Minister Khalid Al-Falih said Tuesday."
Why it matters: Al-Falih's comments at a London conference arrive amid reports in several publications that the kingdom may shelve plans for the international listing of state-owned oil giant Saudi Aramco.
Iran's stance: Via CNBC, Iran's deputy oil minister said that the country is plowing ahead with deals with big oil-and-gas companies despite new uncertainty about U.S. policy, saying the potential for revived U.S. sanctions "has little or no effect on our future plan in the oil industry."
"Speaking in London, Amir Hossein Zamaninia said Iran was currently negotiating with more than 15 companies from Europe, Russia and Asia to conclude contracts that will open the country to massive oil and gas exploration, development and production," they report.
Shale slowdown: The Financial Times published a visually interesting, graphics-heavy piece that explores whether the U.S. shale drilling boom is showing signs of wear and tear. "Over the past year...the productivity gains seemed to have slowed considerably, suggesting that the revolutionary era for progress in shale is over," they report.
https://www.axios.com/newsletters/axios-generate-96111a78-4bb8-4164-93ff-d07713d9d2b7.html?chunk=2#story2
On my screen: EVs and utilities, Congress, FERC battle
What EVs mean for utilities: A new Deloitte report looks at opportunities created for power companies by the expansion of electric vehicles. They argue that EVs can help utilities overcome three big challenges: stagnant demand for their product, the need to seamlessly integrate renewable and distributed resources, and the need for greater consumer engagement and new services.
The report's suite of recommendations for power companies include:
Developing plans to incentivize off-peak charging, and offering consumers "green charging" plans in regions with excess renewable generation in off-peak hours.
Developing "smart charging" services that give consumers price signals and other info.
Expanded collaboration with fleet owners, cities and mobility service providers.
FERC: Utility Dive has the latest on the controversial Energy Department push for the independent Federal Energy Regulatory Commission to write new power market rules that would boost compensation for coal and nuclear plants. FERC member Cheryl LaFleur tells the publication that DOE's proposal is not detailed enough to form a final rule and that more time is needed than DOE's 60 day timeframe.
Why it matters: "LaFleur, a Democrat, is the second of three sitting FERC members to express serious reservations about the cost recovery proposal," they report.
Congress, part 1: The Environment and Public Works Committee has postponed Wednesday's votes on several EPA nominees. The committee didn't give a reason.
But there's speculation that it's related to concerns among midwestern senators from both parties that Trump's EPA will scale back the federal biofuels mandate.
A report yesterday evening in Politico Pro noted that Iowa GOP Sen. Joni Ernst "pointedly declined" to say she'll support the nomination of Bill Wehrum to be EPA's top air regulator, after senators met on Capitol Hill yesterday with EPA administrator Scott Pruitt to discuss the renewable fuel standard.
Congress, part 2: The Hill reports Senate Democrats are planning a budget amendment aimed at stripping provisions that pave the way for legislation that would enable oil drilling in the Arctic National Wildlife Refuge.
https://www.axios.com/newsletters/axios-generate-96111a78-4bb8-4164-93ff-d07713d9d2b7.html?chunk=3#story3
Conservative group: Tax overhaul could help clean energy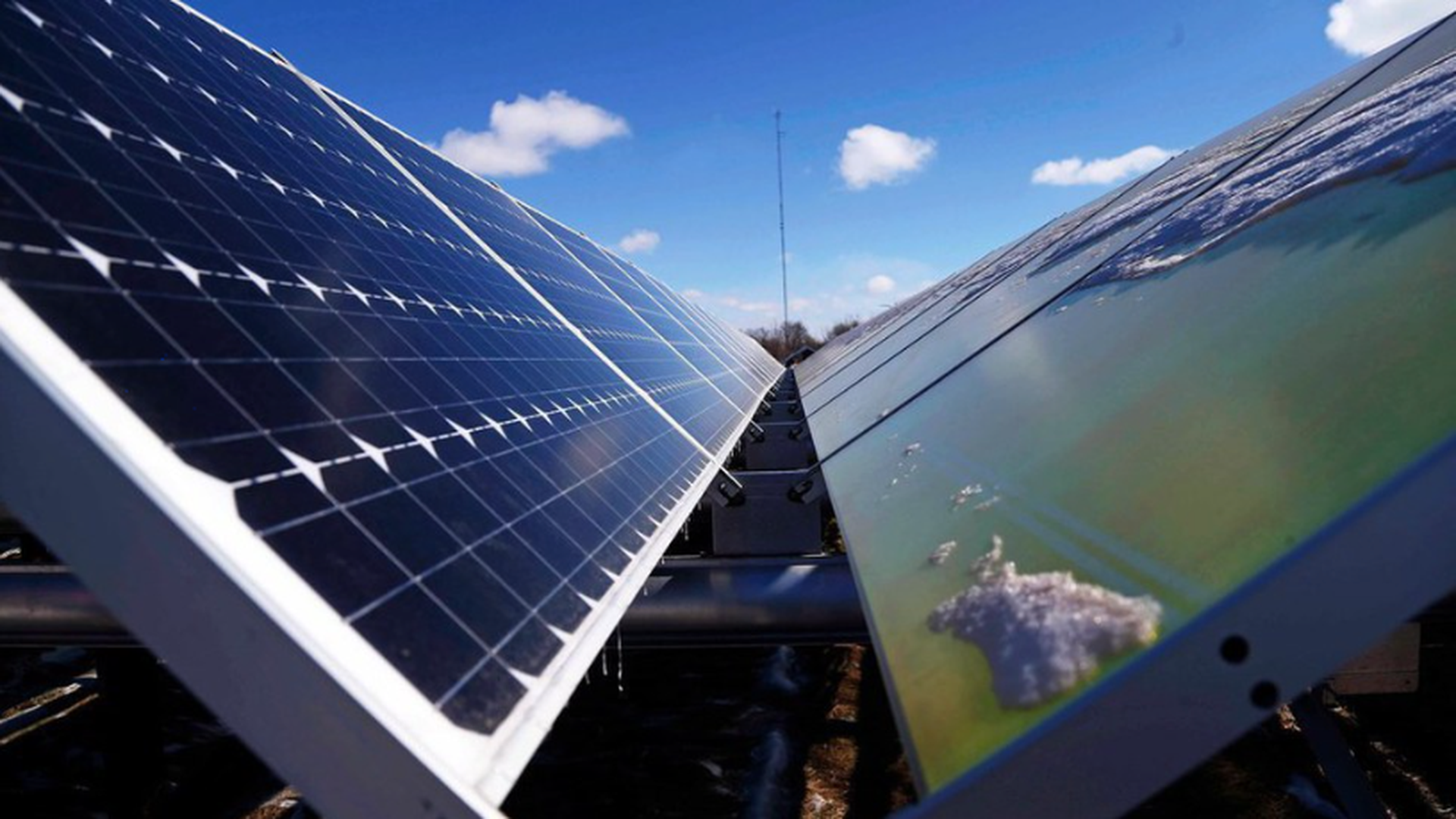 My colleague Amy Harder has a piece in the Axios stream on the politics of low-carbon energy...
New wrinkle: The conservative think tank American Council for Capital Formation (ACCF) is releasing a report today showing how tax reform could help clean-energy technologies. Think tanks release reports almost every day, but this one stands out for three reasons:
It comes from a group with ties to the Trump administration. White House international energy advisor George David Banks worked there prior to his current gig.
It's about a topic that conservative groups more often than not address with pre-baked criticism: clean energy. That doesn't happen here.
ACCF launched last month a new program on energy innovation. This is its first public release on the topic. Senior fellow Drew Bond, who was recently hired to run the program, says this topic can and should be debated without inextricably linking it to climate change, a divisive topic within the GOP.
Highlights from the report, conducted by independent consultant David Montgomery:
Clean-energy technologies would benefit from a more streamlined tax code, even under a scenario where many of the sector's subsidies, including production and investment tax credits, would be eliminated. Montgomery also assumes most oil and gas tax breaks would also be eliminated, based on additional details from GOP congressional leaders.
Click here for the rest of the story.
https://www.axios.com/newsletters/axios-generate-96111a78-4bb8-4164-93ff-d07713d9d2b7.html?chunk=4#story4
One revealing chart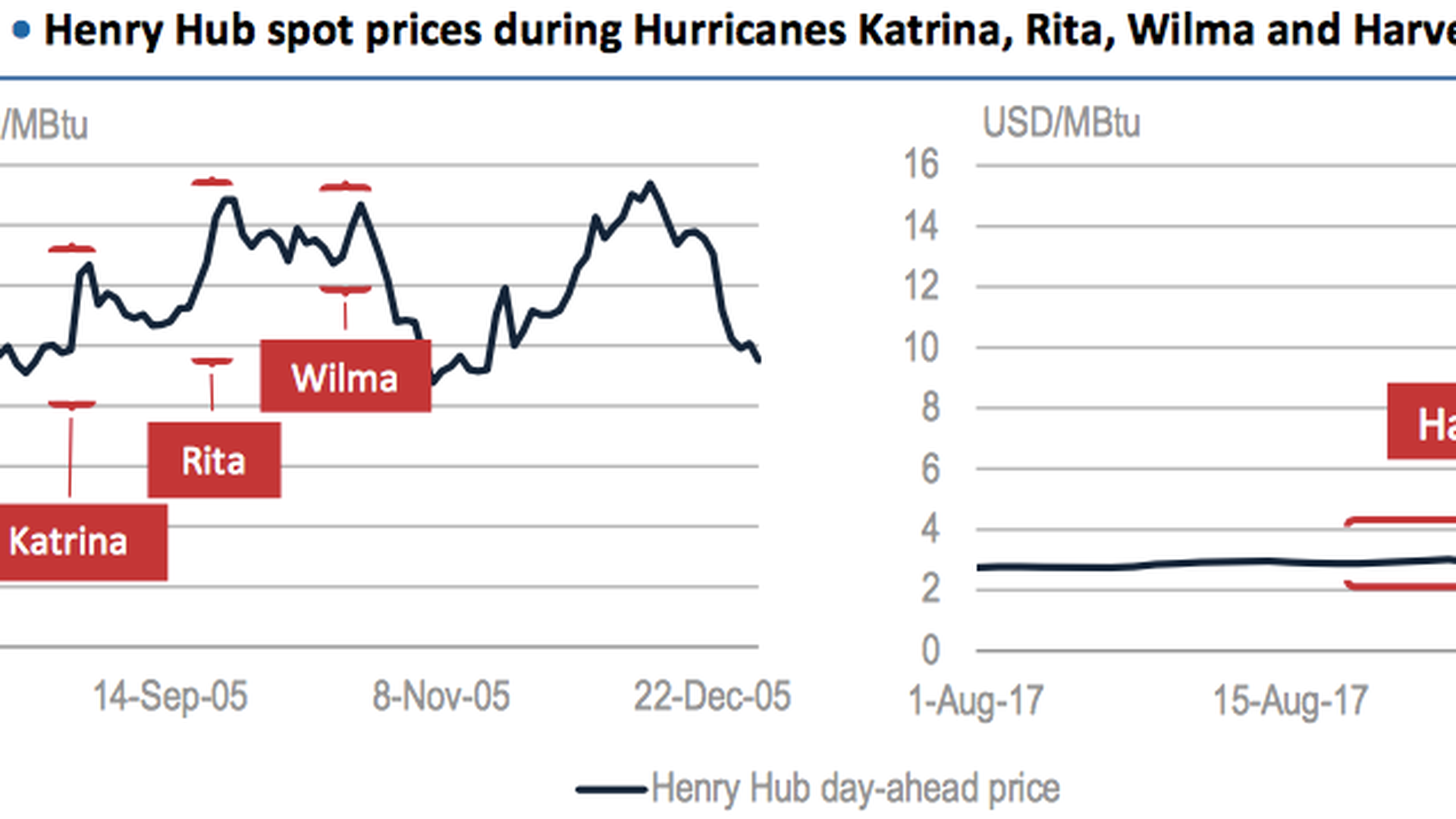 The new International Energy Agency report on natural gas markets has a useful comparison of two very, very different times in the U.S., showing what happened — and then what didn't — when hurricanes pummeled the Gulf Coast 12 years ago and in 2017.
Sign of the times: The charts above show how the storms of 2005 sent gas prices spiking at a time before the shale boom when U.S. production was much lower, prices were much higher, and the Gulf of Mexico accounted for a larger share than it does now.
Yes, but: The expansion of LNG export infrastructure under development in Gulf creates new hurricane-related vulnerabilities — ones that could affect the increasingly global gas trade as U.S. exports grow.
"During Hurricane Harvey, the Sabine Pass terminal stopped loading LNG vessels for 12 days. In the meantime 10 LNG vessels were waiting in the Gulf of Mexico to be loaded. This number could increase substantially in the future with liquefaction capacity ramping up in the Gulf Coast (one LNG vessel represents a volume of around 0.1 bcm) resulting in a delay of cargoes for the relevant LNG importers," IEA notes.
https://www.axios.com/newsletters/axios-generate-96111a78-4bb8-4164-93ff-d07713d9d2b7.html?chunk=5#story5
One pretty fall thing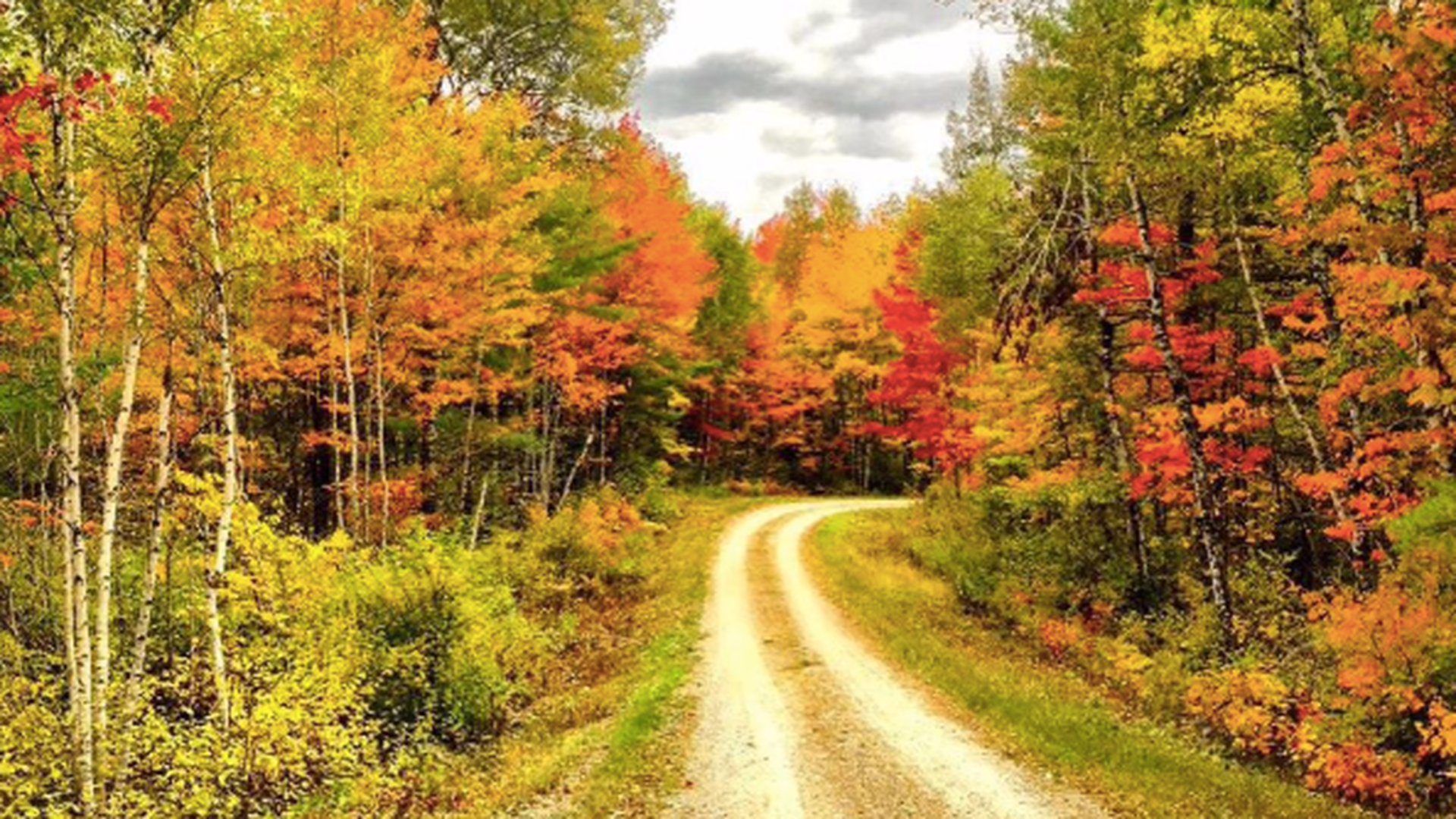 Fall colors: Now that it's starting to feel like autumn in D.C., this lovely shot of New England foliage feels right. Via the Interior Department's Instagram feed, this is the Moosehorn National Wildlife Refuge in Maine.