Axios Generate
November 16, 2022
🐪 Halfway there! There's a lot going on, but today's newsletter still has a Smart Brevity count of 1,268 words, a 5-minute read. 
📬 Did a friend send you this newsletter? Welcome. Please sign up.
🎷 This week in 1980 Bruce Springsteen was atop Billboard's album chart with "The River," which features A+ Clarence Clemons on today's intro tune...
1 big thing: Crunch time at COP27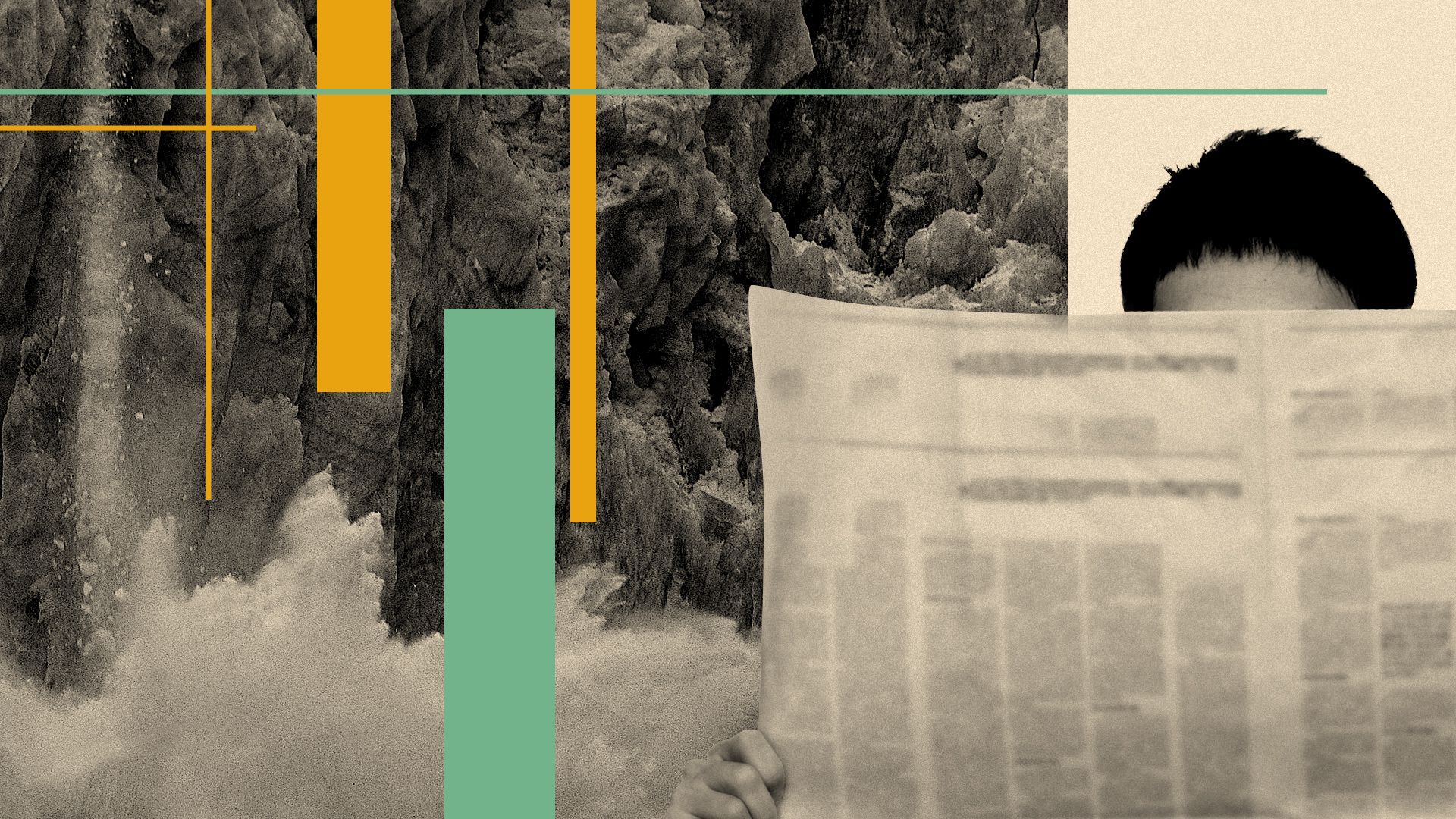 Major fault lines remain as negotiations at COP27 in Sharm el-Sheikh, Egypt, hit the middle of their second week, Andrew writes.
State of play: This is the negotiating period before the all-night sessions begin when draft texts are circulating in hallways and in the press, but ministers are waiting for the official proposal that may become the COP27 agreement.
A two-page text of "possible elements" for a COP27 decision circulated throughout the day yesterday.
The G20 communique, issued this morning in Bali, Indonesia, is likely to inject much-needed momentum into the climate summit, but it is clear that some COP agenda items are mired in disagreements.
The big picture: Diplomats are wrestling with particularly divisive issues, chief among them being climate damages (also known as loss and damage).
This morning, the chair of the Alliance of Small Island States, which are feeling the effects of sea level rise, criticized some developed nations for "furiously trying to stall progress" on climate damage financing.
What they're saying: "To get an ambitious outcome here in Sharm that builds on this G20 text will require a strong coalition of developed and developing countries to push for it," Alex Scott, who leads climate diplomacy for E3G, told Axios from Egypt. "And for that, we'll need to see more compromise on loss and damage."
The intrigue: There is a far-reaching proposal from India that is gaining traction and would break precedent if it were to be included in the final text. However, it was not in the G20 communique (more on that below).
Instead of singling out coal use for a phase down, as the Glasgow Climate Pact did, it calls for an overall "fossil fuels" phase down.
So far, the EU, a coalition of least-developed countries, the U.K. and a few others support this language, which is likely to be opposed by Saudi Arabia and potentially other oil-producing states.
What we're watching: If and when the cover text emerges today and what it contains, and how countries react to it.
2. G20 agreement clings to 1.5°C target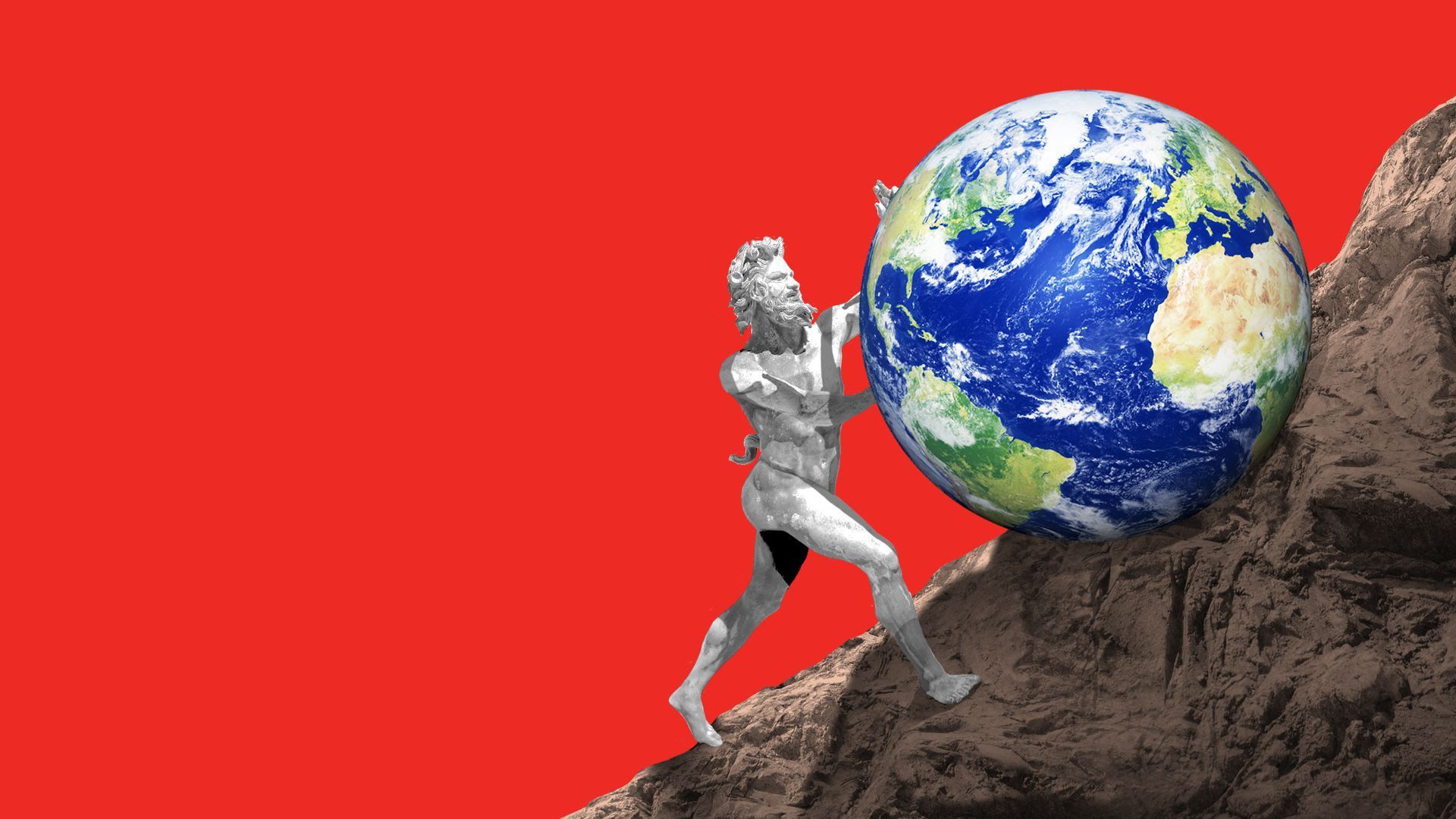 The G20 summit in Indonesia produced a joint pledge today to maintain the ambitious but long-shot Paris Agreement goal of holding temperature rise to 1.5°C above preindustrial levels, Ben writes.
Driving the news: The communique also calls for progress at COP27 on "loss and damage" — compensating poor, vulnerable nations for climate harms.
Why it matters: It may influence diplomats heading into the final days of COP27.
🏃🏽‍♀️Catch up fast: The G20 meeting emerged as a parallel climate summit, producing high-level steps but few details.
President Biden and Chinese President Xi Jinping broadly agreed to have the nations resume talks on climate.
It also brought a multinational finance plan to help Indonesia move off coal.
The intrigue: The communique reiterates last year's COP26 push to phase down coal-fired power. But it doesn't endorse a wider move away from all fossil fuels, despite India's push at COP27.
It also nods toward reforming multilateral developing banks, which has wide support among leaders in Egypt.
Reality check: While the 1.5°C target is a benchmark for limiting climate harms, the steep global emissions cuts needed to keep it from slipping away are nowhere in evidence.
3. The post-flood food crisis for millions of Africans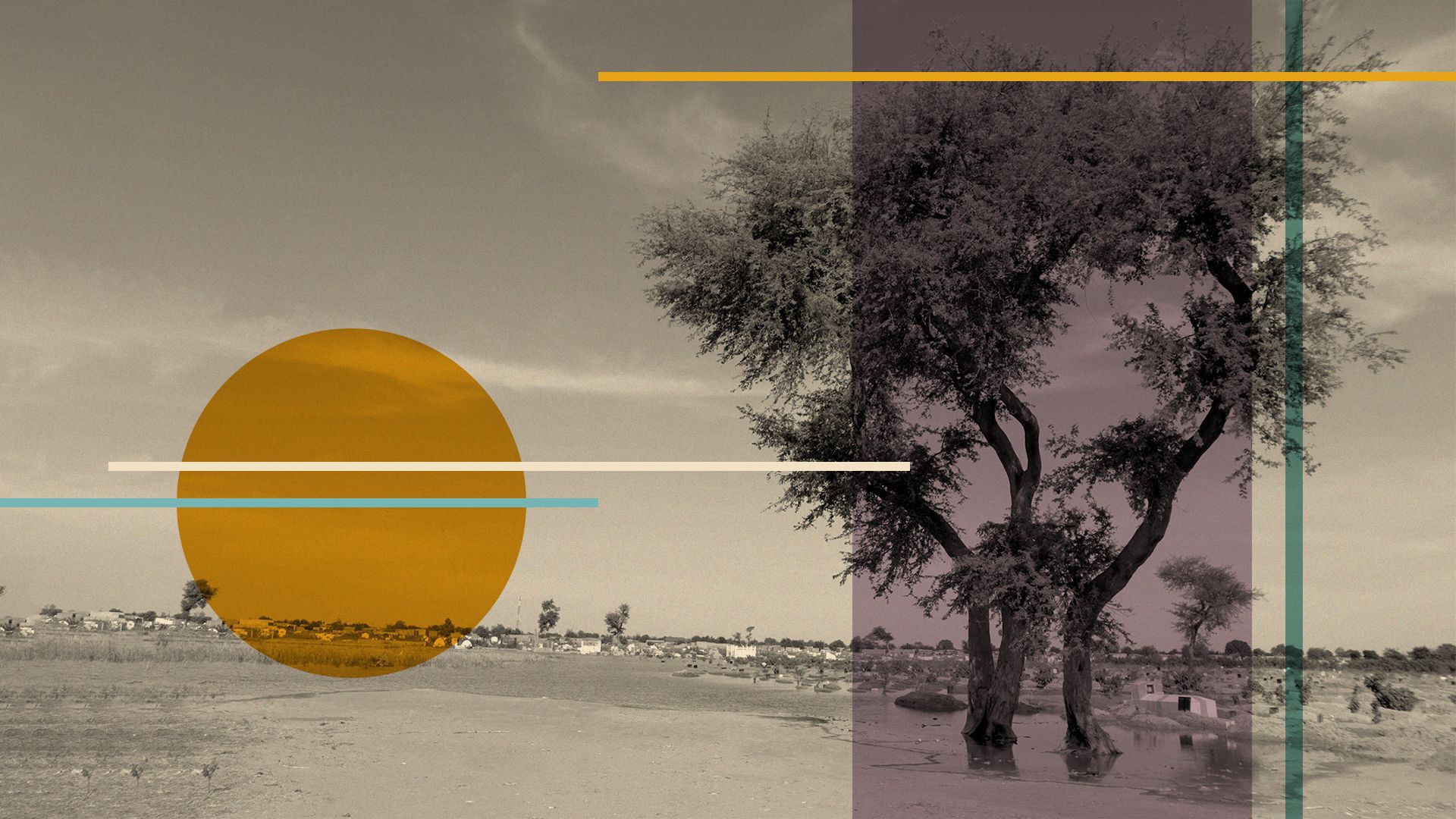 The toll of climate-fueled disasters in the Global South is a focal point at COP27 as developing nations push for loss and damage financing, Axios' Ayurella Horn-Muller reports.
The big picture: Climate change is contributing to an increase in heavier rainfall and has been linked to more intense flood events, creating "hotspots" in regions of Africa where flooding and rising food insecurity collide.
Driving the news: A study recently published in the journal PNAS found that flood events experienced in West, East and South Africa between 2009 and 2020 impacted food security for roughly 5.6 million people.
Parts of South Sudan, Malawi and Nigeria were among the areas in the African continent most at risk of flood events impacting food security.
Zoom out: Torrential floods have damaged farms and destroyed harvests in West and Central Africa, further threatening food production and access already strained by conflict and the pandemic in the region.
And yet, only 3% of public climate finance has gone to food systems every year since 2016.
"Climate finance is still far from where it needs to be," Aly Abousabaa — regional director of Central and West Asia and North Africa for CGIAR and director general of ICARDA — tells Axios from COP27.
Charted: COP27 is happening in a very warm year
October 2022 ranked as the fourth warmest such month on record for the globe, according to data NOAA released yesterday, Andrew writes.
Why it matters: Global average temperatures are on track for a top 10 warmest year on record, despite a strong La Niña that has hung around for a third straight winter.
Zoom in: La Niña events, which feature cooler than average ocean temperatures in the tropical Pacific Ocean, typically exert a cooling influence on the climate.
Europe had its hottest October on record, while Africa tied 2003 for its third-warmest October.
4. A battery deal that's a sign of the times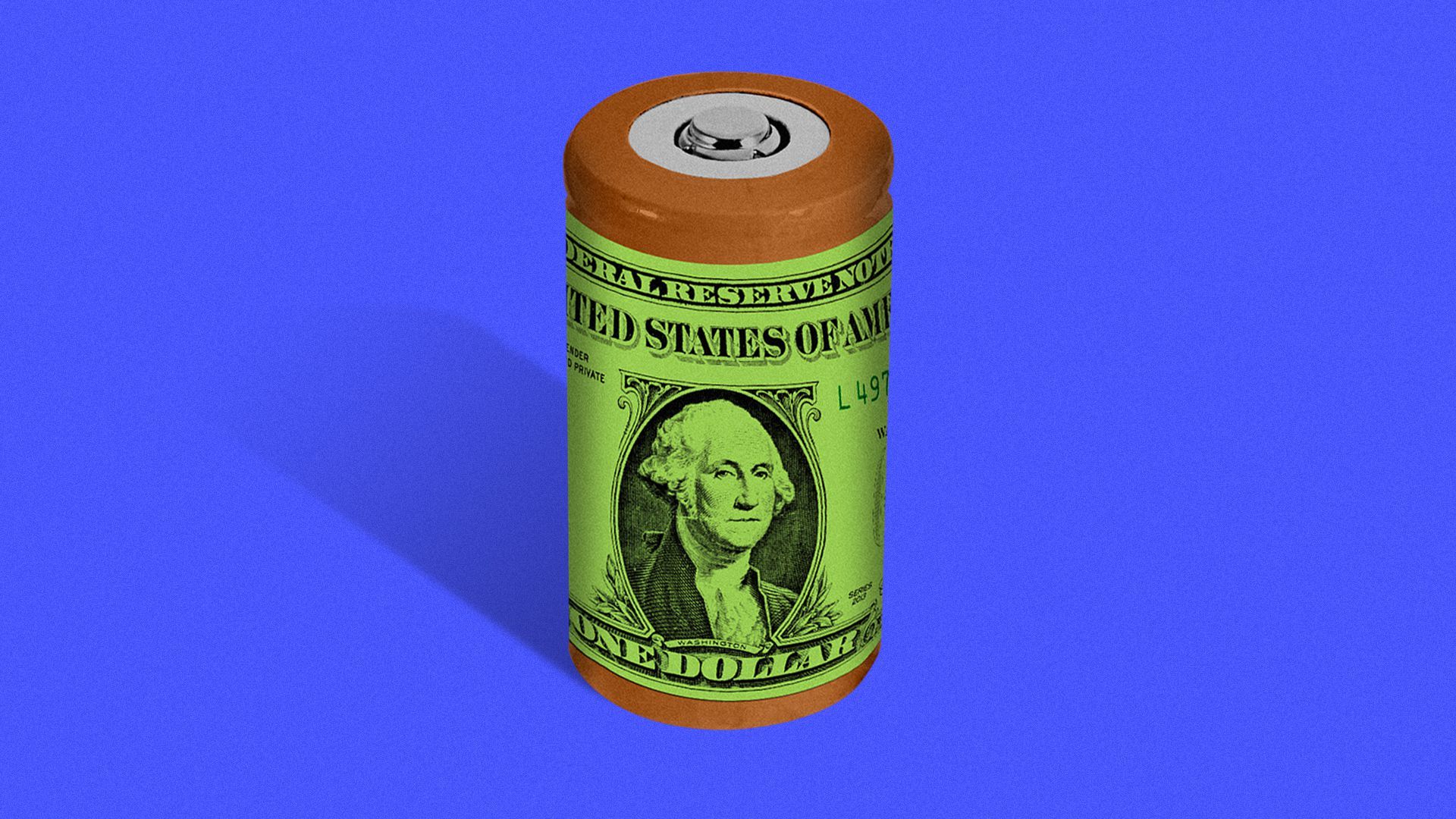 Panasonic's planned Kansas battery plant will source cathode materials and copper foil from the startup Redwood Materials in a long-term deal valued in the billions of dollars, Axios' Jael Holzman and Ben report.
Why it matters: The deal announced yesterday is a vote of confidence in Redwood, a battery materials and recycling startup launched in 2017 by Tesla co-founder JB Straubel that also has partnerships with several automakers.
Quick take: We'll see more of these deals because of the Inflation Reduction Act, which nudged battery and EV companies to get more of their components and raw materials from North America.
How it works: Redwood offers an option to get recycled battery materials in the United States without new mining — an increasingly important tool for solving resource supply issues in the EV industry.
Zoom in: Straubel tells TechCrunch that initially, cathode materials for Panasonic's Kansas plant will have roughly 30% recycled lithium and nickel and 100% recycled cobalt.
Bonus tech finance notes: VC and solar
💰Energy Impact Partners (EIP) closed its Deep Decarbonization Frontier Fund I at $485 million, with investors including Microsoft's Climate Innovation Fund and power giant Duke Energy, Ben writes.
Why it matters: EIP is a prominent player in climate tech VC, and its new fund has already invested in firms working on long-duration storage, zero-carbon fertilizer and more.
☀️ Private equity heavyweight Carlyle has launched Telis Energy, an arm to develop renewable power in Europe with a focus on solar.
5. Lucid moves closer to joining electric SUV fray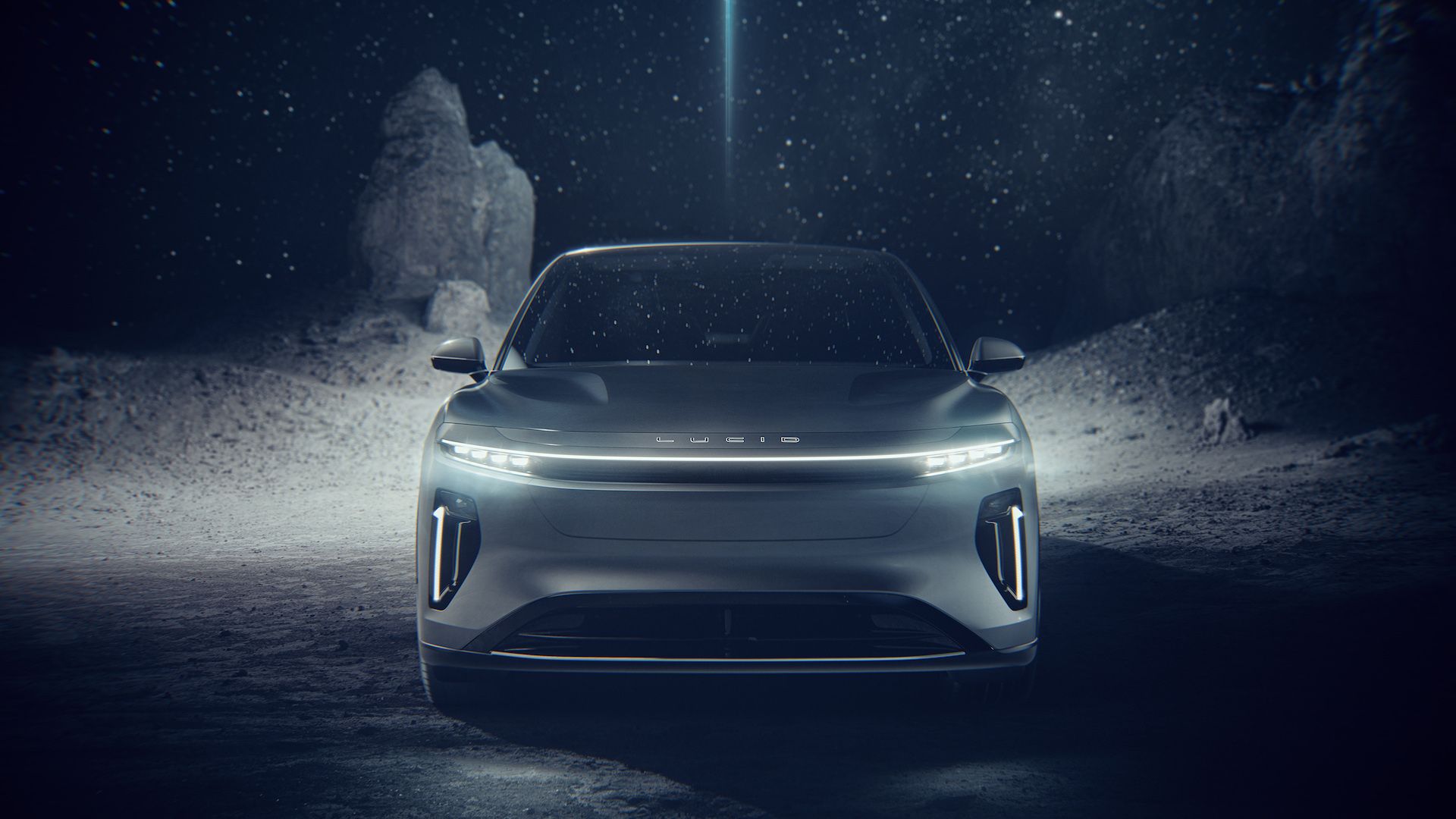 Lucid Motors, the luxury EV maker, is teasing new images and offering morsels of info about the Gravity, its long-awaited SUV, Ben writes.
Driving the news: The startup said yesterday that reservations would open in early 2023 and deliveries would begin in 2024.
The Gravity will have "flexible seating configurations" for five to seven adults.
It will have "more range than any other EV on the market" except the company's current offering, the Air sedan, which boasts a range north of 500 miles.
Why it matters: SUVs are hugely popular in the U.S. and worldwide, so automakers see them as a vital market for electrification.
Yes, but: There's lots of competition in the electric SUV space from incumbents and startups alike.
And several new automakers have hit headwinds since going public. Lucid's stock is down sharply this year.
Catch up fast: The California startup, which has Saudi backing, yesterday also unveiled new, less costly versions of its Air sedan. Go deeper
🙏Thanks to Mickey Meece and David Nather for edits to today's newsletter. We'll see you back here tomorrow!