Axios Generate
January 13, 2022
🍩 Hi, hi, hi. Today's Smart Brevity count is 1,291 words, 5 minutes.
🎶 The late Lou Reed's achingly beautiful album "Magic and Loss" turns 30 this week and provides today's intro tune...
1 big thing: Biden's climate runway is getting shorter
The Biden administration is expanding efforts to speed clean electricity expansion with its existing powers, but faces big obstacles to meeting its climate goals without far more help from Congress, Ben writes.
Why it matters: President Biden has set a goal of reaching 100% carbon-free power by 2035 and cutting economy-wide greenhouse gas emissions — that is, power, transport, industry, etc. — in half by 2030.
The chart above shows why the power side of the target is a heavy lift, even as wind and solar are expanding very fast, and coal plant retirements are continuing.
The story is similar in other big emitting sectors. Electric vehicle sales are surging, but that's from a small base as gasoline-powered vehicles remain dominant.
Driving the news: Yesterday officials made a bunch of announcements on electricity.
They include final plans for what the administration calls the largest-ever auction for offshore wind leases off the New York and New Jersey coasts.
The sale next month could ultimately lead to up to 7 gigawatts of offshore wind development, enough to power 2 million homes, the Interior Department said.
Zoom in: Per a White House summary, various other new plans include...
A new multi-agency initiative to speed review of clean energy project proposals on public lands. It involves departments of the Interior, Energy, Agriculture and Defense, as well as the EPA.
Launch of an Energy Department program called "Building a Better Grid" aimed at financing transmission, and coordinating development among federal, state and local governments — a historically slow and difficult process.
The big picture: The new bipartisan infrastructure law has a suite of major clean energy initiatives, including transmission provisions that support the announcements.
But the clock is ticking — 2030 isn't that far away — and the administration's targets are unlikely to be met absent the stalled, and larger, Build Back Better bill.
It has over $500 billion in clean energy and climate measures, including expanded incentives for clean power developers and electric vehicle buyers.
By the numbers: U.S. energy-related CO2 emissions bounced back by an estimated 6.2% last year from the pandemic-fueled decline of 2020, per the Energy Information Administration.
The EIA's latest analysis Tuesday projects these emissions will rise by another 1.8% this year and 0.5% in 2023.
They'll still be below pre-pandemic levels, per EIA. But U.S. emissions are nowhere close to a trajectory consistent with White House targets.
2. FAA exclusive: A bid to save gas via continuous descents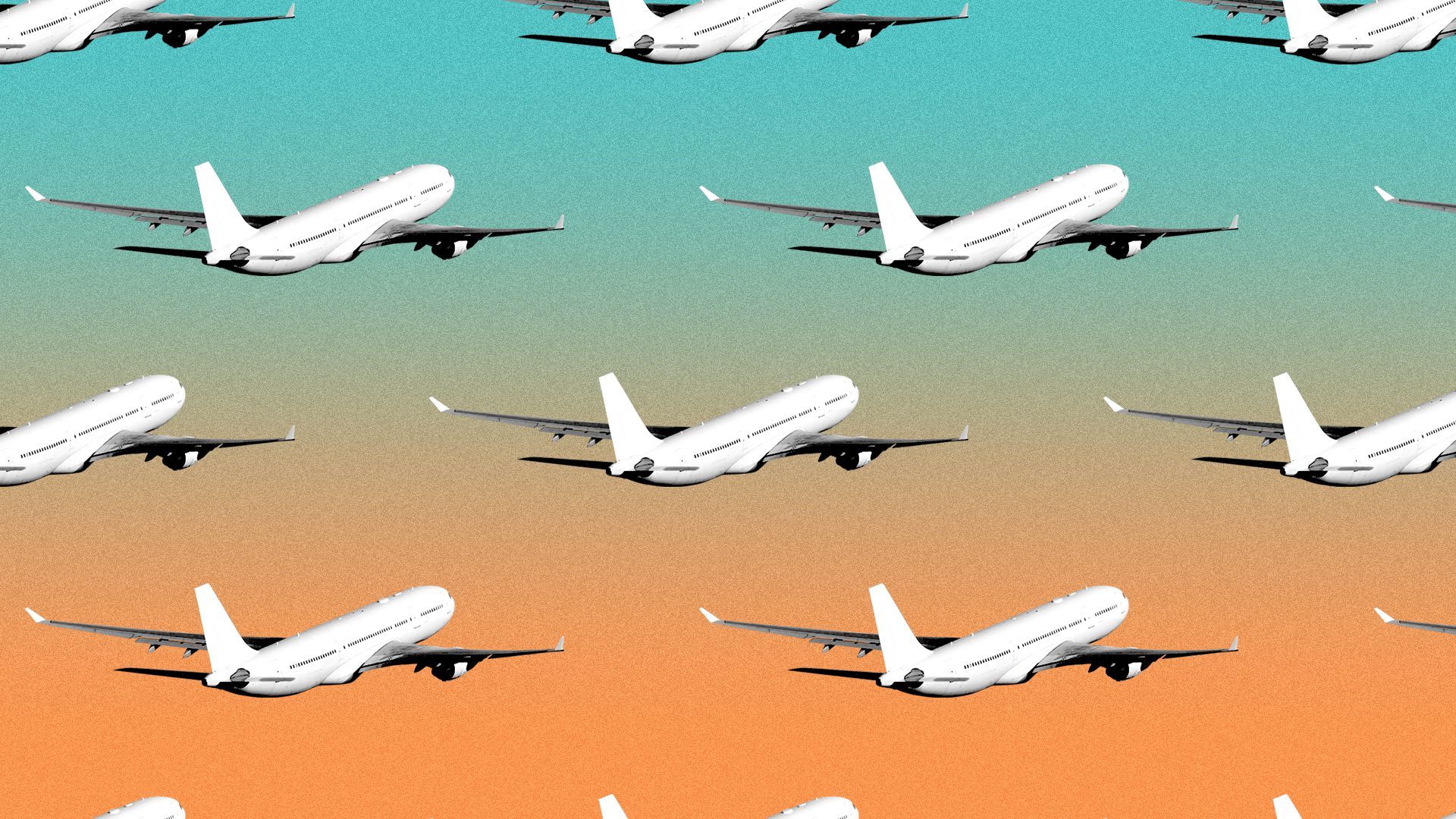 First look: The FAA is poised to expand its implementation of continuous approaches at more airports this year to save fuel and greenhouse gas emissions, Andrew writes.
The regulatory agency has also quantified the emissions savings from its efforts in 2021.
Why it matters: Aviation comprises 11% of U.S. transportation-related greenhouse gas emissions, and about 3% of global emissions and growing.
How it works: The FAA has rolled out 42 of what it calls "optimized profile descents." These differ from traditional "stair-step" approaches to airports, which involve directing planes to level off every several thousand feet on the way to the runway.
Continuous approaches allow pilots to keep the engines near idle for the entire descent.
The FAA estimates that optimized descents at each airport save an average of 2 million gallons of aviation fuel and 40 million pounds of greenhouse gas emissions.
"That is equivalent to eliminating the fuel and CO2 emissions of 1,300 Boeing 737 flights from Atlanta to Dallas," the agency said in a statement.
Airports, where these approaches were implemented last year, include Dallas Fort Worth International Airport, Fort Lauderdale-Hollywood International Airport, and Tampa International Airport, among others.
What they're saying: "These new efficient descent procedures both save fuel and dramatically reduce emissions, moving us closer to our goal of net-zero aviation emissions by 2050," U.S. Transportation Secretary Pete Buttigieg said in a statement.
3. Battery startup QuantumScape's new move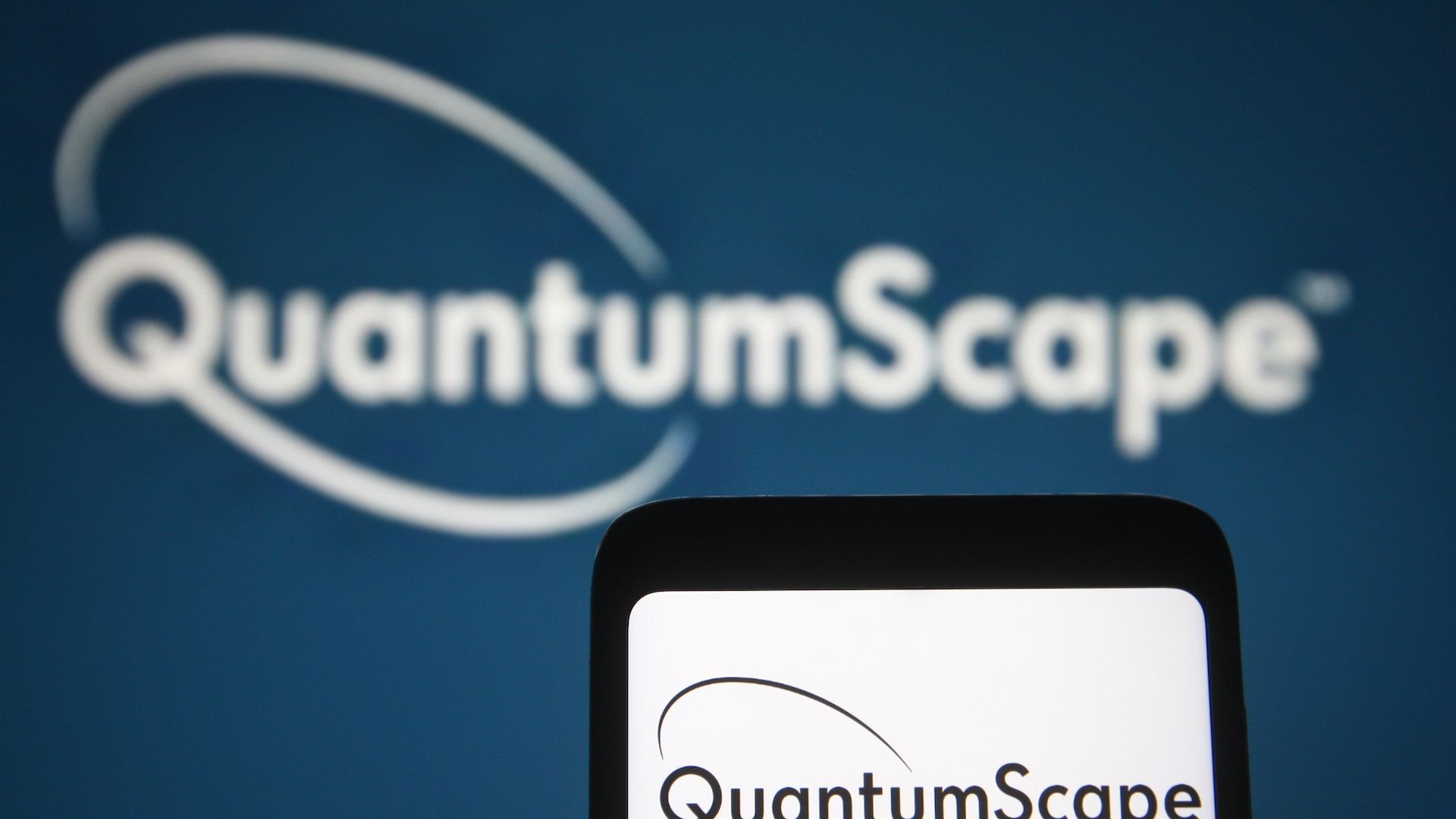 Breaking: The energy storage heavyweight Fluence and the solid-state battery startup QuantumScape this morning announced a multiyear agreement to test and deploy QuantumScape lithium-metal tech in stationary applications, Ben writes.
Why it matters: Storage growth is important to enabling high levels of renewables penetration and also helps aid grid reliability. Solid-state battery tech holds the promise of higher energy density and other benefits.
The intrigue: The announcement signals the evolving business plan of QuantumScape, whose backers include VW and the Bill Gates-led Breakthrough Energy Ventures.
"While we have historically focused on automotive applications, we believe our battery technology is broadly applicable and can play a role in other sectors contributing to a lower-carbon future," CEO Jagdeep Singh said in a statement.
How it works: Fluence — a joint venture between Siemens and AES Corp. — is reserving batteries from a QuantumScape pre-pilot facility for testing.
"The companies expect to enter into a large-scale supply agreement in the course of the collaboration," they said.
* * *
Speaking of clean tech, the Westly Group — an early backer of Tesla — has raised $300 million for its fourth VC fund, and it's focused on sustainable energy, mobility and buildings, among other areas.
Zoom in: Investors in its latest fund include corporate heavyweights like Duke Energy, Vistra Corp., American Electric Power, Audi, Hitatchi and others, the firm said.
4. Catch up fast: Oil, banks, geothermal
Markets: "Global oil demand has proven stronger than expected as the latest coronavirus variant inflicts a softer hit to the economy than anticipated, the International Energy Agency said." (Bloomberg)
Climate: "A group of large banks, including Bank of America Corp., Wells Fargo & Co. and Royal Bank of Canada, have formed a consortium to jointly address climate-related risks, a move that comes as financial institutions increasingly grapple with the issue." (Wall Street Journal)
Texas: "A trade group seeking to promote geothermal energy in Texas will launch on Thursday with backing from large oil and utility firms seeking to transform their businesses." (Reuters)
5. EVs can become charging stations too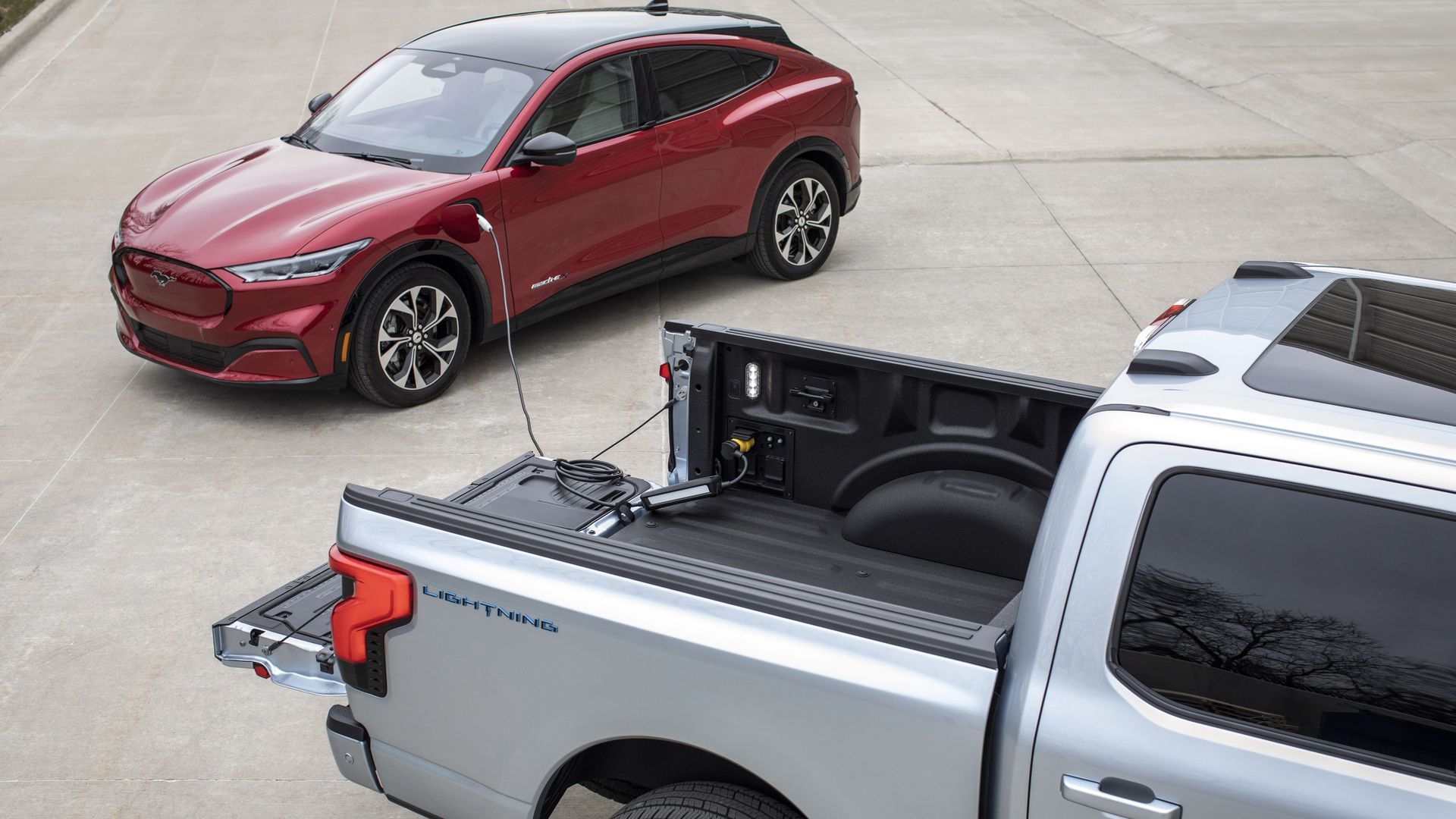 Electric vehicles will soon have "bidirectional" or two-way batteries that can turn them into useful sources of power for your home, worksite or even another car, Axios' Joann Muller reports.
Why it matters: One big obstacle to EV adoption is the lack of charging infrastructure.
But if you think of your car as a source of energy — not just a consumer of it — that calculus begins to change, says Reilly Brennan, a transportation investor at Trucks Venture Capital.
Driving the news: Ford Motor recently announced that the electric and hybrid versions of its popular F-150 pickup truck allow owners to "share" miles with other EVs by transferring power from one car's battery to another's.
An F-150 Lightning could add an average range of 20 miles per charging hour, for example, to a Mustang Mach-E SUV, or 13 miles of charge per hour on another F-150 Lightning.
Volkswagen's ID.4 electric crossover has bidirectional capability in Europe, but so far, not in the U.S.
The big picture: The bidirectional feature could one day be common on all EVs.
6. Congress to explore crypto's carbon footprint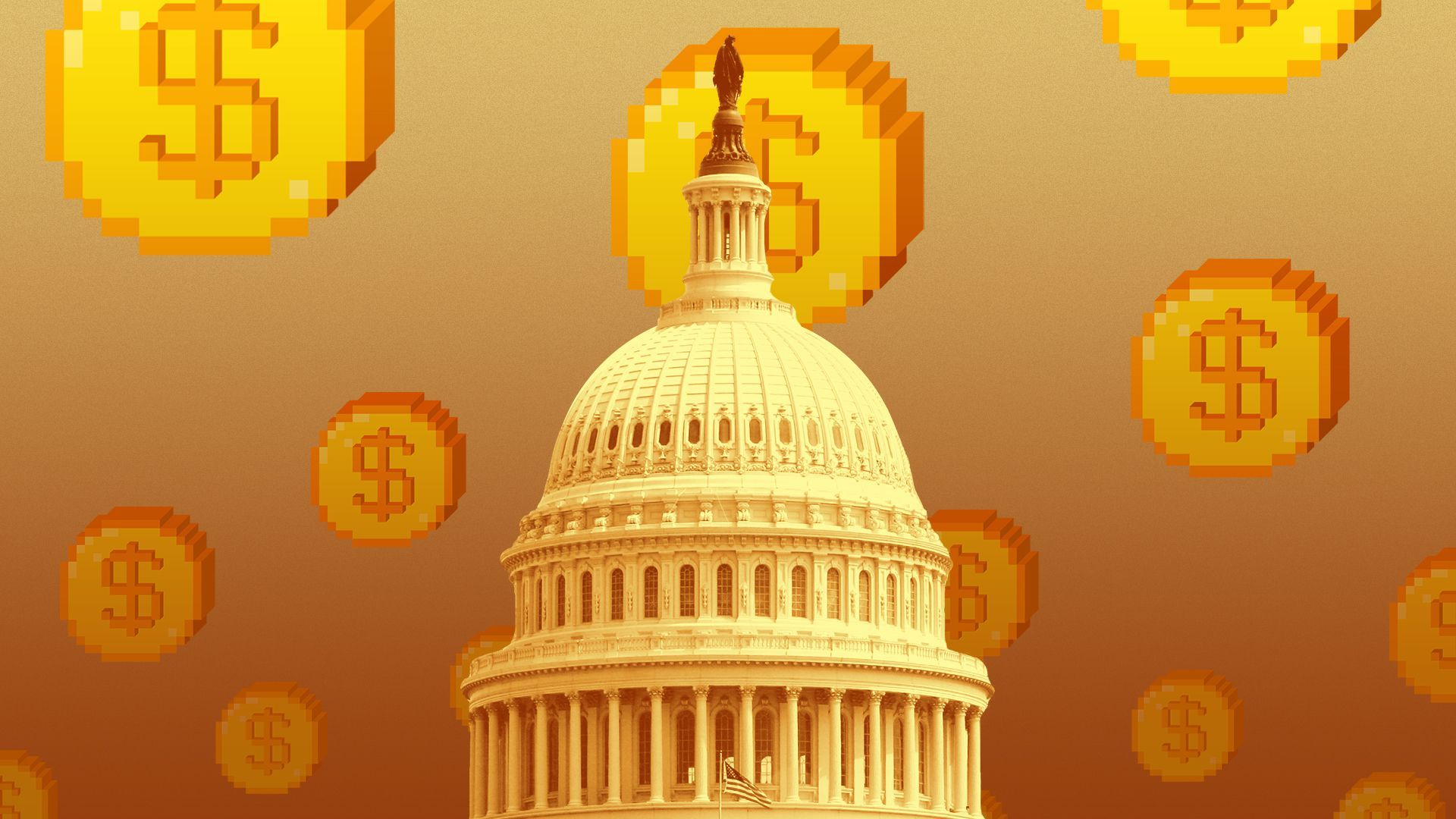 A powerful House committee next week will convene a hearing on the energy use of digital cryptocurrency mining, Ben writes.
Why it matters: The Jan. 20 Energy and Commerce Committee hearing highlights growing concern about carbon emissions linked to bitcoin and other currencies, even as the sector vows to get greener.
It's a rare Capitol Hill hearing focused specifically on the crypto-energy nexus. The Senate's energy panel had a 2018 hearing on blockchain and energy. (Generate readers: Am I missing others?)
What they're saying: Committee leaders, in announcing the hearing, noted that cryptocurrency has seen a "meteoric rise in popularity."
"It's time to understand and address the steep energy and environmental impacts it is having on our communities and our planet," said committee chairman Frank Pallone and Rep. Diana DeGette, who heads its oversight panel, in a statement.