Good morning and welcome back!
Today marks the 35th anniversary of the Journey album Frontiers, so needless to say this classic song and its fantastic, super-80's video provide today's intro . . .
https://www.axios.com/newsletters/axios-generate-9367d2a5-41cf-41b1-9b4a-a813d71679ee.html?chunk=0#story0
Scoop: Top Energy Department adviser to depart
My Axios colleague Amy Harder reports...
Travis Fisher, a political appointee at the Energy Department who oversaw a high-profile electricity study, is leaving the agency, according to an administration official.
Why it matters: Departures of top advisers always matter. And in this case Fisher's time at the agency was marked by controversy surrounding Energy Secretary Rick Perry's divisive proposal to boost economically struggling coal and nuclear power plants.
Drilling down: Fisher oversaw a study Perry requested last year that found market dynamics — namely, cheap natural gas and renewables — were making nuclear power and coal plants less economically viable.
That study ended up being much less controversial than some had speculated because it largely reaffirmed what most objective experts say.
It therefore contrasted markedly with the subsequent rule Perry requested from the independent Federal Energy Regulatory Commission to boost coal and nuclear power plants. FERC rejected that proposal.
The intrigue: Many observers had questioned why the staff report differed so much from what Perry ultimately asked FERC to issue. Fisher's departure from the department is at least partly due to these differences in policy positions, according to a person familiar with the dynamics.
Fisher was formerly at the conservative and free-market group Institute for Energy Research, and before that he spent seven years at FERC itself, according to his LinkedIn profile.
https://www.axios.com/newsletters/axios-generate-9367d2a5-41cf-41b1-9b4a-a813d71679ee.html?chunk=1#story1
Why oil's medium-term future could get rocky
Still worried: International Energy Agency executive director Fatih Birol tells Bloomberg TV that despite the growing U.S. oil surge, he's concerned about inadequate global crude supplies down the road.
"We may well see some challenge in the next few years to come in terms of the oil market stability."
"When you look at four or five years from now, we may have some challenges with supply and demand meeting each other."
Why it matters: Birol remains apprehensive that, despite the price rebound, global industry investment in conventional discoveries and projects will not keep pace with demand as we get into the mid-2020s, given decline rates of existing fields.
View from OPEC: An in-depth piece in S&P Global Platts says cartel discussions about the future of its alliance with Russia are looking at how to ensure adequate future supplies (even as they're working to clear the current glut). From the story:
"Ministers have begun to increasingly stress to the market the need to invest in additional production capacity to meet robust growing demand in the years ahead — some $10 trillion needed through 2040 just to offset natural field declines, according to the UAE's Suhail al-Mazrouei — with a tacit nod to the market's significant geopolitical risk exposure, particularly in Venezuela."
Opposing forces: A note yesterday from Bank of America Merrill Lynch analysts explains the opposing forces that will influence prices in coming years — and describes why factors that could push them higher could win out.
They see Brent crude prices averaging $50–$70 per barrel through 2023, consistent with a prior forecast, but their updated analysis finds that "risks are skewed to the upside."
"Upside risks are decline rates, geopolitics, and inflation, while downside risks are shale efficiency, EVs, and OPEC discord."
https://www.axios.com/newsletters/axios-generate-9367d2a5-41cf-41b1-9b4a-a813d71679ee.html?chunk=2#story2
The changing nature of geopolitical risk in oil
A presentation at the big International Petroleum Week conference in London today explores some of the topics in the item above. It takes stock of how geopolitical flashpoints in the Middle East and North Africa could affect markets in the years ahead.
The big picture: There has been a "general deterioration" in the geopolitical backdrop, but right now it's having only a minor effect on oil-and-gas markets, according to Bassam Fattouh, director of the Oxford Institute for Energy Studies.
That could change as the OPEC pact with Russia and allied producers helps to reduce stockpiles.
"As the overhang has been eroded and spare capacity is thin, geopolitical events will have bigger impact on markets, but the impact will remain small in the absence of large supply disruption," he said, according to his prepared remarks.
One interesting point: Fattouh's presentation notes how the increasing prominence of non-state actors and local power centers, and the weakening of central state government institutions in some countries, are changing how the industry must do business on the ground.
This has "changed the nature of risk" for producers and oilfield service companies, because they can no longer negotiate only with central governments but "also with local power centers and non-state actors for issues such as access and security," the presentation says.
https://www.axios.com/newsletters/axios-generate-9367d2a5-41cf-41b1-9b4a-a813d71679ee.html?chunk=3#story3
2 policy things: EPA chief's travel and selling the SPR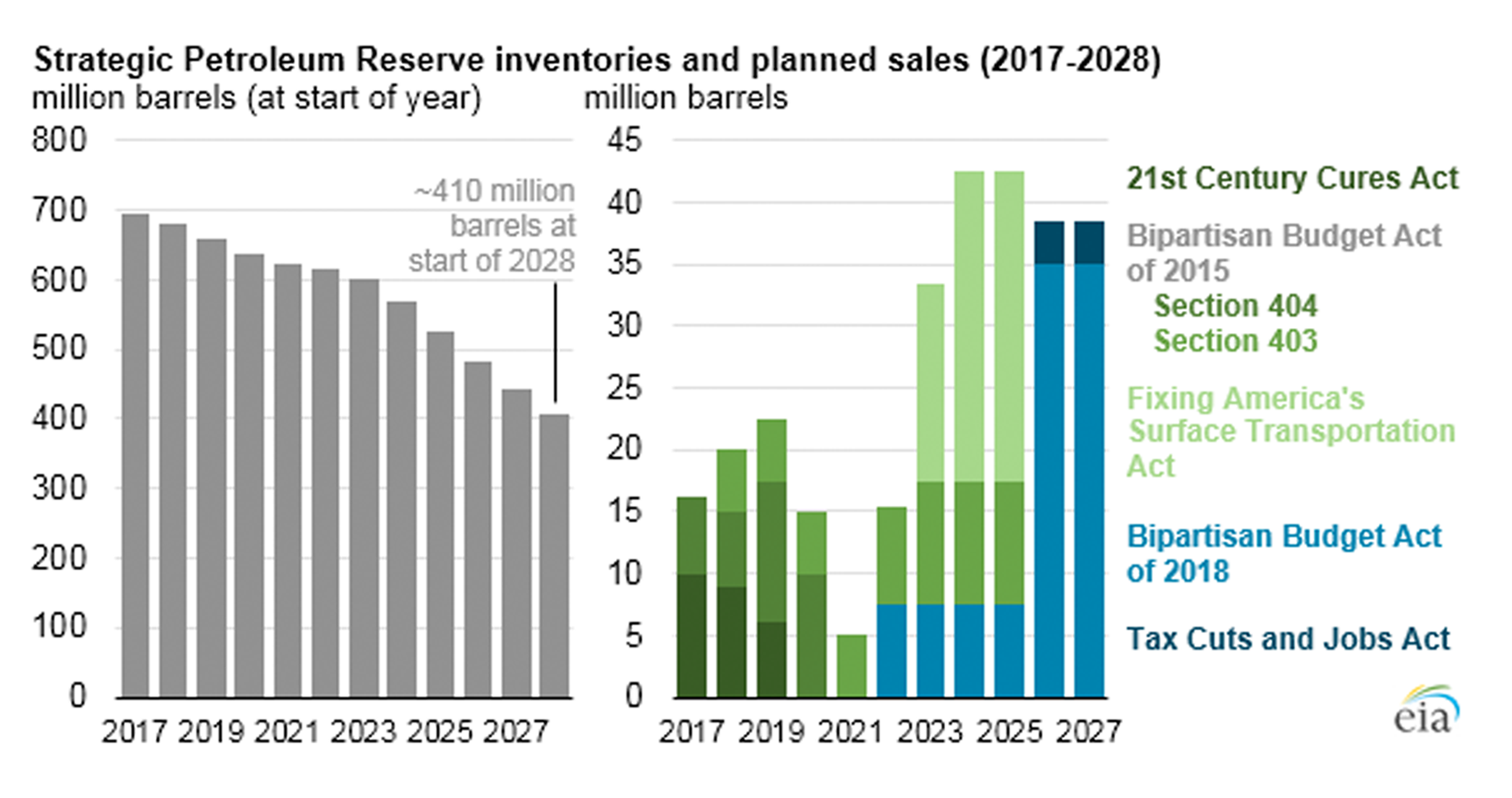 Energy Information Administration, Today In Energy, February 21
Sign of the times: The Energy Information Administration published a helpful summary of the combined effect of several bills enacted in recent years — including the recent Capitol Hill spending deal — that raise money via sales from the Strategic Petroleum Reserve.
"Based on legislated sales established in multiple acts of Congress, the SPR could decline by about 40% in the coming decade while still meeting requirements for petroleum import coverage. Assuming no other legislation over this period, the SPR could decline from 695 million barrels at the start of 2017 to about 410 million barrels at the start of 2028," EIA notes.
Why it matters: Lawmakers' willingness to sell substantial volumes from the reserve reflects the seismic shifts in attitude that stem from the oil boom in recent years. In a recent note, ClearView Energy Partners pointed to the "end of scarcity psychology on Capitol Hill."
The big drop in import reliance, thanks to the boom, means the U.S. can meet its IEA requirements to maintain stockpiles equal to 90 days worth of imports with a smaller reserve. Still, some analysts warn that these sales are a bad idea.
New inquiry: House Oversight Committee Chairman Trey Gowdy (R-S.C.) has written a letter to Environmental Protection Agency head Scott Pruitt, seeking answers about his frequent first-class travel that has been publicly scrutinized, the Washington Examiner reports.
Why it matters: This raises the political stakes. Concerns from the outgoing South Carolina congressman signal that the questions surrounding Pruitt's travel expenditures are extending beyond Democratic criticism and into an actual GOP-led inquiry.
We've got a little more here in the Axios stream.
https://www.axios.com/newsletters/axios-generate-9367d2a5-41cf-41b1-9b4a-a813d71679ee.html?chunk=4#story4
Interior expands drone use and energy may become a growth area
Taking to the skies: A newly published Interior Department report says the agency's fleet of 312 unmanned aircraft tallied a total of 4,976 flights in fiscal 2017.
Interior says 707 of the missions helped to combat 71 fires, providing firefighting teams with better data for surveillance and reconnaissance. But check out the chart above — there are many other uses too.
"Drone aircraft fitted with wide ranging sensors helped with inspection of dams and wells, wildlife surveys, monitoring of illegal dumping, and land mapping," the department says in a summary.
Why it matters: The report shows how use of drone technology is expanding within federal natural resource management. And an Interior aide tells Axios it could spread to more energy applications:
"[A] few of our bureaus (Bureau of Land Management, Bureau of Ocean Energy Management, and Bureau of Safety and Environmental Enforcement) have each mentioned the possibility of using this technology in this area (e.g. land/marine mammal surveys ahead of leasing decisions, possible use in platform/rig inspections, etc.) as future desired mission applications."
— Genevieve Giaccardo, communication program lead in Office of Wildland Fire
https://www.axios.com/newsletters/axios-generate-9367d2a5-41cf-41b1-9b4a-a813d71679ee.html?chunk=5#story5
Latest in lobbying: solar trade, ethanol, oil-and-gas
A few new energy-related filings have popped up in the Lobbying Disclosure Act database...
Ethanol: The Nebraska-based Green Plains has registered to lobby and has brought on Devin Mogler, who until December was an aide to Iowa GOP Sen. Joni Ernst.
Solar: Enphase Energy has tapped Sidley Austin in order to seek exclusion from new solar panel import tariffs, a newly posted filing shows.
Oil-and-gas: A few new filings . . .
The gas exploration and production company CNX Resources, created last year when Consol Energy split into separate coal and gas companies, has registered to lobby.
Devon Energy has brought on Venable to lobby on energy and trade.
Hydropower: Cube Hydro Partners has brought on Van Ness Feldman.