Axios Generate
August 27, 2021
☕ Good morning readers. Today's Smart Brevity count is 1,307 words, 5 minutes.
📊 Data point of the day: 4.7%, the average 2016-2020 population growth in the 50 U.S. counties that have the largest share of homes facing high heat risk, per Redfin.
🎶 At this moment 50 years ago, Marvin Gaye was atop Billboard's R&B charts with today's intro tune...
1 big thing: The other job for batteries in boosting the EV market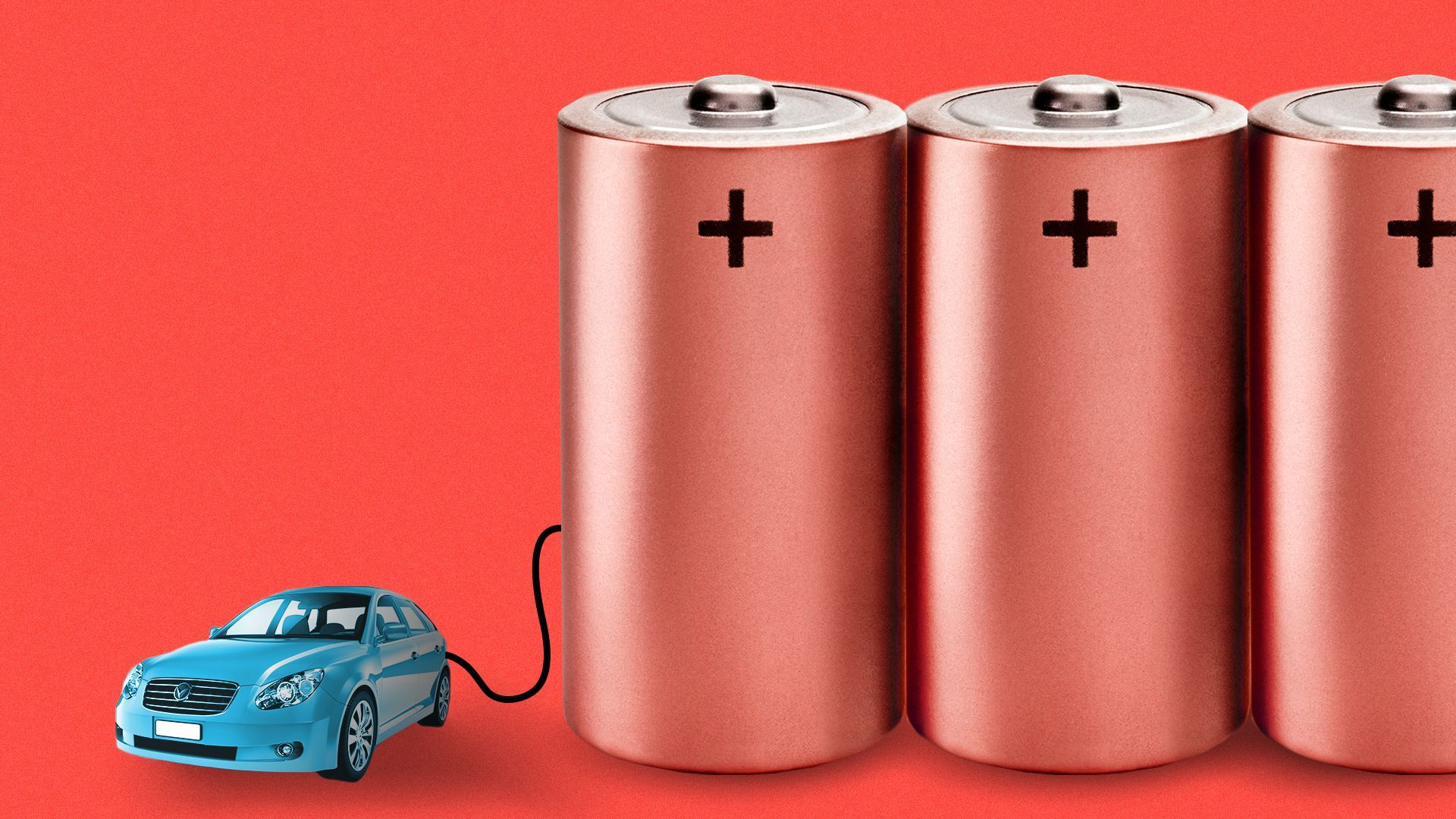 The electric mobility company Revel is installing battery storage at a New York City charging hub in a partnership that represents a growing and evolving trend in the industry, Ben writes.
Driving the news: Revel is adding storage from the firm Electric Era to help power its large charging "superhub" in Brooklyn that offers public access and charging for Revel's ride-hailing vehicles.
Why it matters: Co-locating charging with storage improves the economics of the industry by helping to lower "demand charges" that commercial power users pay utilities based on their maximum use.
Looking ahead, as EVs grow from a niche to mainstream technology and millions of vehicles are on the roads, storage is one tool that can help prevent EVs from becoming a new strain on power grids.
By the numbers: Revel and Electric Era said the batteries "will reduce peak power at Revel's Superhub by up to 500kW, the equivalent of powering 500 homes."
They also note that demand charges can account for a whopping 90% of charging sites' power costs, "making them uneconomic to run while EV adoption remains low."
What they're saying: Energy analyst Chris Nelder, in an email exchange, also cited the 90% figure, calling it a "total business killer" while the charging market is young.
"As the transportation sector electrifies, mobility companies must be able to afford charging operations and promote grid resiliency," said Electric Era CEO Quincy Lee in a statement.
The big picture: "We are seeing an increase in these types of deployments as there is a good business case to co-locate these resources," said Jason Burwen, interim CEO of the Energy Storage Association, an industry trade group.
Burwen cited the charging network EVgo's deployment of storage at 14 fast-charging stations. Others including Electrify America have added batteries to charging sites, and Burwen said announcements from more companies are expected soon.
"We expect most businesses in [direct current] fast charging will eventually deploy onsite energy storage to manage vehicle-grid integration and avert more expensive upgrades to local power infrastructure," he said.
The intrigue: Batteries, which obviously carry their own costs, are hardly a silver bullet for the charging industry.
Nelder and Burwen both said regulators and utilities should be reforming rate structures to lower costs for charging companies in order to help vehicle electrification grow.
"But getting regulators and utilities to think outside the box of the demand charges they've known and loved for decades is really hard," said Nelder, host of The Energy Transition Show podcast, in an email exchange.
Bonus: Driving the Lucid Air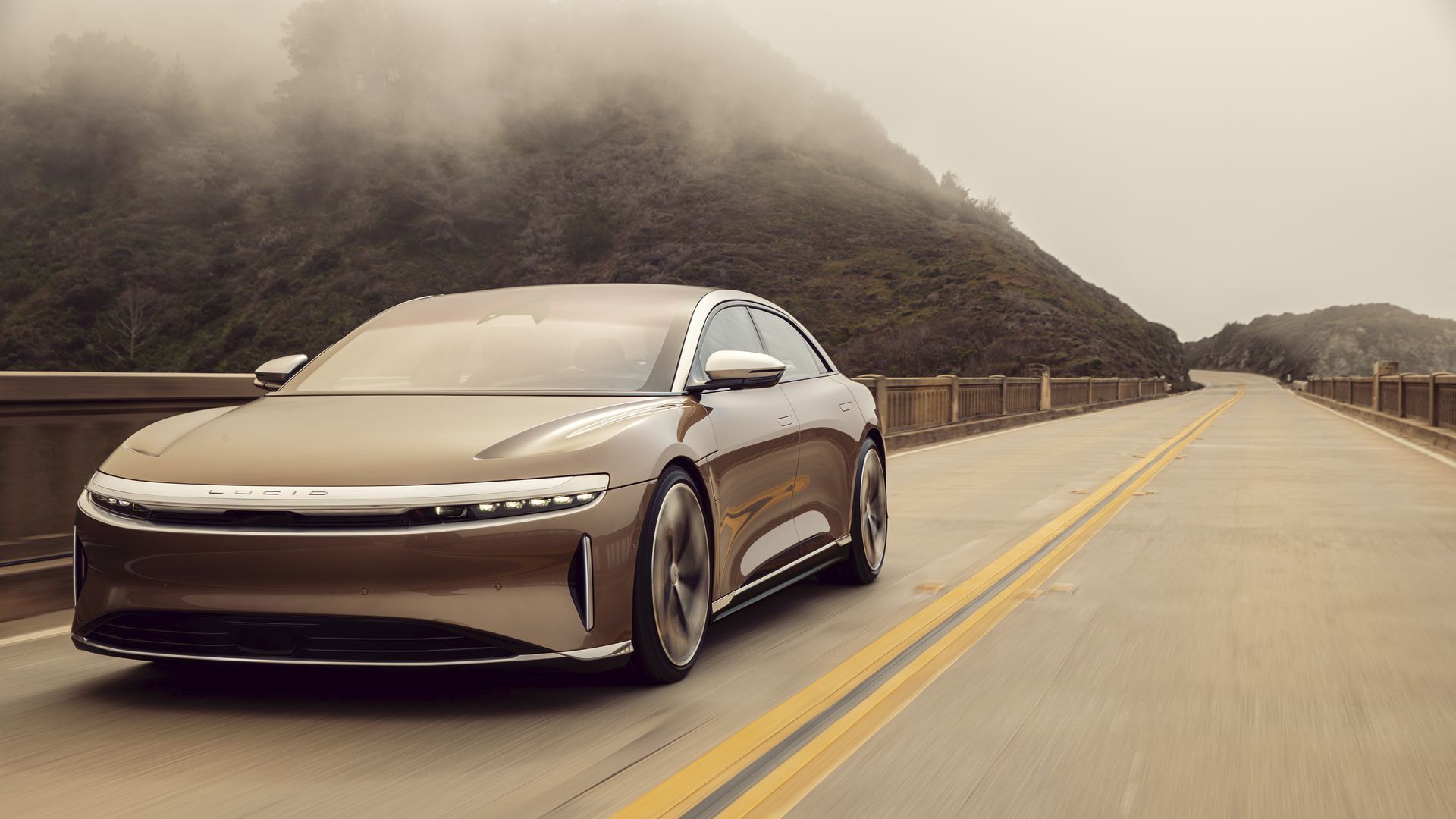 The Lucid Air is "an absolute mic drop," writes Motor Trend's Jonny Lieberman, who had the distinction of being the first journalist to test-drive Lucid Motors' buzzy debut model, Axios' Joann Muller writes.
Motor Trend's review focuses mostly on the Air's surprisingly nimble driving dynamics and the 500-mile range of its massive 113-kilowatt-hour battery.
2. Gulf Coast faces serious hurricane threat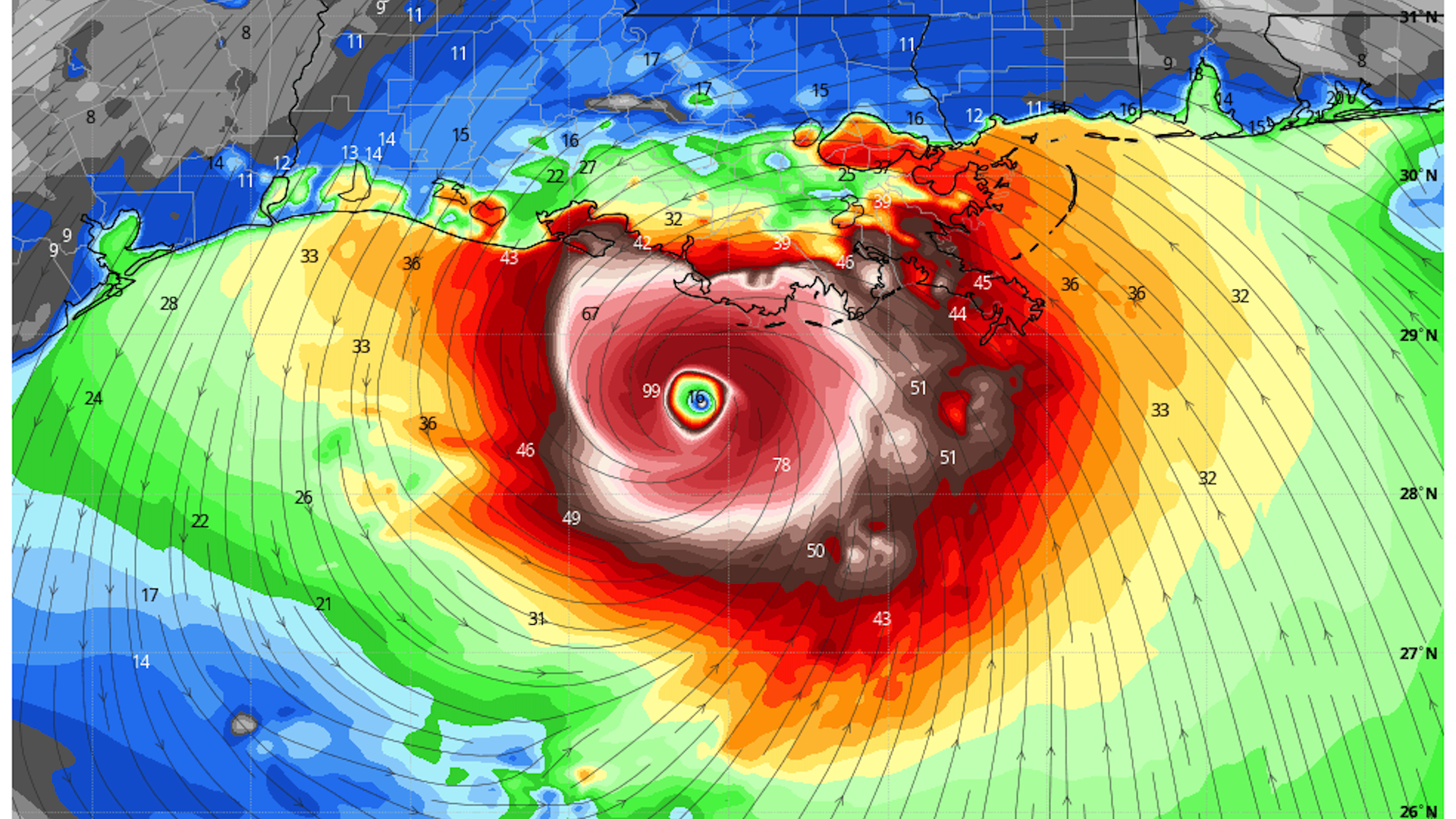 A dangerous hurricane scenario is taking shape across the Gulf Coast for this weekend, as Tropical Storm Ida intensifies and takes aim at Louisiana, Andrew writes.
The big picture: Ida is moving toward western Cuba, and is forecast to emerge over the bathtub-like waters of the Gulf of Mexico Friday night.
Computer models agree on the storm's general track and intensity evolution, with all of the reliable models projecting steady to rapid intensification — in which Ida's wind speeds would increase by at least 35 mph in 24 hours.
Intensification may occur all the way up to landfall.
The storm is forecast to become a major hurricane of Category 3 intensity or greater by the time it makes landfall somewhere in coastal Louisiana, with significant impacts possible in New Orleans.
Oil companies have already begun evacuating personnel from Gulf drilling platforms, and the storm may prompt oil and gas infrastructure shutdowns along the coast.
Details: A combination of warmer than average water temperatures for this time of year plus a favorable atmospheric setup for intensification means the Gulf will serve as gasoline added to a fire.
Yes, but: Uncertainty still exists on the exact track, with some models taking the storm into central or western Louisiana.
That scenario could spare New Orleans the worst of the winds and storm surge flooding.
Threat level: Water is a big threat with this storm, with initial forecasts showing a storm surge of 7 to 11 feet above normally dry ground in coastal Louisiana, and up to 20 inches of rainfall likely even well inland.
Context: According to the latest U.N. IPCC report, stronger hurricanes are becoming more common, and they are producing more rainfall as the climate warms. Sea level rise is making such storms more damaging as well.
3. Kerry heads to China with coal on the agenda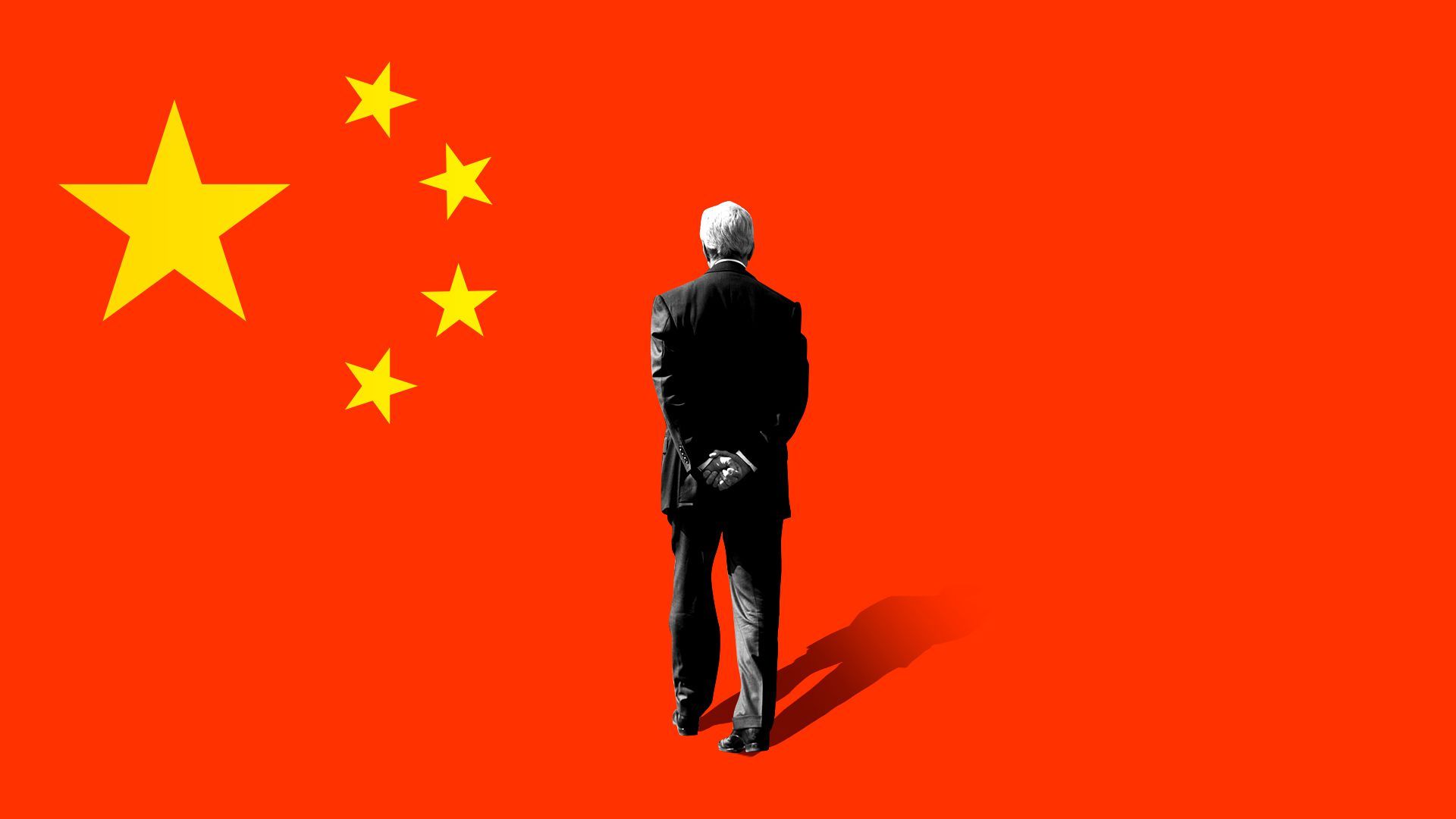 Special Climate Envoy John Kerry heads to China next month with plans to prod the world's largest carbon emitter on taking stronger climate steps as the crucial United Nations summit looms this fall, Ben writes.
Driving the news: Kerry will be in Tianjin, China from Sept. 1-3 after an Aug. 31 meeting in Tokyo, per a source familiar with the plans and published reports.
What we're watching: Via the Wall Street Journal, Kerry will "press Chinese leaders to declare a moratorium on financing international coal-fired projects."
The source familiar with his plans confirms that's among several items on the agenda for talks between the two largest greenhouse gas emitting nations.
Flashback: Kerry's second trip to China as President Biden's climate diplomat follows an April visit that produced a broad pledge of cooperation.
The big picture: Transforming gauzy emissions-cutting "ambition" into reality in both nations is pivotal to keeping the temperature-limiting goals of the Paris climate deal from slipping away completely.
But that's not easy as China's coal thirst shows no signs of abating, while President Biden's ability to deliver is tethered to uncertain Capitol Hill talks.
The intrigue: Getting back to China's longstanding finance for coal plants abroad, the WSJ notes China has "quietly stopped" approving new projects in recent months.
"Even so, Mr. Kerry has been seeking to push Beijing to publicly declare a blanket moratorium ahead of the U.N. global climate summit."
4. Americans want more distance amid COVID
A new Pew Research Center poll finds that Americans have become more likely to want to live in areas where "houses are larger and farther apart, but schools, stores and restaurants are several miles away," Ben writes.
The intrigue: Correlation isn't causation. But the change between 2019 and this year occurred during the COVID pandemic and "the accompanying period of telework, remote schooling and pandemic-related restrictions on indoor dining and other indoor activities," Pew notes.
Why it matters: It's another variable in the still-unfolding ways that the pandemic is affecting energy use.
Larger houses require more energy to heat and cool while living further away from offices and services means longer drives.
But the rise of telework can also deter some motor fuel consumption. How the pandemic ultimately does — or doesn't — change energy use and corresponding emissions will probably take a long time to fully understand.
5. Ethanol sector frets Biden's EV push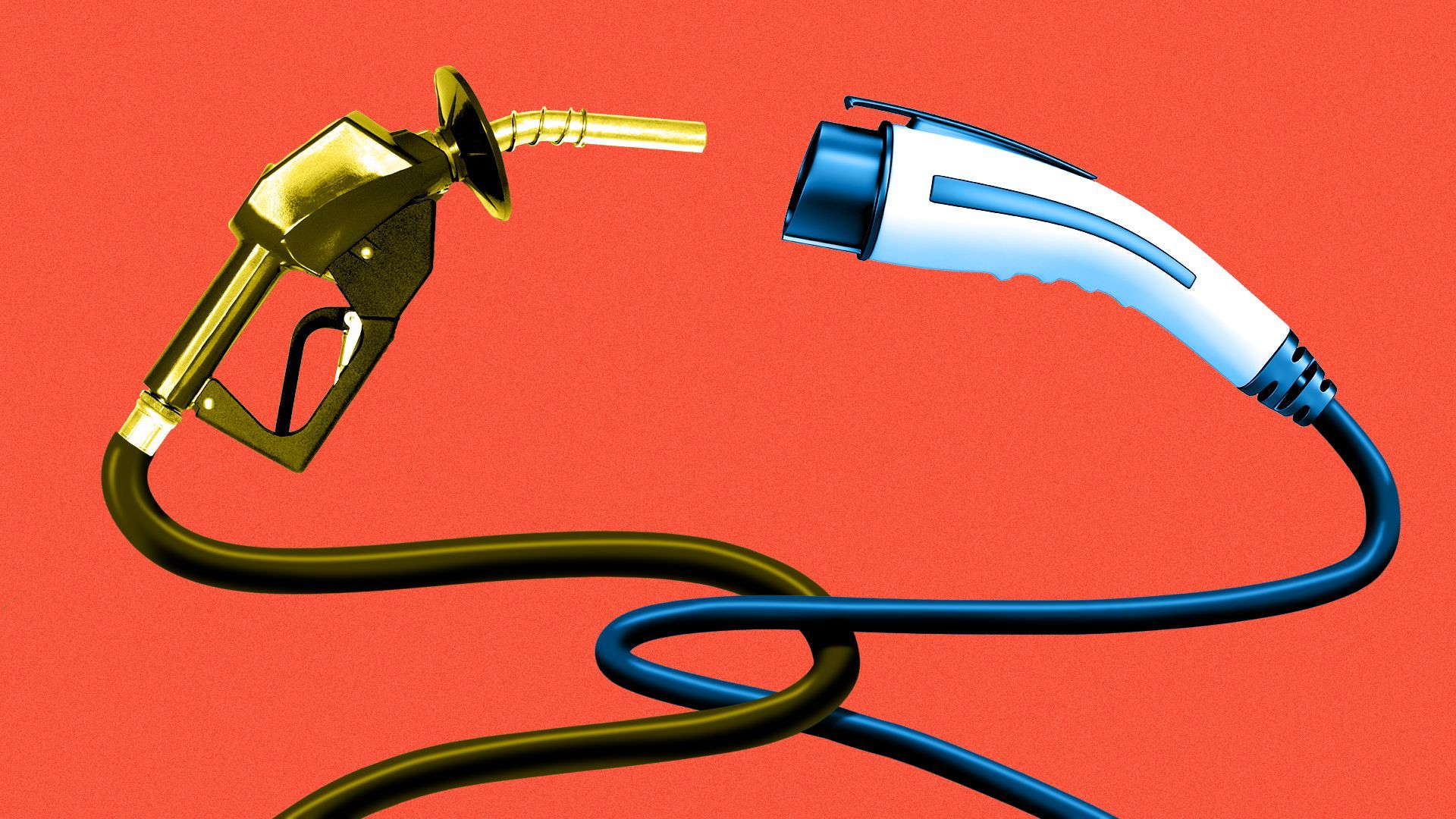 President Joe Biden's push for more Americans to use electric vehicles is creating angst among some Iowa ethanol advocates, Axios Des Moines newsletter author Linh Ta writes.
Why it matters: Electric vehicles create more competition at the gas pump, potentially hurting Iowa farmers who rely on corn and ethanol sales.
Driving the news: This month, Biden released an infrastructure plan that aggressively pushes electric vehicles as a way to cut carbon emissions and boost domestic car and battery manufacturing.
It sets a goal that 50% of all new cars sold in 2030 should be zero-emissions models.
Yes, but: The plan scarcely mentions biofuels, which has led to criticism from Iowa Republicans and Democrats, as well as ethanol advocates.
Keep reading and sign up here for the Axios Des Moines newsletter.
Thanks so much for reading! Tell your friends to sign up for this newsletter here, and have a great weekend.