Good morning and welcome back!
Happy birthday to the late Lou Reed, who provides today's intro track from 1989's New York, a stunning and wrenching mix of storytelling, poetry and polemic . . .
https://www.axios.com/newsletters/axios-generate-927d052e-a4b2-4c65-b03d-dcd2b21e7a8a.html?chunk=0#story0
The changing shape of the Stanford-Exxon alliance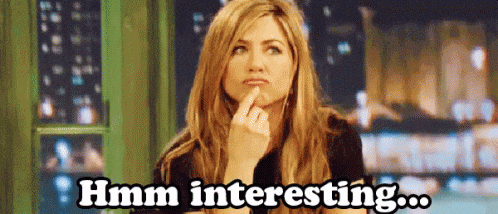 ExxonMobil and Bank of America (BofA) are pouring a combined $27.5 million into a new Stanford University research program to push low-carbon energy further into the mainstream while seeking new tech breakthroughs. It will link major companies with Stanford scientists as well as experts in engineering, finance, economics and policy.
Why it matters: The Stanford Strategic Energy Alliance's multidisciplinary focus highlights how clean energy has arrived to a new place — it's now on multiple tracks, spanning mainstream commercial deployment to deep R&D into the next wave of breakthroughs, and a lot of points in between.
What's new: The coalition includes a five-year, $20 million commitment from Exxon. The initiative replaces Stanford's 15-year-old Global Climate & Energy Project, which Exxon and BofA also backed, an initiative winding down this year that focused more on basic research.
On the record: I chatted with Sally Benson, co-director of Stanford's Precourt Institute for Energy that's managing the new program, about how the initiative might approach some specific technologies.
Batteries: "We need to make batteries better still, but we are starting to deploy, so there are lots of issues around business models and policy," Benson says. "In something like batteries, it makes total sense to have an integrated effort, because there are challenges along all those fronts."
But other technologies — such as using solar to create liquid fuels for transport and energy storage — are still nascent applications with more basic R&D.
https://www.axios.com/newsletters/axios-generate-927d052e-a4b2-4c65-b03d-dcd2b21e7a8a.html?chunk=1#story1
Trump's tariffs strain White House oil ties
Remember when my Axios colleague Amy Harder wrote this week about escalating trade tensions between President Trump and the oil-and-gas industry? Well, they're boiling over now that Trump is preparing to impose steep tariffs on steel imports (25%) and aluminum too (10%).
Why it matters: The action underscores how Trump's professed support for oil-and-gas producers is colliding with his super-hawkish trade stance — and the president's trade desires are winning the day right now.
Industry reaction: The oil-and-gas industry, which uses imported steel for an array of operations, bashed the move. Solar energy players also voiced concern that the tariffs could boost project costs.
American Petroleum Institute's Jack Gerard calls it "inconsistent with the Administration's goal of continuing the energy renaissance and building world class infrastructure."
Reuters looks at the other industry lobbying groups that attacked the move, and also note a tangible effect — reporting that it will factor into Exxon's decision about whether to expand its refinery in Beaumont, Texas.
A spokesman for the Solar Energy Industries Association says that some installation companies have told the trade group that the steel penalties could drive up project costs as much as two cents per watt to utility-scale projects.
Greentech Media describes how the the tariffs could affect renewable power and energy storage.
The politics: ClearView Energy Partners, in a note yesterday, points out that Trump already won most states where oil-and-gas production is a significant share of GDP.
"As a result, economic risks for oil producers may not look like existential threats to White House campaign officials considering President Trump's possible 2020 reelection bid or Republican efforts to defend House and Senate seats (the bigger risks are the GOP seats in states the President didn't win)," they write.
Go deeper:
https://www.axios.com/newsletters/axios-generate-927d052e-a4b2-4c65-b03d-dcd2b21e7a8a.html?chunk=2#story2
Climate news: a state carbon tax fails, Chevron says it's ready
Nope: Via The Seattle Times, "Another ambitious effort to pass a carbon tax in Washington state has faltered as both Gov. Jay Inslee and the bill's prime sponsor said Thursday that there weren't enough votes to pass the measure out of the state Senate."
Why it matters: Washington isn't a big carbon producing state. But the failure to get a CO2 tax over the line there illustrates the massively steep uphill climb that advocates of a national policy face in the Beltway, which is far less hospitable to the idea than Washington State.
* * *
Not worried: Multinational oil-and-gas behemoth Chevron claims in a new report that global efforts to drive down carbon emissions will not endanger the company's business or leave it with so-called stranded assets.
Why it matters: Climate activists and Wall Street analysts have been increasingly focused in recent years on how a carbon-constrained world will affect companies holding massive fossil fuel reserves.
Chevron says its will do well under a range of scenarios of carbon policies, such as those under the International Energy Agency's Sustainable Development Scenario (SDS) to lower emissions. SDS envisions global oil demand that's 34 million barrels per day lower in 2040 than 2016.
"We have tested the competitiveness of our present assets under multiple scenarios," writes CEO Michael Wirth. "[T]he results...demonstrate that our portfolio, due to its maturity and its diversity across assets and geographies, is resilient in many scenarios, and our asset mix enables us to be flexible in response to potential changes."
More: This Bloomberg story looks closely at the report and notes that rivals Exxon and Shell have issued analyses with similar conclusions.
https://www.axios.com/newsletters/axios-generate-927d052e-a4b2-4c65-b03d-dcd2b21e7a8a.html?chunk=3#story3
Trends in power industry deals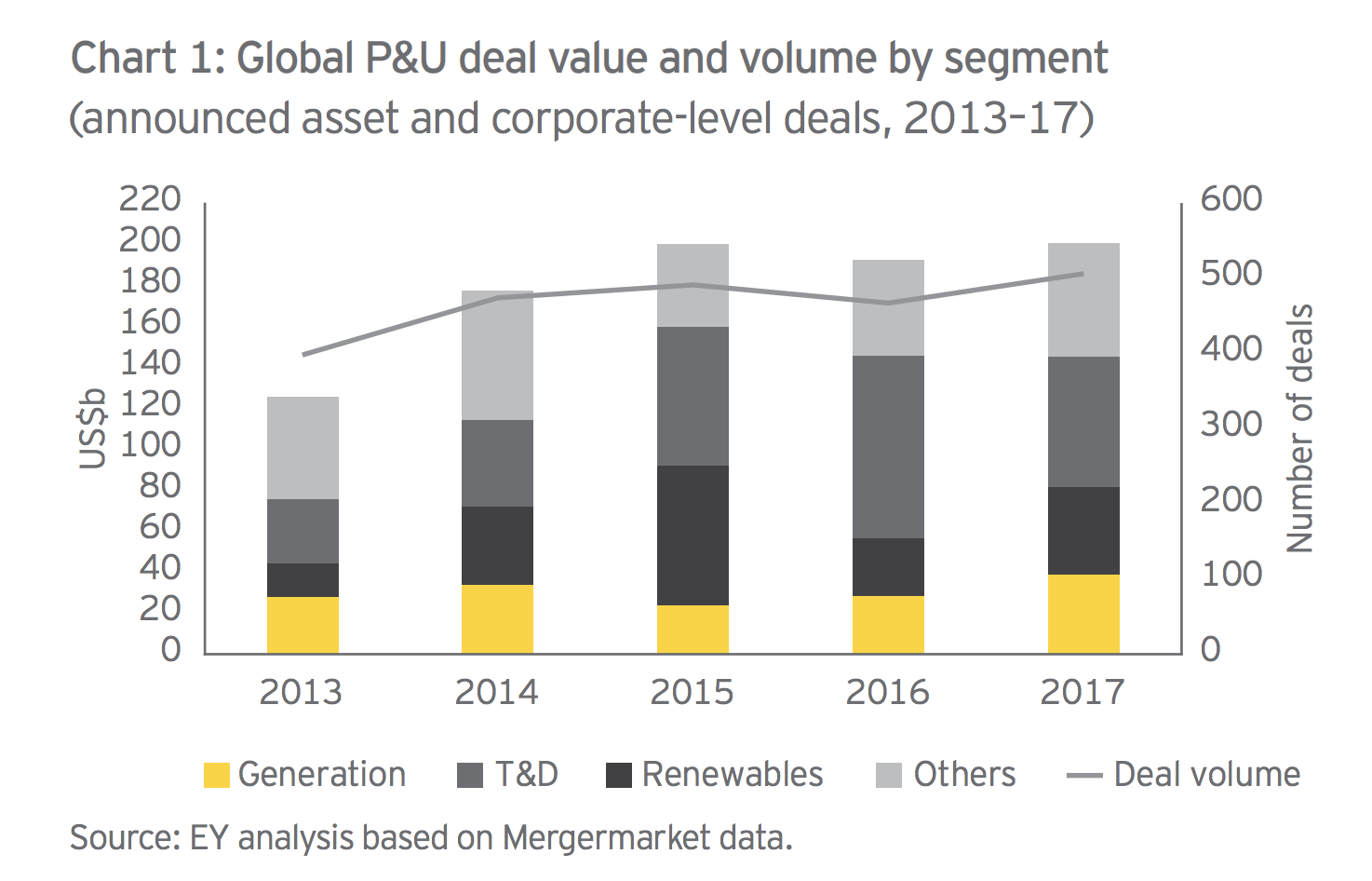 EY report on global power and utility (P&U) industry transactions. Note: T&D means transmission and distribution.
New data: The big firm EY said in a new report that 2017 was a "stellar year" for deal-making in the power and utilities industry worldwide as both the number and total value of mergers and acquisitions reached an 8-year high.
Last year saw a combined $200 billion spread over 516 deals, as the chart above shows.
One reason it matters: This year's volumes underscore the level of activity in the U.S. renewables industry.
In the U.S., M&A in renewables grew 14% in volume and 107% in deal value over 2016.
"Investors remain attracted by both the improving economics of renewable energy and increasing support at a state level," the report states.
https://www.axios.com/newsletters/axios-generate-927d052e-a4b2-4c65-b03d-dcd2b21e7a8a.html?chunk=4#story4
Policy news on my screen: diplomacy, Interior, EPA
Contrarian take: An interesting paper released through the Columbia Center on Global Energy Policy looks skeptically at the widely held view that the U.S. oil-and-gas boom has created powerful diplomatic advantages. The paper says leverage is limited because:
"Diplomatic objectives are often overwhelmed by energy market realities," as industry operators respond to market signals more than diplomatic desires.
"It is important to consider energy as just one topic in a broader diplomatic playbook, contrary to what a phrase like 'energy diplomacy' may suggest," write authors Tim Boersma and Corey Johnson.
Interior and oil: The New York Times has internal emails on the role energy may have played in Interior Department decisions to scale back the scope of the Bears Ears National Monument.
"Even before President Trump officially opened his high-profile review last spring of federal lands protected as National Monuments, the Department of Interior was focused on the potential for oil and gas exploration at a protected Utah site, internal agency documents show," they report.
EPA and coal: Via The Washington Post, "The Environmental Protection Agency on Thursday proposed significant changes to an Obama-era initiative to regulate coal ash waste, giving states and utilities more latitude in how they dispose of the potentially toxic substance."
https://www.axios.com/newsletters/axios-generate-927d052e-a4b2-4c65-b03d-dcd2b21e7a8a.html?chunk=5#story5
Good weekend listens: Trump's first year and self-driving trucks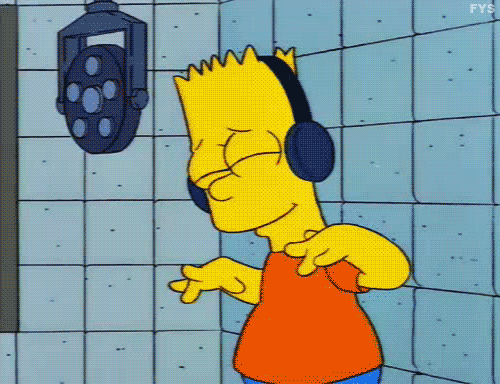 Here's are some informative energy-themed podcasts for doing whatever you do with headphones on . . .
One big idea: National energy systems are tough to turn around.
That's one takeaway as Ethan Zindler, head of Americas at Bloomberg New Energy Finance, sizes up Trump's first year on the new episode of CleanCapital's Experts Only podcast.
Zindler notes that he's less hopeful than he was after the election that Trump, with his business background, would come to see clean energy as an economic win for the U.S. But that said, the damage inflicted has been limited.
"I think the good news is that these guys — him and his administration — they do not understand how to pull the levers of power very well," Zindler says. "They have certainly sought to lay a glove on the clean energy industry, but so far I think they have been generally unsuccessful, and I would argue that it is largely because they don't understand how this stuff works very well."
Trucks and energy: The latest offering from UPenn's Kleinman Center for Energy Policy is a deep dive into the status and future of self-driving trucking technology with senior fellow Steve Viscelli.
One big energy takeaway is that the technology holds both the promise of energy savings, thanks to features like "platooning" tech, but could also go in the other direction.
One way it could go in another direction: Suppose the tech enables use of energy-efficient long-haul trucking that means far lower fuel costs and, of course, lower labor costs. That could lead to the migration of some railroad shipping to long-haul trucks.
"Our big concern there is that trucks are way less efficient than rail per-ton. We could have big efficiency gains per-mile in what trucks can do, but we may see a significant increase in the number of trucks on the road. So what you are going to get there is more oil being burned by those trucks in the for of diesel," Viscelli says.