Axios Generate
May 06, 2020
Welcome back. Today's Smart Brevity count: 1,123 words, 4 minutes.
Heads up: Today Axios' Amy Harder is going on the "Climate One" podcast with other journalists and experts to discuss how the pandemic is shaping the energy industry and climate debate. Register here for the livestream starting at 12:30pm PT / 3:30pm ET.
🎸 And this month marks 35 years since Dire Straits released "Brothers in Arms," which provides today's intro tune...
1 big thing: The push for telework as a climate ally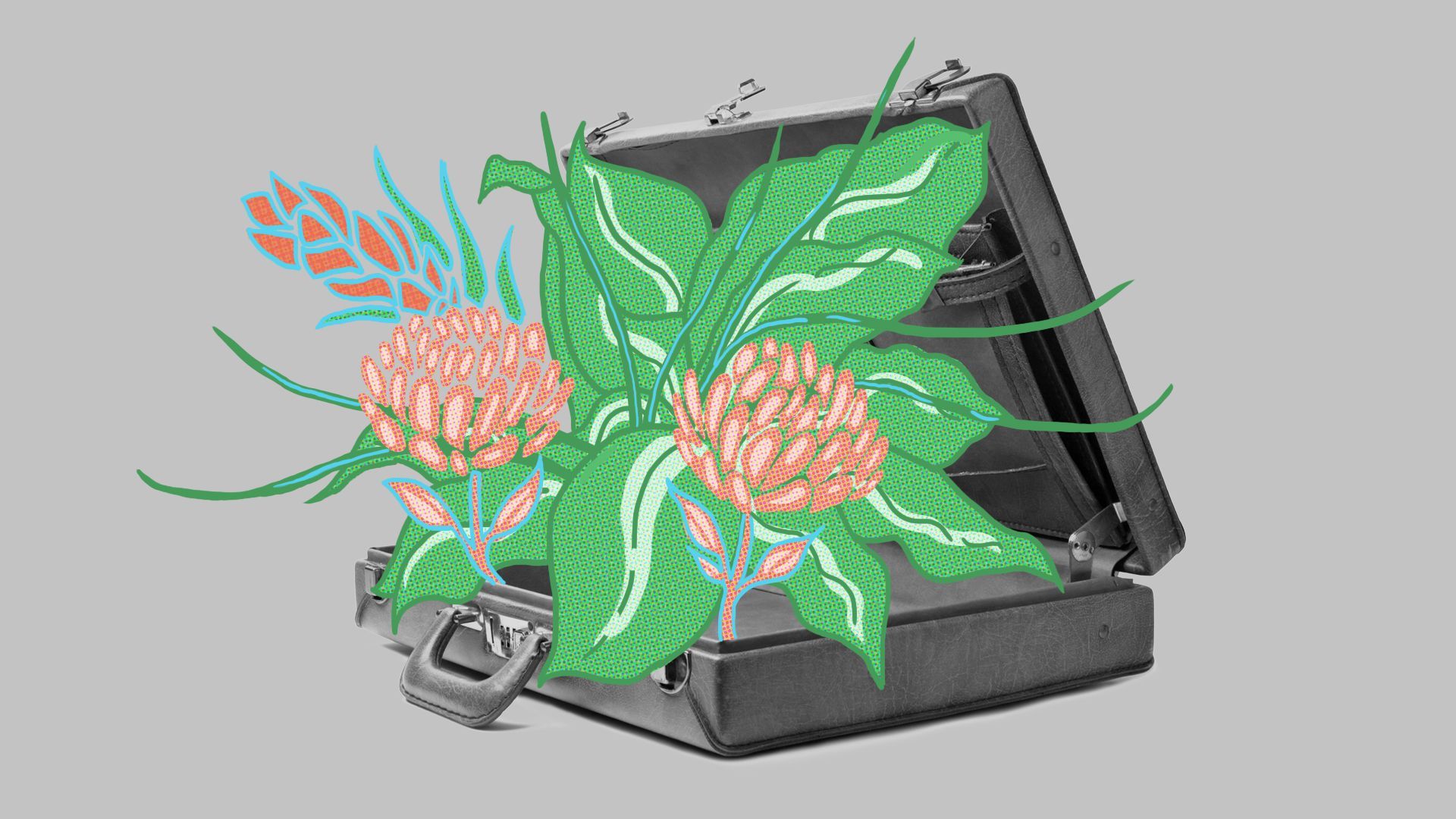 There's at least a small movement brewing to ensure telework remains widely permitted and encouraged in the post-pandemic era as a way to help the climate.
Why it matters: Driving creates lots of air pollution, and transportation (not just from passenger cars) is the nation's largest source of CO2 emissions.
Driving the news: "The vanishing of the daily commute has brought to light the burden of cars and trucks on health and the environment," Matt Butner and Jayni Hein of NYU's Institute for Policy Integrity wrote in Quartz yesterday.
The big picture: Their piece calls for tax incentives for companies that support working from home, with the benefits "proportionate to carbon emissions avoided."
They also say private sector policies that support telework "can be a meaningful part of corporate emissions-reductions goals."
Where it stands: It adds to a growing list of efforts to ensure that changes now occurring for tragic reasons remain in place.
Two Brookings Institution analysts want business groups and big companies to promote flexible work, especially in congested areas, to curb driving.
A related movement is springing up around maintaining street-design changes occurring worldwide to allow more walking and biking space during the pandemic.
What we're watching: Just how much the push to make telework the new normal will affect government and corporate policies, and become part of growing calls for "green" economic recovery efforts.
But it's hardly emerging from scratch, and carbon emissions are just one argument for telework, which surveys suggest is already popular with many workers.
For instance, New Urban Mobility Alliance director Harriet Tregoning was already engaging with employers on telework pre-crisis.
"Now everyone has been part of an involuntary 'pilot project' and many employers who thought they couldn't or shouldn't allow it, have been surprised at the results of this foray into telework," she said.
But, but, but: While his mammoth unplanned experiment should yield lots of data, a new peer-reviewed paper that surveys existing studies finds benefits but also sounds notes of caution about their size.
The University of Sussex researchers, writing in Environmental Research Letters, find that 26 of 39 studies suggest telework cuts energy use, largely through reduced driving but also lower office energy needs.
What they found: "Despite the generally positive verdict on teleworking as an energy-saving practice, there are numerous uncertainties and ambiguities about its actual or potential benefits," they write.
They cite the potential for "unpredictable increases in non-work travel and home energy use that may outweigh the gains from reduced work travel."
One drag on energy savings, they say, is that telework can encourage living further from workplaces, so people drive more when they do visit the office.
E&E News ($) has more on the study.
Bonus map: The potential for working remotely
A recent analysis from University of Chicago economists concludes that 37% of U.S. jobs can be performed at home, although this varies across industries and regions and is generally far more feasible for high-income workers.
Why it matters: The analysis reveals the large potential for maintaining the practice post-pandemic.
As Axios' Erica Pandey notes in her just-launched Axios @Work newsletter, less than 4% of American employees worked from home full time before COVID-19.
That has jumped to more than half, per Brookings. By the way, you can sign up for Erica's excellent newsletter here.
What's next: Tregoning says the case for telework is even stronger as companies are under more pressure to curb costs including rent and power bills.
She said one near-term driver is that mass transit systems must continue operating with vastly fewer passengers in order to maintain distancing, even as economies reopen.
"All the cities that have big transit systems are going to have to have these conversations with these major employers," Tregoning said. "You are going to have to do this with some kind of plan."
2. Oil bounces back but deep peril remains
Oil prices have rallied sharply in recent days, but the market remains depressed and the gains are too small and too late to prevent deep pain for the industry.
Why it matters: The general upward trend of late is nonetheless a sign that the worst of the pandemic-fueled collapse in prices and demand — which is stressing oil storage capacity — may be over.
Driving the news: Futures prices for West Texas Intermediate, the U.S. benchmark, have essentially doubled since early last week and are trading around $23.29 this morning. Brent crude also gained, trading around $30.31.
Threat level: They're also giving back some of those gains this morning, underscoring the tumult and risk.
What they're saying: "These moves have been encouraging but there may be a few more fireworks yet unless we see evidence that near-term surpluses are shrinking," OANDA analyst Craig Erlam said in a note Wednesday.
But, but, but: Prices are still at a level that creates financial jeopardy for many producers and other segments of the industry, and companies are being forced to cut production.
More signs of the toll emerged yesterday.
Big U.S. producer Occidental Petroleum reported a $2.2 billion first-quarter loss and announced further cuts in capital spending.
Refining giant Marathon Petroleum posted a $9.2 billion quarterly net loss as it took a $12.4 billion impairment charge. FT has more.
3. Catch up fast: solar, climate, crude
Climate: "Massive [programs] of green public investment would be the most cost-effective way both to revive virus-hit economies and strike a decisive blow against climate change, top U.S. and British economists said in a study published on Tuesday." (Reuters)
Renewables: Bloomberg writes that the crude price collapse isn't preventing some Middle East countries from pushing into solar power.
"Cheap crude used to deter investment in renewable energy in countries that depend on oil sales for revenue. Today, solar projects cost only about a 10th of what they did a decade ago, thanks to more affordable equipment and better technology, according to research by BloombergNEF," they report.
Deals: WSJ reports that huge companies' plans to shed assets are facing unexpected challenges.
"Since the start of the year, BP, Exxon Mobil Corp. and Occidental Petroleum Corp. have had major asset sales restructured or delayed indefinitely as coronavirus lockdown restrictions decimated energy demand and oil prices fell by two-thirds," they report.
4. Number of the day: 1 billion
"In a stark new finding about the planet's rapidly warming climate, a study finds that for every 1.8 degrees Fahrenheit (1 degree Celsius) of global average warming, 1 billion people will have to adapt or migrate to stay within climate conditions that are best suited for crop production, livestock and a sustainable outdoor work environment," the Washington Post reports (emphasis added).
Why it matters: The study in the journal PNAS "breaks new ground by quantifying the temperature range society is most adapted to and projecting how climate change will push people outside it," WashPost's Andrew Freedman reports.
Of note: The study models a scenario of unchecked emissions growth that's now looking quite unlikely (as we wrote about here and the Post covers here), but it also projects immense disruption even with emissions-curbing efforts.