Axios Generate
December 07, 2020
Good morning. Today's Smart Brevity Count: 1,089 words, 4 minutes.
🗓 To mark the Paris Agreement's 5th anniversary, I explore how the president-elect may navigate climate diplomacy in my latest Harder Line column.
I share a glimpse of that, and then Ben Geman will bring you the other news. 
🚨Don't miss tonight's Season 3 finale of "Axios on HBO" at 11pm ET/PT on all platforms:
1 big thing: Biden's new climate diplomacy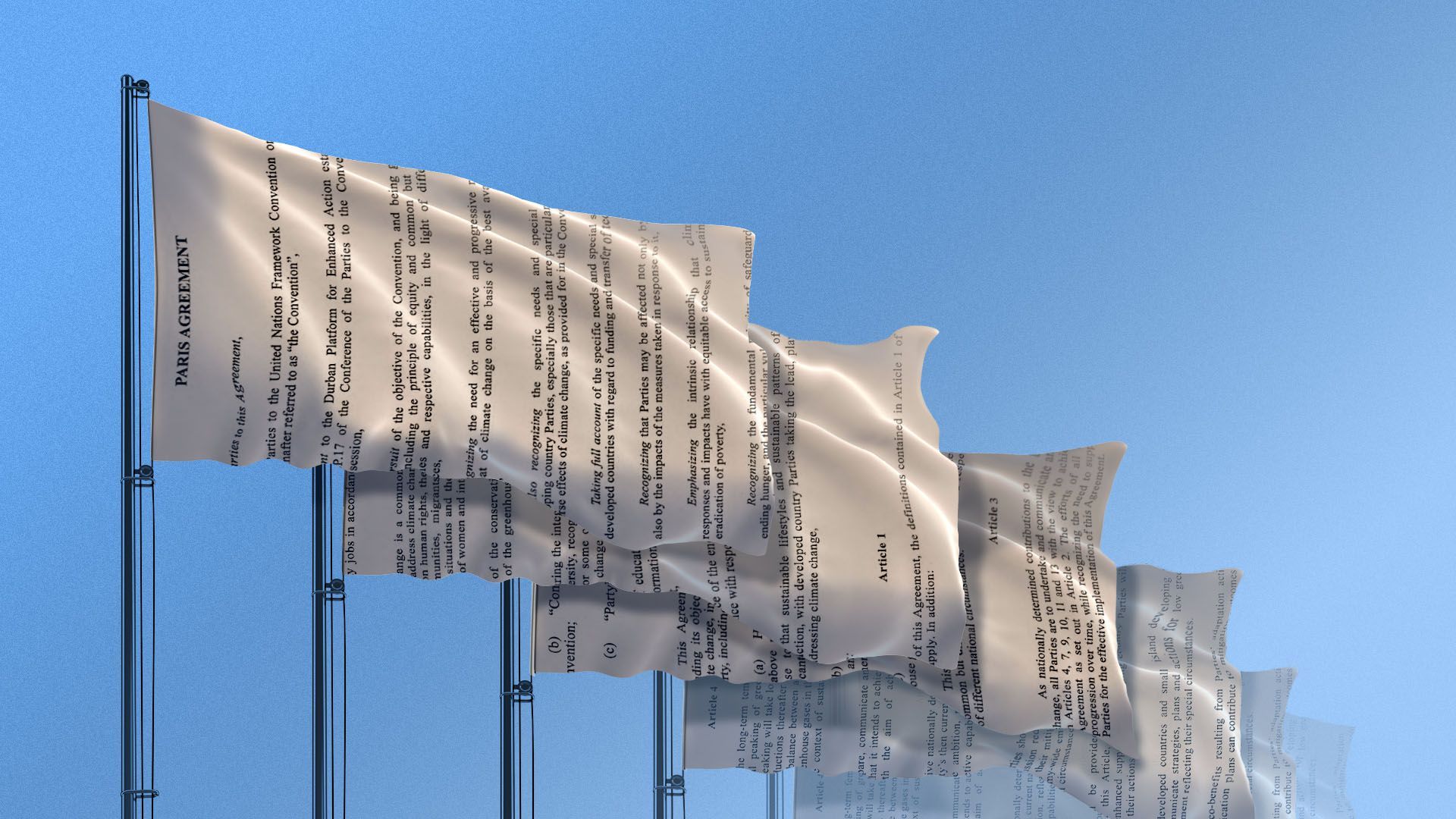 President-elect Joe Biden faces a tough balancing act as he calls for more global action on climate change while also reassuring the world that America is on board for the long haul.
Driving the news: World leaders will convene virtually on Saturday to mark the fifth anniversary of the Paris climate agreement, which was agreed to by nearly all countries on Dec. 12, 2015.
The intrigue: Although Biden may still recognize the anniversary, he isn't going to be involved in the Dec. 12 summit. "President-elect Biden and his team respect the principle that there is one president at a time," said Ned Price, a spokesperson for the transition team.
Much of the world has moved forward despite President Trump's 2017 withdrawal.
Europe has been pushing an aggressive climate policy, and recent comments suggest it may not let America lead like it has in the past.
"Europe will be at the forefront of brokering ambitious commitments," said European Commission President Ursula von der Leyen in comments last month. "The U.S. is also well placed to support us."
This fall, China, South Korea and Japan all announced aggressive goals to drastically cut emissions over the next three decades.
These announcements, critical given that they're coming from energy-hungry Asia, were made in anticipation of a Biden presidency, said one former U.S. diplomat.
What they're saying: "The analysis they were reading was that Biden would win. I think if the analysis had been the other way, you wouldn't have seen these announcements forthcoming," says Jonathan Pershing, who worked on the Paris Agreement under former President Obama.
By the numbers: Given the limits of Biden's domestic political agenda, the official U.S. pledge is likely to lean more heavily than ever before on non-federal action, which there's been a lot of over the last four years.
Action by states, cities and private business along with a reengaged federal government could cut U.S. emissions nearly 50% by 2030 compared to 2005 levels, according to a 2019 report by a consortium of environmental groups and former state leaders.
To be on a steady path to achieve Biden's 2050 goal of a zero-carbon economy, he would need to achieve a cut of 43% by 2030, according to an analysis done by research firm Rhodium Group. That would be a 2.7%–3.3% reduction per year.
Reality check: U.S. emissions have never dropped by that much on a consistent basis.
They're forecast to drop a record 11% this year, purely because the pandemic choked economic activity — not a desirable way to cut emissions.
What we're watching: Don't expect the pledge details when Biden announces he's rejoining the deal, as they will likely be announced later in the year.
2. Why Biden's HHS pick matters for the climate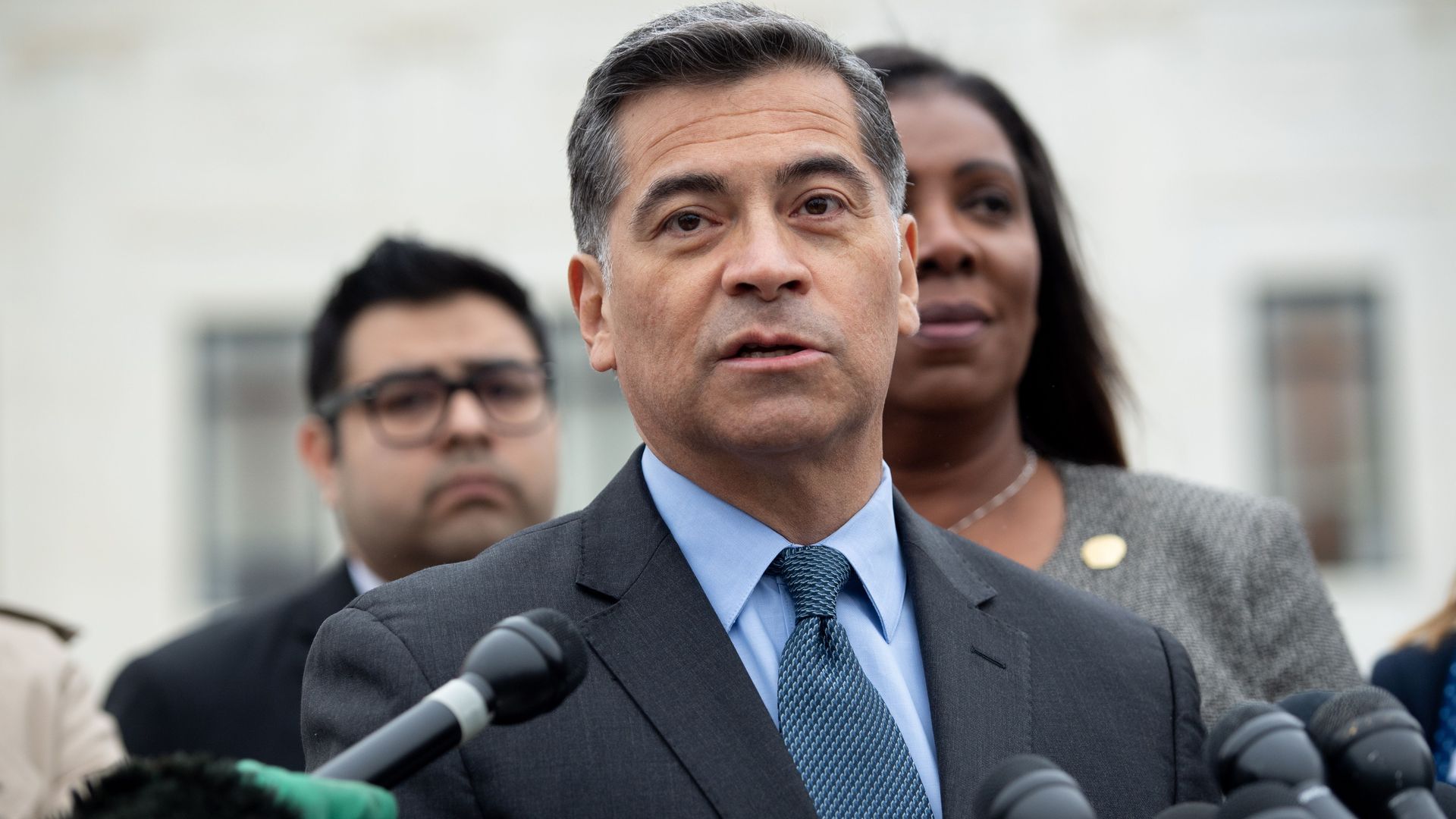 Biden said this morning he'll nominate California Attorney General Xavier Becerra to be Health and Human Services secretary and announced several other health-related picks too.
Why it matters: Biden's campaign envisioned a substantial role for HHS in addressing the public health effects of global warming and pollution.
Biden's campaign platform vowed to launch an "Office of Climate Change and Health Equity" at HHS.
It also calls for an HHS-led task force to "decrease risk of climate change to children, the elderly, people with disabilities, and the vulnerable."
What's new: The climate group Evergreen Action, which backs those proposals, last night also floated other ideas for how HHS under Becerra can play a "critical role in the national climate mobilization."
Their ideas include finding ways to "[s]trengthen the resilience of healthcare systems and supply chains in the face of climate impacts, including worsening disasters."
Another would be to prioritize National Institutes of Health grant funding for "research on the intersections of public health and climate change."
3. The workaday path to the EV era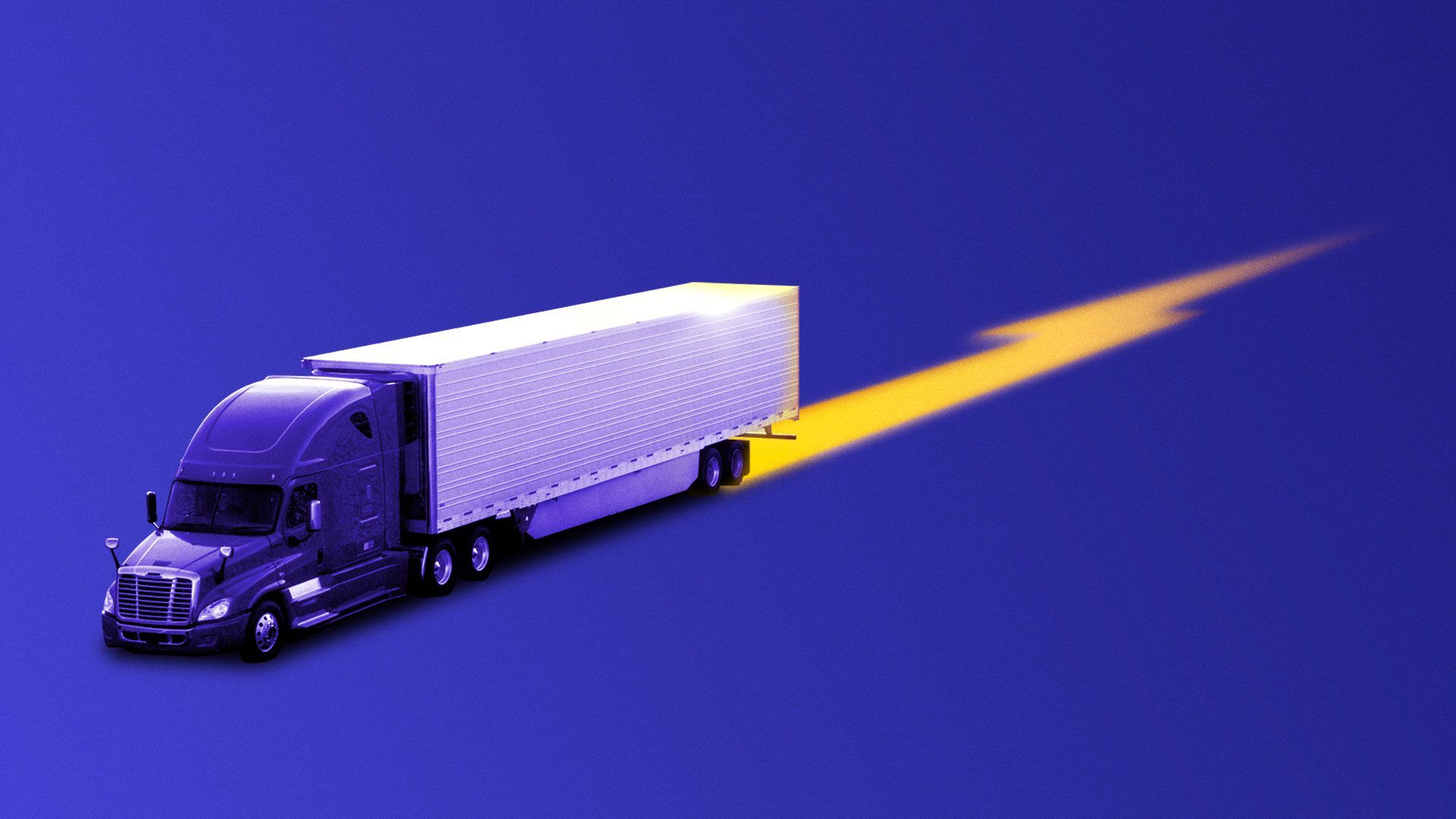 Axios' Joann Muller reports: The electric vehicle revolution is underway, led by the un-sexiest of plug-in models, the commercial truck.
Why it matters: Growing demand for cleaner trucks means 2021 will be pivotal for EVs — just not the kind you might have expected.
Driving the news: With transportation now the biggest source of U.S. greenhouse gas emissions, governments and corporations are embracing new sustainability goals.
15 states and D.C. plan to require all new trucks, vans and buses in their states be electric by 2050.
Between the lines: The pandemic is adding to the urgency. E-commerce has exploded while people have been staying home, putting more polluting delivery trucks on the road.
"Amazon could become the world's single biggest entity for emissions," aside from China's coal plants, Morgan Stanley analyst Adam Jonas told a conference Thursday.
That's why the giant retailer's climate strategy includes an aggressive plan to deploy 100,000 electric delivery trucks by 2030, he noted.
What's happening: Truck manufacturers are rolling out a bevy of electric models ranging from local delivery trucks and beverage haulers to garbage trucks and long-haul semis.
The latest is Volvo's new VNR electric model, a regional hauler with a range of up to 150 miles that can be recharged in a little over an hour.
Freightliner, Tesla and China's BYD are among other companies bringing electric big rigs to market in the next year or so.
At the other end of the spectrum, Ford just introduced its E-Transit cargo van, which goes on sale late next year, and GM is reportedly planning an electric delivery van, too.
A slew of startups are also rushing into the electric truck space, including Rivian, Arrival and Nikola.
4. Petro-number of the day: 8.4%
"Gasoline sales fell a staggering 8.4% (nearly 185 million less gallons) from the previous week for the seven-day period ending November 28, bringing consumption to the lowest level for a Thanksgiving Week in 23 years, going back to 1997," per new IHS Markit data out this morning.
Why it matters: It's one metric of how the pandemic is upending traditional energy consumption patterns as the raging pandemic led many people to avoid their normal holiday travels.
5. Catch up fast: Exxon, Nissan, EVs, Saudi Arabia
Big Oil: "Exxon Mobil Corp. is facing the threat of a proxy fight from a newcomer activist investor with a sustainability bent that wants the beleaguered energy giant to act faster to remake itself." (WSJ)
Policy: "Nissan said Friday that it will no longer support the Trump administration in its legal fight to end California's ability to set its own auto-pollution and gas-mileage standards." (AP)
Infrastructure: "The UK's first all-electric car charging station opened today near Braintree in Essex, marking a milestone in the country's transition away from fossil fuel-powered vehicles. The station is operated by Gridserve, and is the first of more than 100 locations it plans to build over the next five years." (The Verge)
Oil markets: "Saudi Arabia raised oil pricing for customers in its main market of Asia after optimism over coronavirus vaccines caused crude prices to climb to an nine-month high last week." (Bloomberg)