Axios Generate
September 08, 2021
🐪 It's Wednesday already! Today's Smart Brevity count is 1,324 words, 5 minutes.
📊 Data point of the day: Up to $183 billion — how much Swiss Re estimates climate risks will add to global property insurance premiums through 2040.
🚨 Situational awareness: Flash flood watches are up for hard-hit northeastern Pennsylvania and New Jersey, with downpours threatening to unleash more flooding late Wednesday.
🎶 And happy birthday (a day late sorry!) to Gloria Gaynor, who has today's stellar intro tune...
1 big thing: Biden's "code red" climate moment precedes key tests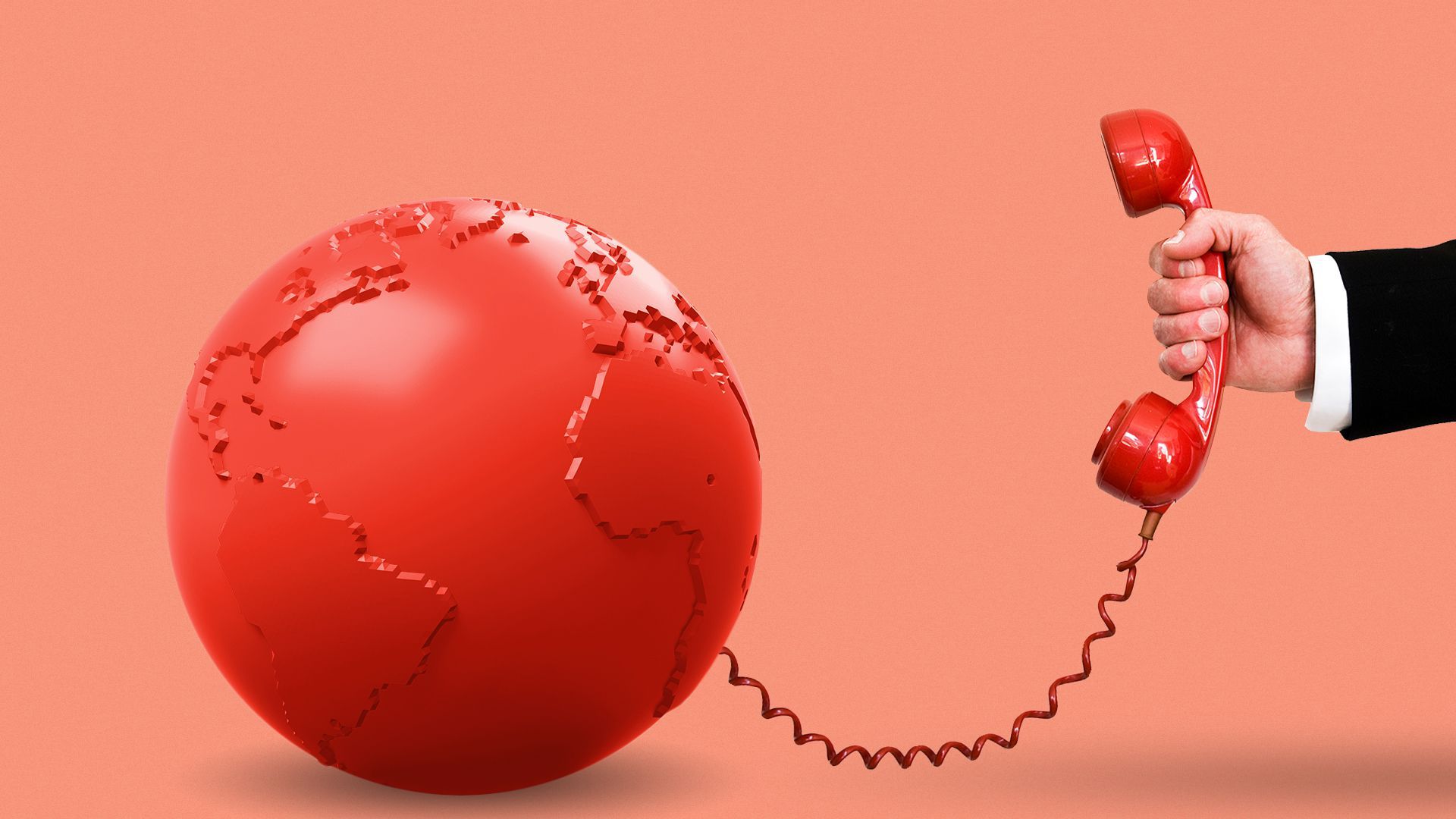 Entering a critical period on Capitol Hill, President Biden spent Tuesday touring flood damage in New Jersey and New York, where the most lives were lost to Hurricane Ida, Andrew writes.
Why it matters: During his walkthroughs of damaged neighborhoods, Biden unequivocally made the connection between the disastrous deluge that broke all-time records and human-caused global warming.
State of play: Biden aims to pass legacy-making pieces of legislation as soon as this month, both of which contain critical components of his climate agenda.
In an appearance in Queens, Biden and Senate Majority Leader Chuck Schumer (D-N.Y.) argued the devastation makes a stark case for the bills at a time when the political pathway for moving them is fraught.
The intrigue: With the narrowest of majorities in both chambers, passing these bills will be, to quote the film, "In the Loop," "Difficult, difficult, lemon, difficult."
The big picture: Climate studies show that human-caused global warming is not only creating a hotter planet, but it's resulting in more frequent and severe precipitation extremes, too.
This summer, the U.S. and Europe have been the regions where this has most clearly played out.
The western U.S. endured a hot, parched summer that has led to a relentless scourge of large wildfires, while the East has been wet, culminating with deadly flash floods in Tennessee last month and with Ida's inundation. Europe also endured devastating flooding.
The record rainfall in New Jersey and New York is what scientists anticipate will occur more frequently with global warming.
State of play: On Tuesday, as Biden walked past homes that had been emptied of their ruined contents, water level marks visible along their walls, he spoke about climate change with urgency.
"And so, folks, we got to listen to the scientists and the economists and the national security experts," Biden said in Queens. "They all tell us this is code red; the nation and the world are in peril."
"We can look around the wreckage and the ruins and the heartbreak from so many communities," he said.
"Precious lives lost in Louisiana, in New Jersey, in New York," he said. "Subway stations flooded. Decaying infrastructure pushed beyond the limits."
What we don't know: Whether the recent disasters will create political traction for the measures on Capitol Hill.
2. A new climate fund with big-name backers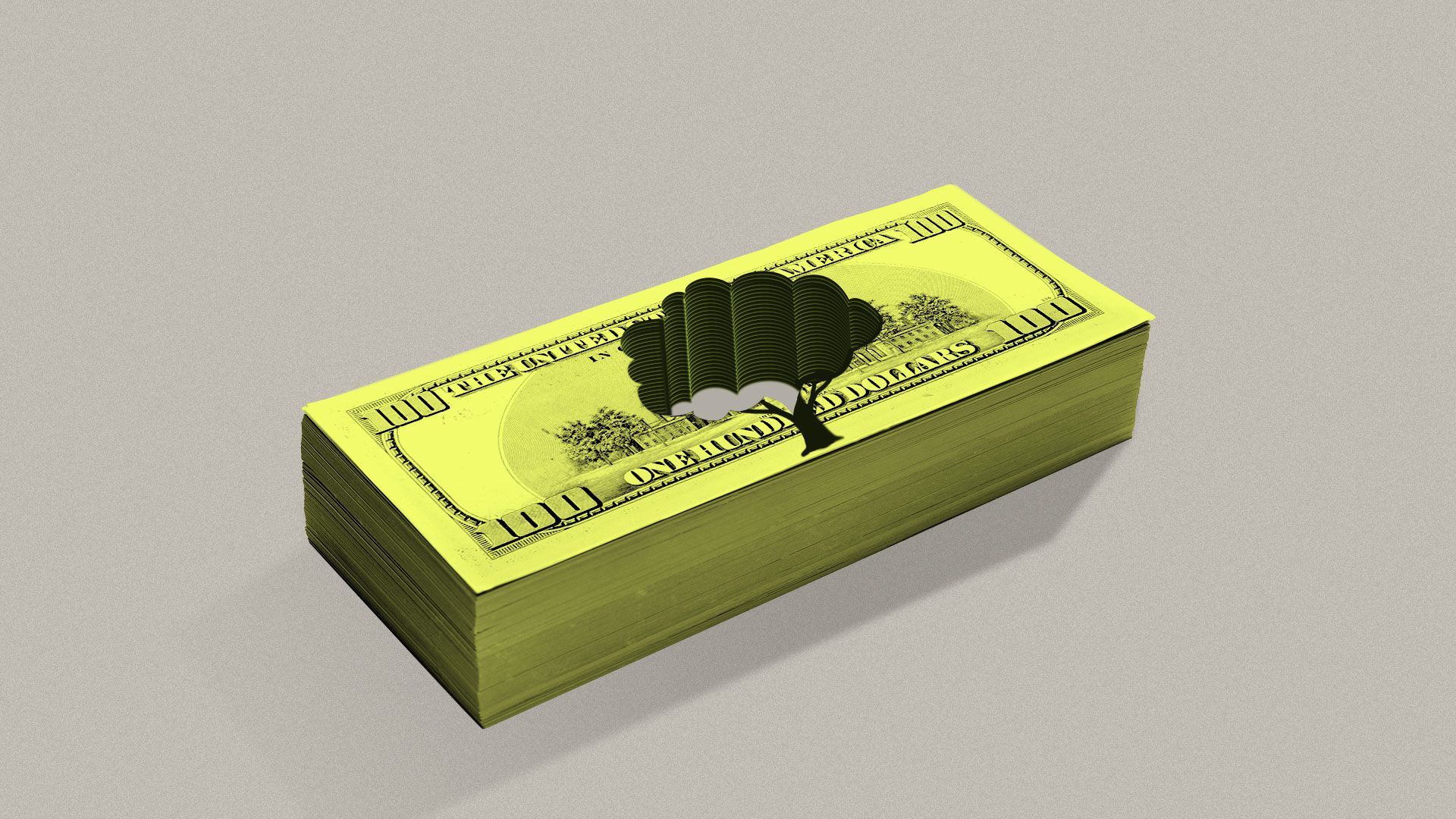 This morning brought the launch of a climate tech VC fund that's notable for its prominent backers and connective tissue to communities on the front lines of global warming, Ben writes.
Driving the news: Earthshot Ventures is a new early-stage investor in hardware and software companies that announced its presence today and the close of its first fund at $60 million.
Backers include Microsoft, billionaire climate activist Tom Steyer, the Emerson Collective, McKinley Alaska Private Investment, Kleiner Perkins chairman John Doerr, Hawaii's state pension fund, and Facebook executive Chris Cox.
The big picture: More and more money is flowing into climate tech at a time when the window is closing to meet the Paris Agreement's climate goals.
Via Pitchbook, U.S. climate tech deals this year have already totaled a record-breaking $11 billion.
How it works: The new fund is spun out of the Hawaii-based Elemental Excelerator, a decade-old nonprofit climate tech finance organization.
Three of Elemental's officials will lead the new Earthshot fund, including Elemental founder and CEO Dawn Lippert.
In addition, the new fund is working with the startup accelerator Launch Alaska.
What they're saying: Earthshot's ties to Hawaii- and Alaska-based organizations will "bring real-world experience and insight deploying technologies in communities on the front lines of climate change," the announcement states.
Alaska is seeing melting permafrost and rapid warming, and Hawaii is threatened by sea-level rise and changes in weather patterns.
***
Speaking of VC, Volkswagen is setting up a fund with an initial $355 million that will "invest in a number of decarbonization projects and innovative start-ups," CEO Herbert Diess said via LinkedIn. Bloomberg has more.
3. Visualizing a bet on U.S. oil exports
The chart above helps explain why Canadian energy giant Enbridge is spending $3 billion to buy oil logistics and distribution firm Moda Midstream — including the nation's biggest crude export terminal in Texas, Ben writes.
What they're saying: Enbridge CEO Al Monaco said their strategy reflects the "important role" North American oil — specifically from Texas shale basins — will play in helping to meet global demand.
The big picture: The deal announced Tuesday, as Bloomberg and others note, is a bet on the future strength of the U.S. crude export market.
U.S. crude exports began surging not long after extremely heavy export restrictions were lifted in late 2015.
4. Big Oil looks to outside partners for emissions tallies
Oil-and-gas companies are increasingly working with third parties as they face pressure to breathe life into their climate pledges and show they're credible, Ben writes.
Driving the news: Exxon has a new agreement with the nonprofit MiQ to certify and grade methane emissions from a portion of its Permian Basin gas production.
Bart Cahir, a senior Exxon executive, said in a statement that the partnership will provide customers with "credible third-party validation" of their emissions-cutting efforts.
The move "follows shale producers including EQT Corp in offering independently verified emissions data to buyers seeking to reduce their own carbon footprints," Reuters reports.
What we're watching: Chevron has a new "memorandum of understanding" with Delta Air Lines and Google to track emissions from a test batch "sustainable aviation fuel" (SAF).
"The companies hope to create a common, more transparent model for analyzing potential greenhouse gas emissions reductions that could then be adopted by organizations considering SAF programs," the announcement states.
MarketWatch has more.
5. Greens get specific on reconciliation climate ask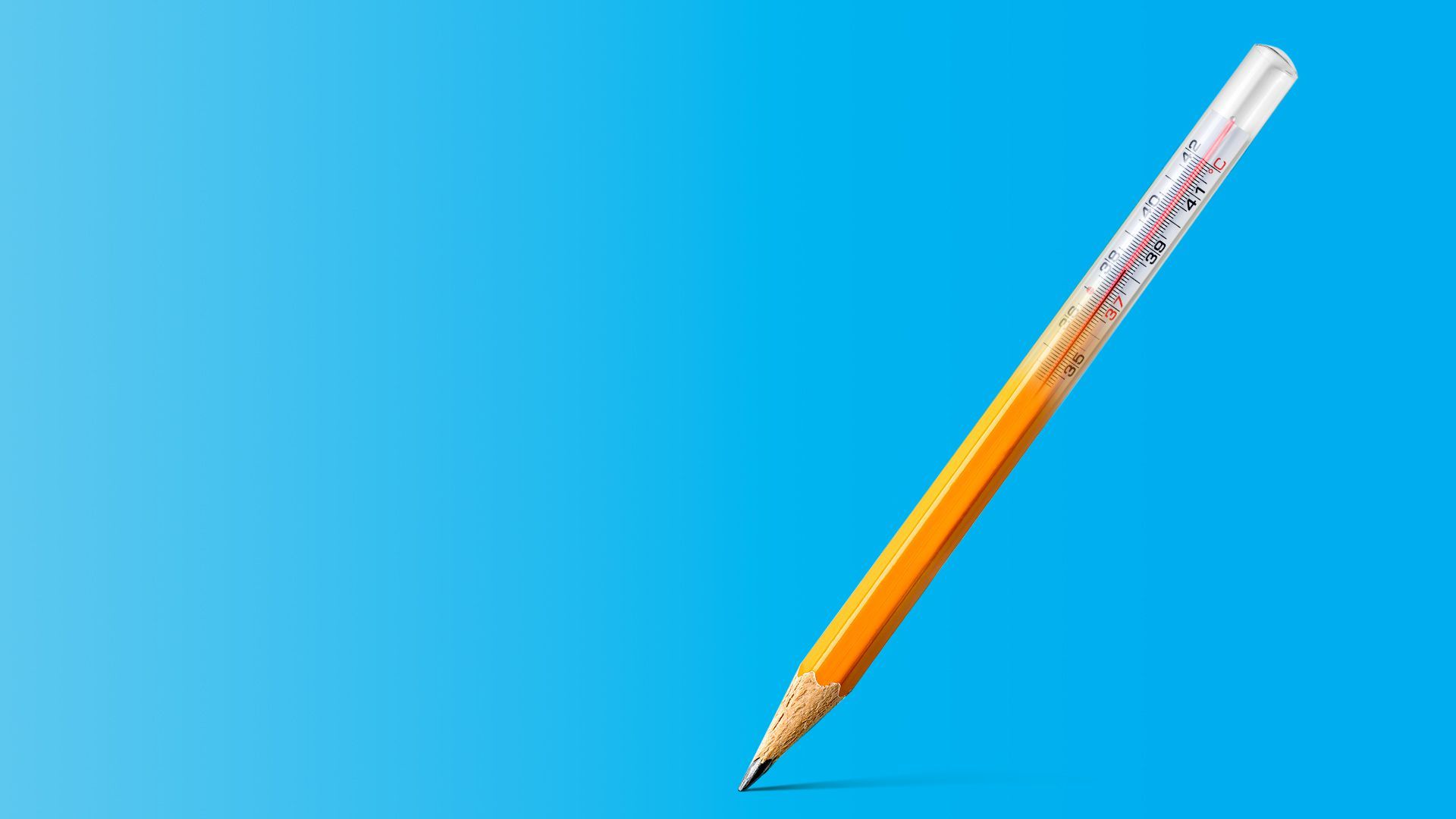 Environmental groups are laying out funding levels they want for energy pieces of the big spending-and-tax package Democrats hope to move on a party-line vote that faces huge political hurdles, Ben writes.
Driving the news: An open letter from 20 groups lays out estimates for the programs that would create a "clear path" to cutting U.S. emissions in half by 2030 relative to 2005 levels. Some key items include:
$191-$265 billion for clean electricity tax credits.
$37-$120 billion in incentives for electric vehicle purchases.
At least $150 billion for the "clean electricity payment program" that would push utilities to speed up clean power deployment.
They estimate that a proposed fee on oil-and-gas producers' methane emissions would raise $10-$20 billion.
The big picture: CNN, which first obtained the letter, tallied the estimates and they total $577-$746 billion.
Groups including the Sierra Club, the League of Conservation Voters, the Natural Resources Defense Council, and the Environmental Defense Fund's political arm are on the open letter.
Yes, but: Senate Democratic leaders don't have a clear path for moving their $3.5 trillion plan through the 50-50 Senate.
Sen. Joe Manchin (D-W.Va.) wants a "pause" on the reconciliation effort and, via Axios' Hans Nichols, wants to cut the size and scope of social spending provisions.
A new letter to lawmakers from oil-and-gas and business groups warns against a "punitive fee" on industry methane emissions.
The letter, led by the American Petroleum Institute, says it could "jeopardize affordable and reliable energy" while doing little to cut emissions, and says EPA's direct federal regulation without the new fee is the better approach.
6. How global warming imperils Latino farmworkers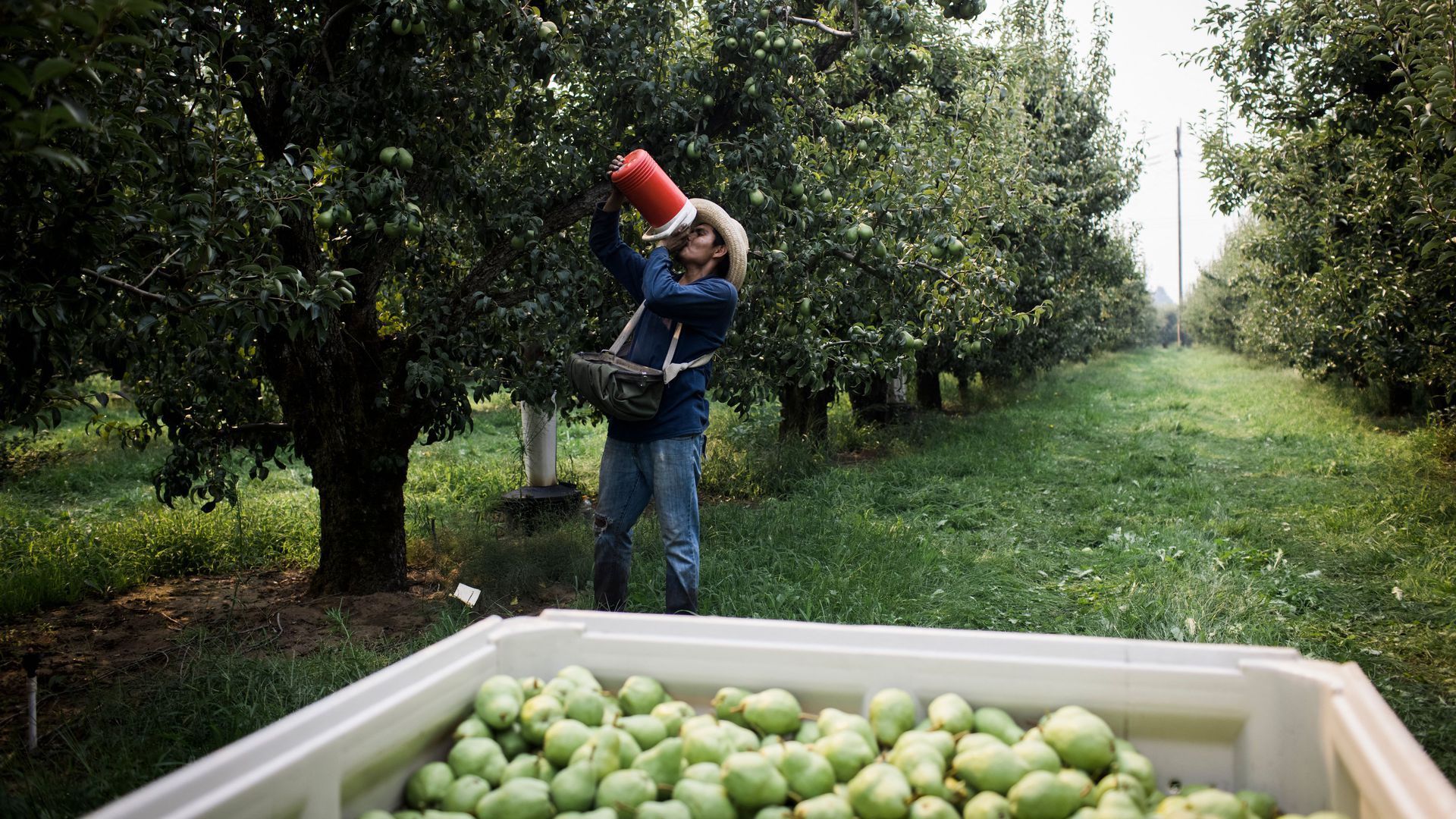 Farmworkers are 20 times more likely than other outdoor workers to die from the extreme heat that has gripped much of the U.S., and Latinos make up around 75% of farmworkers in the U.S., Axios' Oriana Gonzalez writes.
Why it matters: In the U.S., extreme heat kills more people each year than floods, hurricanes and tornadoes, per the National Weather Service.
Threat level: With slow to no actions to reduce global carbon emissions, the number of outdoor workers exposed to temperatures higher than 100°F could quadruple by midcentury, per the Union of Concerned Scientists.
🙏 Thanks so much for reading and please tell your friends they can sign up for this newsletter for free. We'll see you tomorrow.