Good morning and welcome back to Generate! A quick note before we get started: My Axios colleague Sara Fischer recently launched the newest Axios newsletter called Media Trends.
It's a vital look at the changes underway in the digital media ecosystem. You can sign up for all our free newsletters here. Ok let's dive in . . .
https://www.axios.com/newsletters/axios-generate-8e018d20-4577-4a47-832b-bbb5f6c5201d.html?chunk=0#story0
Climate fight teed up in House
While you slept: The House Rules Committee laid the groundwork for a House floor fight over the threat of climate change. After midnight, the panel announced more of the amendments for the National Defense Authorization Act for Fiscal Year 2018 that will be debated on the floor, including one on climate change.
On the list: One of the amendments is an attempt by two GOP lawmakers — Reps. Scott Perry and Ken Buck — to strike a provision in the NDAA that recognizes climate change as a "direct threat" to the national security of the U.S., one that is "impacting stability in areas of the world" where the military operates and where "strategic implications for future conflict exist."
The defense bill also notes the threat to military installations from rising seas, wildfires, and other climate conditions.
It requires a new Defense Department study on the vulnerabilities of bases and "combatant commander requirements" over the next 20 years.
Why it matters politically: The attempt by Perry and Buck to strike the climate provision will test the posture of Republicans who have become more vocally supportive about the threat of global warming.
If it comes to a roll call vote: Watch the votes of GOP members of the bipartisan Climate Solutions Caucus, which now counts 24 GOP members, according to the Citizens' Climate Lobby, an advocacy group which tracks the membership.
https://www.axios.com/newsletters/axios-generate-8e018d20-4577-4a47-832b-bbb5f6c5201d.html?chunk=1#story1
Interior staffs up — without Congress
Interior secretary Ryan Zinke has added a suite of top aides even as top positions needing Senate approval remain unfilled.
Why it matters: Zinke is pressing ahead with an ambitious — and controversial — agenda to boost energy development on federal lands and waters, so staffing up is key.
He's seeking to roll back Obama-era rules and restrictions and streamline permitting, and is also reviewing his predecessor's expansive national monument designations.
Among the aides Interior announced yesterday:
Todd Willens, longtime chief of staff to GOP Rep. Steve Pearce, is now Zinke's assistant deputy secretary. He worked at Interior under George W. Bush and is also a former lobbyist.
Elinor Renner is a new special assistant to Zinke, moving over from the conservative Heritage Foundation, where she managed the internship program.
Luke Bullock has joined Zinke's advance team. Prior stops include working as an advance aide for the presidential campaigns of Rick Perry and Mitt Romney, among other political jobs.
Andrea Travnicek, who has a PhD in natural resources management and communication, will be the new deputy assistant secretary for water and science. She has previously been a policy adviser for two North Dakota governors and also worked with the U.S. Army Corps of Engineers and Ducks Unlimited, Interior said.
Attorney Gary Lawkowski has come aboard as counselor to the solicitor. Prior stops include working as counsel to Lee E. Goodman and Don McGahn at the Federal Election Commission. McGahn is now White House counsel.
https://www.axios.com/newsletters/axios-generate-8e018d20-4577-4a47-832b-bbb5f6c5201d.html?chunk=2#story2
What's next for natural gas markets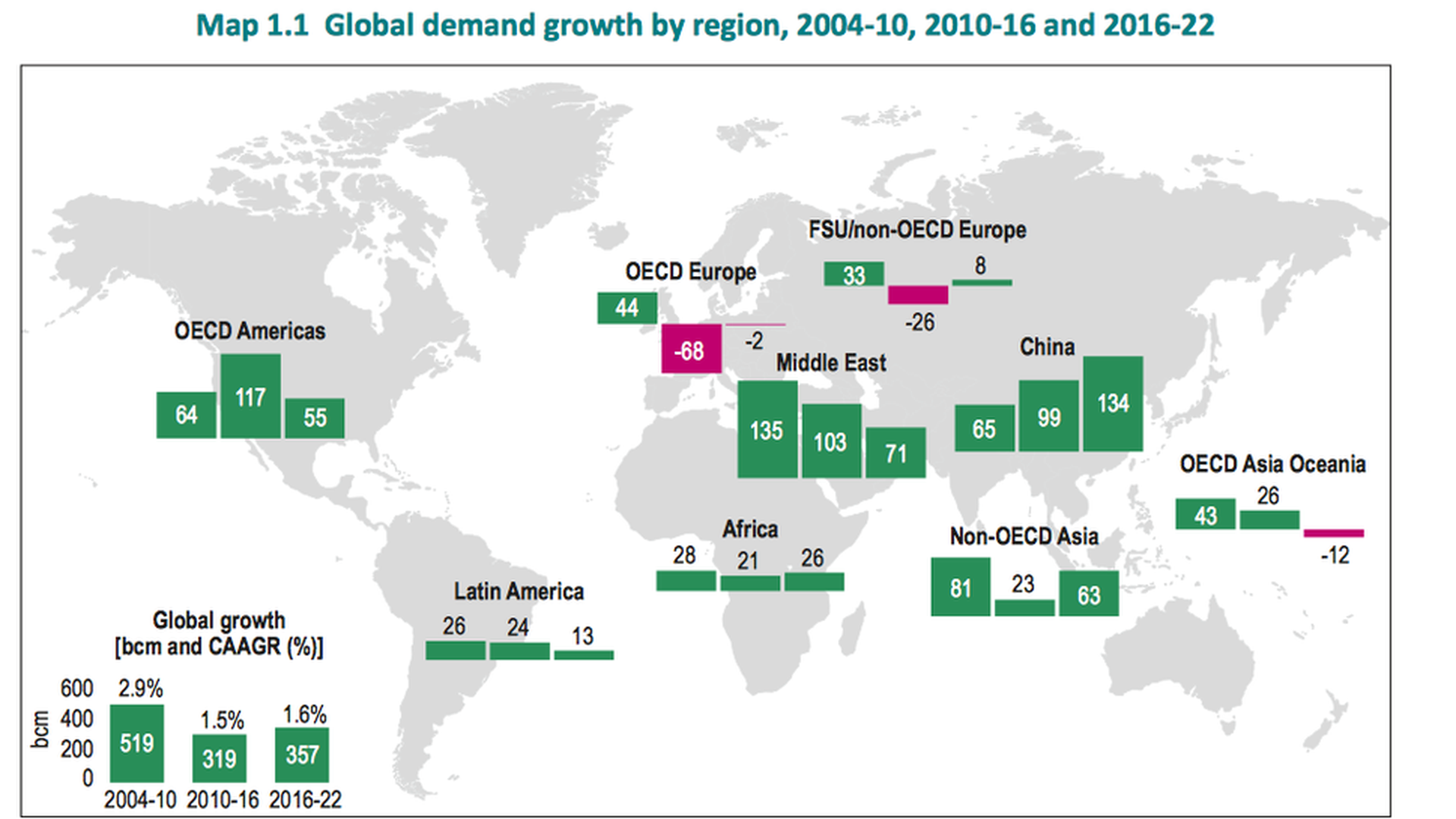 Breaking this morning: The International Energy Agency just released its five-year crystal ball for natural gas markets.
The big picture...
Faster than its fossil rivals: Helped along by low prices, global gas consumption growth will outpace coal and oil over the next five years with a 1.6% annual growth rate, and developing countries — notably China — will lead the demand growth.
Check out the chart above to see where demand is growing and where it isn't.
Industrial uses, like chemical and fertilizer production, are driving much of the growth through 2022, with slowing increases in the use of gas for power generation than in the prior 10 years.
The U.S. footprint: Gas consumption will keep growing but fall off the pace of increase from 2010-2016, largely because the pace of power sector transition from coal to gas will slow down. But the production boom remains full steam ahead.
The U.S., already the world's top natural gas producer thanks to the shale boom, will keep its top slot and indeed boost output more than any other country over the next five years as production rises by roughly 3% annually.
The U.S. will account for 40% of global output growth over the study period through 2022, and by then the U.S. alone will account for over one-fifth of total worldwide gas production.
LNG rising: More than half the U.S. production increase will be used for liquefied natural gas exports as the U.S. becomes a major global player in that market.
https://www.axios.com/newsletters/axios-generate-8e018d20-4577-4a47-832b-bbb5f6c5201d.html?chunk=3#story3
Trump is right about Hillary, energy & Russia
My Axios colleague Amy Harder has a new piece in the Axios stream that looks at one of the energy angles in the story of Trump's Russia ties. Take it away...
President Trump said Wednesday that Russian President Vladimir Putin would have preferred Hillary Clinton win the 2016 election, in part because the U.S. is exporting more energy than it would have under Clinton.
He's right that the U.S. is probably going to export more natural gas and oil under his administration than it would have under Clinton — as for the broader point about Putin wanting Clinton to win, I'll leave that to others to debate.
Why it matters: The never-ending story of the day seems to be how deep ties run between Trump and Russia. On energy, Trump doesn't seem to be softening plans that go against what Putin wants. The president appears genuinely serious about encouraging more oil and natural gas production and exports that will hurt Russia, whose economy is heavily dependent upon such exports.
Click here for the whole story.
https://www.axios.com/newsletters/axios-generate-8e018d20-4577-4a47-832b-bbb5f6c5201d.html?chunk=4#story4
On my screen: EVs, oil, lobbying, Facebook
Electric vehicles: This is an interesting post about oil and electric cars from the head of Canada's Arc Energy Research Institute.
Peter Tertzakian suggests that EVs could be having an outsized impact on investment in the oil industry compared to how niche a market they are and how robust the world's oil thirst remains.
"EV mania is affecting the psychology of investors who finance oil assets, services and infrastructure," he argues. He sees two dueling potential outcomes:
"[T]ightening of capital will clean out oil's inefficient producers," encouraging oil industry innovation in tech and cost-cutting that keeps oil prices low with plenty of supply.
Shrinking investment will create oil supply constraints that drive up oil prices and thereby speed the rate of EV adoption.
Lobbying: AECOM, a big engineering company with Energy Department contracts, added both the S-3 group and the Alpine Group (filings here and here) to its stable of outside lobbyists.
Areva Nuclear Materials also tapped the S-3 Group, a firm with a number of former GOP aides, for lobbying on "funding for the mixed oxide project in FY18 Energy and Water Appropriations Bill" and the NDAA.
Oil markets: The Financial Times breaks down the International Energy Agency's latest monthly oil market snapshot, highlighting the finding that OPEC's compliance with its supply cutting plan waned last month.
Facebook: CEO Mark Zuckerberg toured an oil patch in Williston, North Dakota, and wrote about it here. Reuters has details of his visit here.