Axios Generate
May 22, 2023
🥞 Welcome back! Today's newsletter has a Smart Brevity count of 1,332 words, 5 minutes.
🚨 Situational awareness: Smoke from Canada's wildfires is prompting air quality alerts in the U.S., and is likely to continue to occur into the summer.
🎶 Yesterday marked 33 years* since Mazzy Star released their debut "She Hangs Brightly," which provides today's ethereal intro tune...
1 big thing: Unpacking the Group of Seven outcome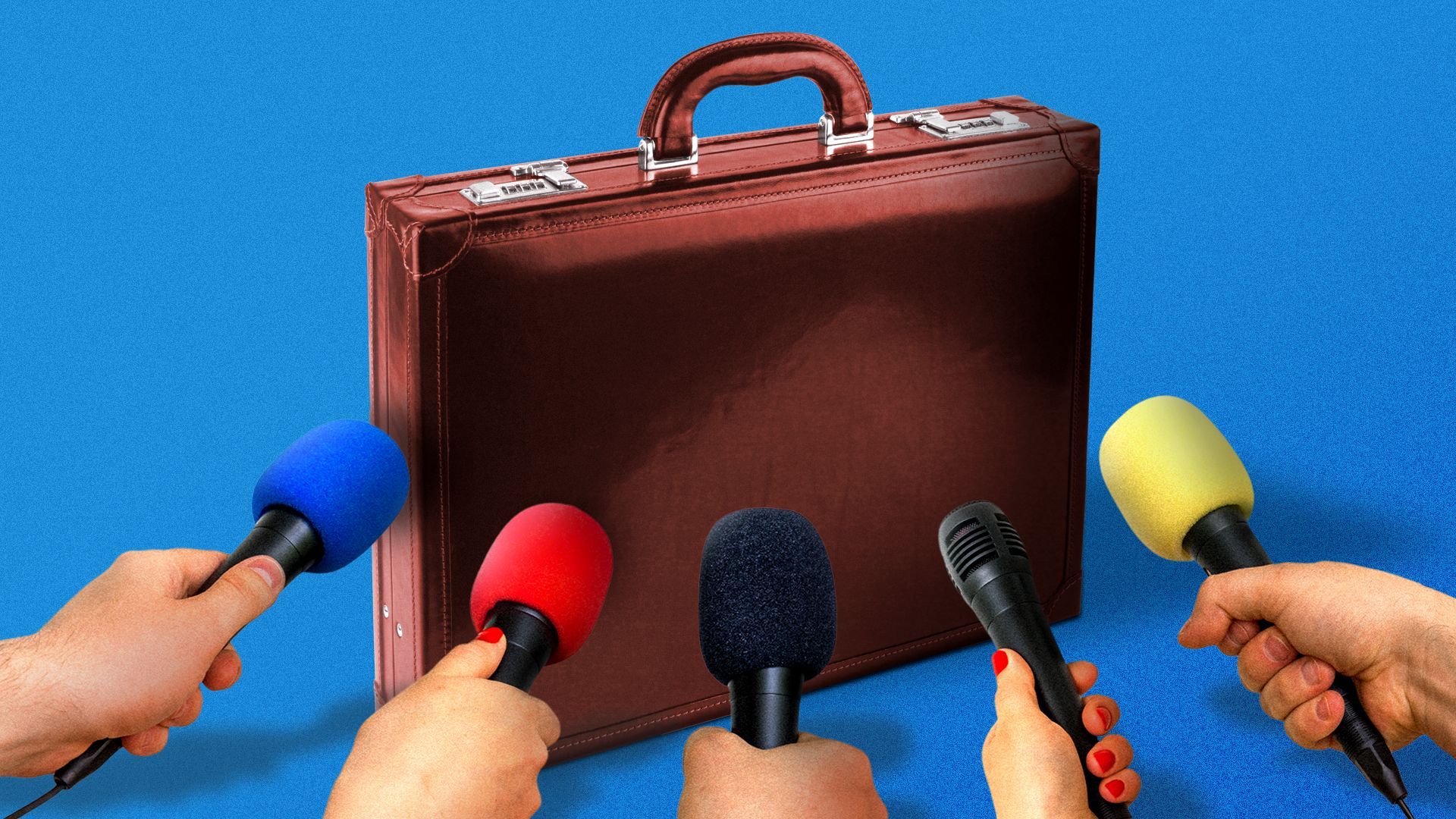 The joint statement from the weekend G7 meeting uses lots of words to spell out one simple fact: perceptions of each nation's energy security needs will trump climate policy, Ben writes.
Driving the news: The communique has plenty of tough statements on climate and keeping the Paris Agreement's 1.5°C goal within reach.
One section calls for a "fully or predominantly decarbonized power sector by 2035."
Another, citing findings by U.N.-convened climate scientists, pledges "increased urgency to reduce global [greenhouse gas] emissions by around 43 percent by 2030 and 60 percent by 2035."
Yes, but: The phrasing on natural gas in the carefully negotiated document is one area where climate activists say it falls short.
Zoom in: It shouts out efficiency and zero-carbon sources to reduce reliance on Russian gas, but adds...
Increased LNG deliveries have an "important" role, and public gas investment can be an "appropriate" — but temporary — response to the current crisis.
It should happen in ways "consistent with our climate objectives without creating lock-in effects" — shorthand for avoiding prolonged use.
The intrigue: The document reflects a compromise that followed diplomatic divides, per multiple reports.
The Financial Times reports that "Germany and Japan prevailed on the continued use of gas and coal respectively."
The NYT reports that the U.K. and France tussled with Germany on gas phrasing.
The Biden team was said to be "caught between" its own climate ambitions, and allies' interest in fossil fuel access, the paper reports.
What they're saying: The hedging about "exceptional" circumstances for gas investments didn't stop activists from calling the meeting a missed opportunity.
"Renewed endorsement for public finance in the gas sector shows that the Leaders, particularly Germany and Japan, are stuck in last year's panic mode," Maria Pastukhova of the climate group E3G said in a statement.
Environmentalists also wanted firmer commitments on time horizons for ending the use of coal-fired power.
👀What we're watching: A couple of other things about the communique (and the coverage it received) caught my eye.
There's a lot on securing minerals needed for energy transition and diversifying supply chains now heavily concentrated in China.
Elsewhere, it reflects concern about ensuring that hydrogen is produced cleanly (right now most production uses fossil fuels).
There's a need for "international standards and certification including for a GHG calculation methodology."
2. Extreme weather and climate disasters' unequal burden
An updated, authoritative United Nations disasters analysis out this morning shows there were nearly 12,000 disasters attributable to extreme weather and climate-related events during the 1970-2021 period, Andrew writes.
The big picture: Such disasters are becoming more expensive, with a total bill of $4.3 trillion and rising. Meantime, however, they are getting less deadly.
The pattern of disasters highlights global inequality, with more than 90% of around 2 million deaths during this period taking place in developing countries.
However, the vast majority of economic losses stemmed from industrialized countries.
Climate change is influencing the frequency and severity of certain extreme weather and climate events, particularly heat waves, extreme precipitation events and tropical cyclones.
However, climate change is not thought to be the biggest driver of disaster loss trends, other research has found.
Zoom in: The update to the World Meteorological Organization's Atlas of Mortality and Economic Losses from Weather, Climate and Water-related Hazards, extends the disaster metrics to 51 years.
The U.S. alone took a $1.7 trillion hit during the 1970-2021 period, accounting for about 40% of economic losses during the past 51 years.
Extreme temperatures were the leading cause of reported deaths and floods drove the biggest costs, the WMO found.
With many extreme weather and climate events becoming more common and severe, the future of disaster losses will hinge on societal exposure to such hazards.
What we're watching: How the U.N.'s push to deploy early warning systems to every country by 2027 progresses.
3. Breaking: Chevron grows U.S. holdings in $7.6B deal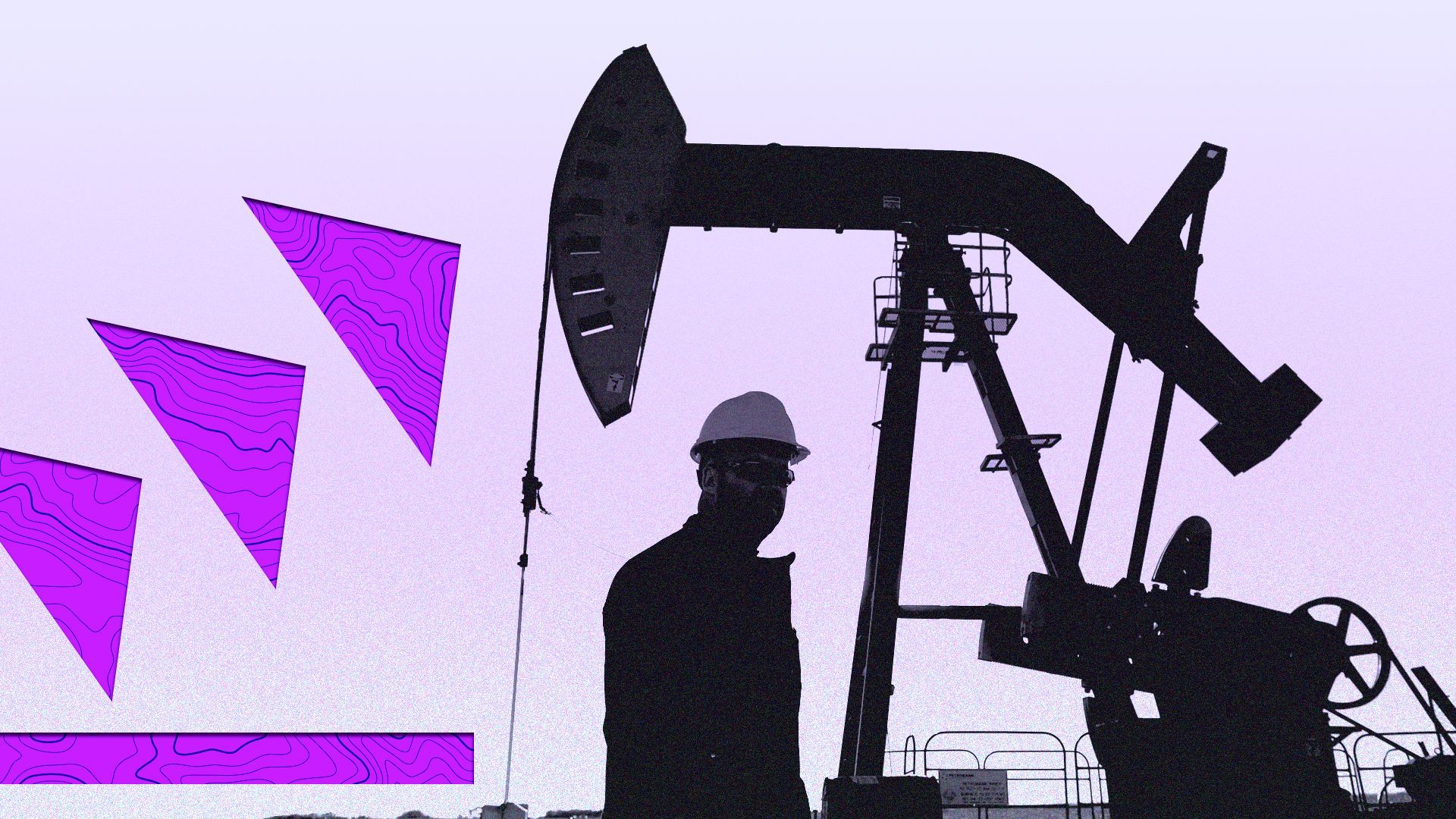 Chevron this morning announced an all-stock deal valued at $7.6 billion, including debt, to acquire the oil and natural gas producer PDC Energy, Ben writes.
Driving the news: The agreement will add 10% to Chevron's proven reserves on an oil-equivalent basis, the companies said.
Most acreage in the deal sits in the Denver-Julesburg Basin in Colorado, but it also adds to Chevron's Texas holdings in the Permian Basin.
"PDC's attractive and complementary assets strengthen Chevron's position in key U.S. production basins," Chevron CEO Mike Wirth said in a statement.
What we're watching: Is this the start of a trend? Oil M&A was fairly quiet in 2022 and so far this year. But multiple analysts predict a wave of deals.
4. Catch up fast on electric vehicles: Volvo, Exxon, Ford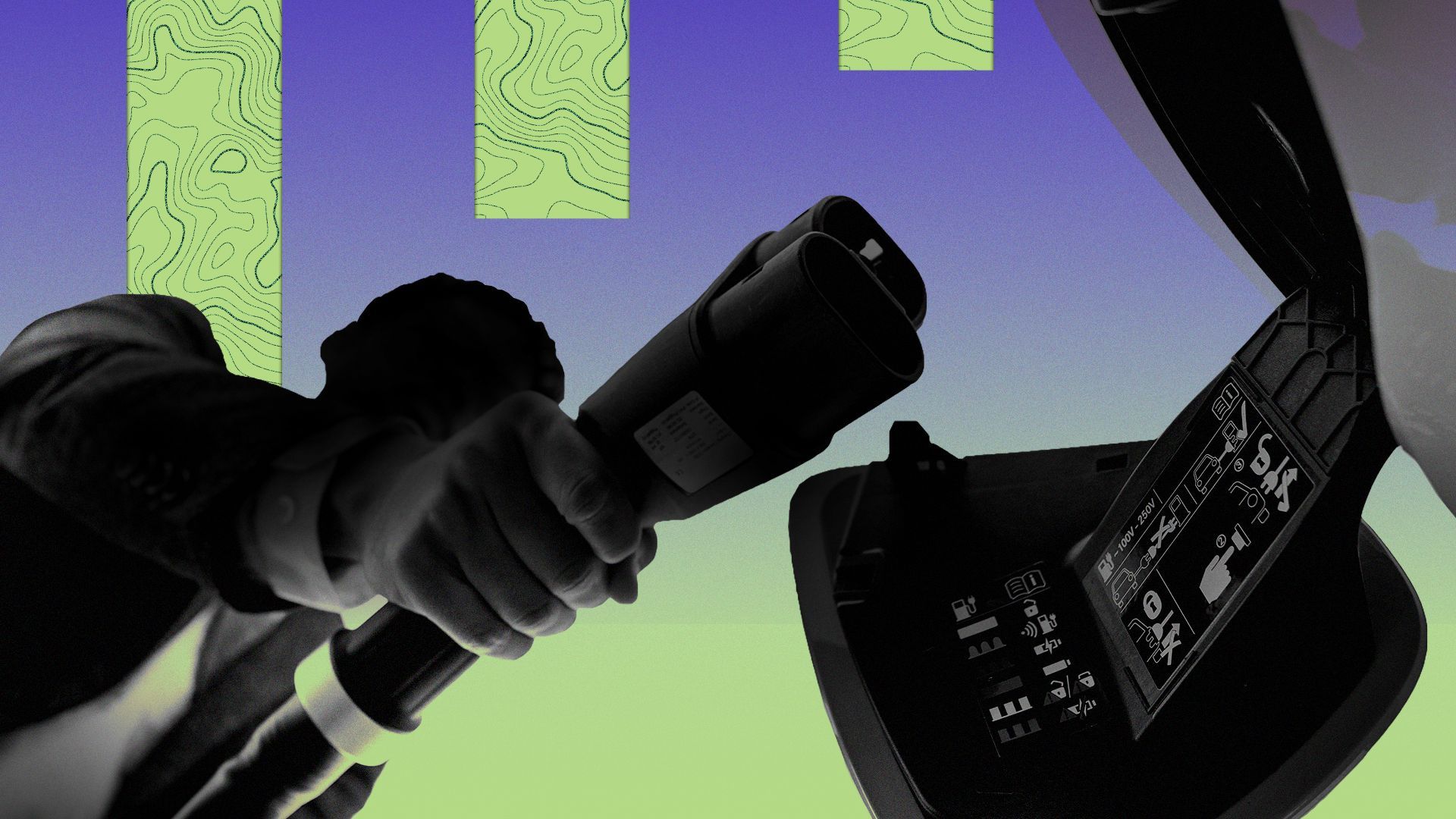 🚛Volvo has a "letter of intent" to sell up to 1,000 electric trucks to multinational building materials giant Holcim by 2030, the companies announced Monday morning, Ben writes.
Why it matters: It's the largest commercial order to date for Volvo electric trucks, with the first deliveries beginning this year, they said. Reuters has more.
👀"Ford Motor Co on Monday unveiled a clutch of deals for the supply of battery material lithium, as the U.S. automaker aims to meet its target of 2-million electric vehicle production by 2026 and close the gap on market leader Tesla Inc.," Reuters reports.
⛏️Exxon recently purchased lithium drilling rights in an Arkansas region, the Wall Street Journal reports, citing people familiar with the transaction.
Why it matters: Exxon is "looking to gain a foothold in a region believed to contain vast lithium reserves, both to produce the mineral and to test the viability of extraction technologies," the WSJ reports.
5. EV battery-swapping gets a reboot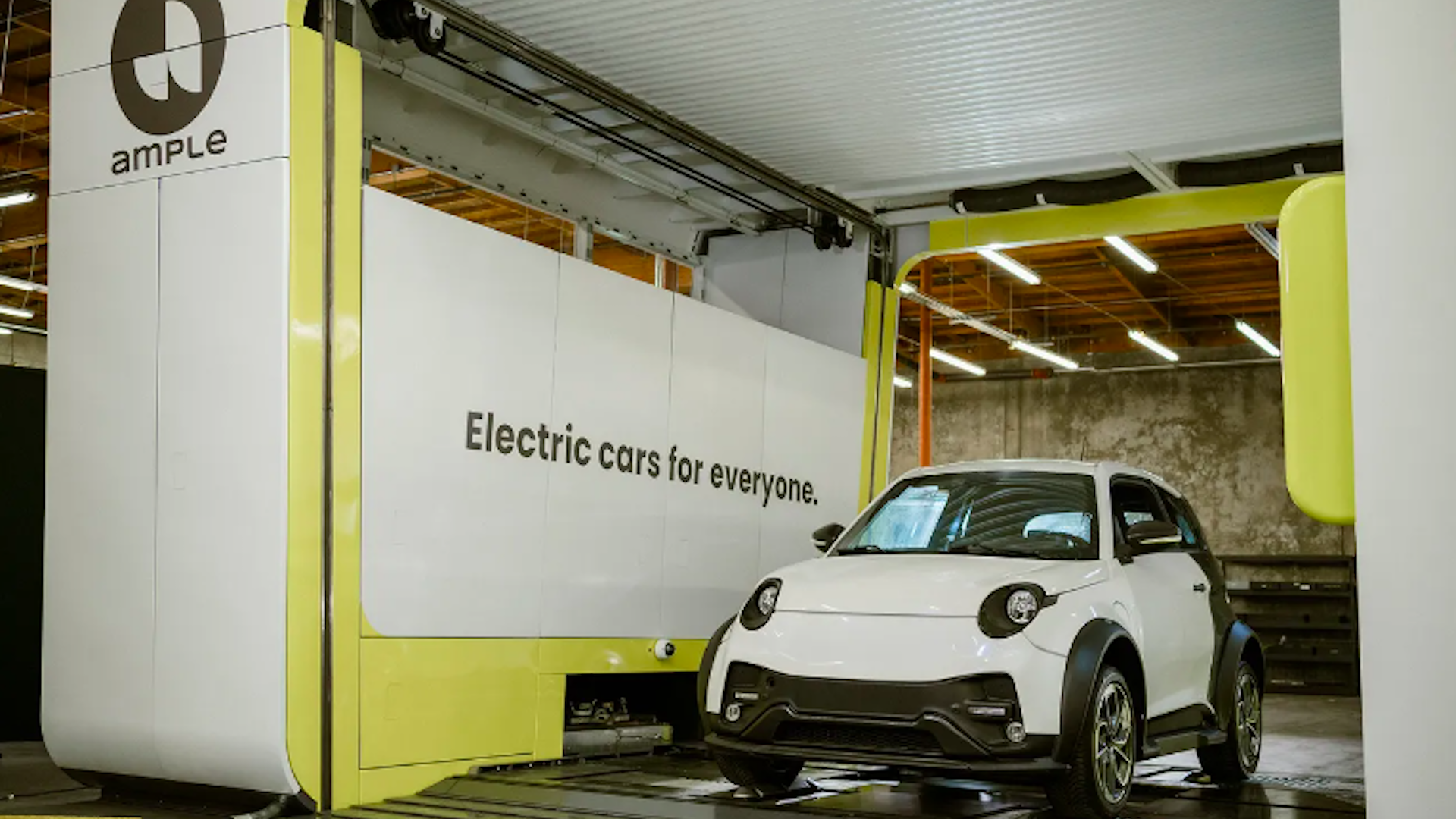 Speaking of EVs, charging is a time-consuming burden — which is why the notion of battery swapping is still percolating, Axios' Joann Muller reports.
Why it matters: Although the idea of swapping has been dismissed as unworkable by Tesla CEO Elon Musk and many others, many drivers won't embrace EVs unless the refueling experience is as seamless as filling up a gas tank.
Driving the news: Ample, a California battery-swapping startup, is introducing a streamlined station that cuts the process in half, to about five minutes.
That's about the time it takes to fill a gas tank — and far less than the 30 minutes or more it takes to recharge most EVs at public fast-chargers.
State of play: Ample's pre-fab stations can be deployed across a city within days. By installing multiple bays at a location, it can accommodate several cars at once.
Ample has been experimenting with battery swaps for Uber drivers in San Francisco, and recently expanded to Spain and Japan.
It also just signed a deal with EV maker Fisker to install its swappable batteries in the automaker's upcoming Ocean SUV.
Ample will initially target commercial operators, including ride-hailing and delivery vehicles.
How it works: Ample makes modular battery packs that can be integrated into EVs of any size and swapped out when depleted.
The shoebox-size modules fit within an adaptor plate designed to match the shape and size of a given vehicle's original battery.
6. A massive number of lakes are drying out worldwide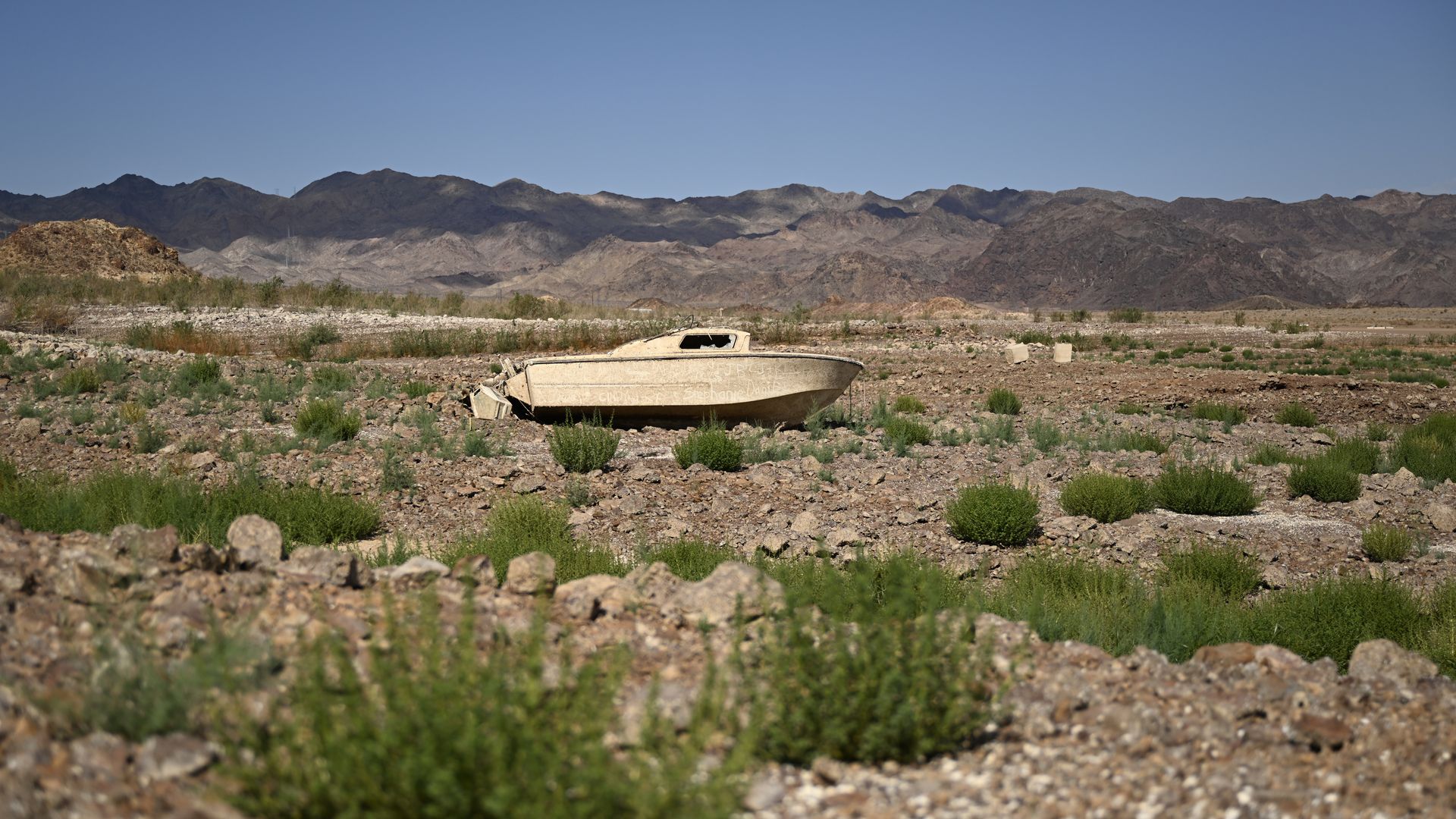 More than half of the world's largest lakes and reservoirs are losing water — with climate change and human consumption as the main drivers, Axios' Rebecca Falconer reports.
The big picture: According to a new large-scale study in Science, about one-quarter of the world's population, or 2 billion people, lives in the basin of a drying lake.
Why it matters: The findings underscore an urgent need to incorporate climate change and sedimentation impacts into sustainable water resources management.
This helps "protect essential ecosystem services such as freshwater storage, food supply, waterbird habitat, cycling of pollutants and nutrients, and recreation," per an editor's summary.
How it works: The team of international researchers looked at 250,000 lake-area satellite images, taken from 1992 until 2020, to examine 1,972 freshwater bodies.
What they found: 53% of lakes globally experienced a drop in water storage during that period — a water loss equivalent in volume to 17 Lake Meads, the largest reservoir in the U.S.
📬 Did a friend send you this newsletter? Welcome, please sign up.
🙏 Thanks to Gail Hughes and Javier David for edits to today's edition, along with the talented Axios Visuals team.
*Hat tip to Albumism for today's music milestone.