Axios Generate
October 20, 2020
Welcome back! Today's Smart Brevity count: 1,217 words, 4.5 minutes
🚨 Situational awareness: "General Motors is expected to reveal that it will build the Cadillac Lyriq electric SUV at its factory in Spring Hill, Tennessee, when it makes a major manufacturing announcement on Tuesday." (AP)
🎵 And happy birthday to the late Tom Petty. Yesterday marked the 1979 release date of "Damn the Torpedoes," which provides today's intro tune...
1 big thing: The U.S.-China climate rupture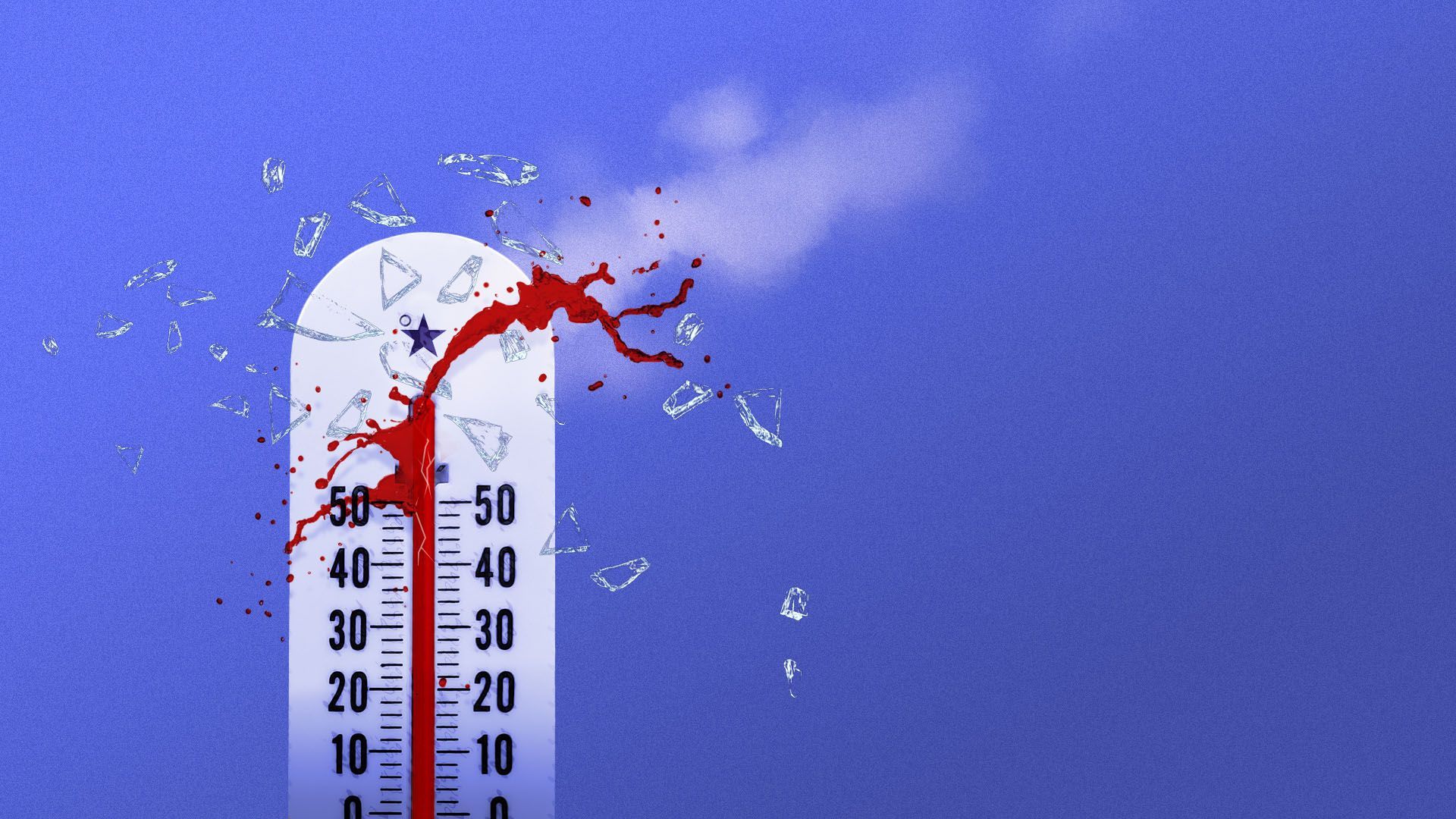 Well that, as Ron Burgundy would say, escalated quickly. China's foreign ministry is accusing the Trump administration of "major retrogression" on climate and being an environmental "troublemaker."
Why it matters: China's unusual statement Monday widens the rupture between the world's largest carbon emitters as global climate efforts are flagging and the pandemic's effect on emissions is too small to be consequential in the long term.
Our thought bubble, via Axios' Bethany Allen-Ebrahimian: This is a pretty smart line of attack for Beijing, which seems to have determined that a world increasingly wary of China would still welcome its climate leadership, particularly given the U.S. abandonment of this issue under President Trump.
Driving the news: The Chinese statement knocks the U.S. for being the largest cumulative greenhouse gas source in history.
That's true, though China surpassed the U.S. as the world's largest annual polluter roughly 15 years ago and the gap has only widened.
China attacks Trump's decision to abandon the Paris Agreement and the administration's moves to roll back Obama-era emissions rules.
But it goes far beyond climate and hits Trump's record on biodiversity and more.
Catch up fast: China's accusations follow the State Department's Sept. 25 statement attacking China over its massive emissions growth this century, its record on marine debris and logging, and other areas.
The State's strongly worded missive, in turn, had come three days after China's surprise announcement that it would aim for "carbon neutrality" by 2060 and a CO2 emissions peak before 2030.
Between the lines: It's hard to untether the flare-up from the election.
Climate diplomacy expert Andrew Light said China is looking to be seen as a leader even in a world where the U.S. resumes taking big steps.
"It looks to me like they are trying to get ahead of a possible Biden win and reversal of Trump's positions on domestic and international climate and environment," said Light, a senior climate aide in former President Obama's State Department.
What we're watching: The upcoming election. Joe Biden has vowed a mix of new international climate policies beyond simply rejoining the Paris deal. When it comes to China specifically, his proposals include...
Ramping up pressure on China to make its global Belt and Road Initiative on infrastructure more climate-friendly.
Encouraging future U.S.-China agreements on CO2, but making them "contingent on China eliminating unjustified export subsidies for coal and other high-emissions technologies."
The other side: A State Department spokesperson, in a statement responding to China's new attack, said the U.S. has "long recognized China's abysmal environmental record and called on China to improve in various international fora."
"We continue to call on China to not just make empty promises and release statements but actually invest in improving the quality of its own air, water, and soil."
2. Sizing up China's 2060 plan
China's vow to reach carbon neutrality by 2060 is starting to produce some helpful analyses of how the world's largest greenhouse gas emitter (and it's not even close) might actually get there.
Why it matters: The plan seems to be achievable, in theory, but the numbers around the needed expansion of carbon-free power, industrial fuels and vehicles are pretty wild.
How it works: Check out this Carbon Brief post by Lauri Myllyvirta of the Centre for Research on Energy and Clean Air. Here's part of his breakdown of a Tsinghua University analysis making the rounds...
"[I]t means growing China's solar power capacity about 10-fold and wind and nuclear power capacity seven-fold by 2050. At that point, China would have more than four times as much solar power capacity and three times as much wind power capacity as the entire world has today, while nuclear power capacity would reach 80% of the current global total.
"However, what is striking about the scenarios is that the actual increase in rates of clean energy uptake are quite modest, given the scale that the industry has already reached in China."
Go deeper: How China could be carbon neutral by mid-century (Nature)
3. The big shale shake-up is here
It's really on now. Last night, the Wall Street Journal reported that Pioneer Natural Resources is in talks to buy Parsley Energy, and the Financial Times followed with a similar story about the big independents.
Why it matters: A wave of shale patch consolidation, predicted since the pandemic started hammering the industry's already difficult finances, now seems to be happening.
State of play: Reports of a Pioneer-Parsley deal arrived the same day that ConocoPhillips announced a $9.7 billion all-stock deal to acquire Concho Resources.
Devon Energy and WPX Energy announced a merger in late September.
And, don't forget Chevron's deal to buy the big independent Noble Energy announced in July.
Bonus chart: The shale players
This chart could soon look pretty different at this pace, but right now that's the 10 largest U.S. shale oil producers based on Wood Mackenzie data.
Why it matters: It shows how the ConocoPhillips' planned acquisition of Concho Resources announced yesterday would put the combined company in third place, per WoodMac's tally.
What they're saying: Robert Clarke, a top WoodMac analyst, says the deal makes sense.
He notes that Concho's history gives them a lot of "incumbent" knowledge about the prolific Permian Basin, while Conoco is a "proven leader" in shale tech overall.
"This can be seen in how its Bakken and Eagle Ford projects have progressed down the cost curve as well as how successfully it manages later-life shale declines," he adds.
Of note: The chart looks at data from this year, which has seen lower production due to the pandemic.
The figures don't reflect Chevron's just-completed acquisition of Noble Energy, nor Devon Energy's proposed merger with WPX Energy, which would put them on the list.
4. 1 election thing: Possible impact on recycling
There are all kinds of ways that a potential Joe Biden presidency would differ from President Trump, and one of them is recycling, per a recent BloombergNEF analysis.
Driving the news: "The issue has received scant attention in the Biden-Trump face-off, but given their larger ambitions, it is possible to predict how the candidates would address it," BNEF said.
The chart above is part of a much wider look at policy differences in the election.
How it works: Their analysis of Biden assumes passage of stalled legislation called the Break Free From Plastic Pollution Act, which they note includes new targets, taxes on waste and requirements on plastic producers.
They say Trump has shown "no willingness" to work with Congress on the topic, so the projection under Trump assumes "business as usual" federal policy with additional recycling driven by corporate and state policies.
The intrigue: I don't know what Biden might do using executive authority if there's no legislation, but BNEF expects his administration would be "sympathetic to the objectives" of the bill they modeled.
5. Exxon: Trump's hypothetical was REALLY hypothetical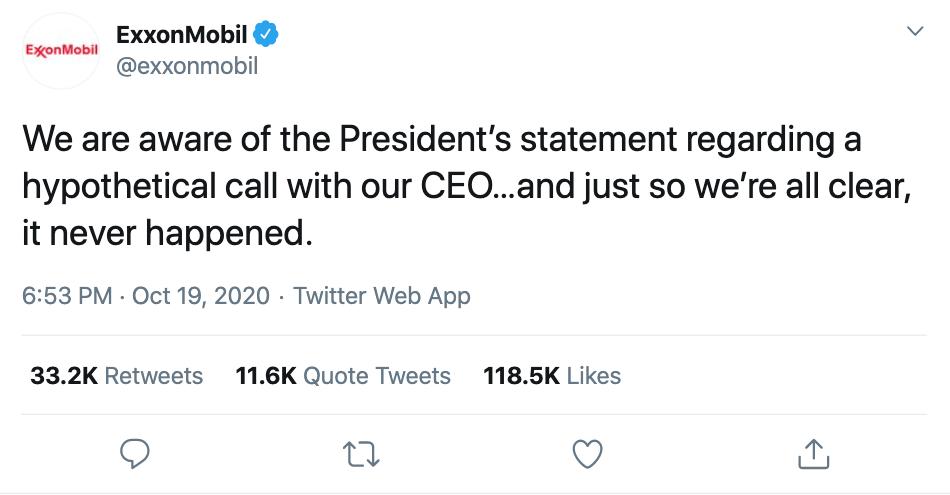 I'm not sure this was strange by 2020 standards, but it was strange! Last night Exxon tweeted that statement after Trump described a hypothetical and very transactional call with its CEO.
Driving the news: Trump, at an Arizona campaign rally, was riffing on Biden's fundraising advantage and claimed he could raise more if he pressured giant companies, but doesn't want to be "compromised."
Then he turned to a hypothetical call with the head of Exxon in which he said: "'Hi, how you doing? How's the energy coming? When are you doing the exploration? Oh, you need a couple of permits. Huh? Okay.'"
Trump went on to say he could ask for him "to send me $25 million for the campaign," to which he said the executive would reply: "Absolutely sir."
Quick take: The oil-and-gas industry favors Trump with its political giving (though Exxon is hedging its bets a bit), but things can get awkward too.
Go deeper: ExxonMobil on Trump's hypothetical phone call: "It never happened"