Axios Generate
January 14, 2021
Good morning. Today's Smart Brevity count: 1,336 words, 5 minutes.
🚨Join Axios' Amy Harder, co-founders Mike Allen and Jim VandeHei, and other Axios reporters today at 12:30pm ET for our Town Hall event, where we'll discuss what's ahead for our team in 2021. RSVP here.
🎶And at this moment 20 years ago, Destiny's Child was atop the Billboard singles charts with today's terrific intro tune...
1 big thing: Putting carbon removal on crisis footing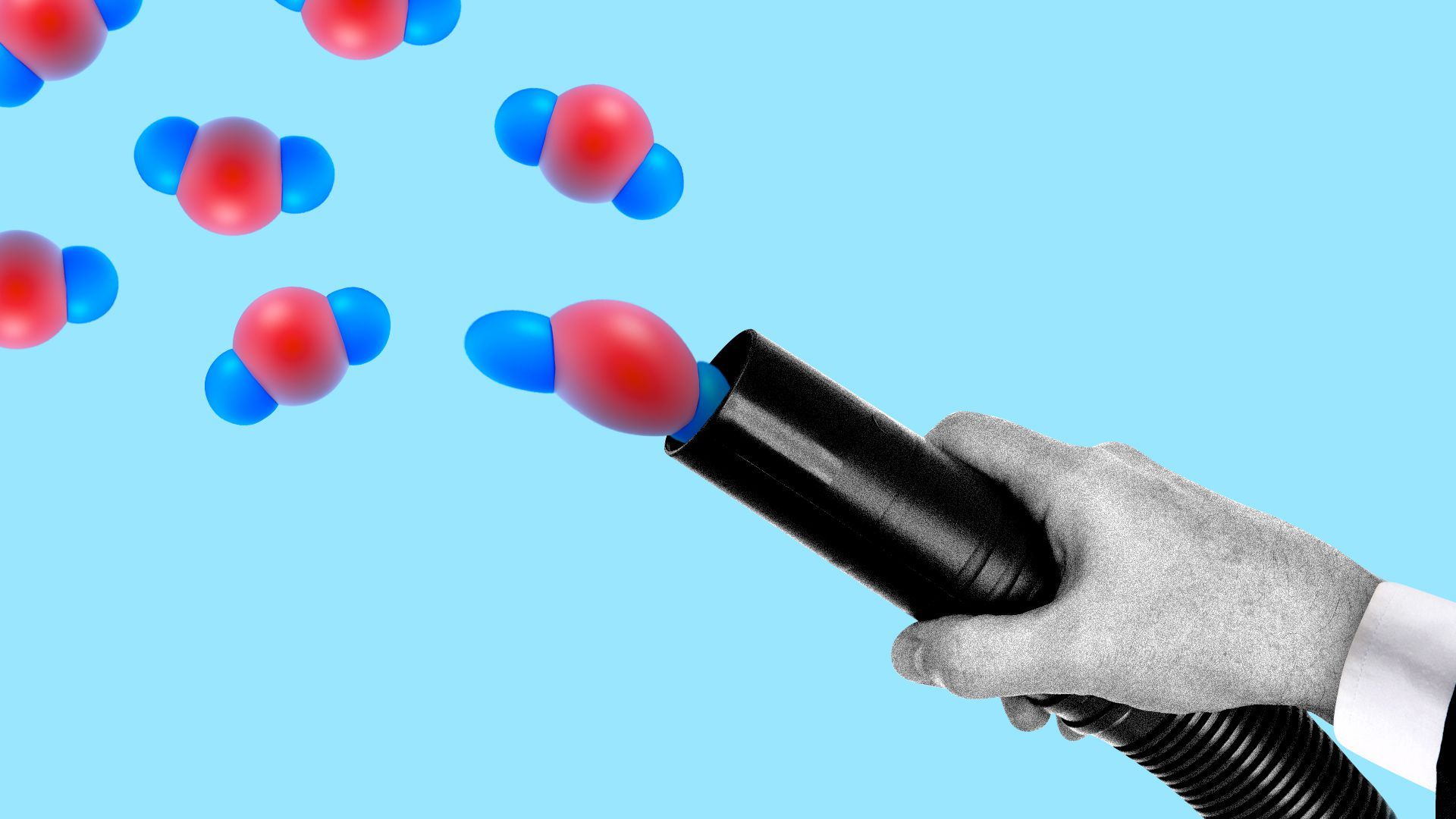 New peer-reviewed research lays out a case for quickly launching huge global investments to scale up a nascent and currently quite an expensive weapon against climate change: machines that pull carbon dioxide from the atmosphere.
The big picture: The Nature Communications study is a stab at carefully gaming out a "crisis" response to a huge problem: Nations' pace of cutting new emissions falls well short of what's needed to limit temperatures in line with the Paris deal goals.
It explores the costs and effects of massively building out "direct air capture" that companies like Carbon Engineering and Climeworks hope to deploy at a commercial scale.
DAC is among the tech that can theoretically complement renewables, electric cars, hydrogen, efficiency, and other tech that mitigates new emissions.
Why it matters: One big takeaway is that DAC can play an important role in limiting warming. But at the same time, even a mammoth build-out would be nowhere near a silver bullet!
Much stronger efforts to stem new emissions are needed to prevent warming from blowing past the Paris goal of holding temperature rise to 1.5ºC-2ºC above preindustrial levels.
"[D]espite an emergency DAC program that removes prodigious amounts of CO2 (multiple gigatonnes annually by 2050 and rising substantially thereafter), concurrent deep mitigation of emissions...is still required to meet the Paris goal of limiting warming to 2ºC," it finds.
By the numbers: The study models a crash program — starting at over $1 trillion annually — that would eventually spur deployment of as many as 12,700 plants by the end of the century.
If that occurred alongside current emissions-cutting policy trends, temperatures would still rise 2.4–2.5ºC in 2100.
The study also finds that massive DAC deployment will consume lots of energy, consuming around 9%-14% of global electricity use in 2075.
The intrigue: The paper from UC-San Diego researchers melds detailed modeling of DAC scale-up with the realpolitik of emissions policy.
The authors note, in essence, that DAC finance could have political legs because it's not a threat to "entrenched" industrial interests.
A couple of other takeaways...
Don't wait. The temperature-limiting potential is worth the upfront money because near-term deployments "enhance future scalability."
A crash program to begin widespread deployment is still a climate win even when paired with power grids that rely on natural gas.
"[T]he near-term political approach to crash deployment should seek not to maximize CO2 removals but rather to deploy many plants to push the technology down the learning curve—which does not require fully decarbonized energy supplies," it notes.
Catch up fast: The study arrives amid growing attention to negative emissions, or carbon removal, technologies overall.
A major 2018 UN study found that pulling CO2 out of the atmosphere — not only cutting new emissions — will be an important tool for limiting global temperature rise.
Corporate giants including Microsoft, Amazon, Chevron and others are investing in various forms of negative emissions companies and projects.
2. Breaking: Biden unveils White House climate staff picks
Joe Biden's transition team this morning rolled out a team of top White House climate aides.
Why it matters: The crew staffing the new White House Office of Domestic Climate Policy will help oversee what the incoming administration says will be an aggressive, government-wide approach to the topic.
Driving the news: The choices include...
Maggie Thomas, a climate adviser on the presidential campaigns of Sen. Elizabeth Warren and Washington State Gov. Jay Inslee, will be the new office's chief of staff.
Quick take: The choice will please progressive activists, who were fans of Inslee's expansive platform during his climate-focused primary campaign.
Sonia Aggarwal will be senior adviser for climate policy and innovation. She's a co-founder and VP of the research firm Energy Innovation.
David Hayes, a top Interior Department official in the Obama years, will be special assistant to the president for climate policy. He's coming from a climate-focused center at NYU law school.
Jahi Wise will be senior adviser for climate policy and finance. He's coming from his role as policy director for the Coalition for Green Capital.
And in a related office, Cecilia Martinez will be senior director for environmental justice at the White House Council on Environmental Quality.
She's coming from her role as co-founder and executive director at the Center for Earth, Energy, and Democracy.
3. VC funding for climate tech grows
Axios' Amy Harder reports...Venture capital investment into technologies aimed at combating climate change reached a record high in 2020, according to PitchBook, a private market data firm.
Why it matters: Clean-energy technologies must increase substantially to drastically reduce greenhouse gas emissions over the next 30 years. It's also notable that the pandemic didn't dampen the trend.
By the numbers: The climate technology market amounts to around $2.5 trillion, per PitchBook.
In 2020, VC deals amounted to $16.4 billion, which barely surpassed 2018's total of $16.3 billion.
However, 2018 saw more deals (448) compared to 2020 (416).
Venture capital investments in this space started increasing significantly in 2016 and 2017, despite President Trump's dismissal of the problem.
For context, the overall amount of global venture capital investment in 2019 was a little more than $300 billion, per PitchBook.
How it works: PitchBook broadly defines climate technology as including energy, transportation, agriculture, buildings, industry, materials, resources, and adapting to the impacts of a warming world.
The big picture: Moves by major emitting nations, such as China, Japan and the United States (under President-elect Joe Biden), to commit to aggressively cutting emissions over the next 30 years are set to drive even more investment, the report states.
The impacts of a warming world is also a big factor, it says.
"Whether it be water scarcity or flash flooding, people around the world are feeling the effects of climate change more viscerally, putting their plight in greater focus and spurring governments to take the issue more seriously," states a report PitchBook wrote on this topic last year.
4. Oil majors deepen push into offshore wind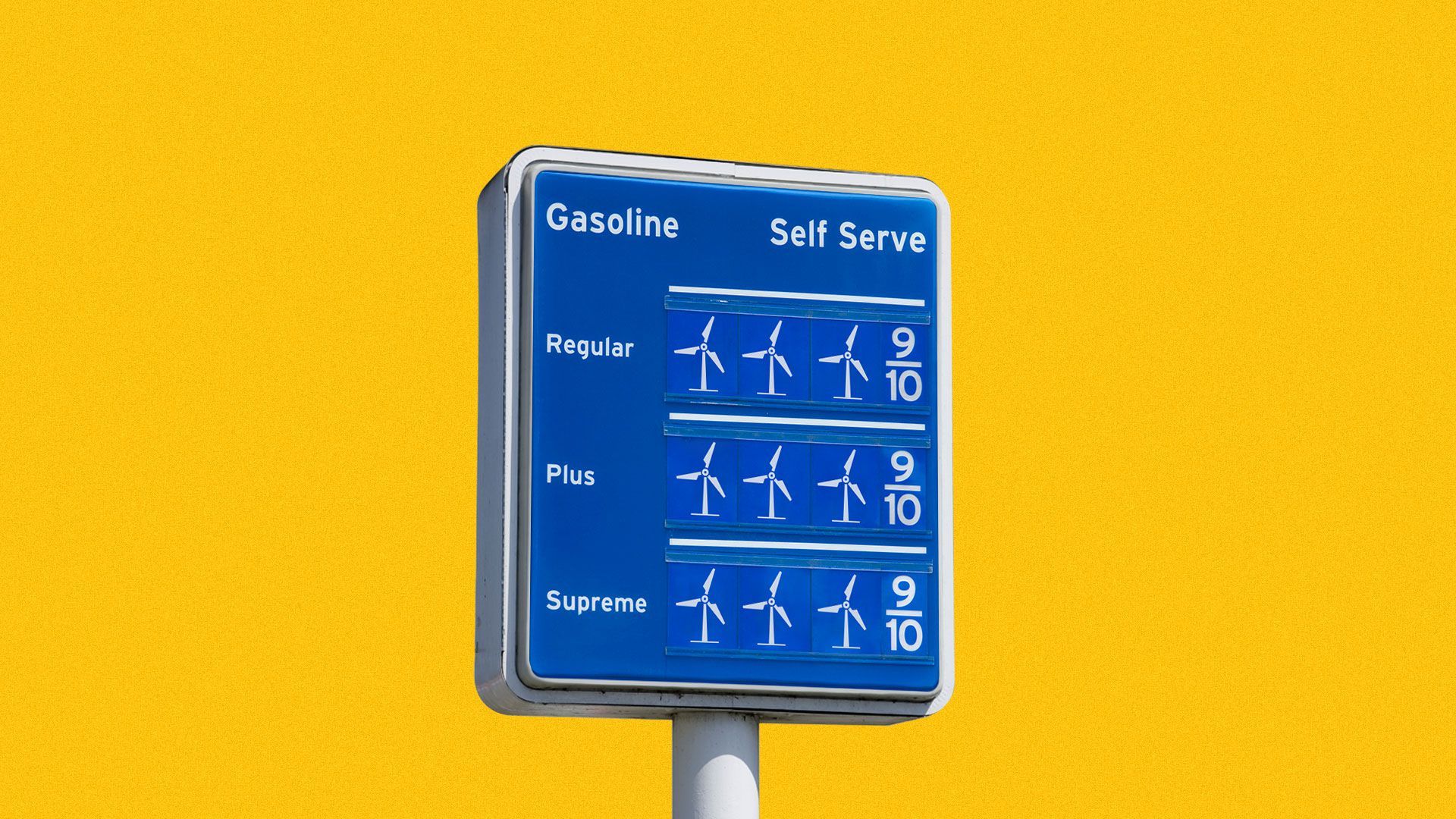 The last day has brought new signs of multinational oil majors' deepening push into offshore wind.
Driving the news: France's Total is teaming up with Spain-based global power giant Iberdrola to develop what they say will be one of the world's largest offshore wind farms off Denmark's coast.
"The 50/50 partnership has been pre-qualified by the Danish Energy Agency to submit a bid for the Thor offshore wind farm in the Danish North Sea," the companies said.
The project will have power generating capacity of up to 1 gigawatt and it's slated to come online as soon as 2025, they said this morning.
Driving the news, part 2: New York State officials yesterday announced contracts with Equinor, the Norway-based global oil giant, for a pair of offshore wind projects.
The two farms will have a combined capacity of nearly 2.5 gigawatts, Equinor said of the projects — Empire Wind 2 and Beacon Wind 1.
They come on top of Equinor's planned Empire Wind 1 project off New York. BP is Equinor's strategic partner in the developments.
Yes, but: Renewables and low-carbon energy overall are currently a small part of oil majors' overall capital spending, with fossil fuels remaining their dominant business lines.
The big picture: Via Reuters, "European oil firms such as Equinor and BP are under pressure from activists, banks, investors and some governments to shift away from fossil fuels, and analysts say offshore wind farms are probably the quickest way for them to do so."
5. Catch up fast: Science, China, lobbying, hydropower
Warnings: "The world is on track for a 'ghastly future,' an international group of scientists has warned, with accelerating climate change and biodiversity loss threatening the survival of all of the planet's species unless world leaders face up to the challenge and act urgently." (CNN)
Plans: "China will promote large-scale carbon capture projects and track methane emissions from coal and oil and gas extraction, as part of its contribution to global efforts to limit temperature rises, the environment ministry said on Wednesday." (Reuters)
K Street: "The largest U.S. oil and gas lobby group is promising to fight President-elect Joe Biden's proposed ban on new oil and gas drilling on public lands and waters, but the fossil fuel industry also sees opportunities to work with the new administration on combating climate change." (Washington Examiner)
Renewables: "Dams built long ago to control floods or ease river transport are gaining attention as a potential zero-carbon electricity source in the US, as environmentalists and the hydropower industry drop their longstanding antagonism in the face of climate change." (Financial Times)