Good morning from New York! I'm here to check out the Bloomberg New Energy Finance conference and speak on a panel Wednesday. 
My latest column seeks to put the EPA chief's latest controversies into some much-needed, big-picture context. I'll share that and then hand the newsletter reins back to Ben Geman. 
https://www.axios.com/newsletters/axios-generate-7d2d679c-7c6a-4612-bb04-710002a4c246.html?chunk=0#story0
The grand irrelevance of Scott Pruitt's antics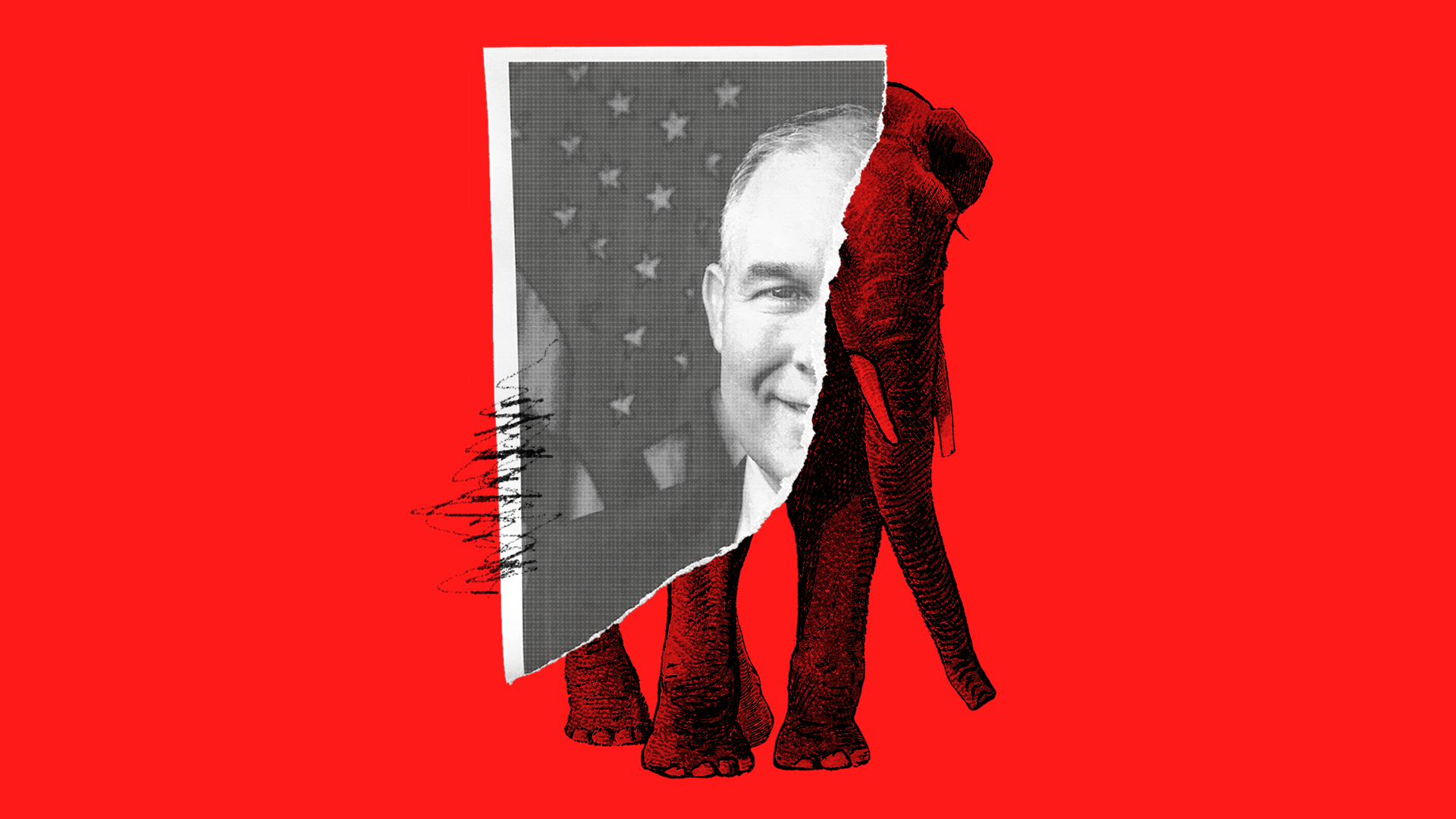 Illustration: Rebecca Zisser/Axios
Scott Pruitt has been lodging, spending, flying and staffing his way into a hot political mess that could end his career — antics that are both ridiculous and irrelevant in the grand scheme of America's environmental policy.
The big picture: Pruitt's environmental views are actually in line with most conservative elected officials since Ronald Reagan was made president in 1980. What's different is how empowered Pruitt is under President Trump. However, the other points — most GOP lawmakers' dismissive view of climate change and the prior administration's expansion of regulation — will not change when and if Pruitt resigns.
There is good reason why Pruitt's antics have blown up into a bigger issue than his policies. Most people relate more to a juicy story about someone's character and ethics than they do to the policy that ultimately makes the biggest difference.
But Pruitt's actions are a distraction from what really matters — the midterm elections later this year could shake things up. If Democrats gain control of one or both chambers of Congress, GOP efforts to roll back Obama's regulations would be more difficult with increased congressional oversight.
Bottom line: People who think Pruitt's policies would end if he leaves need a reality check. Everyone working under Pruitt, and anyone who would replace Pruitt as EPA chief, would embody similar policies. The dismantling of the last administration's environmental agenda would continue as long as Republicans control the White House.
More: Check out the rest in the Axios stream here.
Meanwhile, eyes will be on the Senate floor, since as soon as this week the Senate will take up the nomination of Andrew Wheeler for the number two position at EPA. Wheeler is a lobbyist who has represented clients like coal producer Murray Energy and is a former longtime Capitol Hill aide.
Why it matters: Wheeler could find himself atop the agency if Pruitt is jettisoned.
https://www.axios.com/newsletters/axios-generate-7d2d679c-7c6a-4612-bb04-710002a4c246.html?chunk=1#story1
On our radar this week: oil markets and Congress
Oil markets: The latest edition of the International Energy Agency's monthly oil market report drops Friday.
Cabinet nominee: CIA chief Mike Pompeo, the nominee to replace Secretary of State Rex Tillerson, will appear before the Senate Foreign Relations Committee on Thursday.
Why it matters: We'll be listening for his specific views on reimposition of Iran energy sanctions and, if it comes up, State's climate and energy work.
Cabinet secretaries: Department heads of Interior and Energy will take questions from lawmakers this week.
Interior secretary Ryan Zinke will appear before a House Appropriations subcommittee on Wednesday to go over the fiscal year 2019 budget request.
Energy secretary Rick Perry will appear before a House Energy and Commerce subcommittee on Thursday to chat about DOE's budget request.
Puerto Rico: Wednesday brings a House Energy and Commerce subcommittee hearing on the status of power infrastructure and restoration on the island. Several high-level Trump administration officials will appear.
https://www.axios.com/newsletters/axios-generate-7d2d679c-7c6a-4612-bb04-710002a4c246.html?chunk=2#story2
New OPEC headwind: trade tensions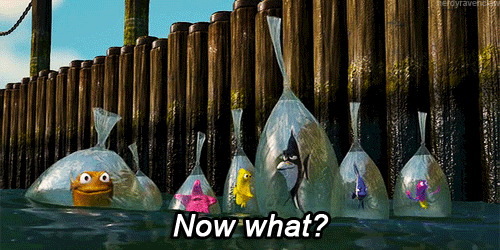 New risk: Escalating trade disputes that slow oil demand growth could be a problem for OPEC producers' ongoing effort to tighten global crude markets, according to recently published analysis.
"Current talk of potential 'trade wars' could dampen growth and hence it should constitute a serious source of concern for OPEC," states the Oxford Institute for Energy Studies paper.
"If current demand growth momentum is lost and OPEC decides to deepen its output cuts to balance the market, it would need to curb over 1.0 [million barrels per day] on top of the current pledge for prices to return above $65 (assuming global growth falls to 1%)," it adds.
The context: This paper explores the role of global demand growth in shaping the cartel's decision-making in recent years, and how it could affect the exit strategy from the output-cutting deal with Russia.
One level deeper: The paper arrives as other analysts are also warning that the escalating U.S.-China trade tensions could act as a brake on crude demand growth.
Per Reuters, the consultancy Ritterbusch and Associates said in a note late last week: "The heightened possibility of an outright tariff war is conjuring up images of slowed economic growth that could curtail the strong oil demand that has helped to revive a strong pricing environment during the past couple of months."
https://www.axios.com/newsletters/axios-generate-7d2d679c-7c6a-4612-bb04-710002a4c246.html?chunk=3#story3
Petro-notes: refining, pipelines, gas prices
Oil sands: Via AP, "Kinder Morgan's controversial Trans Mountain pipeline expansion project that would nearly triple the flow of oil from Canada's oil sands to the Pacific Coast was in doubt Sunday after the company announced a suspension in all non-essential activities and related spending on the project."
The company cited opposition from British Columbia's government.
Why it matters: It underscores how oil sands producers face challenges getting their product from land-locked Alberta to markets amid strong opposition from environmentalists and First Nations groups, legal disputes and other problems.
Not over: Canada's federal government insisted in a statement yesterday that it will find a way for the pipeline to move forward.
Saudi investment: A refining subsidiary of state oil giant Aramco announced preliminary plans with corporate partners Saturday for an $8 billion—$10 billion investment to expand petrochemical development in the Gulf Coast.
One plan would see Aramco unit Motiva work with the firm TechnipFMC on ethylene production. A second memorandum of understanding is between Motiva and Honeywell UOP for building a new petrochem complex.
Yes, but: Final decisions would not come until next year. Bloomberg has more.
Markets: "According to the U.S. Energy Information Administration, average regular retail gas prices reached $2.70 a gallon last week — the highest level since 2015," The Wall Street Journal reports in a story that explains why they may climb higher soon.
https://www.axios.com/newsletters/axios-generate-7d2d679c-7c6a-4612-bb04-710002a4c246.html?chunk=4#story4
Chart of the day: China's bus fleet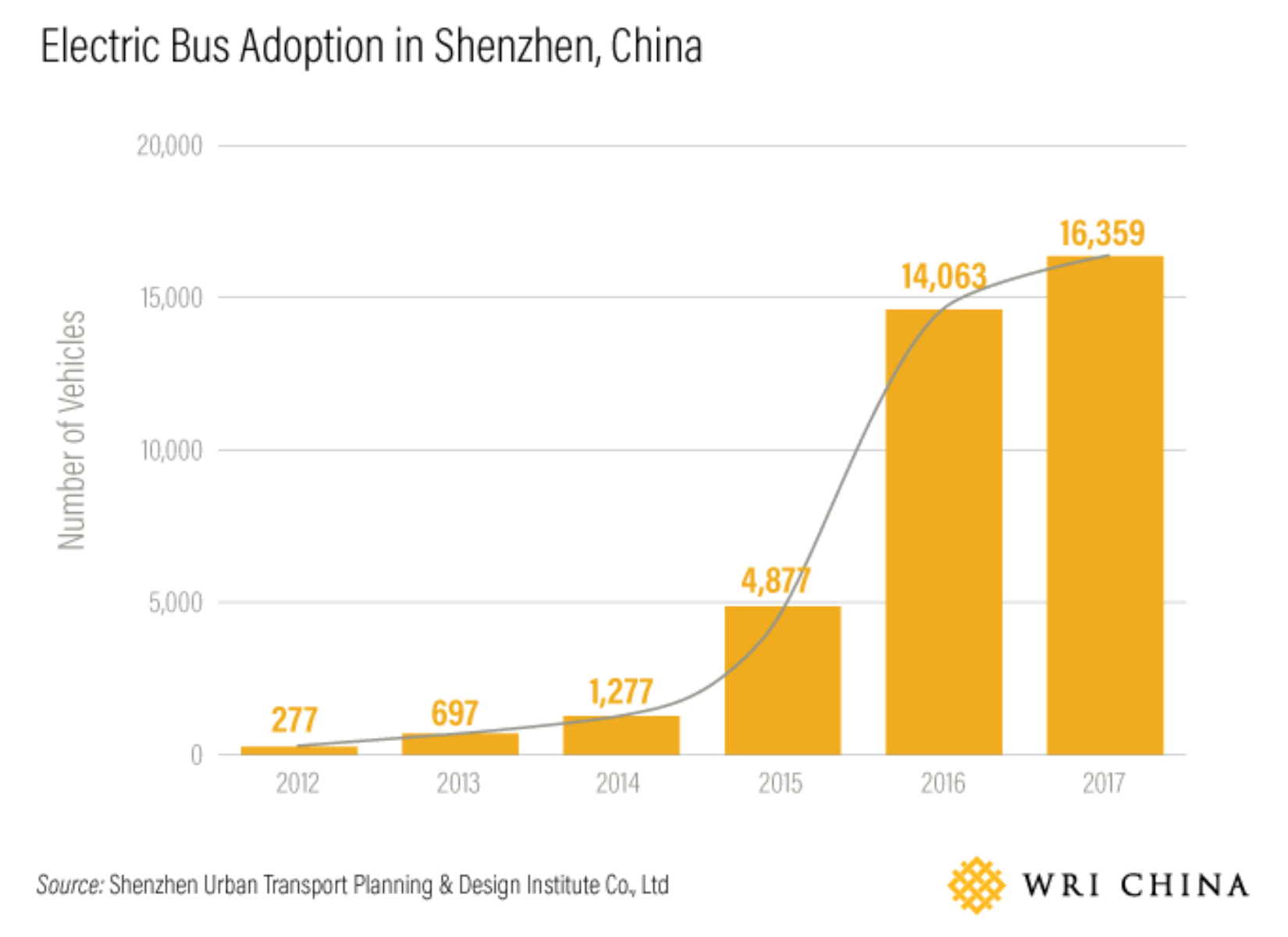 Chart appears in World Resources Institute report, "How Did Shenzhen, China Build World's Largest Electric Bus Fleet?"
This is kind of wild: The World Resources Institute has an interesting explainer about something I didn't know — the city of Shenzhen, China (which has roughly 12 million people), has fully electrified its bus fleet.
"The city's buses are the world's first 100 percent electrified bus fleet, and its largest — bigger than New York's, Los Angeles's, New Jersey's, Chicago's and Toronto's electric bus fleets combined," their analysts write.
The piece looks at the mix of subsidies, charging infrastructure deployment and other factors that enabled the complete transition.
https://www.axios.com/newsletters/axios-generate-7d2d679c-7c6a-4612-bb04-710002a4c246.html?chunk=5#story5
Scott Pruitt news, part 2
The Pruitt story didn't take a weekend break. Major developments over the last couple of days...
Trump's support hardens: On Saturday, the president brushed aside a number of the scandals surrounding Pruitt, tweeting:
"While Security spending was somewhat more than his predecessor, Scott Pruitt has received death threats because of his bold actions at EPA. Record clean Air & Water while saving USA Billions of Dollars. Rent was about market rate, travel expenses OK. Scott is doing a great job!"
Yes, but: Leaving aside the substance (for instance the "about market rate" claim requires a generous interpretation of Pruitt's arrangement last year), it's not clear if that marks the end of the White House review of Pruitt's actions.
H/t to E&E News Kevin Bogardus for raising that question. The White House did not respond to a request for comment from Axios.
Probe confirmed: House Oversight and Government Reform Committee Chairman Trey Gowdy has begun looking into the $50-per-night arrangement.
"The Committee has been looking into Pruitt's condo deal. EPA produced documents to the Committee this week, including both the March 30 and April 4 memos," an aide said Saturday. CNN has more.
Senate criticism: Per The Washington Post, "Three Republican senators expressed concern Sunday about embattled Environmental Protection Agency Administrator Scott Pruitt amid growing scrutiny over his spending and management practices."
Deep-dive: AP reports that EPA "spent millions of dollars for a 20-member full-time detail that is more than three times the size of his predecessor's part-time security contingent."
https://www.axios.com/newsletters/axios-generate-7d2d679c-7c6a-4612-bb04-710002a4c246.html?chunk=6#story6
One fun thing
Electric jolt: Via Quartz, Silicon Valley electric vehicle maker Tesla is looking for a barista in New York. Like a lot of things Tesla, the job posting is written with flair.
From Quartz...
"No hyperbole was left behind. 'Want to change the world?!,' the post asks (shouts?). If so, then the opportunity to craft 'top-notch coffee creations' for Tesla's 'caffeine-dependent' personnel (
about 500
are in New York) is for you, though mere mortals need not apply: 'We're Tesla, so we aren't looking for someone ordinary.'"