Good morning and welcome back!
This week in 1979, Gloria Gaynor had regained the top spot on the Billboard chart with today's intro tune...
https://www.axios.com/newsletters/axios-generate-7b072344-1f3a-48db-9c6f-712abde7eb61.html?chunk=0#story0
Trade: China puts U.S. energy in the crosshairs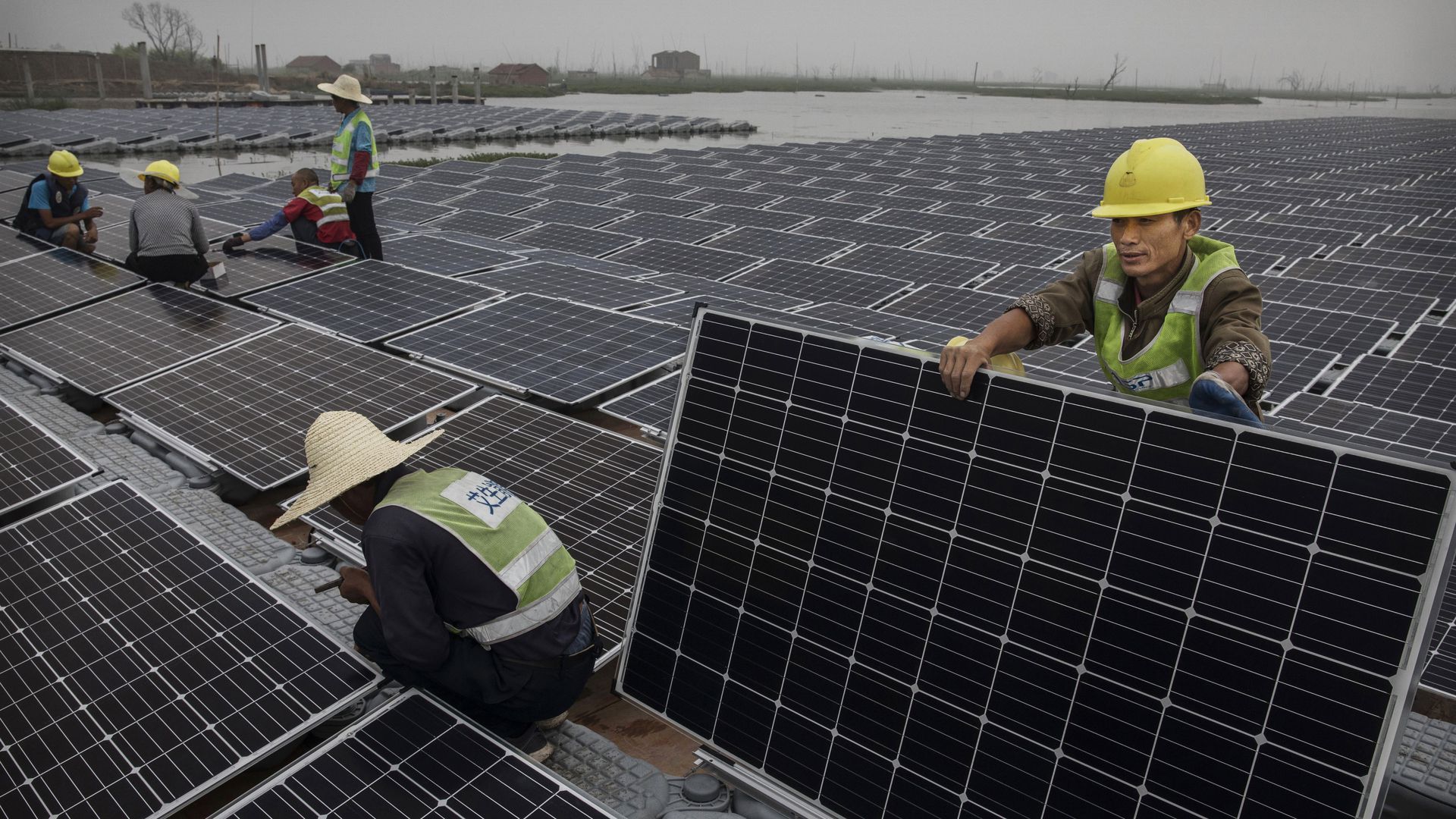 Workers prepare panels that will be part of a large floating solar farm project under construction in 2017, in Huainan, China. Photo: Kevin Frayer via Getty Images
Over in our Expert Voices section, a new piece by ClearView Energy Partners managing director Kevin Book takes stock of U.S.-China trade tensions...
The new tariffs on U.S. steel imports were already poised to raise costs for steel-intensive domestic oil and gas production. But China's proposed retaliatory tariffs on ethanol and propane pose the greatest threat yet to the U.S. energy trade.
The big picture: If tensions continue to escalate, Beijing might target U.S. oil and natural gas, too. While all businesses could face weaker margins if tariffs, quotas and other barriers slow global GDP growth, a trade war with China would prove especially damaging to U.S. energy producers, which have grown increasingly dependent on overseas markets.
https://www.axios.com/newsletters/axios-generate-7b072344-1f3a-48db-9c6f-712abde7eb61.html?chunk=1#story1
Apple claims milestone: 100% renewable power
ICYMI: Apple said Monday that all of its worldwide operations — ranging from retail stores to offices to data centers — are now powered exclusively by renewable energy.
Why it matters: It's a major example in the wider trend of companies getting substantial amounts of electricity directly from renewable projects, not just buying emissions credits or carbon offsets.
The tech giant also said that 9 more of its suppliers have committed to powering their Apple-related work with all zero-carbon energy, which brings the total number of such supplier commitments to 23.
https://www.axios.com/newsletters/axios-generate-7b072344-1f3a-48db-9c6f-712abde7eb61.html?chunk=2#story2
Chart of the day: Warning to drop new coal plants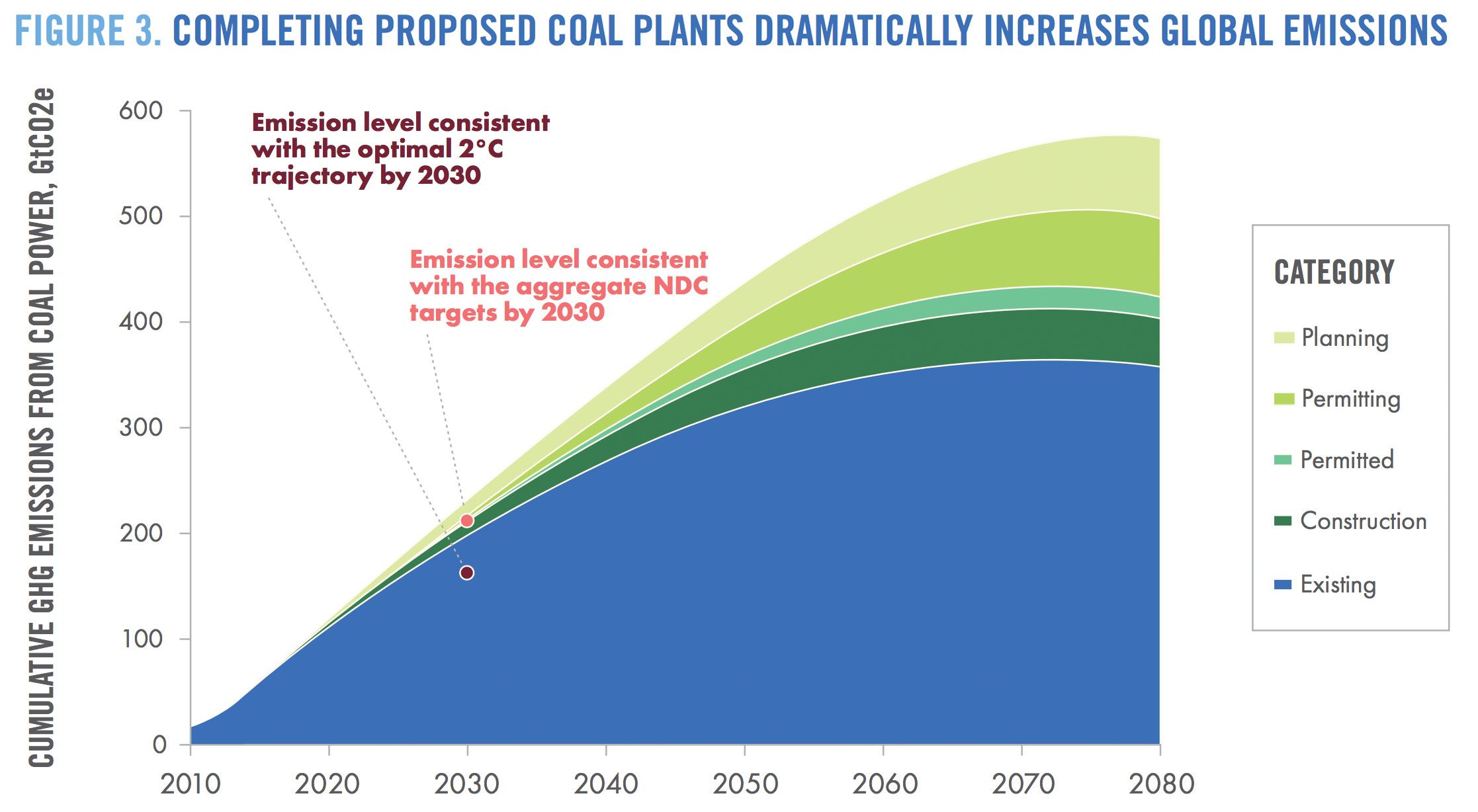 Screenshot: Chart from "The State of Global Coal Power: Proposed New Capacity and Power Sector Decarbonization"
Can't get there from here: A new report warns there's basically no chance holding the global temperature rise under 2 degrees Celsius if coal-fired power plants, currently at various stages of planning and development worldwide, are built as planned.
Check out the chart above: It shows the added emissions if plants in the planning stages are built compared with the levels thought needed to avoid blowing past the 2°C ceiling.
One level deeper: The report finds that over 860 gigawatts of new coal-fired capacity could potentially be added in the next few years, though only around a fourth is under construction.
If it's all built, that would add 4.6 gigatons of greenhouse gas emissions by 2030.
Why it matters: The report underscores how getting on a path to a deeply decarbonized power sector is vital to meeting the goals of the Paris climate agreement.
The bottom line: "Limiting warming to below 2°C requires not only cancelling all newly proposed coal-fired power projects, but countries must also accelerate the retirement of existing capacity," according to the report from the University of Maryland School of Public Policy and Bloomberg Philanthropies.
https://www.axios.com/newsletters/axios-generate-7b072344-1f3a-48db-9c6f-712abde7eb61.html?chunk=3#story3
Maritime oil theft may cost hundreds of billions
Published today: A new Atlantic Council report warns that maritime petroleum theft costs tens or even hundreds of billions of dollars annually and often finances other really bad enterprises like human trafficking.
In their words: "Whether in small fishing boats or Suezmax tankers, illicit oil and fuel move constantly, in broad daylight, around the world. And the profits, which deprive states of much-needed revenue, often fund more sinister criminal activities, from other forms of trafficking to terrorism."
What to do: The half-dozen recommendations include...
Build national and regional legal frameworks to prosecute marine hydrocarbon crimes.
Coordinate law-enforcement agencies to understand and exploit the links between hydrocarbon crime and other criminal enterprises in the maritime space.
Make better use of emerging technologies like "molecular marking" to distinguish between legit and smuggled adulterated fuel.
https://www.axios.com/newsletters/axios-generate-7b072344-1f3a-48db-9c6f-712abde7eb61.html?chunk=4#story4
Oil market news and notes
Exxon: Bloomberg got access to a report the International Monetary Fund wrote for Guyana's government that concludes their deal with Exxon to develop massive offshore resources is pretty generous to the company.
"While Guyana should honor the existing deal, future contracts should ensure the state gets a higher portion of crude proceeds," Bloomberg says in its IMF report summary.
Why it matters: Guyana is poised to become the world's newest petro-state as Exxon and partners begin pumping oil in coming years, but the IMF analysis is the second in recent weeks to raise concerns that the agreement is too tilted towards the company.
Flashback: A March study by the consultancy OpenOil reached a similar conclusion. Click here for more about that and Exxon's rebuttal.
Hive mind: A note from several Barclays analysts on large oil companies looks at why investors aren't all that excited these days...
It says the underperformance of energy equities despite the crude price rally over the last six months suggests a "paradigm shift."
"Some investors, particularly generalists, seem to be growing increasingly skeptical of the long-term value of oil and gas assets given the supply and demand risks posed by shale oil and EVs," the analysts write.
They say the path to better stock market performance is to reset the balance between spending on longer-term growth and returning more cash to shareholders in order to aid those investors more in the near-to-medium term.
Huge: Over at Bloomberg View, analyst Robin Mills takes stock of Bahrain's recent discovery of an estimated 80 billion barrels worth of shale oil offshore.
The discovery is "raising the odds that shale oil production outside the U.S. and Canada finally takes off," according to Mills, head of Qamar Energy.
https://www.axios.com/newsletters/axios-generate-7b072344-1f3a-48db-9c6f-712abde7eb61.html?chunk=5#story5
Rick Perry's coal and nuke policy hint
My colleague Amy Harder has the latest on FirstEnergy Solutions bid for Energy Department help...
Energy secretary Rick Perry said Monday his agency will soon decide whether to approve a request to boost economically struggling coal and nuclear power plants — and hinted at a thumbs-down.
"[The request] may not be the way that we decide is the most appropriate, the most efficient way to address this. It's not the only way."
— Perry, at
Bloomberg
New Energy Finance's Future of Energy Summit, NY
Between the lines: His remarks dampened prospects that the Trump administration will move to keep a string of these plants open in the Northeast and Mid-Atlantic.
Why it matters: The approval of an emergency order request by the power company FirstEnergy Solutions would be important for two reasons:
It's unprecedented in the history of the arcane Energy Department provision, and most independent experts say approving it would be a huge intervention in the competitive power market.
Approving the order would be an explicit way Trump can show he's reviving the coal and nuclear industries, one of his campaign promises.
What's next: Bob Murray, the CEO of privately-held coal producer Murray Energy, will speak at the same conference on Tuesday at noon ET. Energy denied a similar request by his company last year.
Expect fireworks on this topic and more, given Murray will be in a crowd of executives whose companies are largely built around the evolution away from coal.
https://www.axios.com/newsletters/axios-generate-7b072344-1f3a-48db-9c6f-712abde7eb61.html?chunk=6#story6
More policy notes: Pruitt, cars, ethanol
Not out of the woods: Remember a million news cycles ago, on Saturday night, when Trump tweeted in support of embattled EPA boss Scott Pruitt? Well, White House press secretary Sarah Sanders said yesterday that "we are reviewing the specifics of each of those components." More Pruitt news...
The New York Times reports that the federal government's top ethics official took the "unusual step" of sending a letter to EPA questioning Pruitt's actions and asking the agency to address any violations.
Per Politico, "EPA chief of staff Ryan Jackson is taking responsibility for controversial raises given to two of Administrator Scott Pruitt's top aides." Jackson said in a statement that his boss had "zero knowledge of the amount of the raises, nor the process by which they transpired."
Pruitt has claimed he did not know about the big raises, but a story in The Atlantic on Monday cited an internal email that appeared to contradict him.
Auto regs: Mary Nichols, California's top air pollution official, told The Wall Street Journal that the state is eyeing a dual strategy of litigation and negotiation with Trump officials and automakers seeking to weaken auto emissions and mileage rules.
One possible future: "A precondition for revisions would be some indication from auto makers that they are committed to meeting stringent emissions-reduction targets beyond 2025, she said."
Ethanol: Per Reuters, "Five Republican senators on Monday called on President Donald Trump to temporarily halt the use of biofuels policy waivers for small oil refineries."