Happy Wednesday! This month in 1983 (or maybe it was June 1, the internet is divided), Talking Heads released the album "Speaking in Tongues."
So let's get rolling today with a cut they performed in the brilliant concert movie "Stop Making Sense." Nothing is better than that . . .
https://www.axios.com/newsletters/axios-generate-7ab2e36f-146f-4eec-9c11-c4b6661c8169.html?chunk=0#story0
1 big thing: The climate challenge is simply huge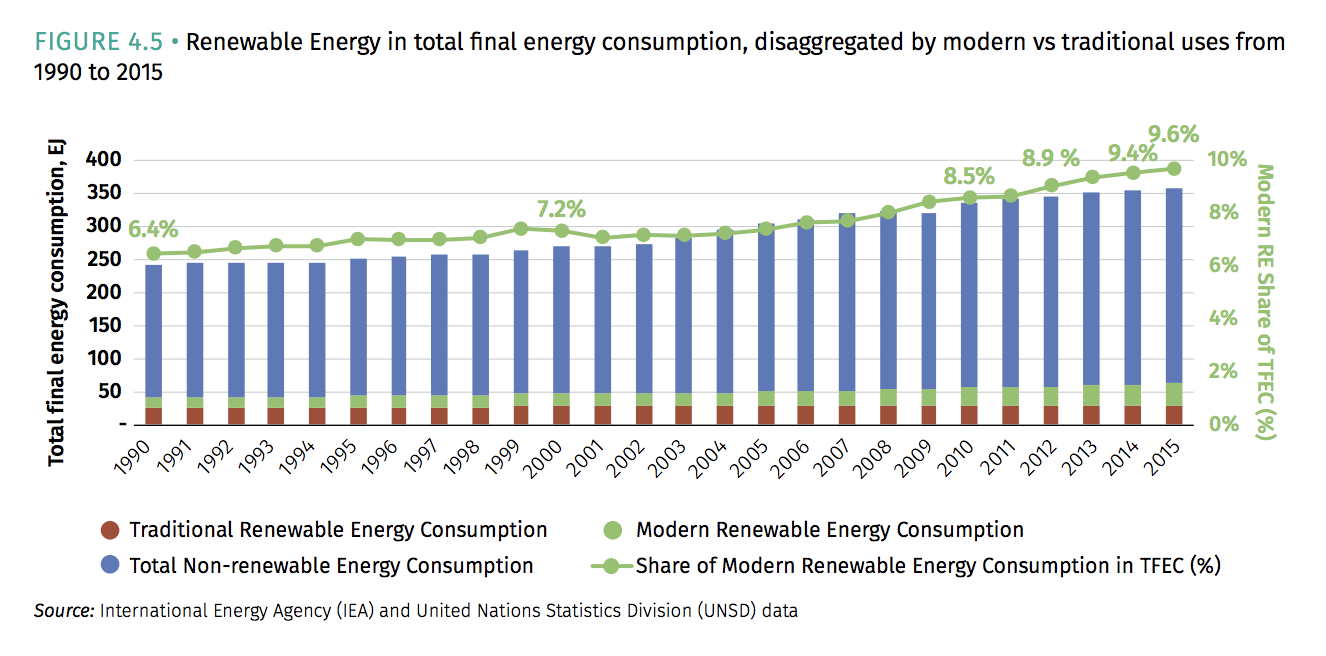 Screenshot of chart in Tracking SDG7: The Energy Progress Report, issued by the International Energy Agency, UN, World Bank and other institutions
Sobering: A report this morning from several international agencies, combined with other new analyses, provides a stark reminder of the immense challenge of steeply cutting cutting global greenhouse gas emissions in the years and decades ahead.
Why it matters: Despite big gains in renewables deployment and cost reductions, and the expansion of carbon pricing, wringing CO2 out of the global economy on a large scale is not happening nearly fast enough to prevent highly dangerous levels of warming.
In fact emissions ticked up slightly last year after a 3-year plateau.
The details: The report, which is from a group including the International Energy Agency, the UN and the World Bank, takes stock of the various energy portions — such as electricity access, use of clean cooking fuels, and renewables growth — of wider UN sustainable development goals (SDG) for 2030.
One takeaway for renewables in the energy-related goal in SDG 7 on energy:
"Global energy scenarios reflecting current and planned policies show that the world is far from being on track to achieve the targets of SDG 7."
A starker warning: An in-depth analysis in the journal Nature last week (and hat tip to this Vox summary) finds that "the world is on track for more than 3 °C of warming by the end of the century."
"The good news is that clean-energy technology is at last making substantial strides. The bad news is that the pace isn't nearly quick enough," writes Nature's Jeff Tollefson.
Go deeper: Click here for the whole story.
https://www.axios.com/newsletters/axios-generate-7ab2e36f-146f-4eec-9c11-c4b6661c8169.html?chunk=1#story1
2. Tesla under the microscope today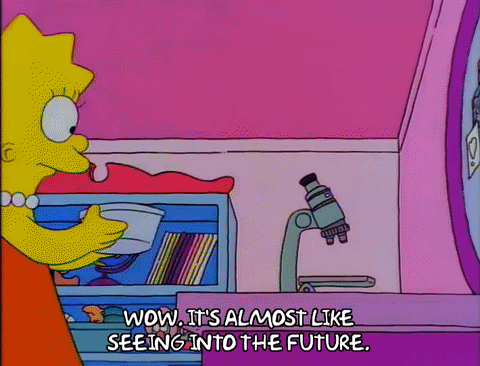 After markets close: Tesla will report its first quarter earnings and then Elon Musk will hold a conference call where he's certain to face questions about the state of the Model 3 production.
What's expected: Zacks estimated that revenues will grow by nearly 18% to reach $3.17 billion, but adjusted losses will reach $3.37 per share.
Why it matters: The Silicon Valley automaker is under the microscope more than ever after repeatedly missing production targets for the mass-market car launched last year that's key to the company's future.
Also, analysts will be looking for broader signs of the company's financial future, following Musk's recent claim that the company will be profitable in quarters 3 and 4 and won't need to raise more money from capital markets this year.
Go deeper: Per Bloomberg, here are the "Seven Things Wall Street Wants To Know From Elon Musk."
https://www.axios.com/newsletters/axios-generate-7ab2e36f-146f-4eec-9c11-c4b6661c8169.html?chunk=2#story2
3. Big in policy: California vs EPA over auto rules
California and 16 other states yesterday sued EPA over plans to scale back Obama-era vehicle emissions rules for model years 2022–2025.
Background: The new lawsuit is targeting EPA's decision last month to withdraw a finding — called the midterm evaluation — issued at the end of the Obama administration that concluded the standards are appropriate.
Why it matters: It's the latest move in the high-stakes battle over emissions and auto mileage rules crafted by EPA and the Transportation Department.
A key legal and political battleground is the ability of California and the states that follow its lead to maintain tougher standards.
Be smart: Stanford's Deborah A. Sivas, who directs their Environmental Law Clinic, explores the suit in this new item posted in our Expert Voices section:
"The EPA is likely to ask that the lawsuit be dismissed because the agency has not yet finalized new standards subject to judicial review. Meanwhile, the states might argue that the court should enjoin any such development until the question of the new midterm assessment's legality is resolved."
State of play: "The U.S. Transportation Department has drafted a proposal likely to be made public this month that would freeze vehicle requirements at 2020 levels through 2026. The proposal could formally go to the White House for review later this week," Reuters notes on the lawsuit.
https://www.axios.com/newsletters/axios-generate-7ab2e36f-146f-4eec-9c11-c4b6661c8169.html?chunk=3#story3
4. Petro news and notes
Crystal ball: The Wall Street Journal is out with its latest survey of where Wall Street commodities analysts see oil prices going.
"Brent is now expected to average over $64 a barrel this year, according to a poll of 14 investment banks surveyed by The Wall Street Journal. West Texas Intermediate, the U.S. standard, should average just above $60 a barrel, the poll showed," they report, noting both are over $1 higher than the March survey.
This morning Brent is trading at close to $73 per barrel, while WTI is well above $67 per barrel.
Behind the boom: Yesterday the Energy Information Administration published a short report on one reason why U.S. oil production has surged.
Since 2007, there has been a general increase in oil production from new wells in shale regions, according to the average first full month, as tracked by EIA.
"These growing initial production rates have helped tight oil production to increase despite slowdowns in drilling activity when oil prices fell," EIA notes.
Capital: A Houston Chronicle reports on the big Offshore Technology Conference there about industry spending decisions.
"At the biggest oil companies, offshore engineers on one floor are competing against shale brethren on another for the limited dollars available for drilling," the report says.
Two Exxon things:
Via S&P Global Platts, "ExxonMobil and Sabic have advanced their plan to build a new $10 billion petrochemcial complex on the Texas Coast with the formation of a joint venture centered on the project."
Meanwhile, Bloomberg reports that a company official is defending their deal with Guyana to develop massive oilfields off their coast — an agreement that critics say is too tilted in Exxon's financial favor.
https://www.axios.com/newsletters/axios-generate-7ab2e36f-146f-4eec-9c11-c4b6661c8169.html?chunk=4#story4
5. Tight metal supply could crimp EV growth
Fresh warning: Moody's Investors Service warns in a new report that the near-term growth of electric vehicle production could be slowed by tight supplies of nickel, cobalt, copper and other key battery materials.
Quick take: The report, if borne out, underscores the hurdles facing efforts to greatly expand deployment of EVs, which are now a tiny portion of vehicle sales.
What they said: "Declining ore grades for copper, continued lack of investment in new mines and the time required to bring new discoveries to production will constrain metal availability and, ultimately, the metal sector's ability to meet growing demand from automakers for battery electric vehicle production, particularly in the near-term."
It also warns that "significant new mine investment is necessary to meet rising metal demand."
One example: They see EVs reaching 8% of new vehicle sales by the mid-2020s, but warn...
"Copper consumption in [battery-electric vehicles] could increase more than six times as penetration levels reach 8%, our base scenario. ... These demand levels would far outstrip supply, which will be relatively flat over the next several years."
https://www.axios.com/newsletters/axios-generate-7ab2e36f-146f-4eec-9c11-c4b6661c8169.html?chunk=5#story5
6. Latest in the Scott Pruitt saga
Yesterday was a busy day when it comes to the ethics controversies surrounding EPA Administrator Scott Pruitt.
This tweet by Politico's Alex Guillén provides the CliffsNotes version, but here's some of the developments...
What happens in Morocco: The New York Times reports that a lobbyist friend of Pruitt played an "unusually influential role in setting his agenda during a visit in December to Morocco."
"Just months after helping to organize the trip, the lobbyist, Richard Smotkin, was hired by the government of Morocco as a $40,000-a-month foreign agent," they report.
There's more: Axios broke the news yesterday that Albert Kelly, a top aide to Pruitt overseeing the Superfund program, resigned from the agency.
And, Nino Perrotta, the head of Pruitt's security team, also left the agency this week, according to ABC.
https://www.axios.com/newsletters/axios-generate-7ab2e36f-146f-4eec-9c11-c4b6661c8169.html?chunk=6#story6
7. Quote of the day
"Anything above $20 [per barrel] you start getting your money back. You really need something, to get a 10%, 15% return, you need something probably in the mid-$30s long-term."
— Pioneer Natural Resources Chairman Scott Sheffield
The context: He's speaking on the latest episode of the Columbia Energy Exchange podcast about his company's production in the Midland Basin region of the wider — and of course booming — Permian Basin region of Texas and New Mexico.
My thought bubble: Yes, it's about one company (albeit a huge producer) and one specific area, but those numbers illustrate why production from the Permian is slated to keep rising for a long time, even at relatively modest prices, creating an ongoing challenge to OPEC.
https://www.axios.com/newsletters/axios-generate-7ab2e36f-146f-4eec-9c11-c4b6661c8169.html?chunk=7#story7
8. One cool thing: tour of Lincoln's basement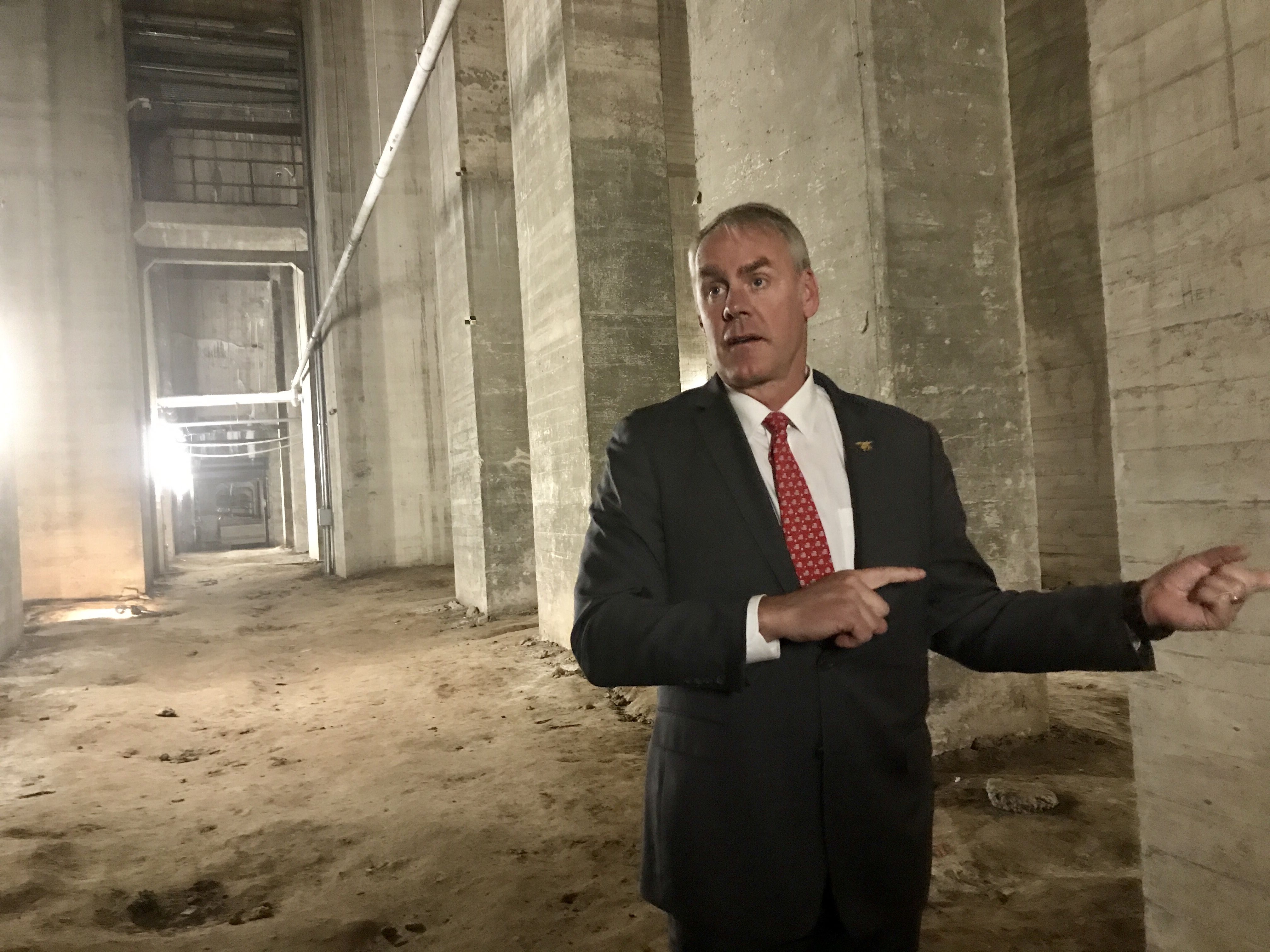 Zinke in the Lincoln Memorial basement. Photo: Amy Harder/Axios
Literally and otherwise: Interior Secretary Ryan Zinke gave reporters and a tourist passersby a tour of the basement of the Lincoln Memorial Tuesday evening.
The temperature was notably chillier than the outside 80 degrees, with its vast concrete walls deep underground.
One level deeper: As secretary, Zinke is the only person authorized to give tours of the space, which he does a couple times a week, according to a spokeswoman.
The Lincoln's basement is the only monument on the National Mall that has a basement going down to the bedrock. When constructing it about a century ago, water had to be supplanted with tons of concrete.
Be smart: Washington's swamp has been a force to reckon with well before it became a political buzzword.