Axios Generate
April 13, 2023
1 big thing: Working backwards to scale carbon removal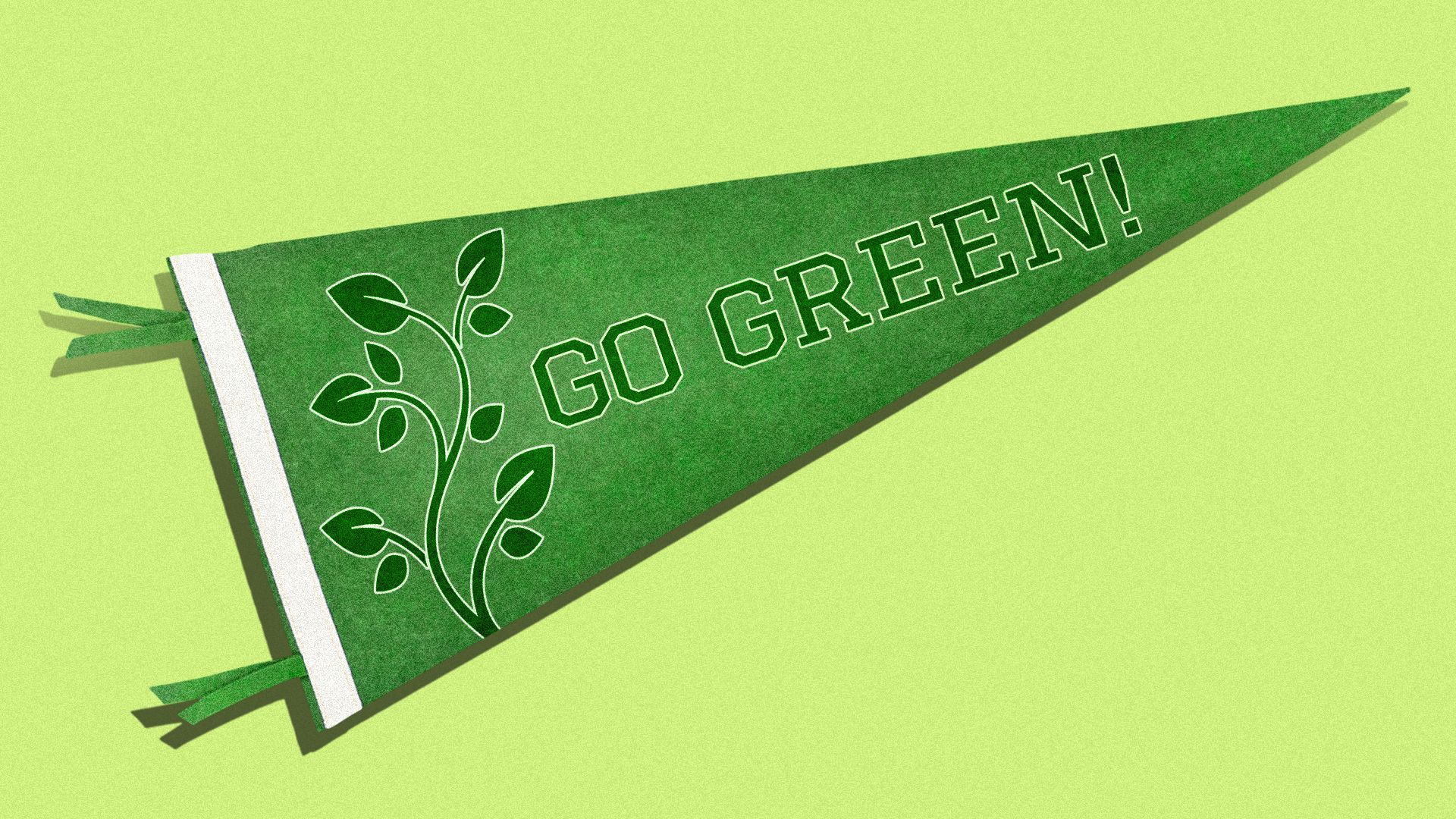 First look: A new Stanford University initiative aims to break the academic mold in overcoming barriers to large-scale deployment of tech that pulls planet-warming gases from the atmosphere, Ben writes.
🗞️ Driving the news: The Doerr School of Sustainability will today announce greenhouse gas removal as the first focus of a new "flagship destinations" program on the environment.
In this case, that means an annual goal of removing CO2 and other planet-warming gases at the gigatons scale.
The intrigue: School dean Arun Majumdar notes that academic research often begins with looking for a proof of concept and then seeing if it can scale.
But Stanford's multi-disciplinary approach aims to turn this paradigm on its head.
"Here we are saying, let's think about the scale from the beginning and work backwards," he tells me.
That means looking simultaneously at knowledge gaps, financial gaps, policy gaps and more.
Why it matters: Most scenarios for meeting Paris Agreement goals see removal becoming a complement to steep emissions cuts.
Yes, but: While investment is growing, removal's in its infancy, and the viability of massive commercial deployment is unclear.
🏃🏽‍♀️ Catch up fast: Removal refers to a wide basket of tech and methods.
They include direct air capture and ways of speeding CO2 uptake in oceans, rock formations and soils, to name just a few.
😮 One wild stat: Majumdar offered a sobering way to think about annual gigaton-scale removal.
All the planet's roughly 8 billion people together weigh roughly a half-gigaton, he said.
This illuminates the need for a "new industrial base" that must be envisioned up front.
How it works: The effort starts with coming up with ideas for overcoming gaps needed to achieve scale.
Majumdar then envisions convening people from other universities, nonprofits, industry, policymakers and more, to vet the work.
The goal: a "shared hypothesis of plausible pathways" and knowledge gaps, and then publishing the findings in an academic journal or elsewhere.
And they would not just gather dust, either — he sees it forming the basis for real-world work and funding.
What's next: Hiring more staff and finding outside partners and funding from foundations, industry or other actors.
Future "flagship destinations" could address areas like climate adaptation and protecting marine ecosystems.
2. The fight for food in Central America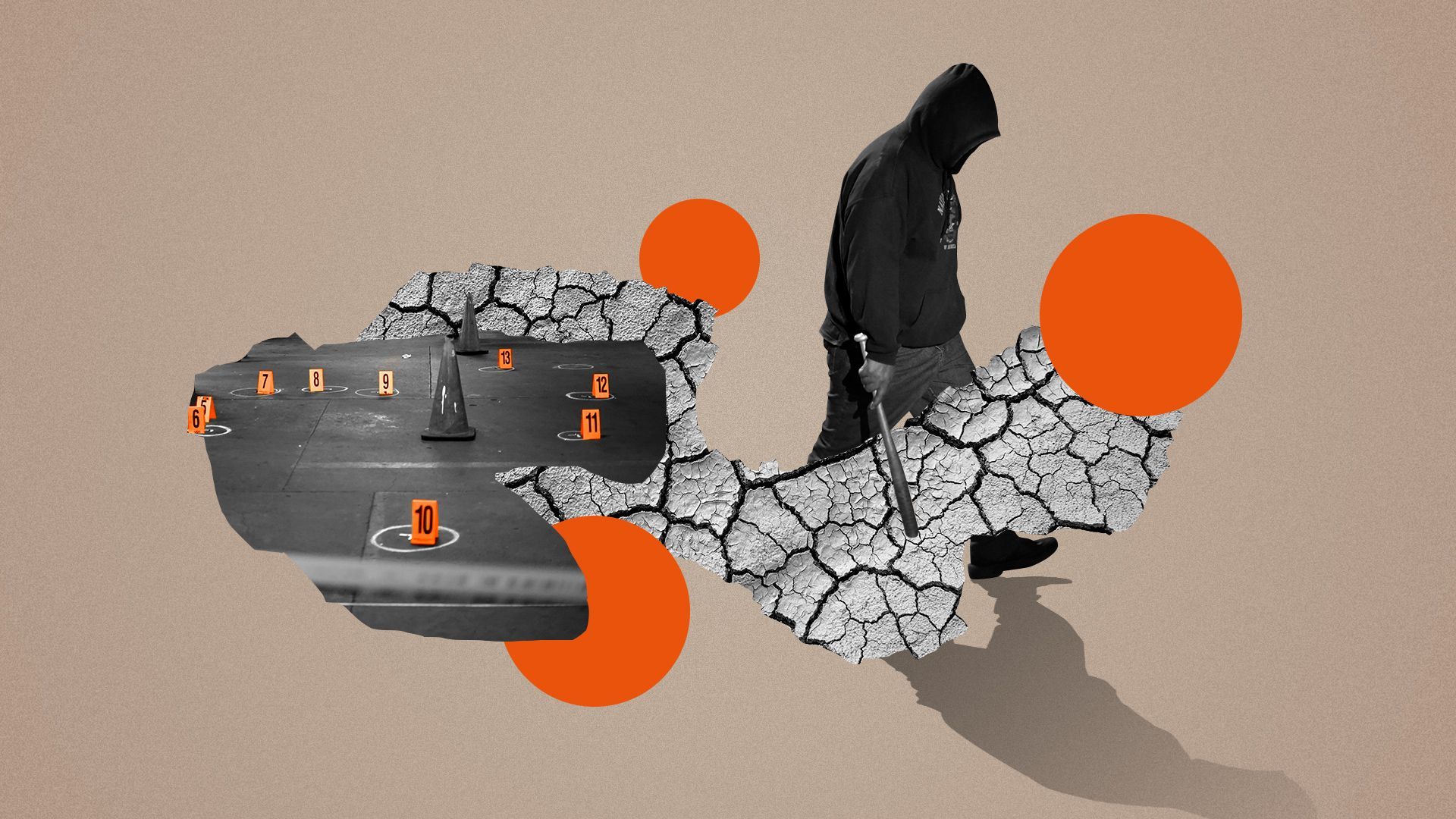 A growing water-food deficit powered by climate change is ramping up conflict in densely populated Central American cities already prone to violence, Axios' Ayurella Horn-Muller reports.
Why it matters: It's no secret that water scarcity fuels domestic, social and political instability. The role of drought in agricultural production and food security, and how that correlates with conflict, is less understood.
Climate change and the global food crisis are on the agenda of this week's annual spring meetings of the International Monetary Fund and the World Bank Group in D.C.
The latest: A new study in the journal Nature Water finds that conditions in Central American rural areas can spike food insecurity in connected urban environments, due to impacts on food trade.
The paper links droughts, food access/availability and rates of urban conflict from 1996 to 2016 along the Central American "dry corridor."
How it works: One example is the fallout of the 2009 drought in Guatemala, which drove major yield declines in agricultural production of coffee (-20%), sugarcane (-10%) and maize (-30%) in rural Retalhuleu, located in southwestern Guatemala.
This in turn spiked food insecurity in Guatemala City, which is connected to Retalhuleu through food trade, resulting in a total available food supply below the daily minimum energy requirement.
3. 🧮 Number of the day: $673 billion
That's the amount of fossil fuel financing in 2022 from the world's 60 largest banks, per the annual report from a coalition of environmental groups, Ben writes.
Why it matters: The groups — including the Sierra Club and Rainforest Action Network — argue that tally and the $5.5 trillion seven-year total show banks' climate pledges aren't translating into concrete action.
Zoom in: The Royal Bank of Canada was last year's top financier, supplanting JPMorgan Chase. Bloomberg has more.
4. The U.S. can't build EVs without China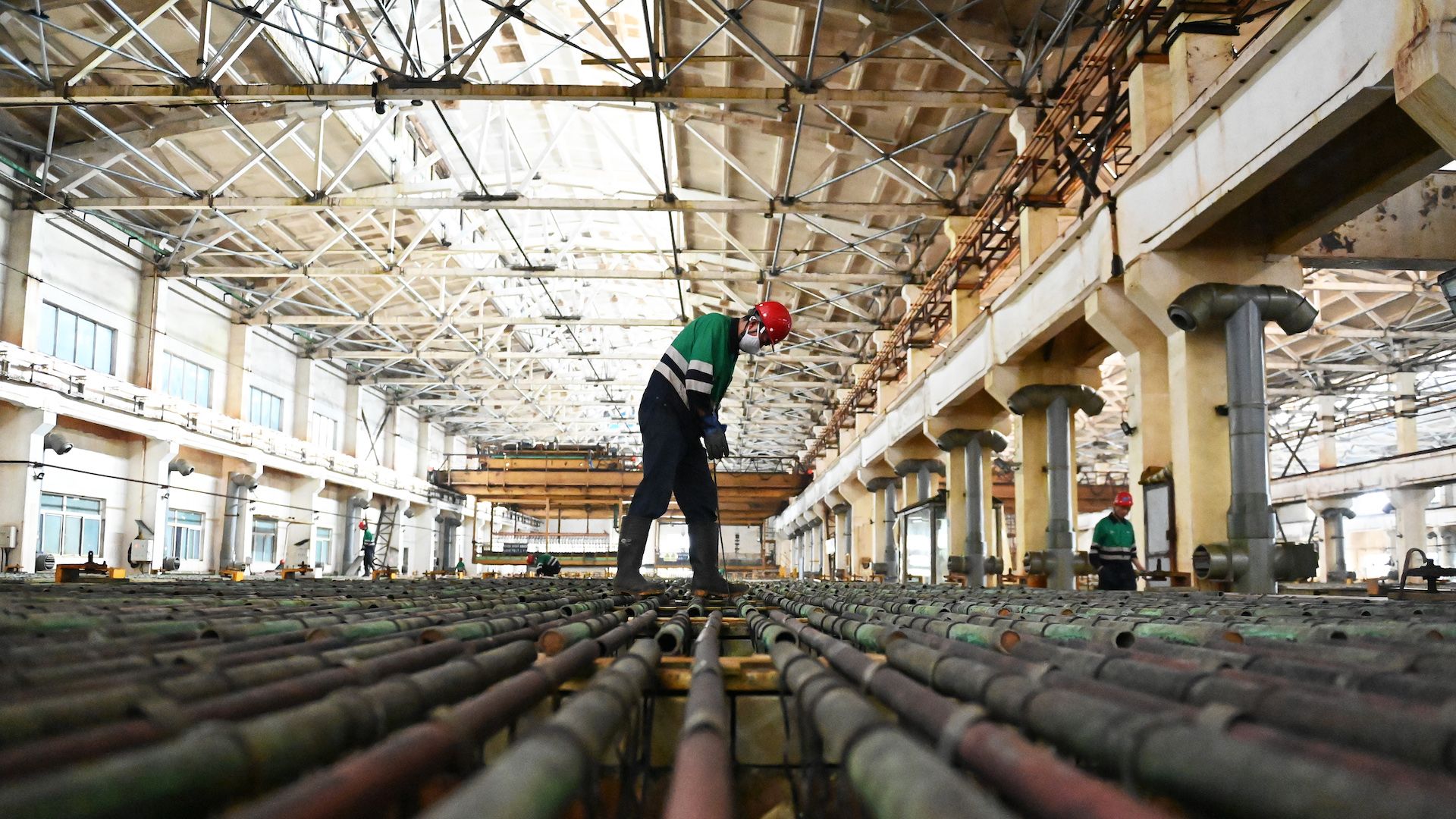 White House efforts to spur domestic battery manufacturing have a problem: Some critical raw materials are only found abroad, and China controls much of the supply, Axios' Joann Muller and Jael Holzman report.
Why it matters: The provenance of materials used in EV production — including lithium, nickel, cobalt and graphite — has a huge effect on tax credits designed to spur EV adoption.
Zoom in: Consumers can earn up to $7,500 in federal tax credits on EV purchases — but only when buying cars that meet certain sourcing requirements.
Climate law subsidies exclude EVs with components from "foreign entities of concern" — a category that's hazy but will likely include China.
Reality check: Many minerals essential to EV battery chemistries are primarily mined and processed in China or by companies within China's sphere of influence.
China is poised to control a third of global lithium supply by 2025.
It's also home to one of the largest natural battery graphite resources and the only country currently mining such material in large quantities.
5. Big Auto's tepid response to Biden's EV rule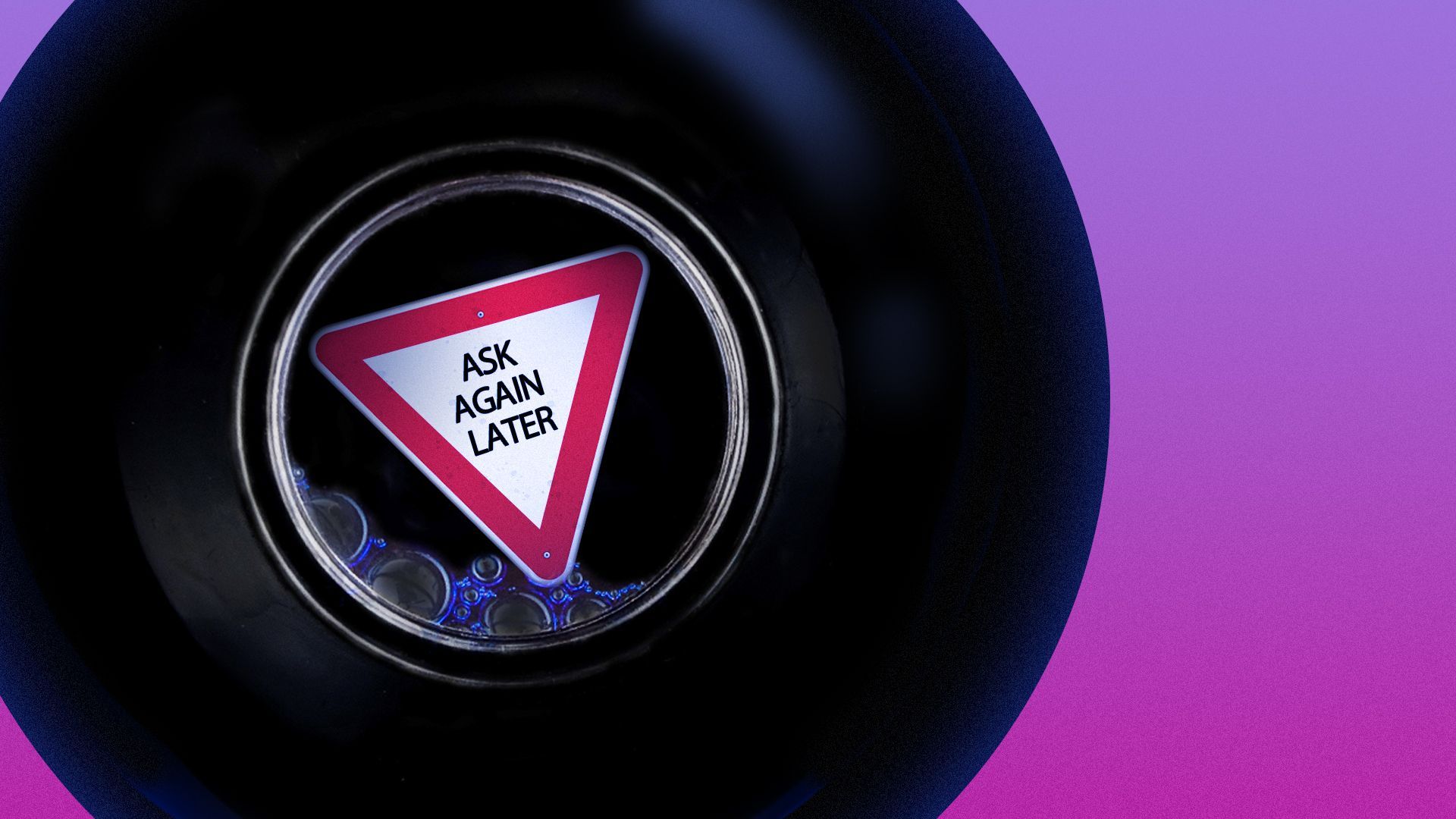 Their phrasing is diplomatic but the message is pretty clear: Several auto giants aren't convinced the Biden administration's vehicle carbon rules are realistic, Ben writes.
Catch up fast: EPA yesterday floated draft regulations that would force a huge increase in EV penetration, reaching an estimated 67% of new U.S. light-duty sales in 2032.
What they're saying: GM and Ford didn't overtly criticize the rules, but didn't applaud.
GM said it supports a "drive towards an all-electric future," but added that "complementary policies" including "permitting reform" are needed.
Ford also touted its big EV investments, but on the rules themselves said only it will work with EPA on "standards that are good for our customers and communities, the auto industry, and the environment."
What we're watching: Various companies' formal, detailed comments in coming months on nearly 1,500 pages of draft standards and analysis EPA unveiled.
Go deeper: Check out Politico's helpful "nerd's guide" to the big proposal.
📬 Did a friend send you this newsletter? Welcome, please sign up.
🙏 Thanks to Lisa Hornung and Javier E. David for edits to today's edition.