Axios Generate
January 21, 2022
🍺 Happy Friday! Today's Smart Brevity count is 1,279 words, 5 minutes.
🚨 Axios just announced our inaugural What's Next Summit! Register here for virtual sessions and to join discussions on the trends shaping our future.
🎶 At this moment in 1974, the late soul singer Al Wilson was #1 on the Billboard Hot 100 with today's intro tune...
1 big thing: The steep climb for a slimmed-down bill
Within a day of President Biden backing efforts to move a smaller version of his stalled spending plan that still includes robust climate investments, signs emerged of the high hurdles Democrats face, Ben writes.
Catch up fast: Biden floated trying to move "big chunks" of the plan, bowing to the reality that Sen. Joe Manchin — whose vote is needed for Democrats' plans — is a hard "no" on the current $1.75 trillion framework, among other hurdles.
The president, at a press conference Wednesday, suggested there's support for the proposal's $500 billion-plus in clean energy and climate measures.
Yes, but: Any new effort to win the 50 Senate votes needed to move a package under filibuster-proof reconciliation rules would be very difficult.
Manchin told reporters in the Capitol yesterday that any negotiations would be "starting from scratch." He said, "we're going to start with a clean sheet of paper and start over," and signaled he's got other priorities.
Bloomberg reports that many Democrats aren't willing to abandon an extension of the expired child tax credit, even though Democratic leaders have not offered a version that Manchin backs.
And despite Biden saying the plan could be split up, the calendar and the likelihood of Democrats losing control of Congress means there may be only one more chance to move a major package.
"This is a reconciliation bill. So when people say let's divide it up...No, they don't understand the process," House Speaker Nancy Pelosi told reporters yesterday.
Between the lines: Capital Alpha Partners' James Lucier sees better than even odds that something will pass that's focused on health care and includes clean energy components — but not a half-trillion-dollars worth.
"We do think that investors can count on the $200 billion in core clean energy tax credits that [Build Back Better] contains," he said in a note.
Why it matters: Achieving steep cuts in U.S. emissions of planet-warming greenhouse gases this decade likely requires lots of help from Congress.
What we don't know: A lot! One big question is what kind of final agreement could even emerge on the climate provisions.
For instance, Manchin has objected to provisions that would provide much larger consumer tax credits for union-made electric vehicles.
The bottom line: It ain't easy.
2. Surprises ahead at Antarctica's "Doomsday Glacier"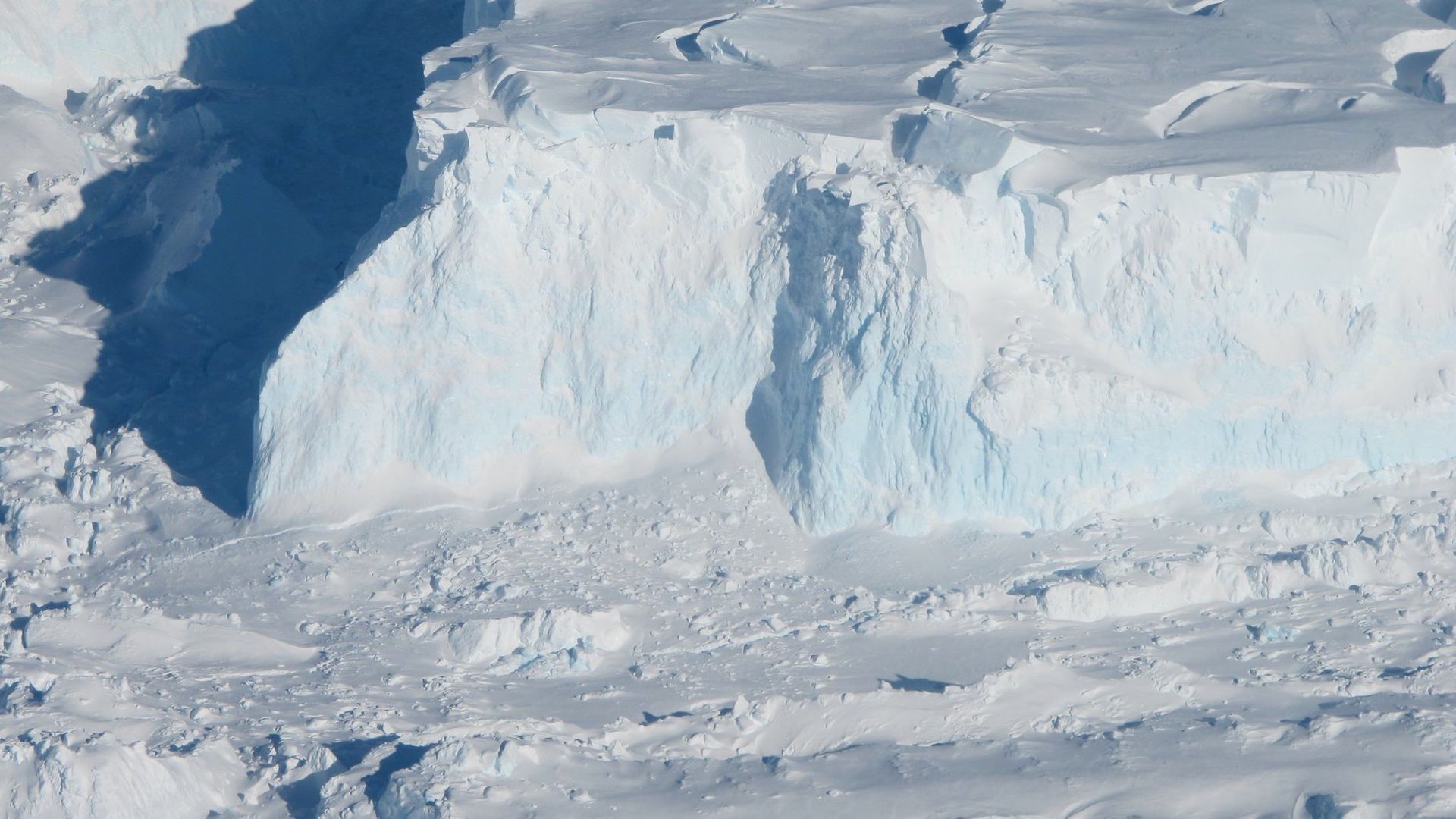 Scientists are in a race to understand the fate of a massive glacier in West Antarctica that has earned the disquieting nickname, "The Doomsday Glacier," Andrew writes.
Why it matters: Studies show the Thwaites Glacier could already be on an irreversible course to melt during the next several decades to centuries, freeing up enough inland ice to raise global sea levels by at least several feet.
The focus right now is on the glacier's floating ice shelf, which acts as a doorstop to hold back inland ice.
Driving the news: David Holland, an atmospheric scientist at NYU who is taking part in an international field campaign, told Axios yesterday that he and his team aim to gain a better understanding of what is taking place near the glacier's grounding line.
This is where floating ice meets land ice.
Holland spoke with Axios via satellite phone aboard an icebreaker en route to Thwaites.
The big picture: Knowing more about the grounding line conditions will help scientists to model the glacier's likely future.
If the ice shelf were to significantly melt or even collapse, it could have potentially catastrophic consequences for coastal cities worldwide.
Thwaites' meltwater already comprises about 4% of global annual sea level rise.
How it works: Holland's team will use hot water drilling to create boreholes through the ice, through which to deploy instruments into the water below.
They will also use a small, un-crewed submarine to find out more about the water temperature, salinity and ocean currents in areas that are critical for stabilizing the glacier.
"I'm here at the end of the Earth, but I'm not actually very far away from where you are," Holland said. "Everything is connected, and this ice that seems far away is intricately a part of your planet and your life."
3. New fund aims to back "revolutionary" tech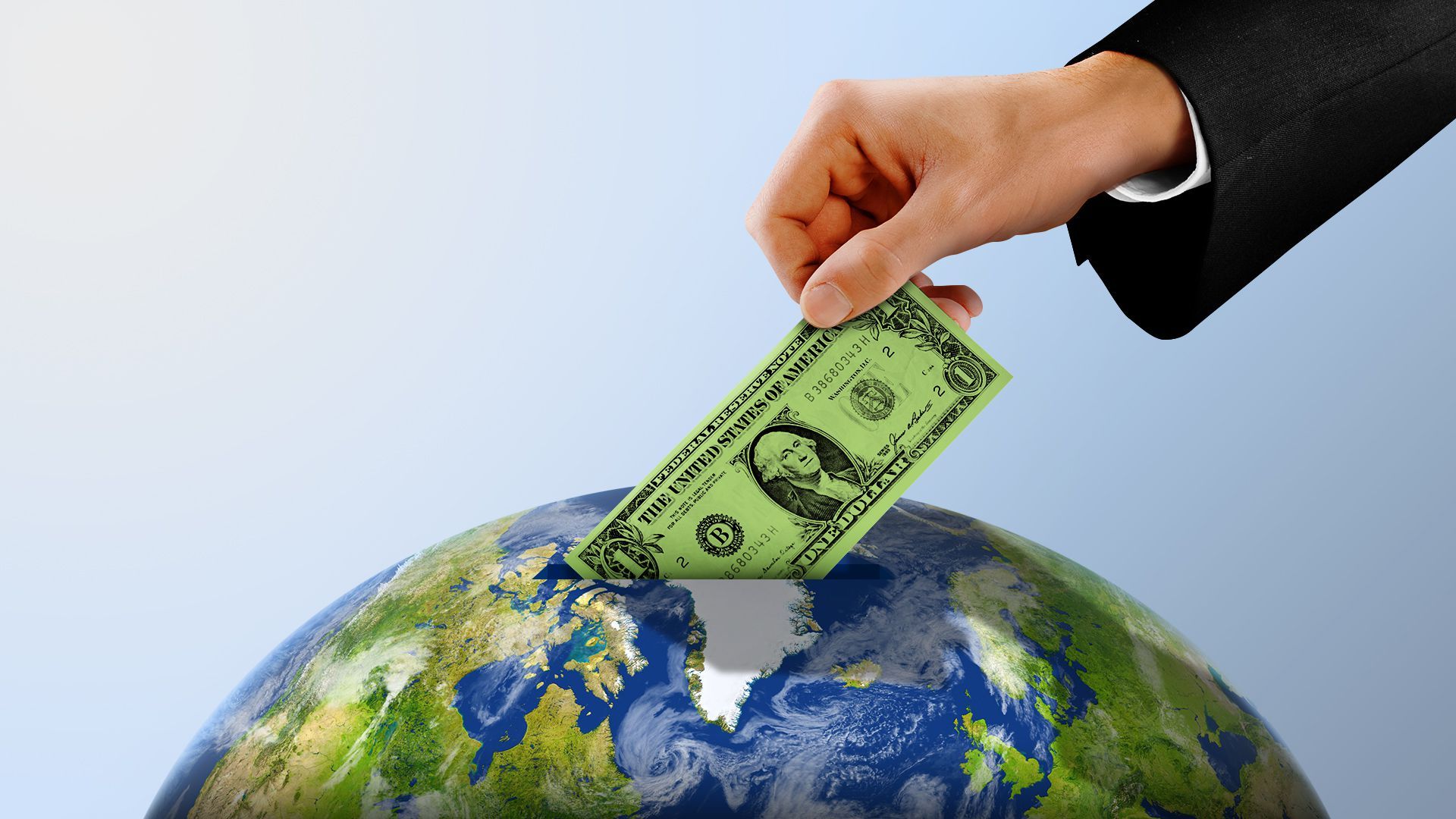 The prominent climate tech-focused VC firm Energy Impact Partners has raised $200 million — and is aiming for more — for a new fund to support "early-stage, revolutionary technologies" across several industries, Ben writes.
Driving the news: EIP announced the launch of the Deep Decarbonization Frontier Fund yesterday with a target of $350 million.
Backers include a suite of corporate heavyweights like Microsoft, Duke Energy and several other big power companies, the big engineering firm Burns & McDonnell and others.
Why it matters: While faster deployment of existing tech can yield big emissions cuts, wringing CO2 almost fully out of the economy will require advances and scale in areas like steel, cement, battery storage, clean hydrogen, agriculture and more.
EIP said, "an unprecedented wave of innovation is coming to help solve the biggest, most challenging problems in deep decarbonization."
Demand for zero-carbon energy and products will "drive enormous commercial outcomes for the winners," the firm said.
How it works: The fund is looking to invest in technologies before they're fully mature and commercialized, targeting seed to Series C rounds, EIP's Shayle Kann, a partner in the fund, tells Axios via email.
Fund investments to date include the multiday storage company Form Energy, hydrogen startup Electric Hydrogen, nuclear fusion startup Zap Energy, and firms focused on cleaner fertilizer, cement and steel production and more.
4.🛢️ Congress expands climate probe and more petro notes
The House Oversight Committee is broadening its look into oil-and-gas company disinformation and climate planning, issuing its second round of appearance requests yesterday, CNN reported and Axios confirmed.
Driving the news: Lawmakers are seeking testimony from board members representing Exxon, Shell and others.
Invitees include Alexander Karsner, one of the Exxon board members elected last year that activist hedge fund Engine No. 1 successfully backed over management opposition.
Two more oil-and-gas notes...
Prices: "Oil dropped alongside other financial assets and commodities as crude's sizzling rally ran out of steam after hitting a seven-year high." (Bloomberg)
Human rights: "TotalEnergies and Chevron, two of the world's largest energy conglomerates, said Friday they were stopping all operations in Myanmar, citing rampant human rights abuses and deteriorating rule of law since the country's military overthrew the elected government." (Associated Press)
5. Growing financial support for nuclear energy
Investment in nuclear energy is slated to rise in the next couple of years as countries "seek greener, low-carbon alternatives to fossil fuels," the consultancy Rystad Energy said in a new analysis, Ben writes.
By the numbers: There are 52 reactors under construction across 19 countries that, once completed, will add 54 gigawatts of installed capacity.
Yes, but: The firm points out that reactor construction is a yearslong process, so in the near term a decline in capacity is likely because some old plants are shutting down.
6. Texas energy company threatens to cut off plants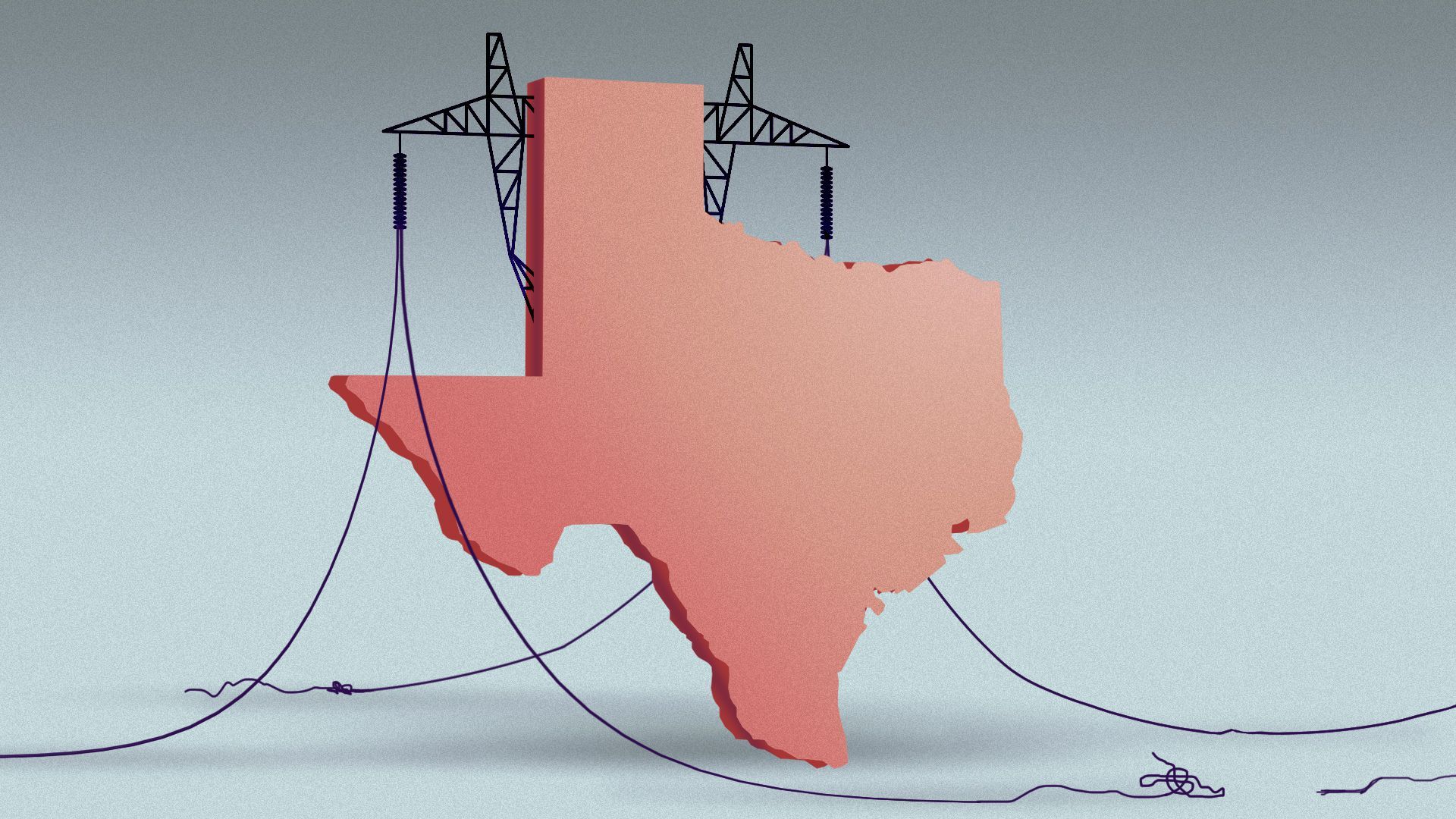 One of Texas' largest power providers asked state regulators to force the Dallas-based pipeline company Energy Transfer to continue natural gas service to its power plants, Axios Dallas' Michael Mooney writes.
Luminant Corp. says that Energy Transfer has threatened to stop providing natural gas to its plants as soon as Monday because of $21.6 million in fees related to last February's winter storm, according to a report from WFAA.
Why it matters: Luminant power plants provide energy to 400,000 Texas homes, businesses, schools and hospitals.
Context: After a catastrophic grid failure last year that led to hundreds of deaths, Energy Transfer made a reported $2.4 billion.
The Texas grid has already shown some problems as temperatures have dropped in recent days, with snow falling at the border with Mexico in southeastern Texas this morning.
Thanks for reading! We'll see you back here on Monday. Have a great weekend, everyone.