Axios Generate
November 22, 2022
👟 Off we go! Today's newsletter has a Smart Brevity count of 1,194 words, 5 minutes. 
🚨"Mazda Motor Corp. on Tuesday unveiled a $10.6 billion spending plan to electrify its vehicles and said it was also considering investing in battery production." (Reuters)
🎶 Happy birthday to bassist, singer and songwriter Tina Weymouth of Talking Heads and Tom Tom Club, which has today's intro tune...
1 big thing: Google unveils data center water use
Google is providing a first-time look at the water use at its company-owned U.S. data centers, Andrew writes.
The company says this puts it ahead of competitors when it comes to transparency.
Why it matters: Data centers power the modern internet from email accounts to mapping applications. Entire industries are based in the cloud, and as it has grown in importance, so has its environmental footprint.
By the numbers: Google said its data centers used about 4.3 billion gallons of water for cooling purposes in 2021.
That's the same amount of water needed to maintain 29 golf courses in the Southwest U.S. for a year, it said in a blog post.
The big picture: Google operates data centers in 23 locations worldwide, and the U.S. data shows how its water use varied among 14 of its owned sites.
The campus with the highest water consumption is in Council Bluffs, Iowa, followed by one in Mayes County, Okla.
Last year, the average Google-owned data center in the U.S. consumed about 450,000 gallons of water per day.
The company plans to disclose its global data center data in an annual report next year, Kate Brandt, Google's chief sustainability officer, tells Axios.
Between the lines: Google is working toward powering its data center operations on 24/7 carbon-free energy by 2030, along with a slew of other benchmarks.
Last year, Google pledged to replenish more water than it consumes by 2030.
Brandt says the aim is to minimize its own water and carbon footprint while also benefiting surrounding communities through watershed replenishment.
The buzzword Google uses for its data center cooling decisions is "climate-conscious cooling." This involves determining the most efficient methods of cooling each data center, Ben Townsend, head of infrastructure and water strategy, tells Axios.
"What we're finding is there's no one size fits all approach," Townsend says.
Where it can, Google tries to avoid using freshwater by taking in non-potable water or even wastewater, Brandt says.
The bottom line: Water-based cooling tends to reduce data center energy consumption by an average of 10%, according to Townsend.
Given the current composition of the electricity grid, that comes with a carbon emissions savings of about 300,000 tons of CO2 avoided per year, he says.
2. White House releases enviro justice funding tool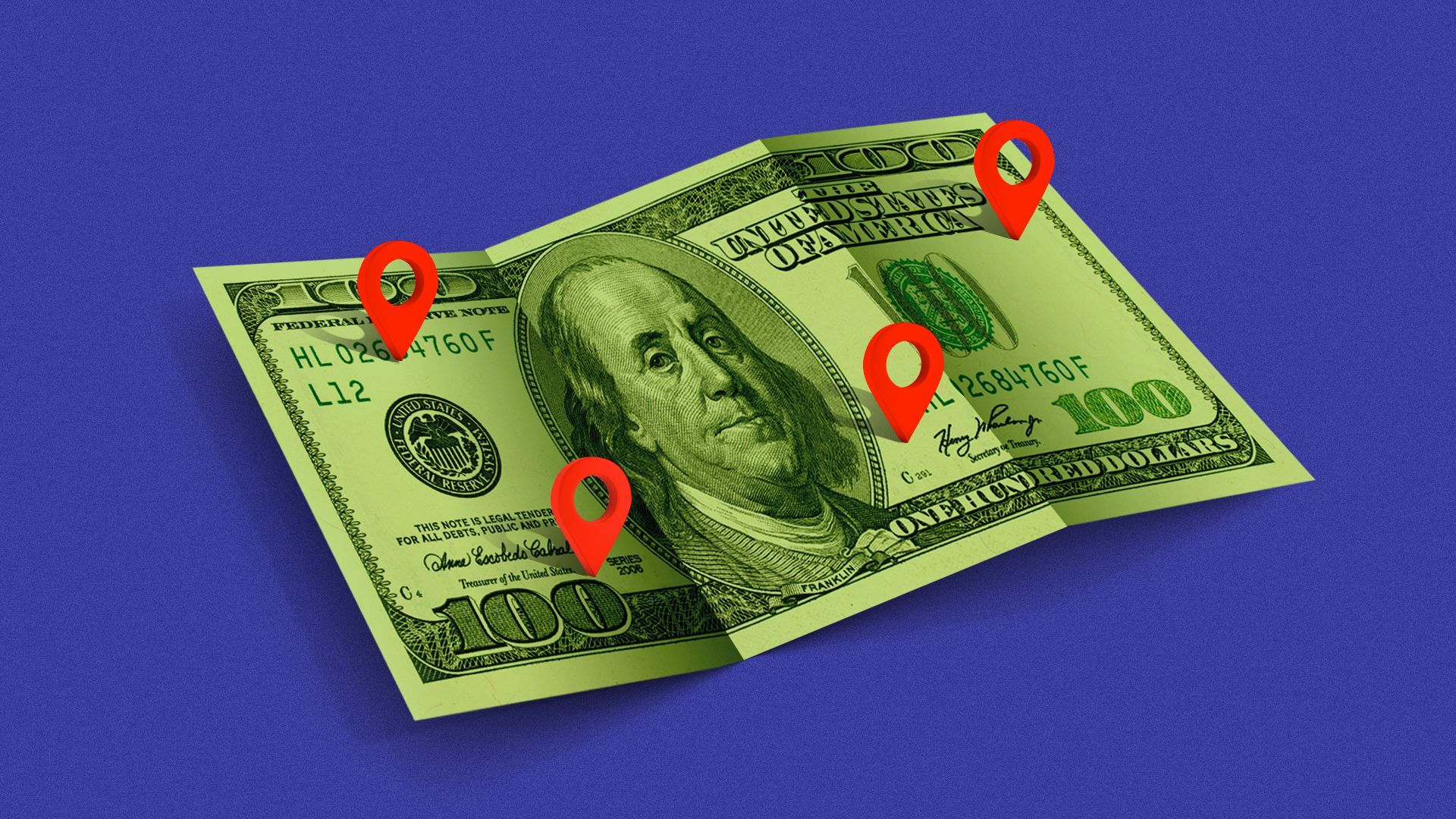 First look: The White House unveiled an interactive map to assist federal agencies in directing funds to disadvantaged communities that have historically faced the brunt of environmental pollution, Axios' Jael Holzman reports.
The big picture: The White House Council on Environmental Quality prepared the map to help implement Justice40, a program President Biden launched to address long-standing social inequalities in environmental protection.
It aims to steer 40% of all climate-related investments to vulnerable communities.
Zoom in: The "Climate and Economic Justice Screening Tool" highlights U.S. areas eligible for these priority funds because of longtime struggles with pollution and economic inequality.
Communities that qualify are designated as "disadvantaged" based on a range of factors, from air quality and legacy water pollution to the projected risk of climate hazards like wildfires and floods.
What they're saying: "Every community, regardless of zip code, should have clean water to drink, healthy air to breathe, and protection from extreme climate events," said Brenda Mallory, chair of the White House Council on Environmental Quality, in a statement.
The tool factors in tribal nations, which were left out of a beta version released in February.
Threat level: Black and Hispanic communities may be disproportionately vulnerable to the most severe impacts of climate change, according to a peer-reviewed 2021 EPA study.
The White House tool does not mention race as a demographic factor — a choice made amid conservative legal challenges against race-based environmental programs.
However, it does consider historic redlining — a form of housing discrimination that contributed to generations of segregation.
3. OPEC+ report spurs a wild ride in oil markets
Oil prices whipsawed yesterday as news about what the OPEC oil price cartel would decide at its meeting next month sent traders scurrying, Axios' Matt Phillips writes.
Driving the news: News!
A story in the Wall Street Journal, suggesting that OPEC was considering a 500,000 barrel-a-day increase in production, jolted the crude oil markets at around 9am ET.
U.S. benchmark crude oil prices fell more than 5% in response, to about $75 a barrel.
Yes, but: A statement from Saudi Arabian authorities later in the day denied the Journal's reporting.
Oil prices promptly reversed course and surged, briefly going positive before ending the day down less than half a percentage point, at just under $80 a barrel. (They're up this morning into the $81 range.)
The bottom line: If the trading activity is any indication, the actual announcement from OPEC and Russia after a meeting on Dec. 4 in Vienna could be a real market mover.
4.🏃🏽‍♀️Catch up fast on tech finance
📉 Morgan Stanley Investment Management launched a $1 billion private equity strategy to invest in companies that can collectively cut or avoid 1 gigaton worth of CO2 emissions by 2050, Ben writes.
Driving the news: Investments will focus on mobility, power, sustainable food and agriculture, and the circular economy.
The intrigue: The plan ties some of the team's compensation to progress in catalyzing emissions cuts. Reuters has more.
⛏️ Bill Gates' Breakthrough Energy Ventures is "investing in technology that uses surges of electricity to shatter rocks and mineral ores in a bid to reduce energy usage and carbon emissions at mines." (Bloomberg)
🚚 Volta Trucks, a Sweden-based startup, this morning said it has extended its Series C funding round by nearly $62 million on top of the prior roughly $236 million.
♻️ Fairmat, a French recycling startup focused on materials including carbon fiber, has raised roughly $35 million in Series A finance in a round co-led by Temasek and CNP.
Why it matters: Axios Pro Climate Deals' Megan Hernbroth reports that carbon fiber is a difficult-to-recycle material that is also instrumental for the success of a growing number of companies relying on recycled materials to meet net-zero goals.
Quick take: Care about tech finance? I highly recommend subscribing to Axios Pro Climate Deals! Sign up
5. A federal lifeline for California's last nuke plant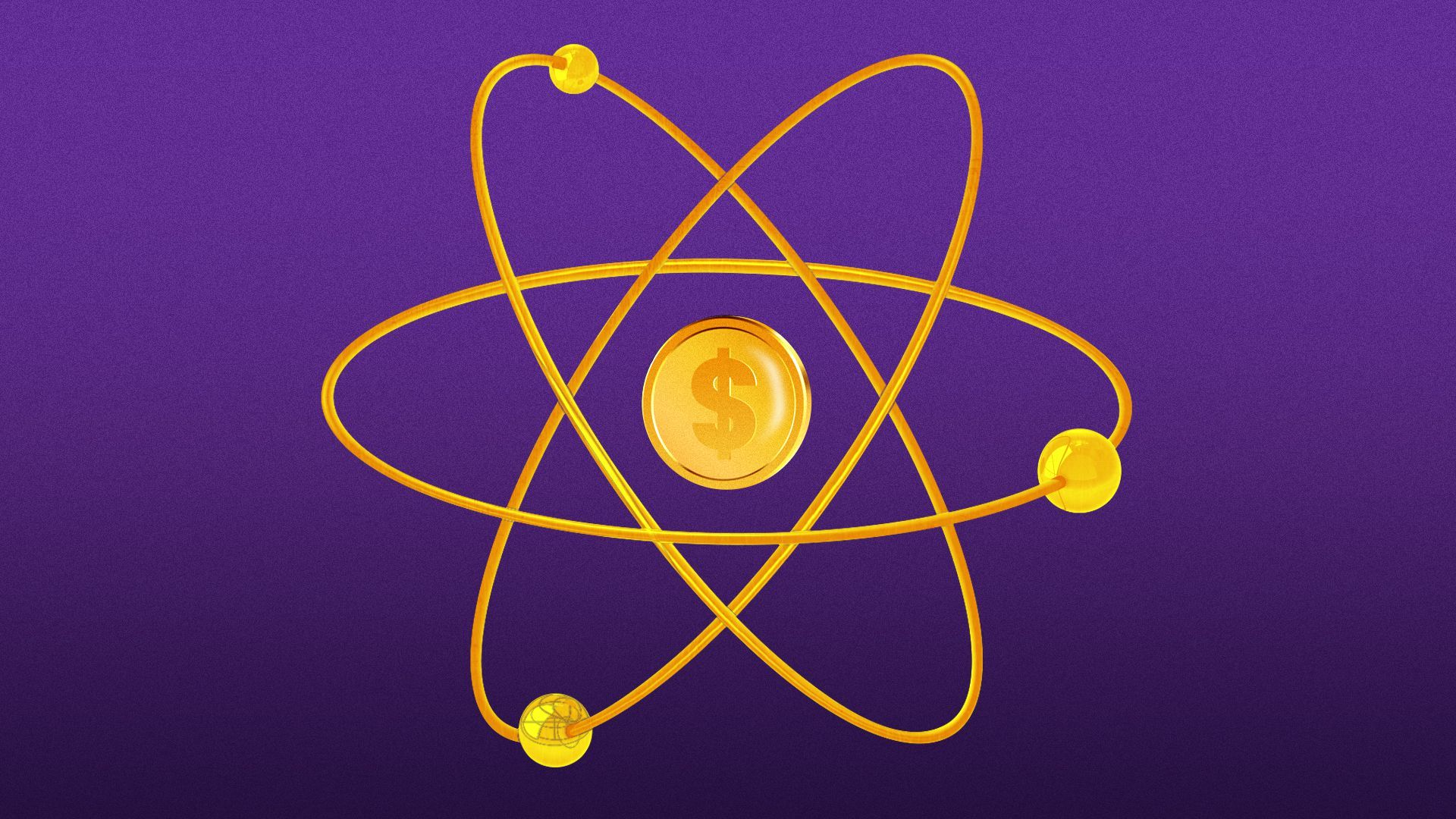 U.S. officials plan to provide $1.1 billion to prevent the mid-decade closure of the Diablo Canyon nuclear plant in order to maintain a large zero-carbon power source, Ben writes.
Driving the news: The preliminary deal with Pacific Gas & Electric is the first under a $6 billion program in the bipartisan 2021 infrastructure law aimed at saving nuclear plants at risk of shutting down.
Why it matters: Achieving U.S. climate goals becomes much harder if more existing nuclear plants come offline.
Diablo Canyon provides roughly 9% of the electricity in California, one of the world's largest economies, and state officials are looking to keep it open for another five years.
The big picture: The Energy Department announcement yesterday notes that nuclear plants currently provide half the nation's carbon-free power, but that's at risk.
"[S]hifting energy markets and other economic factors have already resulted in the early closures of 13 commercial reactors across the United States since 2013," the agency said.
Go deeper: Biden gives PG&E $1 billion to keep the Diablo Canyon nuclear plant open (Los Angeles Times)
Bonus: Nuclear's role in the U.S. energy mix
Nuclear power provides a big chunk of U.S. energy that comes from non-fossil sources, as you can see above.
📬 Did a friend send you this newsletter? Welcome, please sign up.
🙏Thanks to Mickey Meece and David Nather for edits to today's newsletter. We'll see you back here tomorrow!