Axios Generate
May 25, 2023
👟 Off we go! Today's newsletter has a Smart Brevity count of 1,155 words, 4 minutes.
📬 Did a friend send you this newsletter? Welcome, please sign up.
🎶 RIP to the brilliant and brave Tina Turner, who passed away Wednesday at 83. She's got today's intro tune...
1 big thing: Patagonia eco-brand unscathed by polarized climate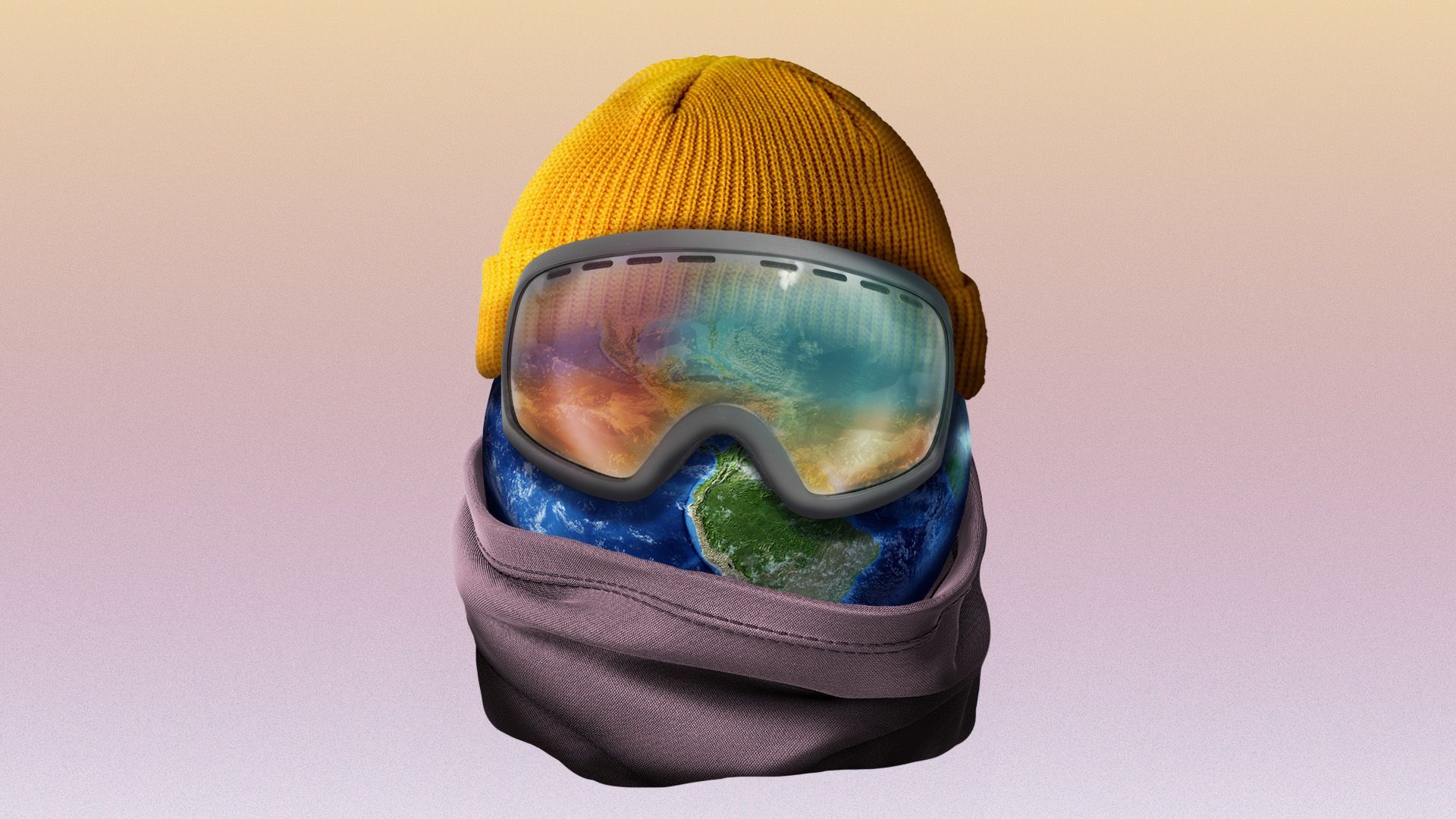 Outdoor retailer Patagonia, which is steering profits into fighting climate change, has the top ranking in the 2023 Axios Harris Poll 100 brand reputation survey, Ben writes.
Why it matters: The outdoor apparel company appears to have successfully avoided the polarizing battles that have ensnared other big brands, and alienated some consumers.
Driving the news: Patagonia regained the No. 1 slot it held in 2021 after last year staying near the top at No. 3.
Its "Reputational Quotient" is 83.5 in a survey that tests nine categories like trust, trajectory, products and services, and vision.
Catch up fast: For decades, the company has supported environmental groups and causes with money and visibility, among other things. But it took a big new step in 2022.
Patagonia created a legal structure to ensure all profits that aren't reinvested in the company will go toward "fighting the climate crisis."
It projects an annual dividend of roughly $100 million for the newly created "Holdfast Collective" running the efforts.
The intrigue: While years of surveys from multiple pollsters show Democrats prioritizing climate far more than Republicans, the Patagonia brand has support across the aisle.
Similar shares of Harris survey respondents from each party view the company as having excellent leadership.
And overall, it's the third-highest performing company among both Democrats and Republicans.
Patagonia is also strong among urban (#1) and suburban (#2) respondents, while it's ninth out of 100 among rural respondents.
What we don't know: Patagonia scored very highly, even before last year's pledge that Earth would be its "only shareholder" in perpetuity.
So it's hard to parse whether that propelled them back to No. 1 on the strength of modestly higher scores in areas including "trajectory" and "products and services."
Yes, but: The percentage of Harris respondents who say Patagonia shares their values rose 8.8%.
The data also found that 77% of Americans say they would respect companies more if they were clear about their values — even if they disagree.
The bottom line: Patagonia is open about trying to put the world on its shoulders, but unlike other big brands, it's not dragging the company down.
2. Tesla's image takes a hit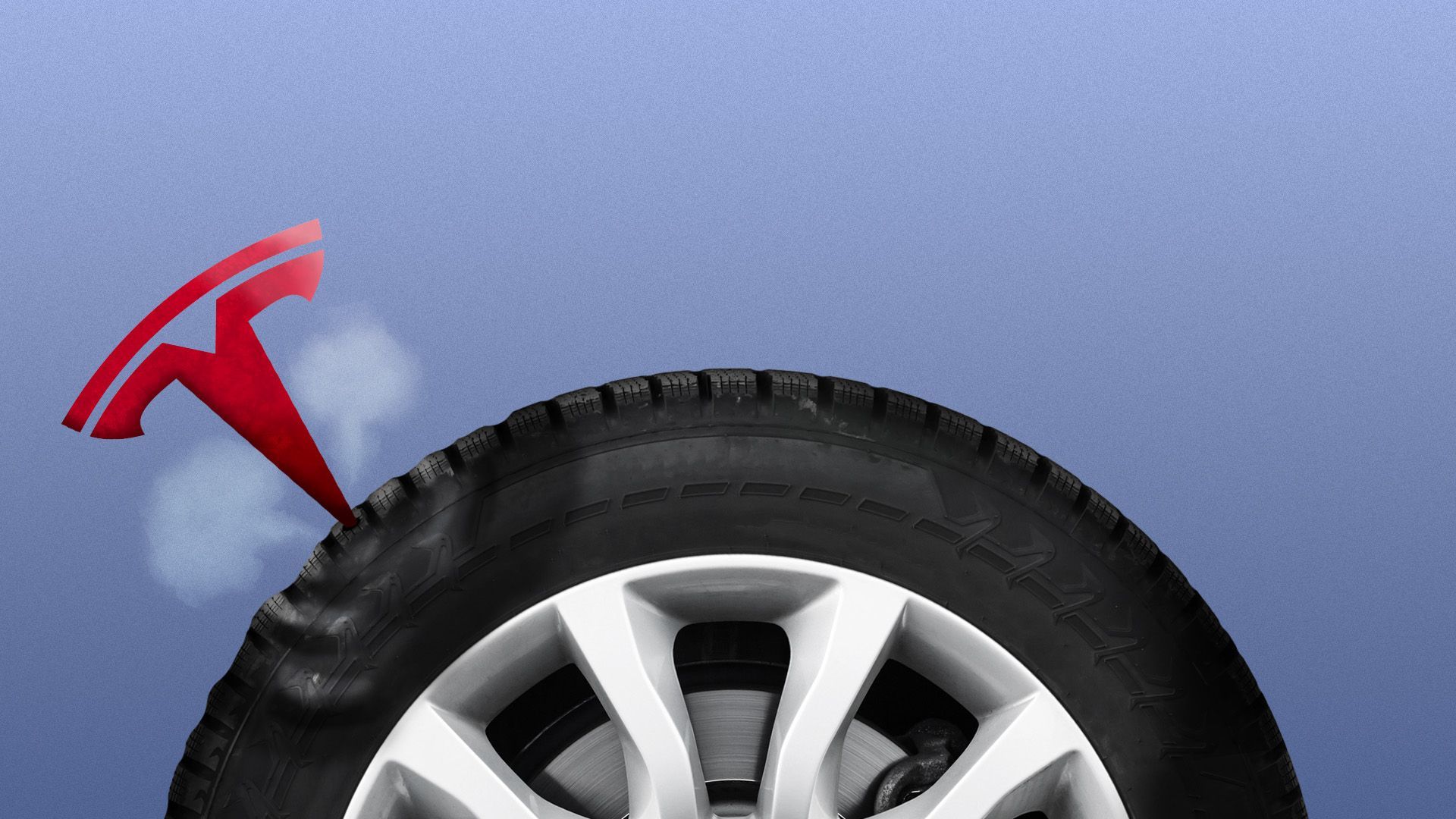 The Axios Harris Poll 100 survey shows that Tesla Motors' brand reputation dipped over the past year as CEO Elon Musk made headlines for a range of controversies, Axios' Joann Muller reports.
Why it matters: The world's leading EV company is defined by its billionaire CEO.
Musk's messy takeover of Twitter, along with his unfiltered online persona, may have caused collateral damage to other parts of his empire.
The big picture: Tesla ranked 62nd by reputation among the 100 most visible brands, tumbling from 12th last year and 8th in 2021.
Toyota was the highest-ranking automaker at No. 6.
Other carmakers whose reputations outshined Tesla were Honda, Subaru, BMW, Ford, General Motors and Volkswagen.
Zoom in: Tesla's image fell across all nine measured attributes, with the biggest declines in the categories of character, trust, culture and ethics.
Its reputation for growth also declined substantially — likely a reflection of growing consumer options from other automakers.
Yes, but: After recently appointing a new CEO at Twitter, Musk seems to be turning his attention back to Tesla.
3. Brewing U.N. tussle over carbon removal technologies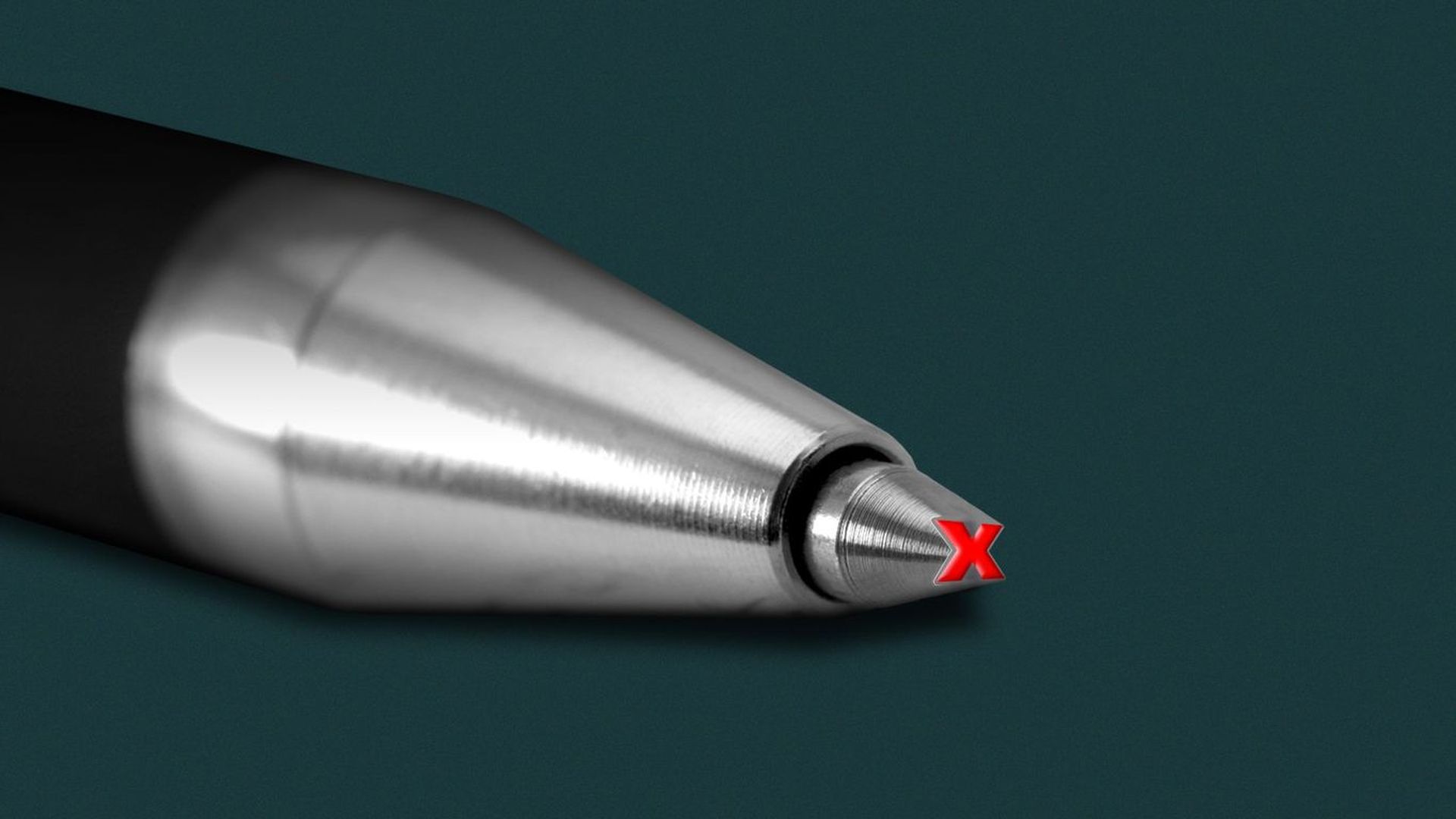 An influential climate panel tasked with guiding the creation of a new global carbon market has cast doubt on whether carbon removal technologies could be counted as carbon offsets, Andrew writes.
The big picture: On Wednesday, more than 100 companies and organizations sent a letter to the United Nations Framework Convention on Climate Change's secretariat objecting to the draft guidance.
The U.N. draft, contained in a technical note, states that "engineered carbon removal activities ... do not contribute to sustainable development," and fail to serve the goals of the carbon market under the Paris Agreement.
The proposal, which is not yet formally approved, also calls carbon removal solutions "technologically and economically unproven, especially at scale," and says the technology poses "unknown environmental and social risks."
State of play: The language has provoked a rapid and growing backlash from the carbon removal sector, with comments flowing into the U.N. before the comment period ends Thursday.
The carbon market rules may be in place for decades.
In its most recent climate science assessment, the U.N. Intergovernmental Panel on Climate Change concluded carbon removal is needed to bring global carbon emissions to net zero, and eventually net negative.
What they're saying: Eve Tamme, founder and managing director at Climate Principles, told Axios in an interview that the language about carbon removal technologies "is a hugely surprising development."
"We know that the IPCC has made it very clear that removals are needed" to achieve the Paris targets, she said.
"It's also very clear that nature-based removal will not be enough. We need engineered removal as well," Tamme added.
4. "Clean" energy spending is outpacing fossil fuels
Investment in climate-friendly energy is extending its lead over fossil fuels, yet spending trends in both buckets are out of step with Paris Agreement goals, a new report finds, Ben writes.
Driving the news: The International Energy Agency just dropped its latest annual look at investments in "clean" and fossil energy.
"Clean" includes wind, solar, batteries, EVs, nuclear, efficiency, grid tech and carbon capture.
🧮 One wild stat: IEA sees 2023 solar investment, at $380 billion, outpacing oil exploration and production spending for the first time.
The comparison is limited — transportation and other markets are far bigger sources of oil demand than power.
But it encapsulates wider trends afoot. Also, the lines between transport fuels and power are blurring as EVs rise.
The big picture: Russia's invasion of Ukraine has boosted clean energy, even as it prompted a near-term "scramble" for oil and gas, IEA finds.
The oil and gas sector is boosting investment in exploration and production — but not compared with high profits.
Forces including investor pressure for returns, and questions about long-term demand, mean that "only large Middle Eastern national oil companies are spending much more in 2023 than they did in 2022."
Threat level: The overall picture is mixed.
"Clean" investment is growing, but the world is behind the eight ball on the emissions cuts needed for Paris goals.
If you look at IEA's hypothetical pathway to net-zero emissions by 2050, investment in only a "handful" of technologies — including solar and battery storage — is on track.
Meanwhile, "coal investment this year is on course to reach nearly six times the levels envisaged in 2030 in the Net Zero Scenario," IEA notes.
5. 🛢️Quoted
"There is every reason for the Middle East producers to be worried about losing market share in China and India to Russian barrels ... There appears to be no end in sight to the trade flows shift."
— Vandana Hari, founder of the consultancy Vanda Insights
Her comments to Bloomberg explore the reshaping of global oil markets, as China and India snap up discounted Russian barrels while longtime European buyers shun Kremlin-backed suppliers.
🙏 Thanks to Gail Hughes and Javier David for edits to today's edition, along with the talented Axios Visuals team.