Axios Generate
May 12, 2022
🕺🏽 Let's do this! Today's Smart Brevity count is 1,307 words, 5 minutes. 
🎸 Exactly 30 years ago, the Black Crowes dropped "The Southern Harmony and Musical Companion," which provides today's intro tune...
1 big thing: Drought leads to wildfires and unearths crimes
It is only May, and the worsening, long-term drought in the Southwest is taxing water managers, firefighters and even homicide detectives, Andrew writes.
Why it matters: The region is stuck in a "megadrought" lasting more than two decades, and studies show it is more severe than any in at least 1,200 years.
The big picture: California just had its driest first four months of the year, encompassing a crucial period during the heart of the state's wet season.
Threat level: In New Mexico, multiple large wildfires are burning amid scorching heat, high winds and dry air.
The National Weather Service has described the conditions there as "dire."
At about 259,810 acres as of Thursday morning, the Calf Canyon Fire is the state's second-largest wildfire on record and growing.
Between the lines: In California, local authorities have been issuing increasingly draconian water restrictions.
The state is also grappling with the new reality of a much-diminished Colorado River, which provides water to seven states.
Lake Mead, the nation's largest reservoir by volume, is at a record low.
The intrigue: As the water level drops, long-hidden bodies have begun to be unearthed. The first instance of skeletal human remains was discovered on May 1, inside a rusted metal barrel.
2. A fresh lens on electric vehicle costs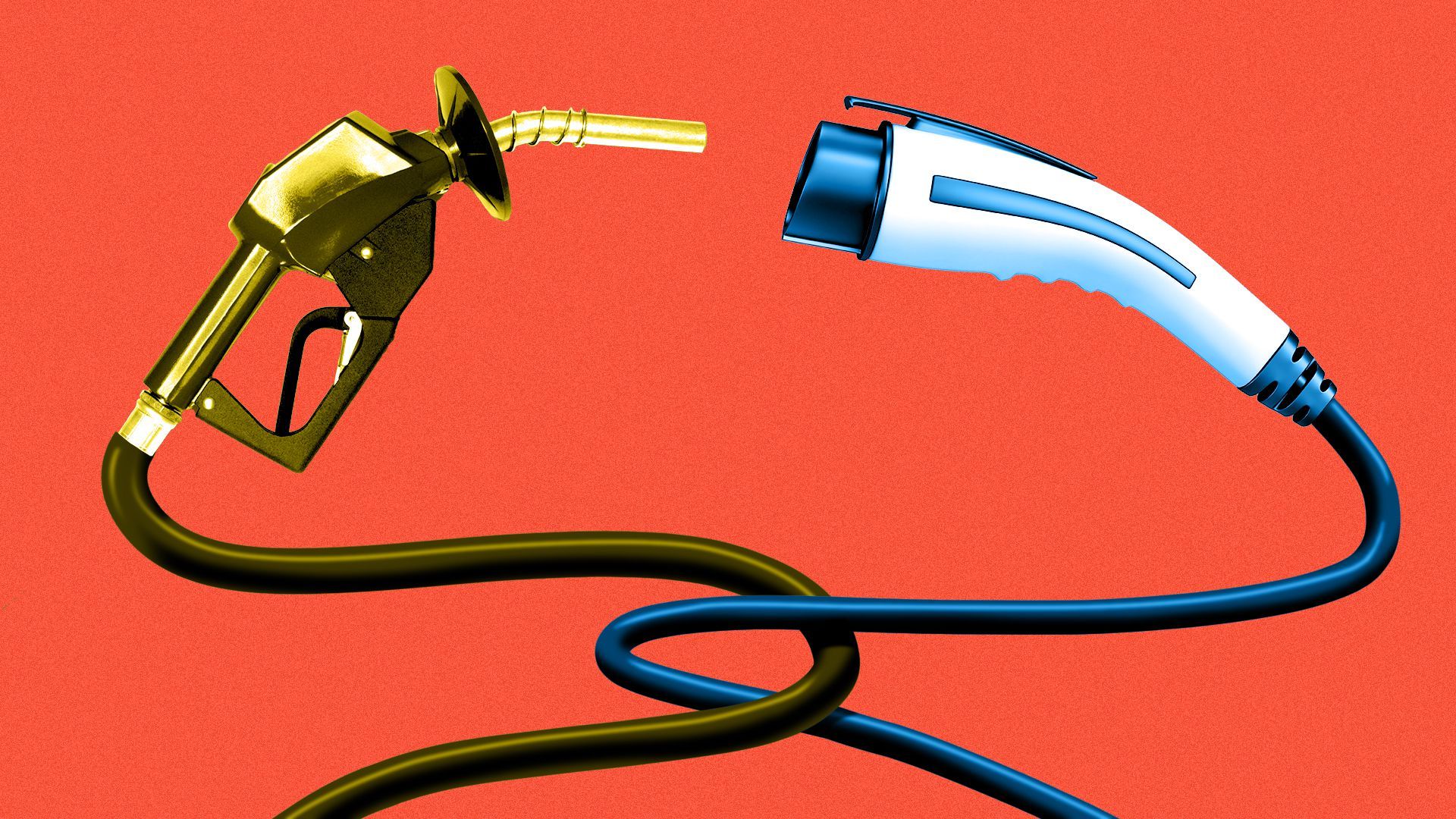 A new study offers a twist on how to compare costs of electric cars and gas-powered models — and finds that EVs usually win, Ben writes.
The big picture: EVs generally have higher sticker prices, but look good from a lifetime cost perspective.
But the firm Energy Innovation's new analysis says EVs generally beat gas models even right off the lot when a different lens is applied.
"[I]n most states, financing and owning an EV is cheaper on a monthly basis than financing and owning an equivalent gasoline car."
Zoom in: Most people don't have suitcases of cash — they note 85% of cars are financed.
"[U]nderstanding how the monthly loan repayment compares to estimated fuel and maintenance costs is critical to understanding the monthly impact to consumers."
It analyzes monthly costs for six EVs vs. gas-powered equivalents, accounting for fuel and power, maintenance, incentives, and more.
Yes, but: Big caveats apply! They modeled gasoline expenses based on early May prices, when they were near-record levels.
It also assumes buyers get the $7,500 federal EV tax credit. But Tesla and GM have reached the per-manufacturer cap, and Ford and Nissan are close.
The study calls on Congress to lift the cap and make the credit more generous.
What they're saying: Report author Robbie Orvis says "lower gasoline prices would move things back towards gasoline cars somewhat."
But Orvis notes analysts' predictions that high pump prices will stick around.
"I think falling EV prices and continued high gas prices are the way we're headed, which would make things more favorable for EVs, not less so," he argues via email.
3. 🛢️No "acute" oil supply deficit expected
Rising oil output in several countries and slowing demand growth should ward off a supply gap for now, even if more Russian hydrocarbons are crimped, the International Energy Agency said, Ben writes.
Driving the news: Oil supplies from Russia, a huge exporter, have so far remained higher than IEA predicted earlier in the crisis.
Nonetheless, a potential EU embargo would deepen Russia's isolation and force more wells to halt, IEA said in its monthly market report.
"Even so, steadily rising output elsewhere, coupled with slower demand growth, especially in China, is expected to fend off an acute supply deficit in the near term."
😬 Yes, but: The refined products market is really tight — reasons include capacity constraints and lower Russian product exports — keeping diesel, gasoline and other product prices very high.
And IEA noted that while Russia's crude exports have held up, with India increasing its buys, more turbulence may loom.
Trading houses are winding down contracts, and global demand growth is slated to pick up in the second half of the year despite high fuel prices.
Threat level: "If refiners cannot keep pace, product markets and consumers could come under additional strain."
4. Interior nixes Gulf of Mexico oil lease sales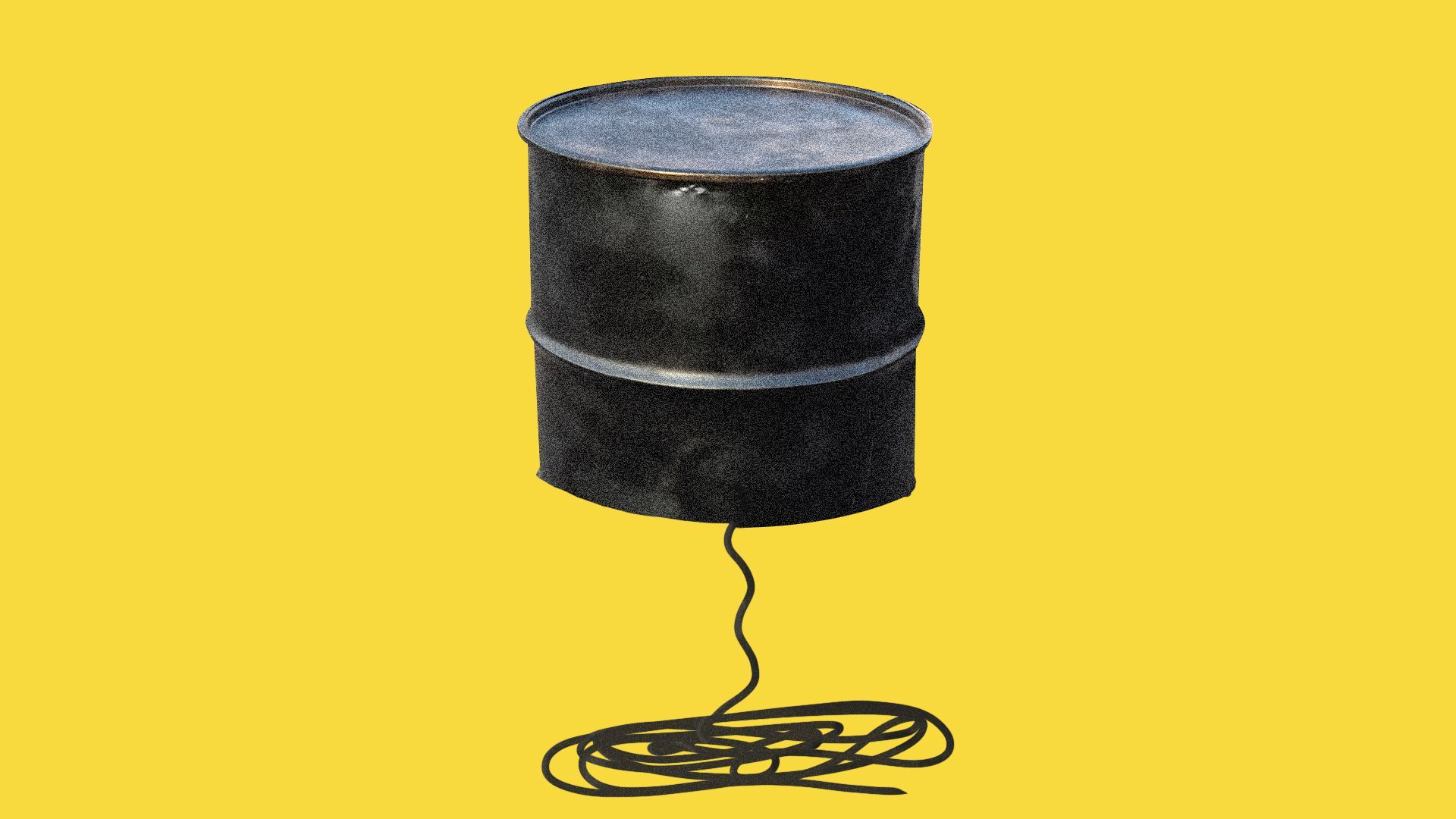 The Biden administration is scuttling two planned oil-and-gas lease sales in the Gulf of Mexico and one in Alaska's Cook Inlet, Ben writes.
The big picture: It won't affect near-term production or prices. Offshore development is a yearslong thing.
But it deepens rifts with the oil industry over White House efforts to curtail development in federal lands and waters.
Driving the news: Interior spokeswoman Melissa Schwartz said the Gulf auctions were nixed over "factors including conflicting court rulings that impacted work on these proposed lease sales."
Lack of industry interest doomed the Cook Inlet sale, she said.
What they're saying: Frank Macchiarola, a senior VP with the American Petroleum Institute, said via email, "Unfortunately, this is becoming a pattern — the administration talks about the need for more supply and acts to restrict it."
What we don't know: Interior "did not say when it would next sell drilling rights in U.S. coastal waters nor finish developing a new five-year plan necessary to hold those auctions after July 1," Bloomberg reports.
Bonus policy notes: Solar and offshore wind
Tariff probe: "U.S. Commerce Secretary Gina Raimondo on Wednesday said she had no discretion to influence her department's investigation into tariff-dodging by Chinese solar panel producers but said the industry's worst fears were unlikely to materialize." (Reuters)
Wind leasing: A federal auction for wind leases off the North and South Carolina coast brought $315 million in winning bids Wednesday.
TotalEnergies claimed one area for $160 million while Duke Energy won another for $155 million, the latest sign of deep-pocketed companies building or eyeing projects in the nascent U.S. sector.
5. Rivian's rough week gets a little brighter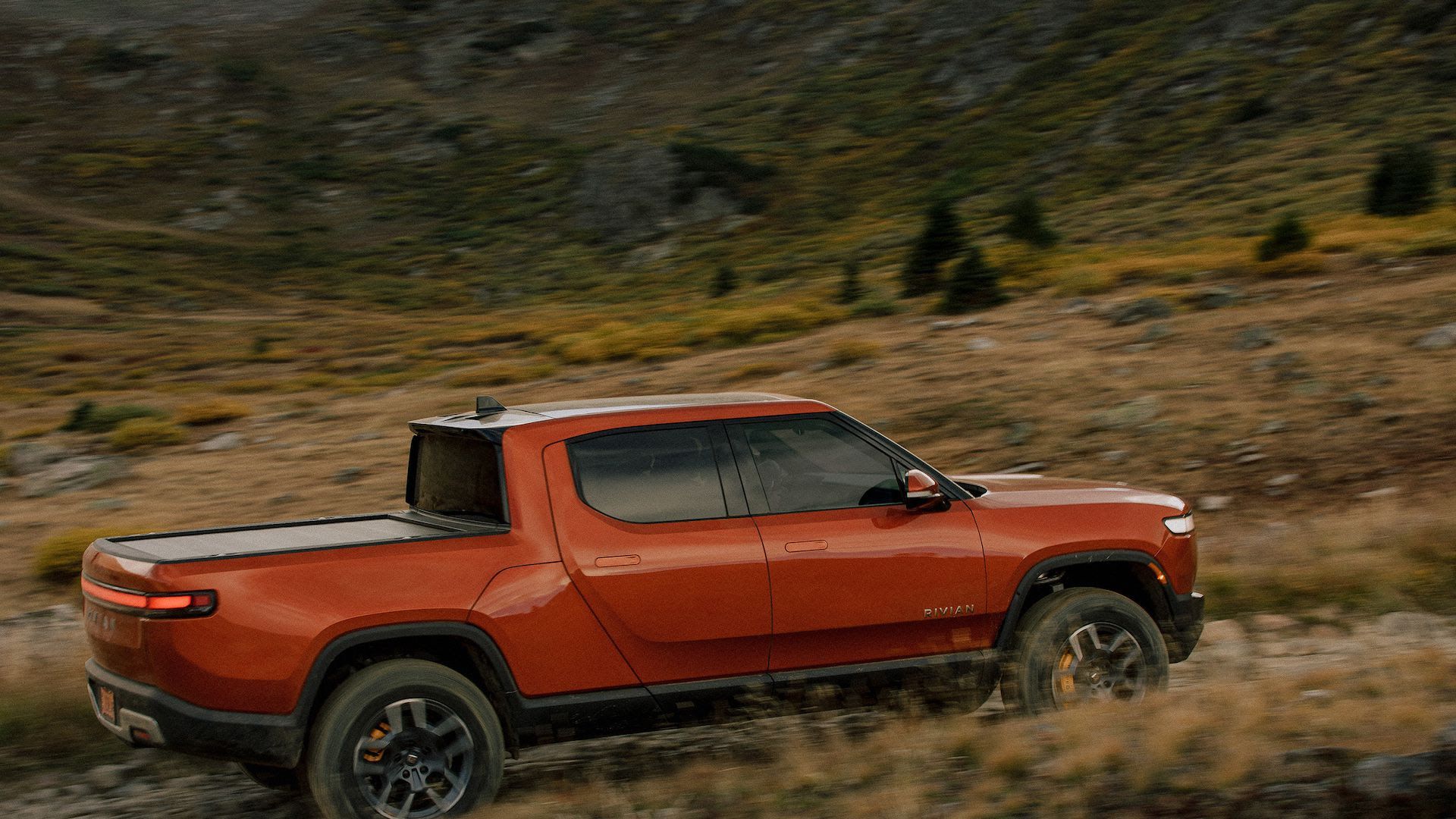 The EV startup Rivian yesterday reaffirmed its 2022 production targets when reporting its Q1 earnings, news that likely helped to arrest the slide in its share price, Ben writes.
Driving the news: Rivian reported a $1.59 billion Q1 loss, which CNBC notes was slightly smaller than estimates, and stuck by plans to make 25,000 vehicles this year despite supply chain woes.
It was enough to reverse, in after-hours trading, a steep slide in the company's stock price earlier this week (though it has dipped a bit again in this morning's pre-market action).
But it's still down around 80% on the year, and Rivian's shares plunged earlier this week to record lows on the news that Ford was selling shares.
Why it matters: Rivian is among the most closely watched and promising EV startups, enjoying big name backers and a large deal with Amazon, among other advantages.
The big picture: Axios' Nathan Bomey this week explored the struggles facing not only Rivian but several EV startups.
He reports that they're dealing with all the same issues as established automakers, such as supply chain problems, materials inflation, intense competition and the stock market's intense volatility of late.
But when you're starting from scratch, those issues are amplified — such as suppliers that decide to prioritize their bigger, more established customers first.
Thanks for reading and see you back here tomorrow!