Good morning and welcome back! Wondering what Hall & Oates song was atop the Billboard Charts this week in 1977?
The very well-crafted answer is today's intro tune . . .
https://www.axios.com/newsletters/axios-generate-72c05c3e-d358-4b52-b6b7-ab619ffa90ab.html?chunk=0#story0
EPA and Tesla causing EV storm clouds
Two storylines are converging that could bring headwinds for the growth of U.S. electric vehicles: EPA's regulatory rollbacks and Tesla's rough patch. But whether they're ultimately strong gusts or merely light breezes is hard to know yet.
Why it matters: Environmentalists fear EPA efforts could slow the transition to a cleaner vehicle mix at a time when carbon emissions from the transportation sector have become the top source of U.S. carbon dioxide output.
This comes as Tesla is set to release data showing how short it's falling on producing the mass market Model 3 electric sedan, a car that could be important to the wider expansion of EVs on U.S. roads.
ICYMI: The EPA began Monday the process of weakening Obama-era auto mileage and carbon emissions rules for model years 2022–2025, and signaled it may attack the power of California and around a dozen other states to maintain tougher rules.
Be smart: Despite all the attention on EPA's rollback, a swirl of forces are still driving big automakers to offer more electric options. U.S. federal policy is just one market influence, alongside other countries' policies, falling battery tech costs and more.
"This is a much bigger story than the EPA. It involves a lot of other big jurisdictions, most importantly the Chinese market," said Salim Morsy, an analyst with Bloomberg New Energy Finance.
Go deeper: Click here for the whole story in the Axios stream.
https://www.axios.com/newsletters/axios-generate-72c05c3e-d358-4b52-b6b7-ab619ffa90ab.html?chunk=1#story1
Top BlackRock exec on Trump and climate change
My Axios colleague Amy Harder reports...
On the record: Michelle Edkins, BlackRock's global head of investment stewardship, is a key figure in this spring's annual shareholder meetings with publicly owned companies where climate change is expected to be featured prominently. Edkins was quoted in the latest Harder Line column on the topic.
Why she matters: BlackRock is the world's largest investment firm, and Edkins was mentioned in a letter BlackRock Chairman and CEO Larry Fink sent earlier this year to companies imploring them to drive sustainable long-term growth.
On how President Trump's regulatory rollback is affecting investors' thinking on climate:
"This is [a] global and long-term issue. It's a factor, but it's not a driver of the approach we're taking. Most oil and gas companies that really are going to move the needle are global. The idea that one change in government in one place is going to completely radically change the long-term horizon, I think, is really misguided."
On why climate change is becoming a bigger issue to Wall Street investors:
"There's a lot more joined-up thinking around climate risk than perhaps there was before. There's a stronger probability of policy being made that will impact companies and their long-term business models."
https://www.axios.com/newsletters/axios-generate-72c05c3e-d358-4b52-b6b7-ab619ffa90ab.html?chunk=2#story2
Scott Pruitt could be in trouble
Harsh glare: Per The Wall Street Journal, "The White House is conducting a review of Environmental Protection Agency chief Scott Pruitt's activities after reports that he had rented accommodations in Washington at below-market rates from the family of an energy lobbyist."
WSJ quickly notes that there's "no sign yet that Mr. Pruitt's job is in jeopardy."
Yes, but: There are signs that Pruitt may be in a precarious spot. The new revelations about his housing arrangements in 2017 follow stories about his expensive travel habits and other negative headlines.
Politico reported last night that White House chief of staff John Kelly has considered firing Pruitt "as part of a wave of ousters of top officials causing headaches for the president."
The White House did not respond to a request for comment last night.
The intrigue: As Politico points out, one thing working in Pruitt's favor is that unlike some other top officials shown the door, he has been in lockstep with Trump on policy, even as his behavior is causing consternation.
New wrinkle: Breaking Tuesday morning in The Atlantic, "Scott Pruitt Bypassed the White House to Give Big Raises to Favorite Aides."
https://www.axios.com/newsletters/axios-generate-72c05c3e-d358-4b52-b6b7-ab619ffa90ab.html?chunk=3#story3
On my screen: Electrifying Uber, FirstEnergy, FERC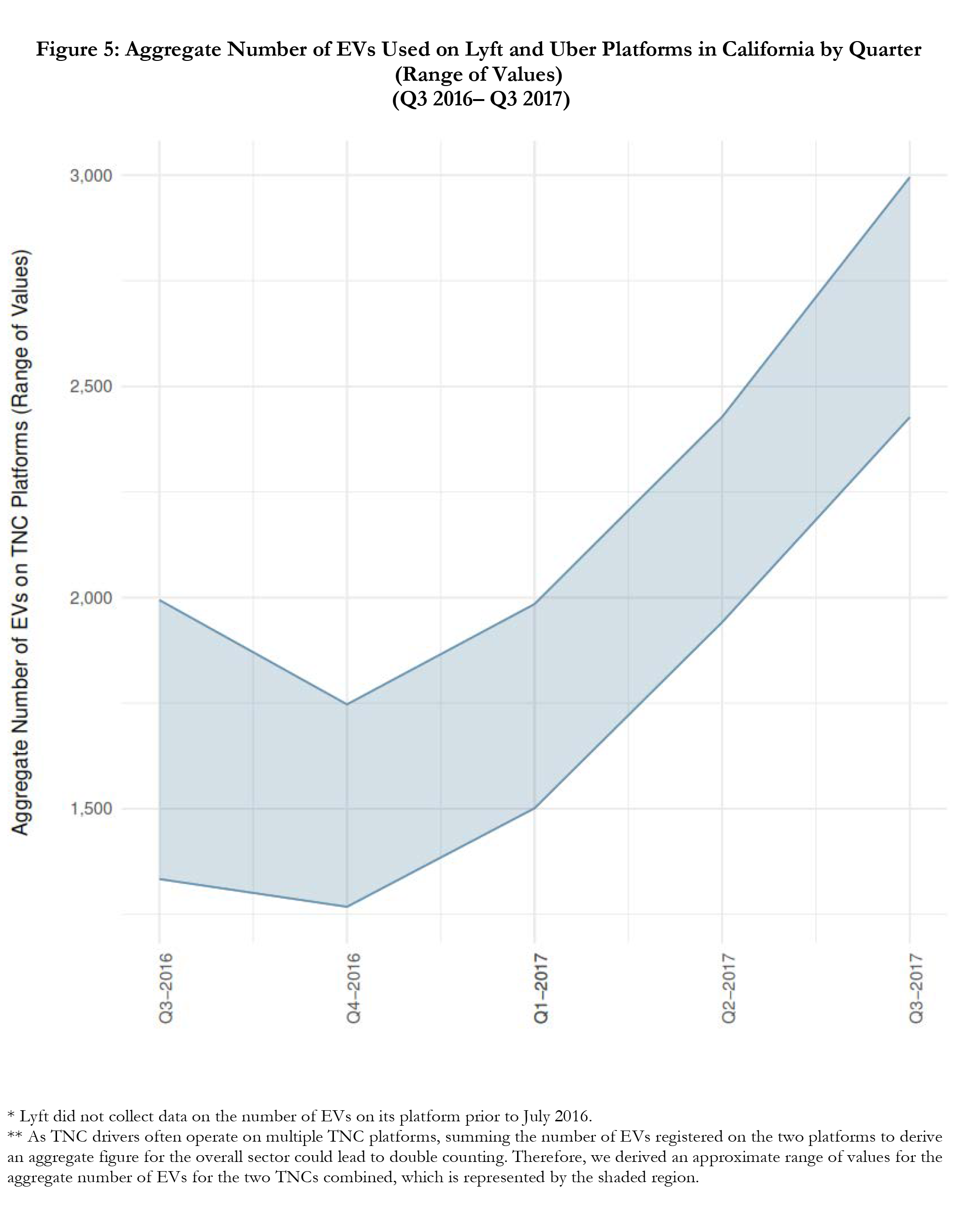 Screenshot: Chart in the California Public Utilities Commission report "Electrifying the Ride-Sourcing Sector in California"
EVs and ride-sharing: The California Public Utilities Commission released an interesting report yesterday evening on how much — actually how little — EVs are used by Uber and Lyft drivers in the state.
Why it matters: The CPUC is weighing whether to explore new regulations on so-called transportation network companies (TNCs) in order to cut greenhouse gas emissions from the sector.
One key stat: The percentage of EVs registered on Lyft and Uber platforms was 0.89%–1.12% in October 2017, the report states.
Bottom line: "EVs continue to be used to a very limited degree on TNC platforms. This is particularly concerning given California's ambitious EV deployment goals, most recently expressed in a January 2018 executive order setting a new goal of 5 million EVs in the state by 2030," it states.
Behind the headlines: The Pittsburgh Post-Gazette has a detailed look at the complicated bankruptcy filing of the big power company FirstEnergy Solutions (the same company asking DOE for sweeping action to prop up coal and nuclear plants in the PJM region).
"FirstEnergy Solutions' plans aren't entirely clear yet, but its initial batch of motions in bankruptcy court hint at a direction: Market the coal plants and retail energy business, negotiate the fate of its nuclear plants with debt holders, and keep the tax benefits, the employees and the vendors and contractors that matter most," the paper reports.
FERC and green energy: UPenn's Kleinman Center for Energy Policy is out with a helpful rundown of recent and upcoming moves by the Federal Energy Regulatory Commission on topics like storage and distributed energy resources.
https://www.axios.com/newsletters/axios-generate-72c05c3e-d358-4b52-b6b7-ab619ffa90ab.html?chunk=4#story4
How Trump got crushed on the budget
My Axios colleagues offered a close look earlier this week at how Trump was defeated in his goal of reining in federal spending. His budget proposal called for deep spending cuts with the exception of a big increase in defense.
Instead, as the above visual shows, the omnibus spending bill he signed last week boosts spending in all major categories, including defense — leading to the $1.3 trillion budget Trump complained about.
Why it matters: The numbers for energy and environmental spending reaffirm how the White House appears unlikely to succeed in efforts to enact steep cuts in areas like energy tech R&D.
One level deeper: As long as we're on the subject, the American Association for the Advancement of Science looks in-depth here at how specific Energy Department science and technology programs fared.
https://www.axios.com/newsletters/axios-generate-72c05c3e-d358-4b52-b6b7-ab619ffa90ab.html?chunk=5#story5
Latest in lobbying
Man on the move: Ryan Bernstein is leaving his role as GOP Sen. John Hoeven's chief of staff to become SVP with McGuireWoods Consulting, where he'll work with agriculture and energy industry clients, the firm said.
New registrations...
Oil-and-gas:
Mining:
Rio Tinto America Holdings has brought on Ernst & Young for work on international tax provisions in the Tax Cut and Jobs Act, a filing states.
Teck Resources also has tapped Pillsbury Winthrop Shaw Pittman for representation on "federal policy regarding contaminated sites and natural resource damages," their registration states.