Good Monday morning, and welcome back to Generate. Do you like what you're reading? Then please share it with friends by forwarding this email and this signup link. If you have thoughts about how we can make this better or tips or anything else, email me at amy@axios.com.
Axios' Ben Geman and I are tag teaming the news today. So let's get to it!
https://www.axios.com/newsletters/axios-generate-703fba13-be38-4696-972e-7de1a2fa2be6.html?chunk=0#story0
The ethanol empire strikes back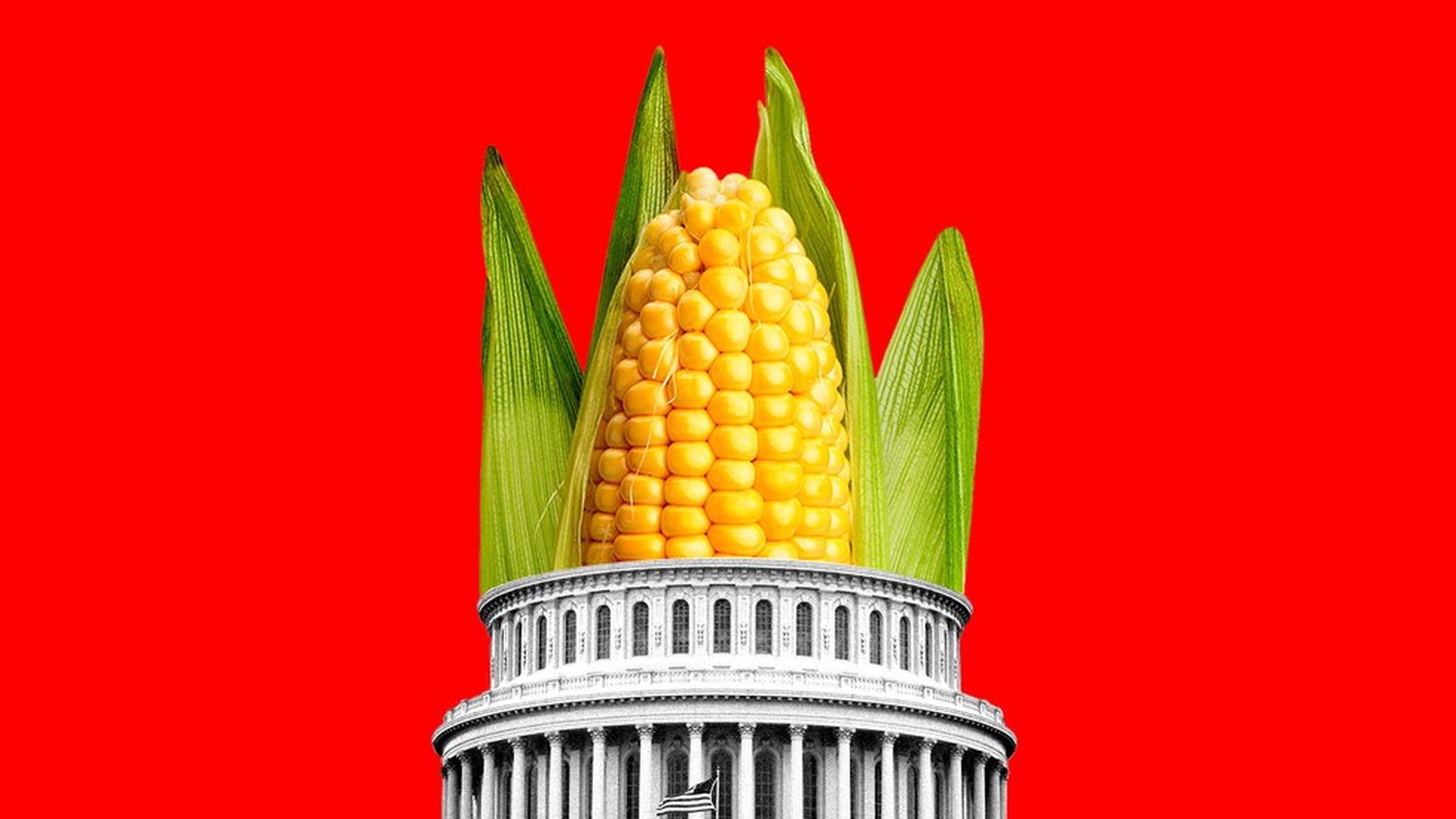 Ethanol is hot like it's the Iowa caucuses. It may be October in an off-cycle year, but President Trump is suddenly facing unusually intense pressure from Midwestern politicians and ethanol companies to keep his campaign promises on this issue.
Driving the news: Environmental Protection Agency administrator Scott Pruitt assured a group of corn-state lawmakers in an unusually detailed letter last week that he won't alter a federal mandate that requires refineries to blend biofuels — mostly corn ethanol — into the nation's gasoline supply. The EPA was considering changing certain parts of the mandate at the behest of oil-industry lobbying — but backed off under pressure from seven Midwestern Republican senators and ethanol companies.
Why it matters: Most casual observers know about corn ethanol in the context of politics: it's produced in Iowa, whose caucus kicks off America's presidential races. Trump vowed over and over to support the ethanol industry, and its 12-year-old federal mandate.
The big picture: Trump has bigger problems on his plate with Congress, namely passing bills on higher priority issues like tax reform and health care. He needs GOP support everywhere he can get it. Ethanol battles flare up, but can be resolved comparatively easy given their parochial nature.
Go deeper: Dive into the details -- and check out some great quotes by Sen. Chuck Grassley and others — by reading the rest of my Harder Line column in the Axios stream here.
https://www.axios.com/newsletters/axios-generate-703fba13-be38-4696-972e-7de1a2fa2be6.html?chunk=1#story1
On our radar this week: oil earnings, cybersecurity, EPA picks
A few items of note this week...
Third-quarter profits: Earnings season gets into full swing this week with a number of large oil-and-gas companies reporting third-quarter results. ConocoPhillips reports Thursday, followed by Exxon and Chevron on Friday, among others this week.
Reality check: The Wall Street Journal previews the oil industry earnings season by noting that Wall Street will be "reading tea leaves" for signs of a slowdown in the U.S. production boom.
Cybersecurity: The Senate Energy and Natural Resources Committee gathers Thursday for a hearing about "advanced cyber technologies that could be used to help protect electric grids and other energy infrastructure from cyberattacks."
EPA: The agency has two things on our radar this week:
Pruitt is set to announce this week, likely Tuesday, that he will restrict scientists who receive EPA grants from sitting on the agency's scientific board. Pruitt said he was going to do this at a Heritage Foundation event last week.
The Senate Environment and Public Works Committee meets Wednesday to vote on nominees for several senior EPA roles, a meeting that was rescheduled because of last week's ethanol kerfuffle (see top story).
https://www.axios.com/newsletters/axios-generate-703fba13-be38-4696-972e-7de1a2fa2be6.html?chunk=2#story2
Trump's electricity shakeup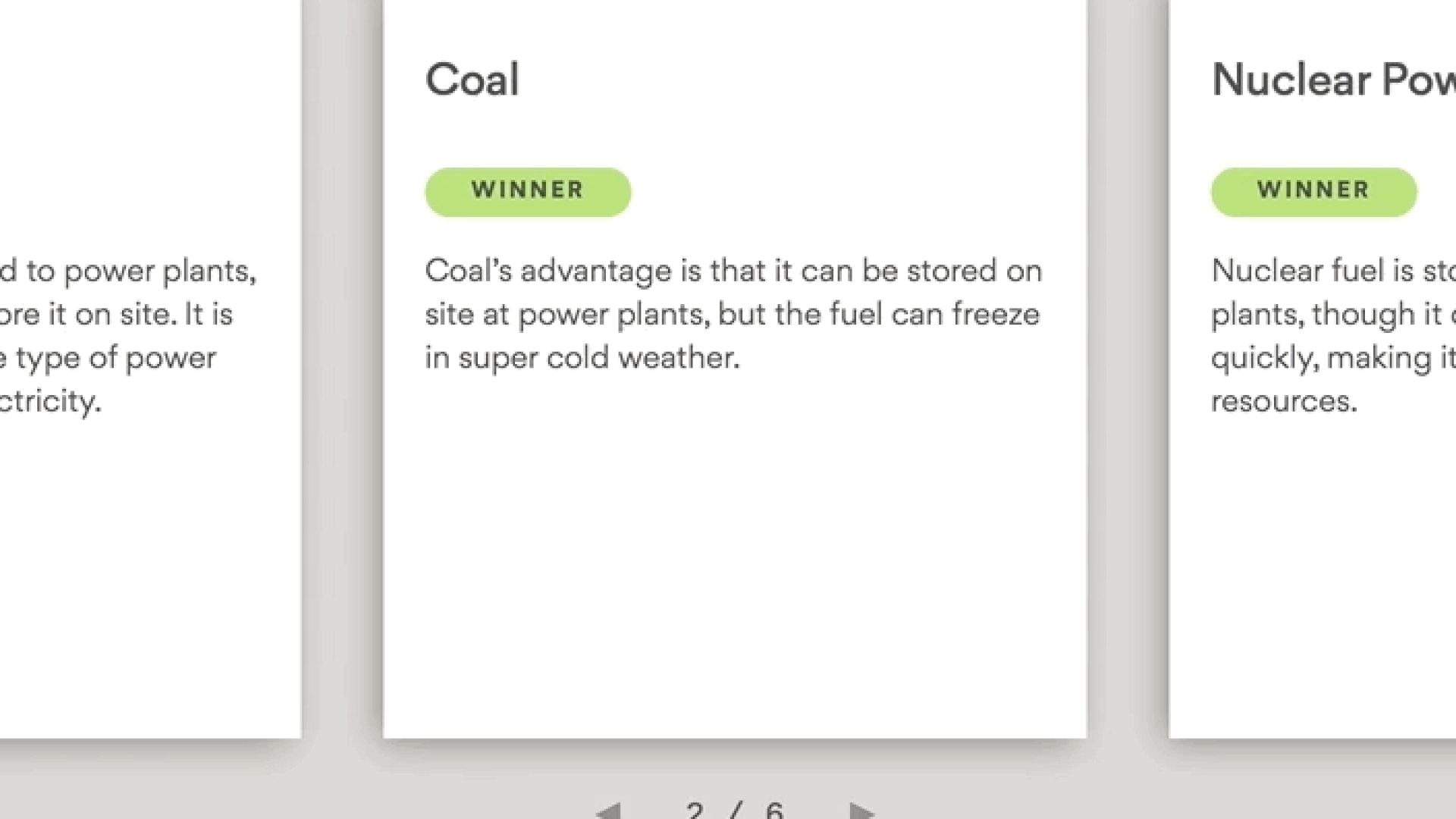 Today marks the starting gun in a battle for market share over America's stagnant electricity mix.
Driving the news: Seeking to follow through on Trump's campaign promises to revive coal and nuclear power, the Energy Department is asking an independent federal agency to issue a rule that would help those two fuel types. The stated aim is to ensure the electric grid is resilient to power outages and other vulnerabilities.
We've created a card deck to get you up to speed fast on how each fuel type is poised to gain — or lose — under the changes this proposal is suggesting.
Gritty details: The DOE's proposed rule would allow power plants operating in competitive markets, which make up more than half of the U.S., to recover costs if they have 90 days worth of fuel on site. Groups representing most energy types other than coal and nuclear power are worried, because it could erode their otherwise growing market shares and upend the power market as it's known today.
What's happening now: Comments on the proposed rule are due to the Federal Energy Regulatory Commission today. FERC, whose commissioners have expressed caution about following through with the rule, will make their final decision soon. The DOE has asked FERC to make a decision after 15 days, but many don't expect the independent agency to act that fast.
More: Check out this Axios slide deck breaking down the market share for each electricity source.
https://www.axios.com/newsletters/axios-generate-703fba13-be38-4696-972e-7de1a2fa2be6.html?chunk=3#story3
Analysis: No link between reliability and coal or nuclear power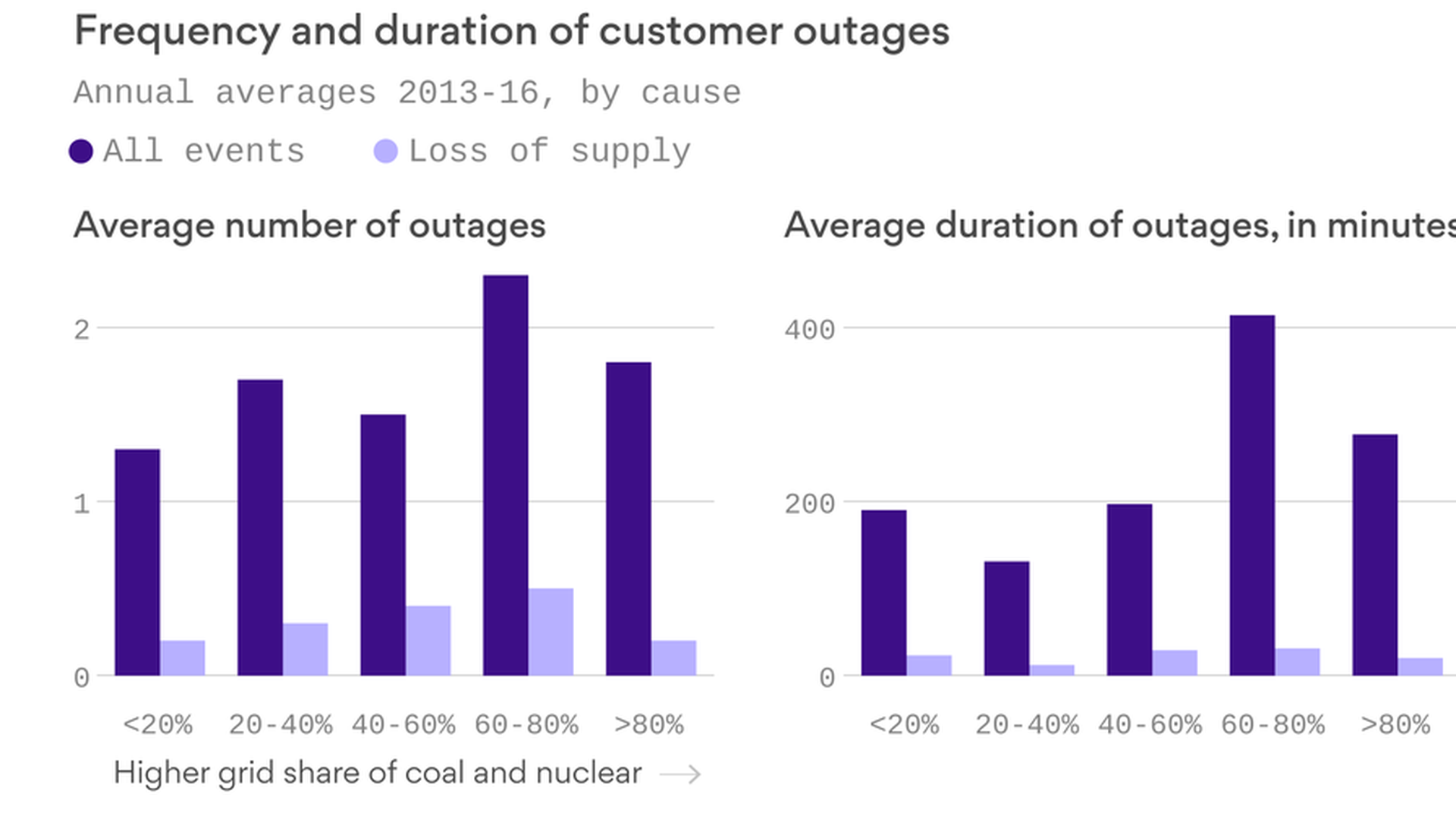 New analysis that the Rhodium Group consultancy is submitting to FERC argues there's no link between an area's share of coal and nuclear power, and customer power losses.
Why it matters: It aims to rebut Energy secretary Rick Perry's push for FERC to craft wholesale power market rules that would boost revenues to coal and nuclear plants based on their "resilience and reliability" attributes.
The chart above, derived from Rhodium's filing by Axios' Chris Canipe, plots the frequency and duration of outages against market share of coal and nuclear power in a region. It notes outages from all causes, and the smaller category of outages caused by lack of supply from the wholesale grid.
Note: That portion of their wider analysis summarized in the chart was commissioned by two environmental groups: the Natural Resources Defense Council and the Environmental Defense Fund.
In their words: "If increasing and/or maintaining the amount of coal and/or nuclear on the grid will improve reliability going forward, we would expect to see fewer and shorter outages in [balancing authorities] with more coal and nuclear generation historically," Rhodium states.
"Instead we find no clear relationship between coal and nuclear generation market share and the frequency and/or duration of power outages between 2013 and 2016."
"Indeed, if there is any observable relationship, it's a slight increase in both the frequency and duration of outages with higher levels of coal and nuclear generation."
What's next: It's one of many submissions pouring into FERC to meet today's deadline for comments on Perry's proposal to help ward off coal and nuclear plant retirements by enabling cost recovery for "fuel-secure" power plants — defined as facilities with at least 90 days of on-site fuel supplies.
https://www.axios.com/newsletters/axios-generate-703fba13-be38-4696-972e-7de1a2fa2be6.html?chunk=4#story4
Latest in lobbying
Energy influence: Here's just a few industry snapshots from the many third-quarter lobbying reports that were available as of the weekend...
Oil and gas
Utilities
Coal
Renewables
https://www.axios.com/newsletters/axios-generate-703fba13-be38-4696-972e-7de1a2fa2be6.html?chunk=5#story5
In Trump's America, solar fights over tariffs go through Fox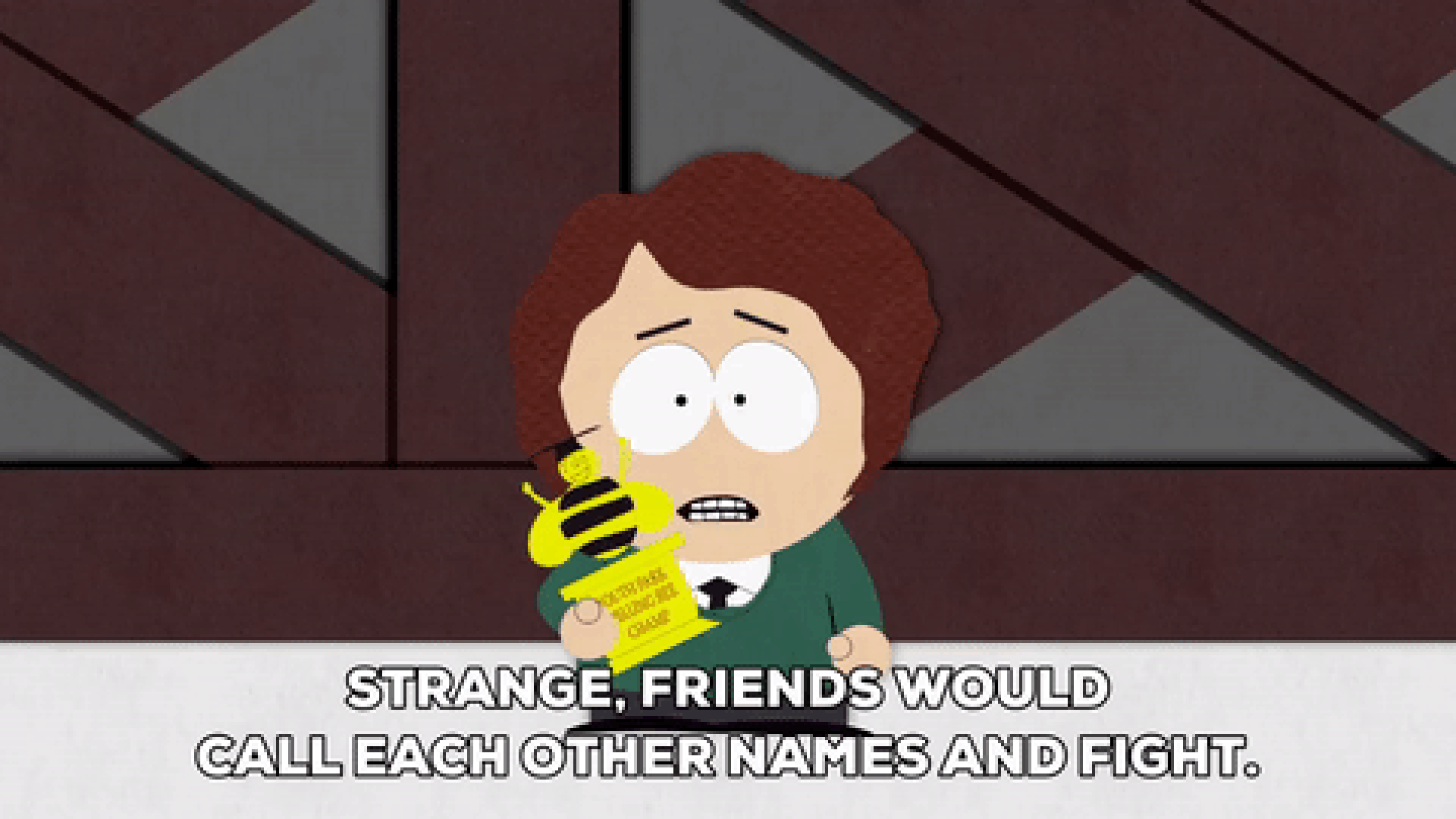 No one could have imagined this happening a year ago, when most money was on Hillary Clinton winning the presidential race.
Siding with most of the U.S. solar industry, Fox host Sean Hannity cuts a radio ad blasting potential tariffs Trump may impose on cheap solar equipment.
Laura Ingraham, another top Fox contributor, says on her radio show that China is to blame for the flood of cheap solar imports and comes out in support of tariffs.
Why it matters: It's striking how transparent both sides are being in this fight by trying to reach the president directly by going through Fox News personalities. While it's common knowledge Trump watches Fox, his ultimate policy decisions are often at odds with what people on that network say.
Go deeper: Read my recent column on the topic: America's Chinese solar dilemma.
https://www.axios.com/newsletters/axios-generate-703fba13-be38-4696-972e-7de1a2fa2be6.html?chunk=6#story6
Lightning round: Aramco, methane emissions, shale
The latest stories from the weekend...
https://www.axios.com/newsletters/axios-generate-703fba13-be38-4696-972e-7de1a2fa2be6.html?chunk=7#story7
One cool fall thing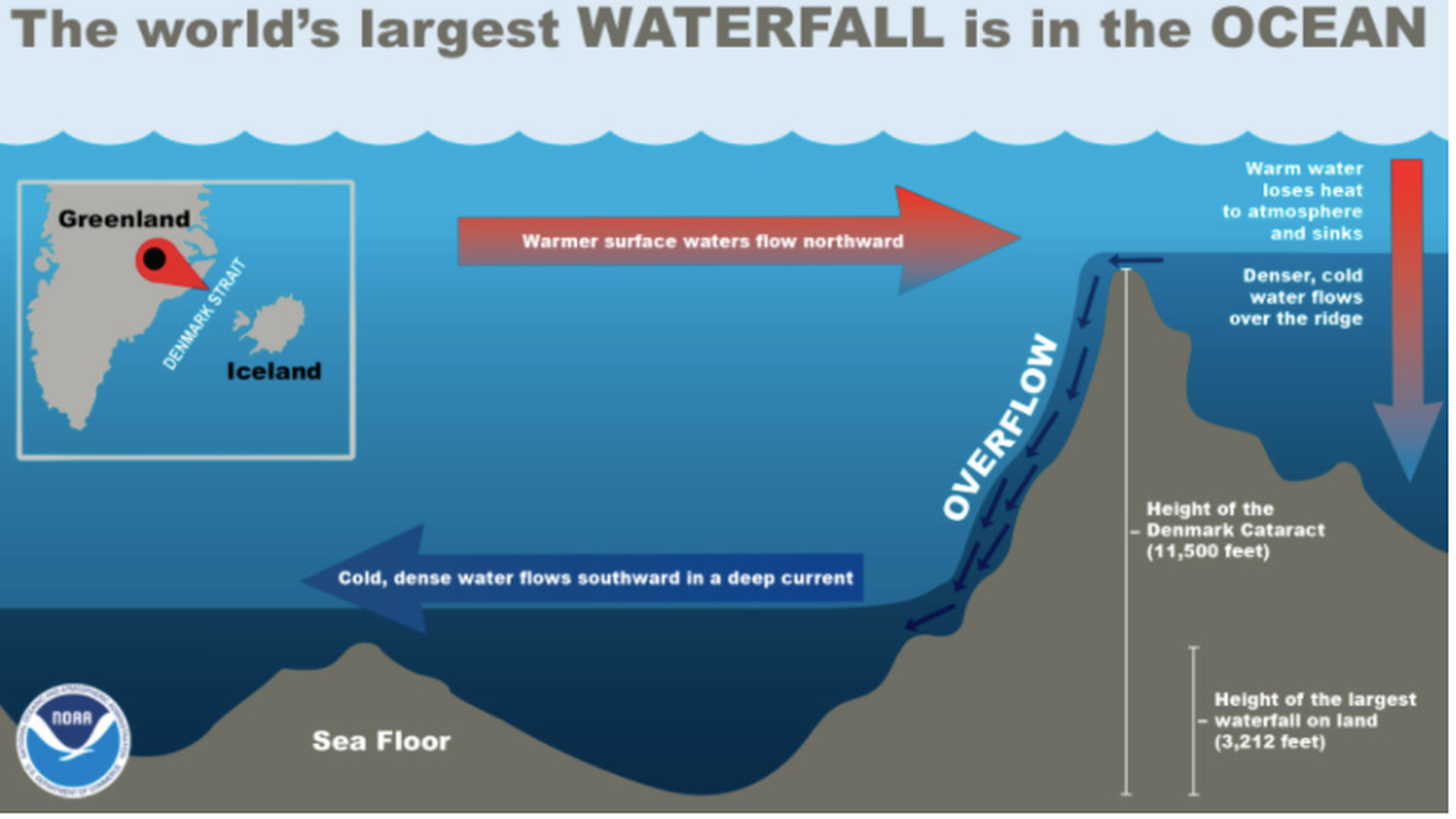 As in water, not the season.
The largest waterfall on Earth is, weirdly enough, in the ocean, the National Oceanic and Atmospheric Administration said Friday in a new post. It's located in between Greenland and Iceland, to be exact.
Gritty details: Cold water is denser than warm water, and in the Denmark Straight, frigid water from the north meets warmer water from the south.
By comparison, this underwater waterfall, known as the Denmark Cataract, is 11,500 feet tall, which is roughly 70 times the height of Niagara Falls in New York state.