Axios Generate
May 19, 2021
Good morning! Today's Smart Brevity count is 1,360 words, 5 minutes.
🛢️Breaking Wednesday: BP and Eni, the Italian multinational giant, said they are in formal talks to combine their oil, gas and LNG operations in Angola.
Reuters notes it would "form one of Africa's largest energy companies."
🎶 And happy birthday to The Who's Pete Townshend. A cut from his solo catalog is today's intro tune...
1 big thing: The next phase of Google's clean energy plan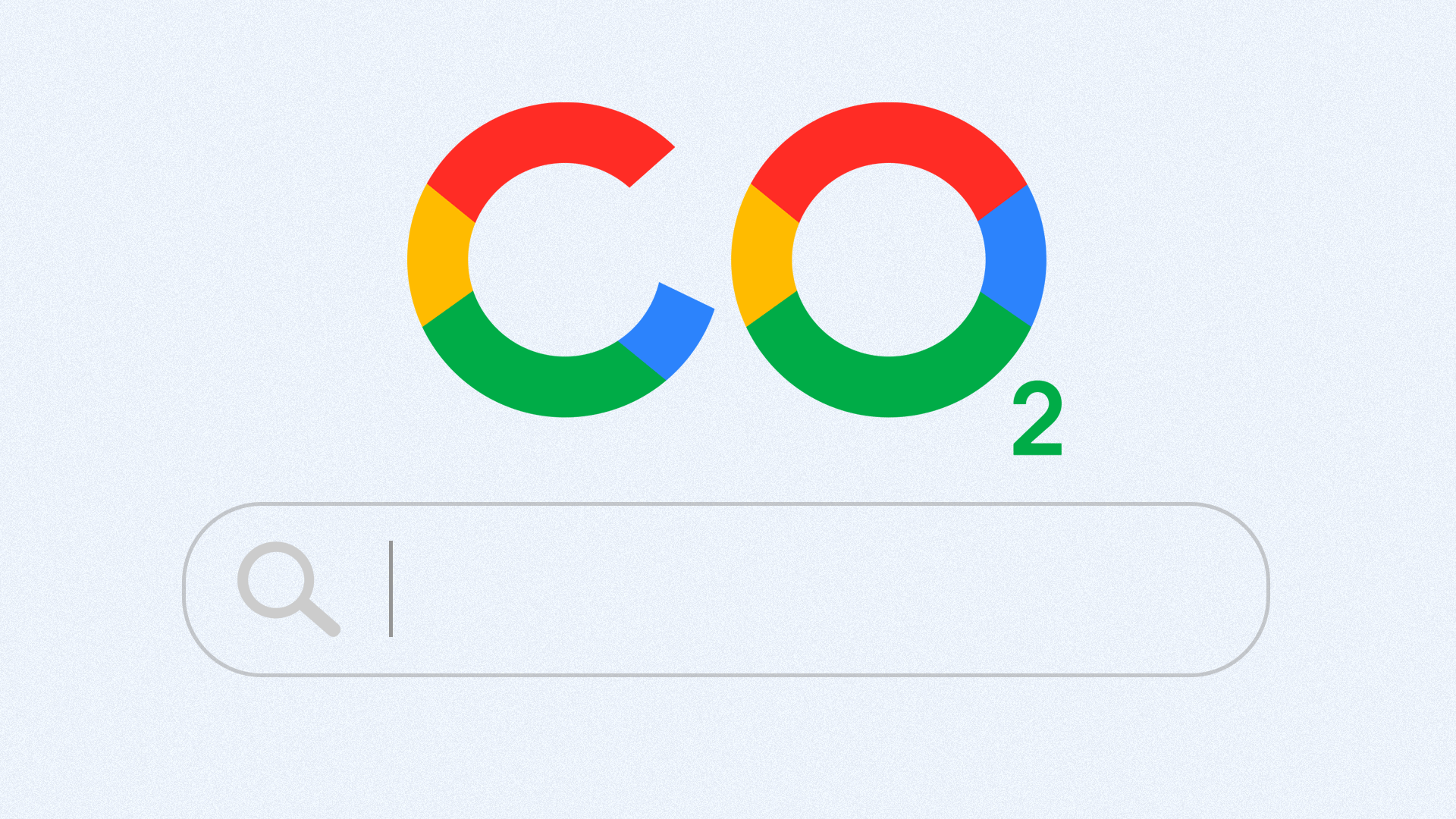 Google is making inroads in its push toward what company officials call its "moonshot goal" of powering itself completely with carbon-free electricity 24 hours a day, seven days a week by 2030.
The big picture: At its virtual I/O event Tuesday, Google announced that its climate intelligence computing platform will be able to shift tasks between data centers to maximize the use of renewable energy.
Michael Terrell, Google's energy director, tells Axios this could improve efficiency while getting closer to the carbon-free energy goal. Google's already been implementing a program to vary the timing of data center tasks to maximize the use of renewables.
The new effort aims to match non-time-sensitive compute tasks, like backing up files or upgrading programs, with times and places where the electricity grid will be the cleanest.
"By next year we're hoping that...we'll be shifting more than a third of our non-urgent compute tasks within our data center network to places and times where there's greater availability of cleaner resources on the grid," Terrell told Axios.
Why it matters: Data centers suck up lots of electricity and running them on zero-carbon power will help fight global warming.
Google said its initiative will lower the carbon footprint of its YouTube, Google Maps, Search and other programs.
It will also allow developers on Google's Cloud and Cloud customers to prioritize the use of cleaner grids by choosing regions with better carbon-free energy scores.
State of play: Google also announced a deal with Fervo Energy, a next-generation geothermal startup, to bring several megawatts of carbon-free energy to Google's sprawling data centers and cloud computing infrastructure in Nevada.
This project is noteworthy because geothermal is currently a tiny part of America's renewable energy portfolio.
However, studies show it could expand its share of power generation and heating depending on the advancement of new technologies to find and tap into this resource.
Fervo, which recently raised $28 million in VC funding, uses horizontal drilling techniques pioneered in shale oil and gas drilling as well as fiber optic sensing to access geothermal resources.
The new project is expected to generate 5 megawatts of baseload geothermal power, but that may grow over time with the help of AI and machine learning, Terrell says.
The bottom line: With its new and existing projects, Google is trying to demonstrate what's possible now, and develop capabilities with ripple effects beyond Silicon Valley.
2. Breaking: White House fills key climate science post
The White House said this morning that veteran climate scientist Mike Kuperberg is returning as head of the U.S. Global Change Research Program (USGCRP) following his removal from the position under President Trump.
Why it matters: The multi-agency USGCRP produces deeply researched, granular reports every several years that help inform policymakers, corporations and others about the status of climate change and its effects.
He'll oversee the creation of the fifth version of the congressionally mandated National Climate Assessment that's slated for release by the end of 2023 but may slip.
Catch up fast: Kuperberg, who has been with the Energy Department for nearly two decades, led USGCRP for five years until last year.
Trump had replaced him with David Legates, a meteorologist who disputes the scientific consensus on human-induced warming.
What they're saying: "There is no doubt that the climate crisis is accelerating — and if we're serious about tackling this crisis, we need proven scientific leadership that transcends politics," said Jane Lubchenco, a top official with the White House Office of Science and Technology Policy, in a statement.
3. Biden teases Ford's electric F-150 specs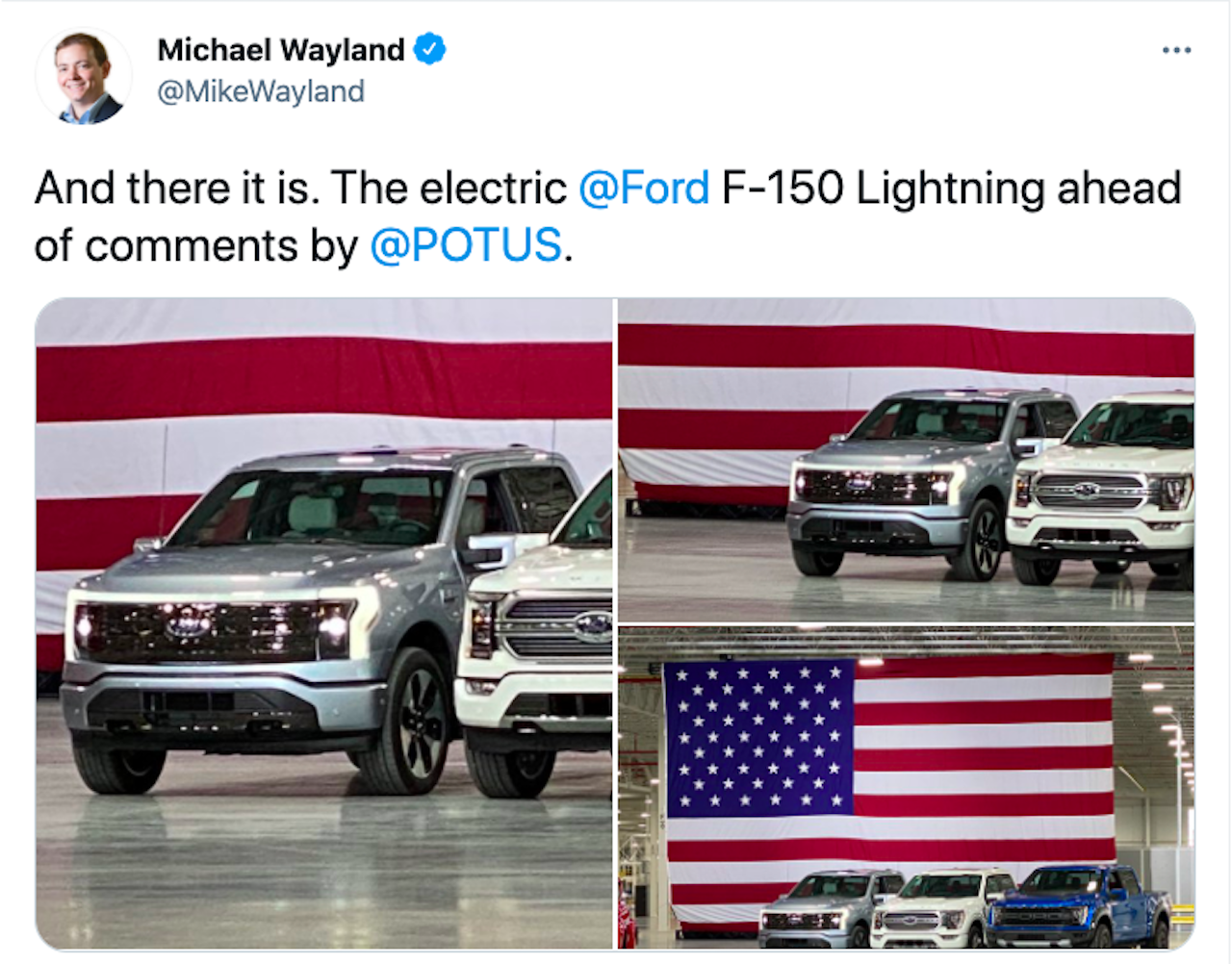 Ford Motor Co. will unveil the details of its electric F-150 tonight, but yesterday President Biden used his visit to the company's Rouge Electric Vehicle Center in Michigan to spill some info early.
Those photos above come via CNBC auto writer Michael Wayland's Twitter feed.
Driving the news: Via Axios' Sneak Peek newsletter last night...
The subject of famed Corvette and Trans Am memes took the wheel of an electric F-150 pickup while visiting a Ford factory in Michigan.
"This sucker's quick," Biden told the traveling pool, saying it had a 0-60mph time of 4.4 seconds.
A Ford representative riding shotgun laughed; the news was supposed to be secret until the new truck is formally unveiled.
Why it matters: The Ford F-150 is the top-selling vehicle in the U.S., so the electric version will be a key test of whether pickups with a plug can attract widespread consumer interest.
Biden's visit is part of a White House political sales pitch with high stakes.
He's asking Congress to approve $174 billion worth of vehicle electrification and charging initiatives, and expand consumer purchase incentives.
Yes, but: Via the New York Times, "Senate Republicans say their counteroffer to Mr. Biden's infrastructure proposal would include some spending on electric vehicles, but they are unwilling to come close to the dollar figures Mr. Biden wants."
4. Bonus policy notes: Nord Stream 2 and cybersecurity
Axios' Jonathan Swan reports...The Biden administration will waive sanctions on the corporate entity and CEO overseeing the construction of Russia's Nord Stream 2 pipeline into Germany, according to two sources briefed on the decision.
Why it matters: The decision indicates the Biden administration is not willing to compromise its relationship with Germany over this pipeline, and it underscores the difficulties President Biden faces in matching actions to rhetoric on a tougher approach to Russia.
* * *
The White House is offering new details about how it wants infrastructure legislation to bolster energy cybersecurity in the wake of the Colonial Pipeline hack.
A summary document says $20 billion in proposed energy infrastructure funding for state, local and tribal governments should be "contingent on cyber modernization."
The White House also said its proposal for new tax credits for building high-voltage transmission will "encourage stronger cybersecurity capabilities."
Bloomberg has more.
5. Charting oil's future in a net-zero world
Let's spend another moment with the International Energy Agency's view that a pathway to net-zero global emissions in 2050 means no new oil and gas fields are ever approved for development beyond projects already committed.
How it works: The chart above shows IEA's projection of how investment in new supplies would plummet in coming decades as the world moves away from fossil fuels in their roadmap.
The intrigue: The report delves into what the pathway would mean for the oil-and-gas industry and its ability to transform itself.
There are "far-reaching implications for all the companies that produce these fuels."
IEA notes there's a "clear threat to company earnings, but also opportunities."
The big picture: "The resources and skills of the oil and gas industry are a good match with some of the new technologies needed to tackle emissions in sectors where reductions are likely to be most challenging," the report states.
The net-zero pathway also sees a big demand increase for low-emissions liquid fuels and gases and says the oil industry could play a key role.
What we're watching: The IEA conclusion about ceasing the creation of new oilfields could boost pressure on the world's largest oil-and-gas companies to diversify far more aggressively than their current plans.
6. Amazon and Fidelity stake electric flight startup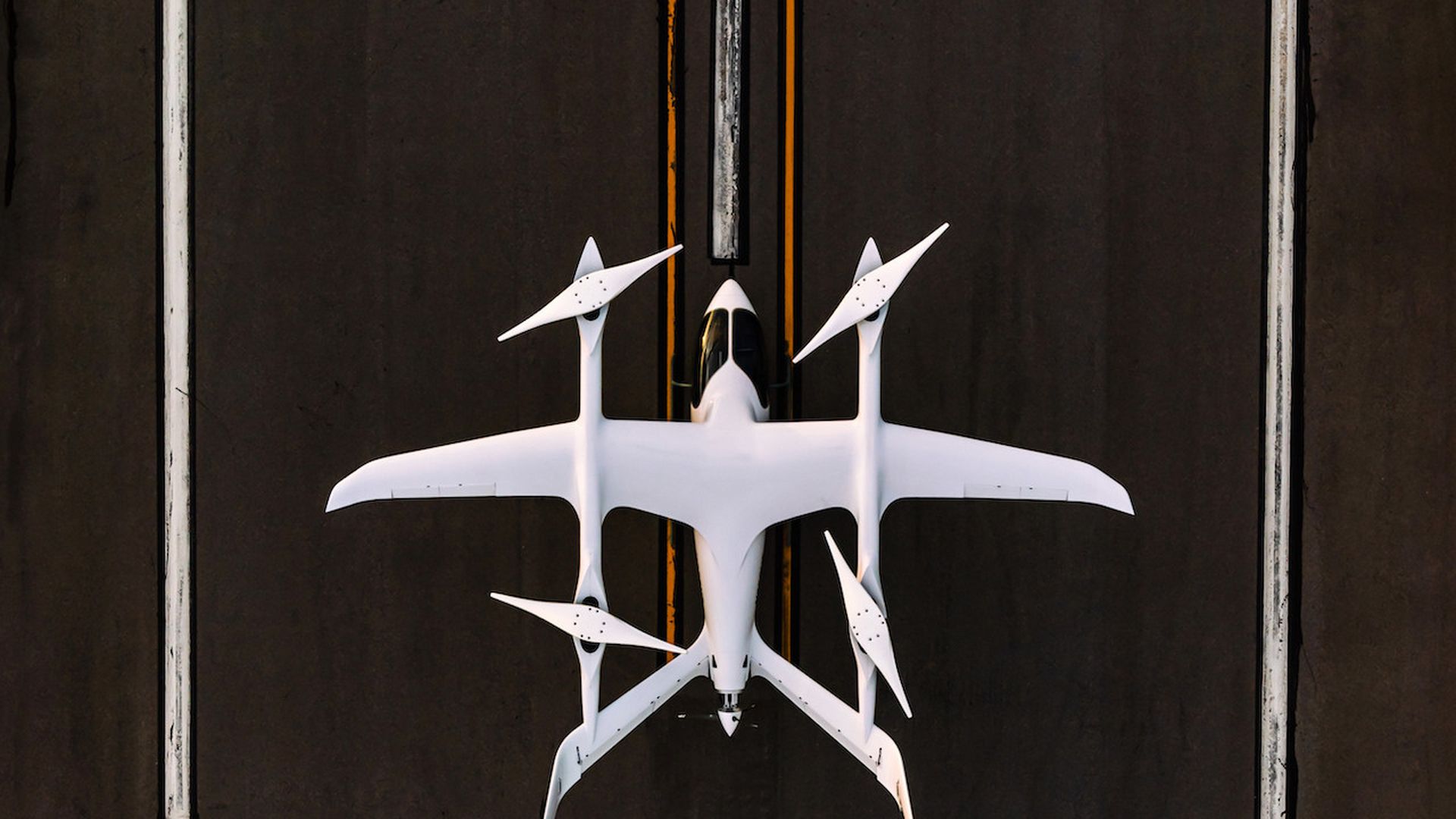 The electric aviation startup Beta Technologies closed a $368 million funding round led by Fidelity Investments that also included Amazon via the tech giant's climate venture fund.
Why it matters: It's the latest sign of investor interest in battery-powered vertical takeoff and landing aircraft for moving cargo and people on shorter routes — and cutting aviation emissions in the process.
CNBC reports the new funding values Beta at $1.4 billion.
Driving the news: The Vermont-based company said Tuesday that the money would go toward continuing "refinement" of its electric propulsion system and building manufacturing facilities.
Beta says its aircraft under development called Alia can carry up to 1,500 pounds of cargo or six people and has a range of 250 miles.
The intrigue: "Unlike developers Joby Aviation and Archer Aviation, which have each also achieved valuations over the billion-dollar mark, Beta is not primarily focused on air taxis," TechCrunch reports.
They note it's instead focusing on defense applications, cargo delivery and medical logistics. Beta has agreements and planned sales with several customers in those sectors.
UPS plans to buy 10 Beta aircraft and has an option for up to 150 and United Therapeutics plans to use them "as air taxis to transport its synthetic organs for human transplant," Beta said.
What's next: The startups looking to bring these vertical takeoff electric aircraft to market need Federal Aviation Administration sign-off. "Beta hopes to receive certification by 2024," CNBC notes.