Axios Generate
February 03, 2023
🍺 Oh yes. Friday. Today's newsletter has a Smart Brevity count of 1,256 words, 5 minutes.
🎶 Exactly 15 years ago, Alicia Keys was #1 on Billboard's album charts with "As I Am," which provides this week's final intro tune...
1 big thing: The anti-ESG crusader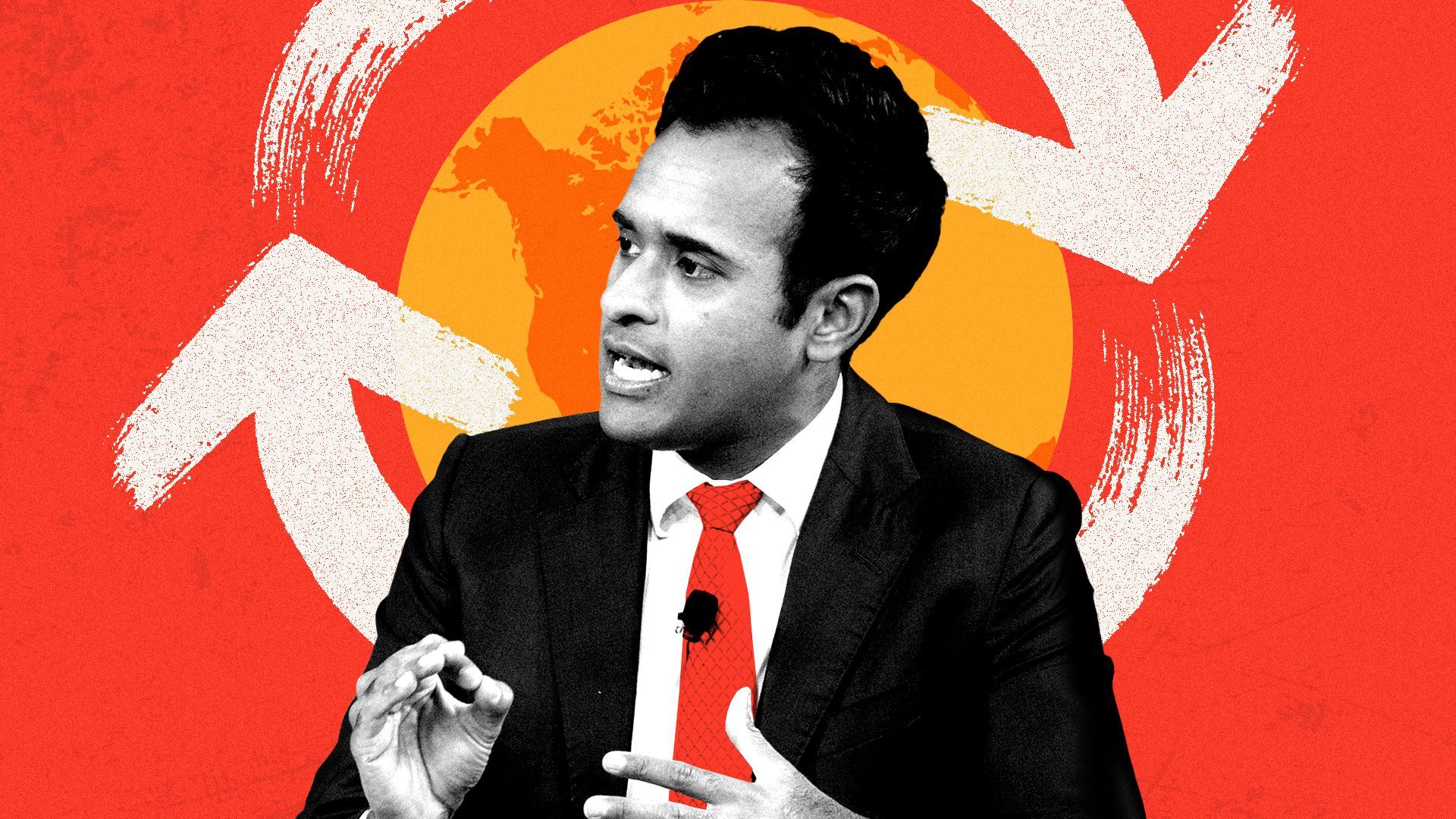 The right's most prominent crusader against climate-conscious investing is vying for states to spurn Big Finance — and deal with his own business instead, Energy Policy Pro's Jael Holzman and Andrew write.
Driving the news: Entrepreneur Vivek Ramaswamy says he hopes his firm, Strive Asset Management, becomes the go-to alternative for GOP states seeking to ditch the BlackRocks of the world.
"States, pension funds, treasurers, private institutions, large private corporate financial institutions … the system is so, I would say, captured by this one-sided dogma," he said.
How it works: ESG describes investors paying attention to financial risks related to environmental, social and governance issues.
Companies like BlackRock have paid more attention to ESG factors, amplifying pressure on large corporations to take steps like slashing carbon emissions.
Why it matters: Critics like Ramaswamy argue that focusing on such things goes against companies' "fiduciary duty" and unduly allows the biggest firms — without input from investors — to bring about economy-wide cultural changes.
Between the lines: Conservatives are embracing Ramaswamy.
Zoom in: As Ramaswamy's megaphone grows louder, his firm is approaching state officials to discuss its funds and proxy advisory consulting services.
Emails obtained by watchdog group Documented and reviewed by Axios show Strive approached at least six states in the last year — Alaska, Missouri, North Dakota, South Carolina, Utah and West Virginia.
In October, Strive told North Dakota officials it expected to soon have its first proxy voting consulting deal with one state pension system.
In January, the firm disclosed its first proxy consulting deal with an "institutional client" worth more than $40 billion.
The firm declined to identify the client, citing confidentiality. Ramaswamy also said his business has yet to receive any investment from pension funds.
The other side: Former Democratic Rep. John Delaney, who runs a low-carbon bank and asset manager, told Axios that advocates like Ramaswamy are taking "the intense rhetoric we have in the political world" to "effectively raise money by appealing [to] people's tribalism."
What he's saying: Ramaswamy called these claims "comical" because he's transparent about his business and worldview — that some of the world's richest leverage capital to enact and profit from social change.
To read Jael's coverage of the ESG debate in Congress, subscribe to the Axios Pro Energy newsletter launching Feb. 13. Use the code POLICYLAUNCH at checkout to get $200 off your subscription.
2. Rivian's growing pains on display
This week is bringing fresh data points that underscore the challenges EV producer Rivian faces on the treacherous path from buzzy startup to commercial-scale automaker, Ben writes.
Driving the news: Amazon, a major backer, yesterday said it took a $2.3 billion fourth quarter loss attributable to the decline in Rivian's market value.
In contrast, Amazon — which also has a huge, long-term deal with Rivian for delivery vans — saw an $11.8 billion valuation gain from its investment in Q4 2021.
Catch up fast: The Amazon earnings came a day after Rivian announced it is laying off 6% of its workforce.
Rivian must improve operating efficiency and focus resources on ramping up production of its pickups, SUVs, and fleet delivery vans, CEO R.J. Scaringe told employees in a memo first reported by Reuters.
The big picture: Rivian's stock is down 84% compared to its high when trading launched in November 2021.
But it has already succeeded in achieving some scale, with production exceeding 10,000 vehicles in Q4 compared to 2,553 in Q1 2022, and its vehicles have been well reviewed.
Its deal with Amazon for 100,000 delivery vehicles by 2030 — some of which are on the roads already — also provides a nice foothold in the corporate fleet world.
3. January 2023 was the warmest on record for many
January featured what meteorologists referred to as a "blowtorch" pattern in the East, with consistently milder than average weather conditions and barely any snow, Andrew writes.
By the numbers: Most cities, particularly those east of the Mississippi River, saw a top 15 warmest January.
In New York City, it was the warmest January on record, with an average temperature of 43.5°F — a whopping 10°F above normal. Every January day was above average there.
Boston saw its fifth-warmest such month, Washington its third, and Philadelphia second.
Why it matters: Climate change raises the odds of a milder than average January, as the coldest months are warming the fastest in many parts of the U.S.
The big picture: In addition to climate change, other factors worked to yield such an unusually warm month. Waves of atmospheric river storms slammed California, bringing relatively mild Pacific air across the Lower 48 states.
An area of high pressure across the East also directed storms northward across the Midwest and Great Lakes, dragging mild air up the East Coast.
What's next: Despite a short-lived, fierce Arctic blast in New England, February is forecast to be another milder than average month in the East.
4. New in Congress: GOP Kerry probe and mineral plans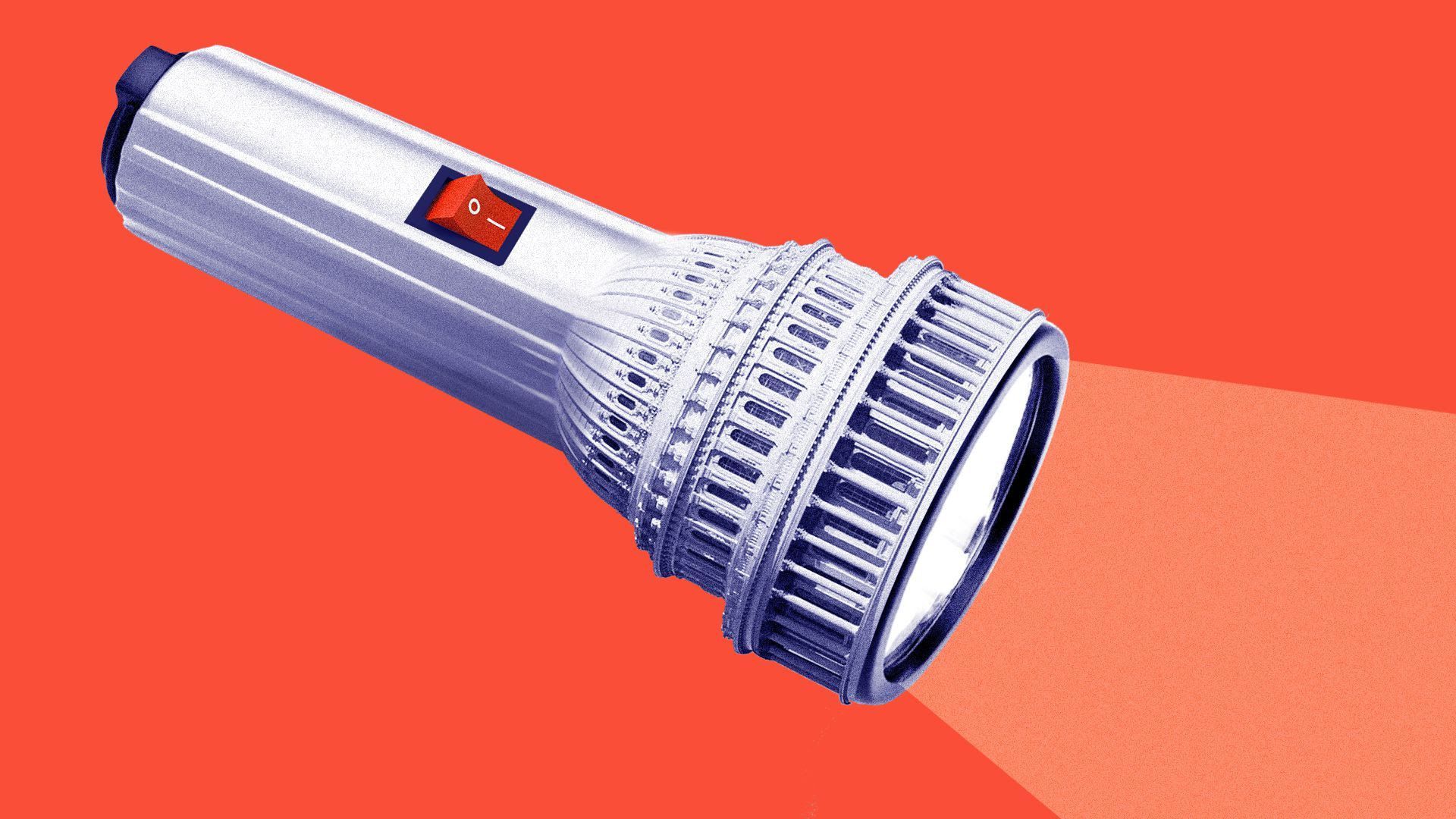 🔍 The new GOP chairman of the House oversight panel is pressing U.S. climate envoy John Kerry's office for wide-ranging documents about its activities, including talks with Chinese officials, Ben writes.
Why it matters: The new letter from Rep. James Comer (R-Ky.), touted via press release, clears its throat with attacks on Kerry's work — signaling he'll be a target of the new GOP majority.
Driving the news: It says Kerry's efforts to collaborate with China, the world's largest emitter, downplay China's human rights violations and antagonism toward the U.S.
The other side: A State Department spokesperson said State works to "appropriately accommodate" document requests. The spokesperson also said Kerry's office "has and will continue to engage Members of Congress on international efforts to combat the climate crisis."
⛏️ House GOP plans to focus on the links between mineral supply chains and energy security are coming into sharper relief with a pair of Natural Resources Committee hearings next week.
Driving the news: There's a Wednesday session on "Unleashing America's Energy and Mineral Potential," and a Thursday hearing on "Dependence on Foreign Adversaries: America's Critical Minerals Crisis."
Catch up fast: Check out Axios' Jael Holzman's look at the House GOP's wider approach.
5. The climate law charges up battery plants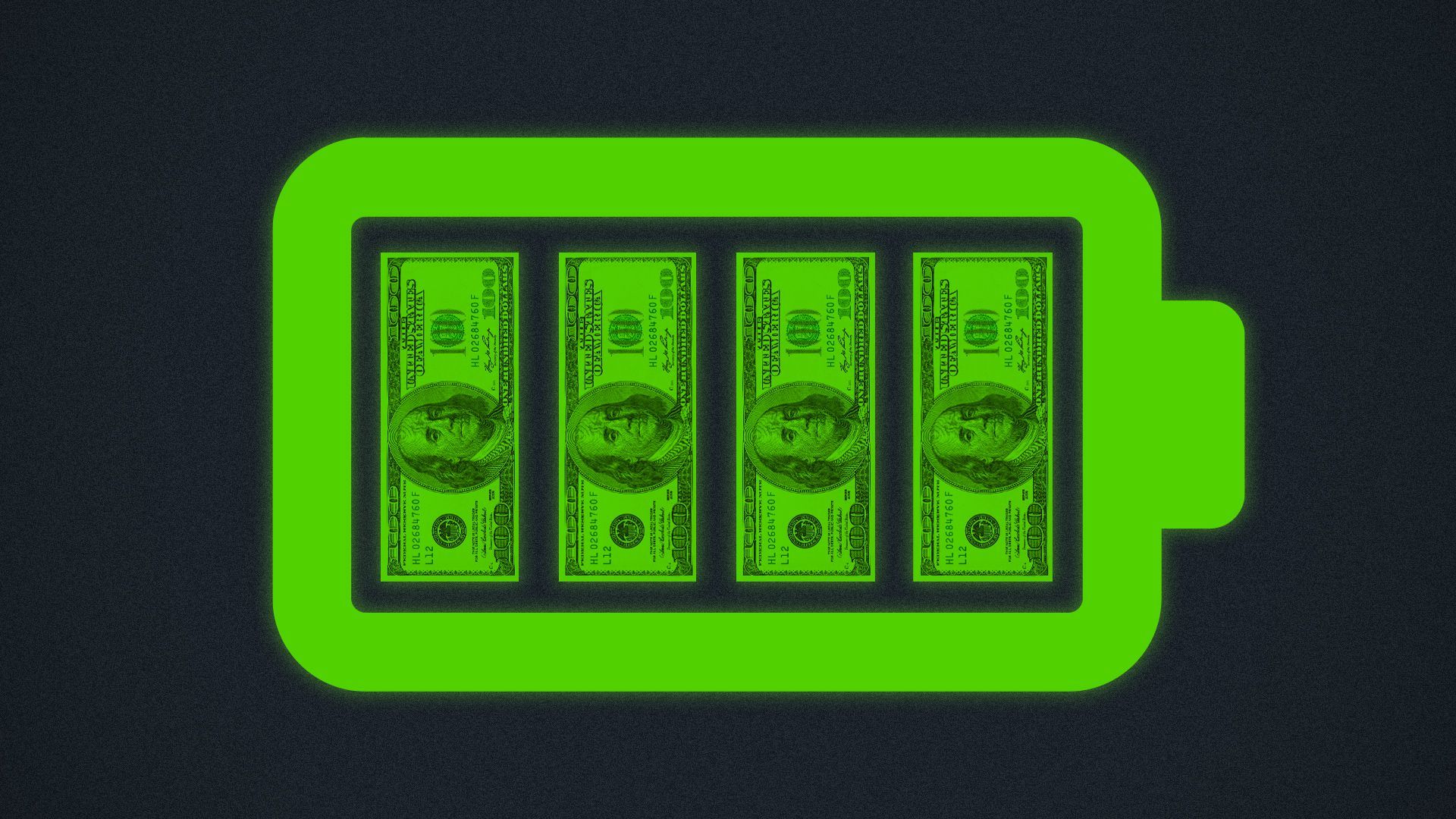 The Biden administration's plan to jump-start a domestic supply chain for electric vehicles (EVs) is on track to shatter expectations, Axios' Joann Muller reports.
The big picture: Democrats' climate law offers carmakers tax credits as an incentive to scale up battery manufacturing — and they're racing to take advantage.
Some experts say the credits' value may be four times higher than Congress' budget experts anticipated.
The most lucrative incentive offers battery manufacturers $35 per kilowatt-hour for each U.S.-made cell, which slices production costs by a third.
Zoom in: Last summer, the Congressional Budget Office projected the tax credits would add up to about $30.6 billion over 10 years (including credits for solar and wind manufacturing).
The actual total will almost surely be much higher, thanks to a surge of new battery plants across the country as GM, Ford, manufacturing partners like LG Energy and SK Battery Innovation, and others invest.
6.🛢️Quoted
The oil price cap "was invented by bureaucrats with finance degrees. None of them really understand oil markets."
— Veteran oil analyst Paul Sankey
on CNBC
, arguing the G7-led cap on Russian crude prices has "failed completely."
📬 Did a friend send you this newsletter? Welcome, please sign up.
🙏 Thanks to Nick Aspinwall and David Nather for edits to today's newsletter. Have a great weekend!