Axios Generate
March 09, 2021
Welcome back! Today's Smart Brevity count is 1,200 words, 4.5 minutes.
🗓️ Please join Axios' Russ Contreras and Alexi McCammond tomorrow at 12:30pm ET for a Hard Truths virtual event on systemic racism in politics, featuring Rep. Joyce Beatty (D-Ohio) and NALEO Educational Fund CEO Arturo Vargas. Sign up here.
🎶 And today marks 30 years since Smokey Robinson released today's intro tune...
1 big thing: Direct air capture player throws open its doors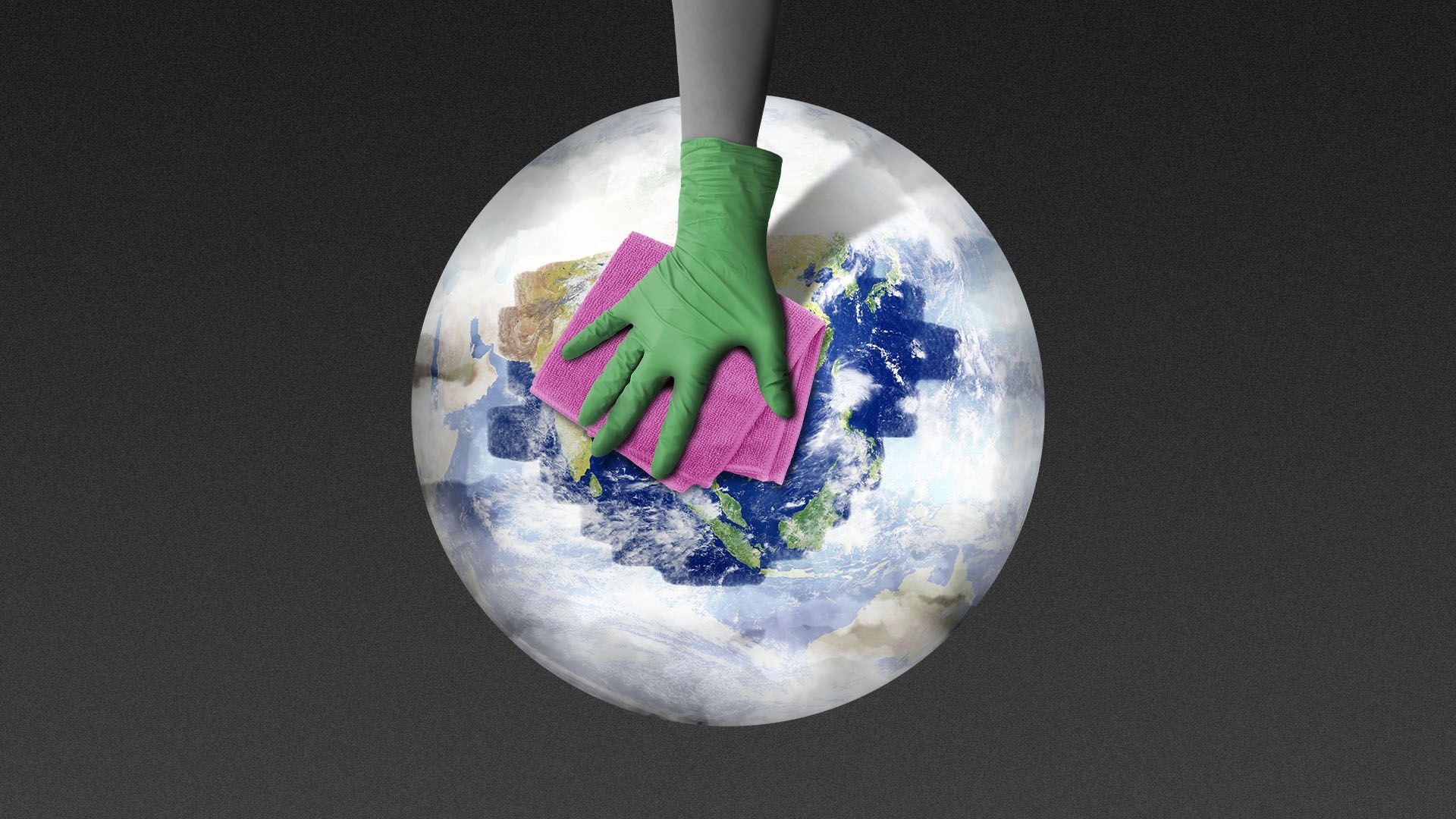 Carbon Engineering, a startup looking to commercialize tech that sucks CO2 out of the atmosphere, today launched its business for permanent carbon-removal purchases and said e-commerce giant Shopify is the first customer.
Why it matters: The Canada-based direct air capture (DAC) startup — whose backers include Bill Gates, Occidental and Chevron — said Shopify's deal for 10,000 tons of CO2 removal is the largest publicly announced corporate DAC buy ever.
Driving the news: The Canadian company is planning to build industrial-scale capture facilities with the development company 1PointFive, a venture between Occidental Petroleum and Rusheen Capital Management to deploy Carbon Engineering's tech.
What's next: Carbon Engineering hopes to have its first commercial-scale plant in operation in 2024.
Under the newly launched removal service, customers will pay a deposit, with the balance due once the removal has occurred and been independently verified. Higher volumes bring discounts.
What we don't know: The costs of Shopify's deal. Carbon Engineering declined to provide the per-ton removal cost.
The big picture: DAC is one of the various methods for removing atmospheric CO2.
Removal doesn't replace the need for steep emissions cuts to meet the Paris Agreement goals.
But a major 2018 report by the UN's science panel found that pathways to limiting warming to 1.5ºC — the Paris deal's most ambitious goal — rely on varying levels of removal.
Carbon removal methods are more broadly part of wider efforts to contain warming and are drawing increasing investment from big companies like Amazon, Microsoft and United Airlines.
Yes, but: DAC is in its infancy but companies like Carbon Engineering and the Swiss firm Climeworks are looking to make it mainstream.
It would need to scale up by orders of magnitude — and costs would need to come down — to become an important tool against global warming.
What they're saying: Carbon180 President Noah Deich said the growth of corporate emissions targets — which many big companies are now adopting — will be an important early driver of DAC and help drive down costs.
"There is this huge corporate demand for something better than you can get on the voluntary offset market," said Deich, whose nonprofit group is centered on the development and deployment of CO2 removal.
"It costs a lot more than voluntary offsets you would buy off the shelf, but it makes a much, much more credible case that you are removing a ton of CO2 for every one that you emit," he adds.
2. Chevron sets new climate targets
Chevron Corp. this morning unveiled its latest plans to curb emissions and invest in low-carbon technology.
Driving the news: The company's new report on its climate posture includes...
New targets for cutting emissions intensity — that is, emissions per unit of output.
It's pledging a CO2 reduction of 40% by 2028 from 2016 levels for oil production; 26% lower CO2 intensity from gas production; 53% less intensity of methane emissions; and an end to "routine" methane flaring by 2030.
Plans to invest $2 billion cumulatively through 2028 on various CO2 reduction projects, and $750 million through 2028 on renewables projects and offsets.
That's in addition to the recently announced $300 million for its in-house VC arm's next fund.
Where it stands: Chevron's new targets follow 2023 goals for emissions intensity cuts set in 2019. Chevron has already exceeded those targets, a spokesman said.
But it's worth remembering that cutting emissions intensity does not guarantee that absolute emissions levels decline.
Why it matters: Chevron's plans come amid growing pressure on U.S.-based oil giants from investors, activists and policymakers to get more active on climate.
"We know our stakeholders' expectations on climate change are increasing, and we are committed to helping achieve a lower-carbon future," Ronald Sugar, the lead director on Chevron's board, said in a preface to the report.
Yes, but: Europe's oil giants are diversifying more aggressively than their U.S. peers.
For instance, BP plans to spend $3-$4 billion annually by 2025 on renewable projects and other low-carbon development.
What's next: Chevron plans to set keep setting emissions targets in five-year increments, which it notes is consistent with five-year "stocktakes" of governments efforts under the Paris Agreement.
3. Biden officials move offshore wind project forward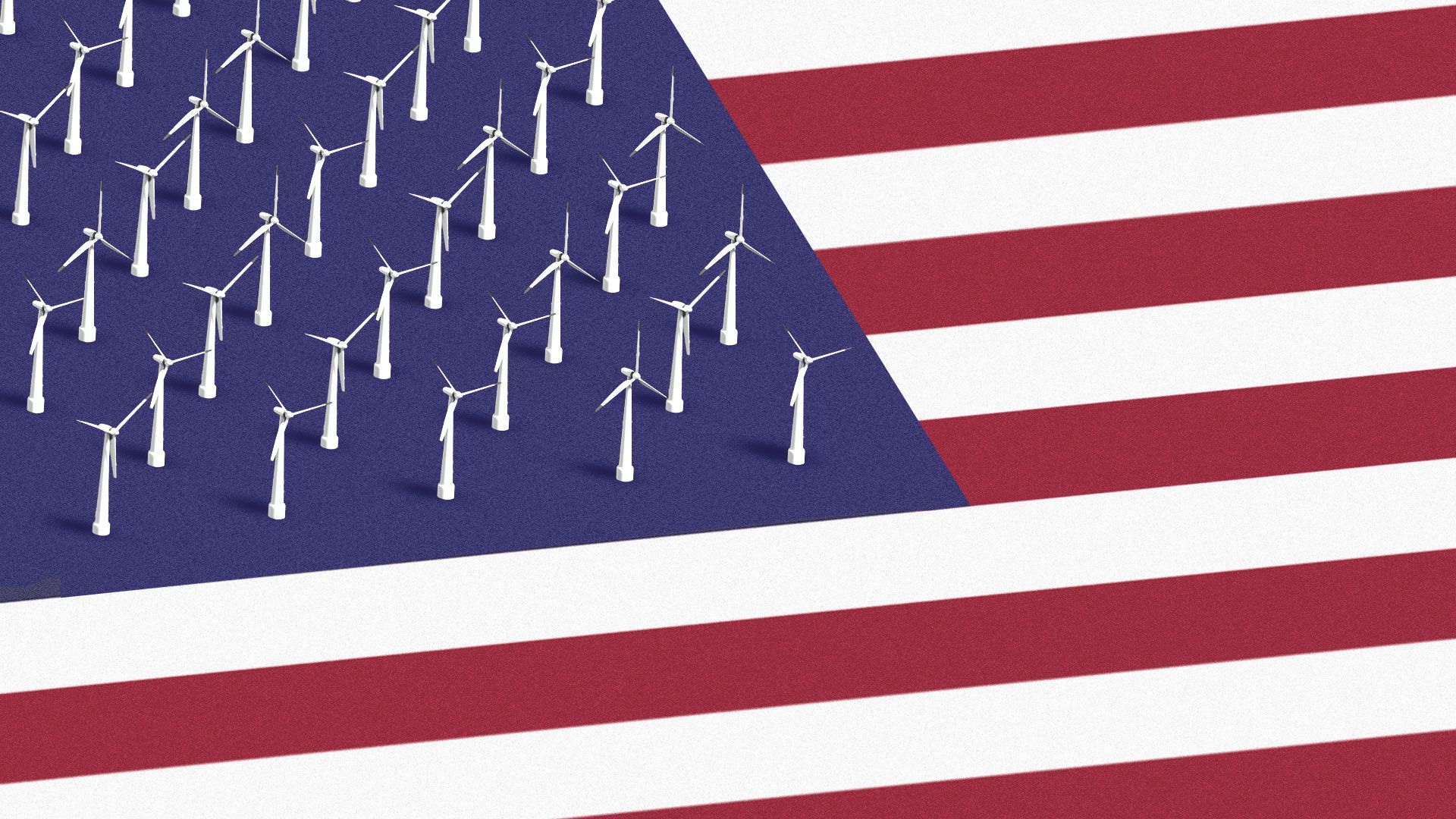 Plans for the first major U.S. offshore wind project are closer to reality now that the Interior Department has completed an environmental review of Vineyard Wind, which is proposed for construction off Massachusetts.
Why it matters: Offshore wind has been very slow to develop here despite large power generating potential, but a wave of projects are now planned off the coast of Atlantic states including New York and New Jersey.
Deep-pocketed companies including Equinor, Shell and BP, Portugal's EDP and others are involved in various partnerships for U.S. projects.
Where it stands: Yesterday Interior announced the completion of its formal environmental impact statement for the 800 megawatt Vineyard Wind project.
It's a joint venture between Copenhagen Infrastructure Partners and Avangrid Renewables, which is an arm of Spanish power giant Iberdrola.
Per Reuters, the impact statement's formal publication later this week will launch a 30-day comment period before a decision on final approval.
The big picture: Analysts see substantial growth in the U.S. offshore wind market over the next decade.
The research firm BloombergNEF forecasts that nearly 20 gigawatts of U.S. offshore wind capacity will be installed by 2030.
What they're saying: "[A]lthough offshore wind remains more expensive than other renewable power resources, we are observing an increasingly favorable policy environment for the nascent industry," ClearView Energy Partners said in a note.
They write that six states have offshore wind deployment targets, and also note that the federal spending and tax package signed into law in late 2020 makes federal tax credits available for projects developed for years going forward.
Bonus: Offshore wind's big potential
There's theoretical potential for offshore wind to supply absolutely enormous amounts of power.
The big picture: That chart comes via a big 2019 International Energy Agency report.
It finds offshore wind could in theory generate 420,000 terawatt-hours annually worldwide — 18 times the current global demand.
Nobody is claiming offshore wind will ever power the world or come even close, but still, harvesting a small portion is a lot of energy.
4. New pressure on PR firms to ditch fossil clients
Clean Creatives, a recently launched campaign that pressures PR and ad agencies to drop oil-and-gas industry clients, is stepping up its efforts.
Driving the news: The campaign just released an open letter to the PR and ad sector from 22 groups including prominent actors like the Sierra Club and the Sunrise Movement.
"[T]he fossil fuel industry continues to spend hundreds of millions of dollars to block climate action. And PR and ad agencies are profiting handsomely by helping them do it," it states.
What's next: Clean Creatives is also sharing the letter with ad and PR firms' large "sustainability oriented clients" — with the goal of getting them to help pressure the companies to ditch fossil clients.
Jamie Henn of Fossil Free Media said getting consumer-facing giants with huge marketing budgets, like Unilever and Ikea, to pressure their agencies would have a big effect.
"That could transform the industry overnight," said Henn, whose group is leading the campaign that first launched in November.
Henn compared the effort to the early stages of the fossil fuel divestment campaign years ago, which started small but eventually pulled in big universities, pension funds and others.
5. Catch up fast: Postal EVs, science, hydrogen
Procurement: "A group of 17 U.S. House of Representatives Democrats introduced legislation on Monday to provide $6 billion to the U.S. Postal Service (USPS) to buy tens of thousands of additional electric delivery vehicles." (Reuters)
Science: "A study published Monday in Nature Geoscience projects that the tropics will stay habitable to humans if we can keep warming below the 1.5-degree-Celsius (2.7-degree-Fahrenheit) threshold. (Gizmodo)
Venture capital: "Israeli startup H2Pro joined the race to make cheap green hydrogen after securing investments from funds backed by Microsoft Corp. founder Bill Gates and Hong Kong billionaire Li Ka-shing." (Bloomberg)