Axios Generate
September 27, 2023
🤯 Cars, politics, ice, AI, space...there's a lot to talk about, but we've got a Smart Brevity count of just 1,251 words, 4.5 minutes.
🎶 At this moment in 2006, Justin Timberlake ruled the Billboard Hot 100 with a track that defines this newsletter's goal and is today's intro tune...
1 big thing: Politics help fuel state divergence on EVs
Politics influences whether electric vehicles are taking off in various states, Ben writes.
Why it matters: That finding, part of wider new analysis from the research firm BloombergNEF, arrives as EVs are bound up in 2024 politics.
Donald Trump, the frontrunner for the GOP White House nod, is bashing President Biden's pro-EV policies, as are some rivals.
Meanwhile, EVs are dicey politics for Biden as leaders of the striking United Auto Workers fear the EV transition will leave workers behind.
Driving the news: BNEF finds links between median income and share of EVs in a state fleet, but "there is a greater relationship to date between the political leanings of a state and its EV adoption."
Yes, but: Many forces affect where EV adoption is relatively robust or low, they find.
Policy matters. California is the runaway leader, but multiple states with relatively high sales follow its vehicle emissions policies.
State purchase subsidies are in play too. So are sales laws — states that allow EV makers to bypass dealerships and sell directly to consumers tend to have somewhat higher uptake.
The intrigue: There are other influences as well. For instance, New York and Illinois lag "peer blue" states, even though both are run by pro-EV officials.
One possible reason, aside from banning direct-to-consumer sales, is they have densely populated cities where charging can be tough, the report theorizes.
What's next: The report finds opportunities for automakers, charging providers and policymakers.
Some states where adoption has yet to really take off — like Texas, Michigan, Georgia, and Illinois — have "strong fundamentals" around incentives or manufacturing bases.
Automakers that can break through in these burgeoning markets may gain a competitive edge, the BNEF report states.
What we're watching: Auto politics are center stage this week.
Biden joined the UAW picket line in Michigan yesterday — and didn't mention EVs in remarks to workers.
Trump speaks at an auto supplier in the state tonight, and GOP hopefuls are debating tonight in California, where more criticism of Biden's EV policies is likely.
The bottom line: EVs are on the ballot in 2024.
2. U.S. electric vehicles by the numbers
Some more context around the item above: electric models climbed to average roughly 9% of U.S. light-duty vehicle sales in the first half of this year, Ben writes.
Why it matters: That level, found in the BNEF report and a new market report from the Alliance for Automotive Innovation, signals steady growth.
Yes, but: The Alliance, a major industry group, said there's a widening and worrying gap between EV sales and charging installations.
Over 354,000 new EVs arrived on the roads in the second quarter, while 7,271 new public charging ports were added.
State of play: More snapshots from the U.S. market reports...
Fifty-eight battery electric and 43 plug-in models were available in Q2, per the Alliance.
This EV cost premium narrowed this year, Alliance-collected data shows. The average EV sales price in Q2 was roughly $54,300, compared to $48,500 for all light-duty vehicles.
🧮 Key stat: EVs have hit 25% of new vehicle sales in California, and BNEF notes nine other states were at or even far above 10% in the first half of 2023.
That's "the point at which EV sales begin to significantly accelerate."
3. A warning from Antarctic sea ice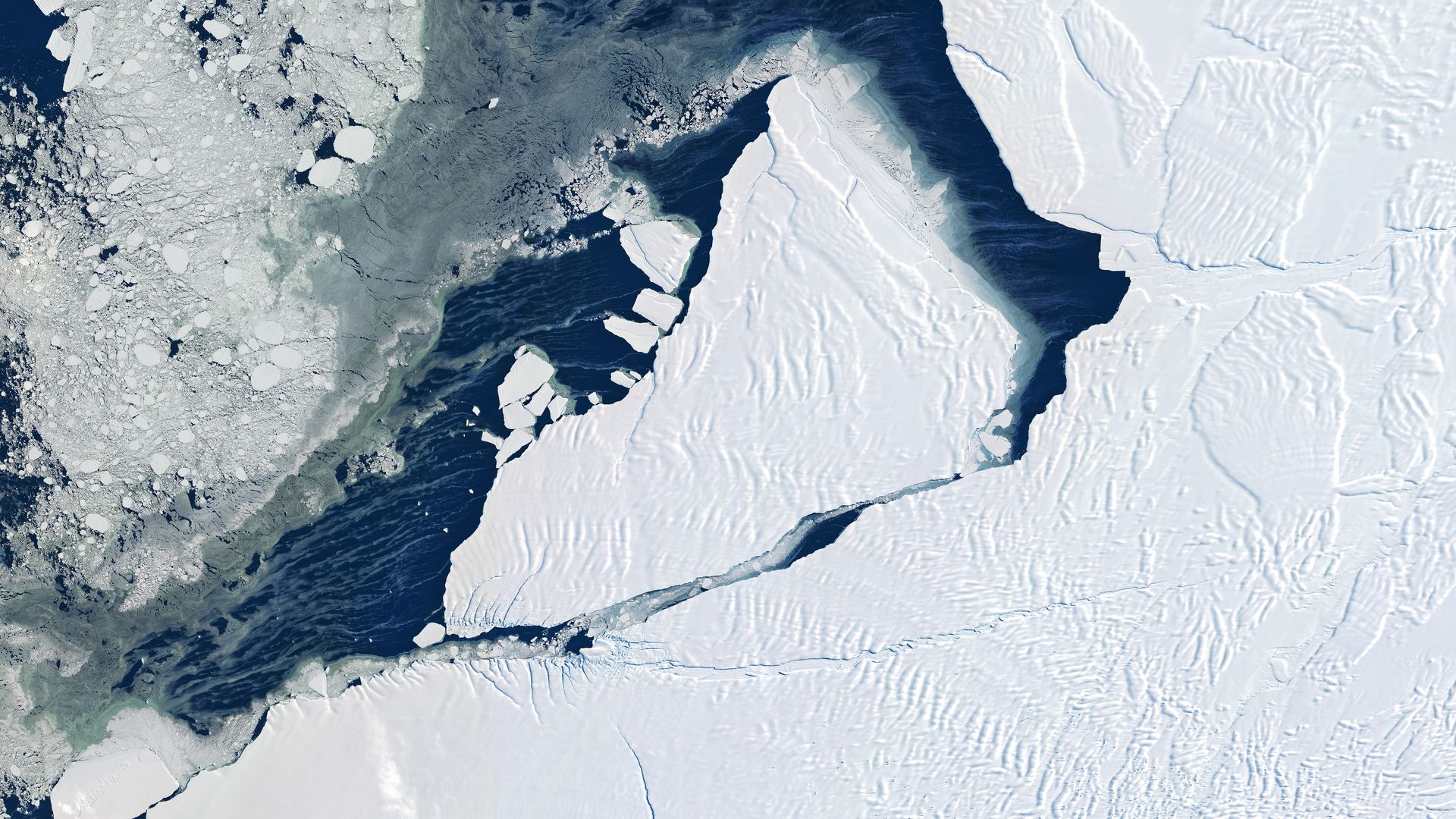 Antarctic sea ice fell to an all-time lowest seasonal peak, reaching about 398,000 square miles below the previous record in 1986, according to the National Snow and Ice Data Center in Boulder, Colo., Andrew writes.
Why it matters: The pronounced lack of Antarctic sea ice this year, which is part of a steep drop seen during the past several years, could have implications for land-based ice stability and global ocean currents.
The big picture: Antarctic sea ice hit its seasonal peak on Sept. 10, the NSIDC announced Monday. At that level, the sea ice cover was missing an area of floating ice larger than the combination of Texas and Arizona.
"Antarctica's sea ice has always been variable, but this sharp downward turn this year is pointing towards warmer ocean conditions around the continent," said Ted Scambos, a senior research scientist at the University of Colorado. "Most of the world's oceans are at record warm temperatures."
Antarctic sea ice has historically been on a different path compared with the Arctic sea ice cover, which has seen a longer-term decline linked to human-caused climate change.
This year, however, the Antarctic sea ice cover stands out.
What they're saying: "On a map, it may not look dramatic, but the trend in the past five months is so different from the past 45 years that all of us sat up and took notice," Scambos said.
4. One AI thing: Microsoft's nuclear power play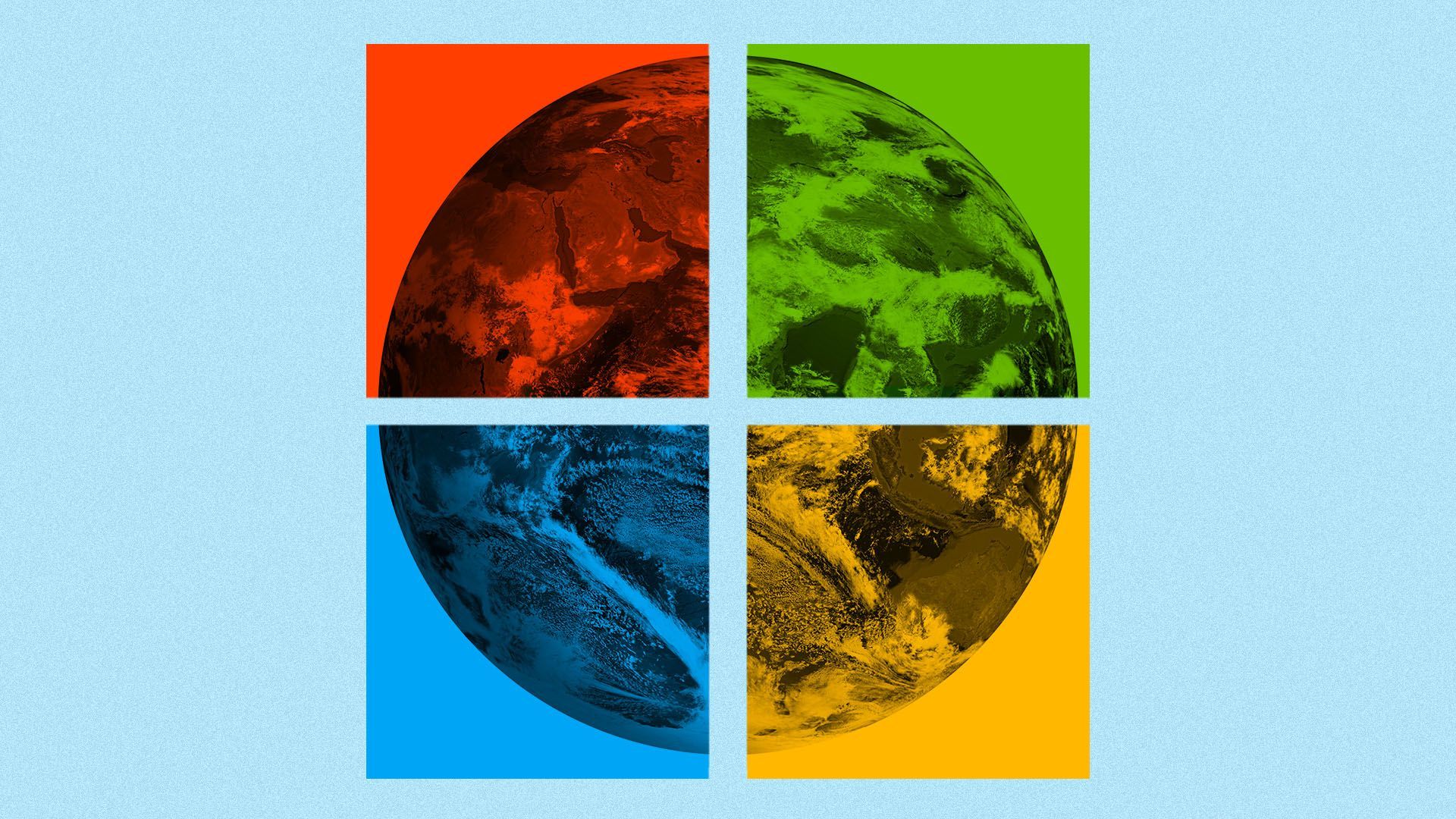 Microsoft's looking for someone to head small modular reactor (SMR) and microreactor energy strategy, and it's partly to help power AI's powerful computing demand, Ben writes.
Why it matters: Trends are converging!
There's growing interest in next-wave nuclear tech — and growing concern that AI will be a major new source of power demand.
The Microsoft move — which I first spotted via CNBC — touches both of these dynamics.
State of play: The person will be tasked with "leading the technical assessment for the integration of SMR and microreactors to power the datacenters that the Microsoft Cloud and AI reside on," the posting states.
What they're saying: A Microsoft spokesperson tells Axios that AI will be a "powerful tool for advancing sustainability solutions," but that "a plentiful clean energy supply globally" is needed.
The intrigue: Microsoft also shared with Axios that it's "investing in research to measure the energy use and carbon impact of AI."
Catch up fast: Microsoft already has multiple nuclear initiatives. In May, it announced a power purchase agreement with nuclear fusion energy startup Helion.
And last year it announced plans to evaluate buying "clean energy credits" from Ontario Power Generation, which is planning to deploy an SMR.
5. How satellites are changing the fight against deforestation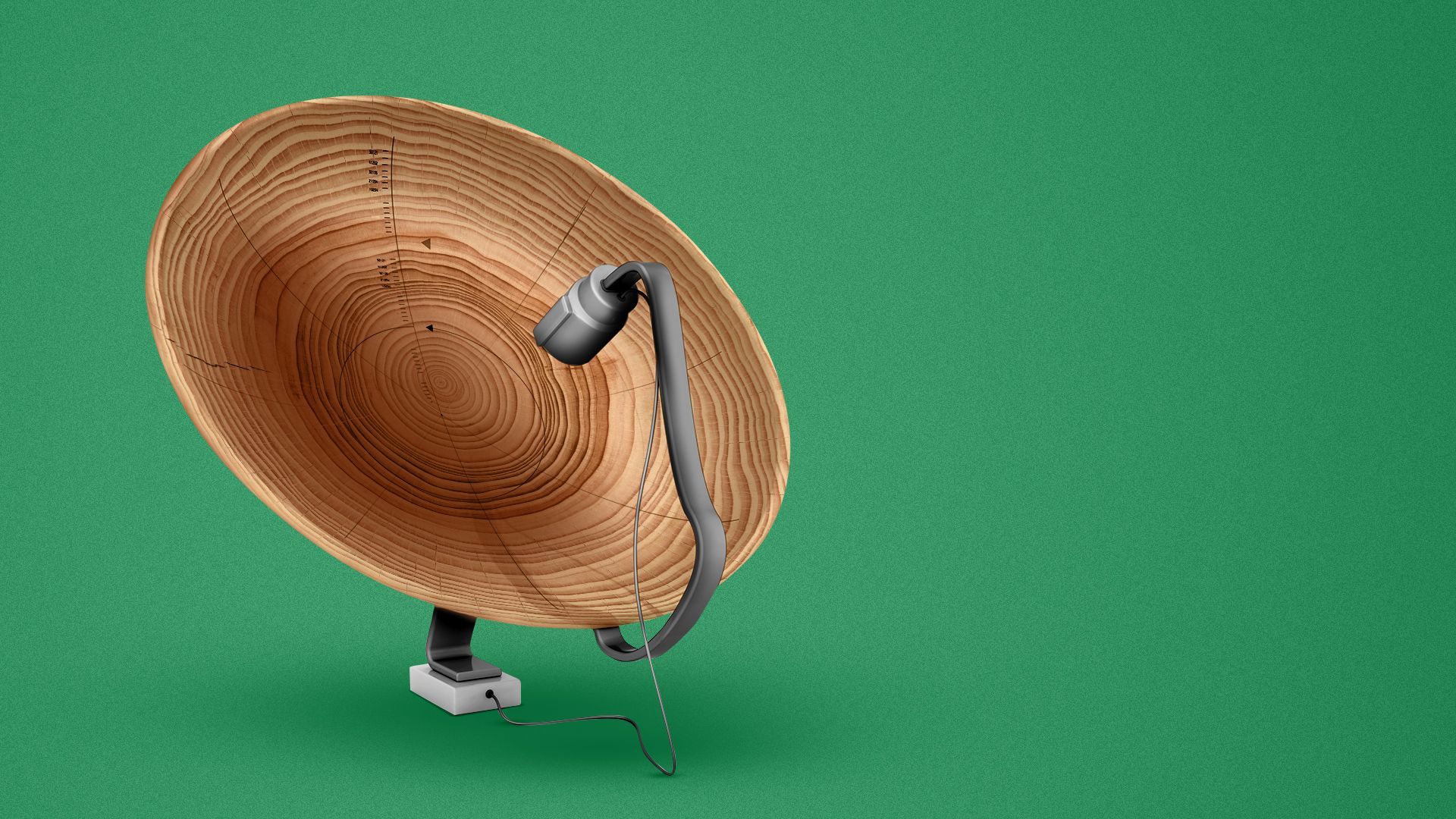 Powerful space-based sensors and tools are monitoring deforestation in close to real time, arming companies, activists and governments with data to combat the growing problem, Axios' Miriam Kramer reports.
Why it matters: Deforestation, which contributes to climate change and habitat loss, typically happens in remote areas and is difficult to track from the ground.
Observing Earth from space gives those enforcing the laws on the ground strong evidence that illegal logging and other activities are occurring.
Driving the news: The company CTrees just launched the Land Use Change Alert (LUCA) system.
It can inform users when deforestation and other "degradation" events are spotted globally using synthetic aperture radar, which cuts through cloud cover.
Big data analytics has also revolutionized how satellite data can be used to understand what's happening with forests on Earth.
What we're watching: How getting information quickly to people on the ground may help slow forest loss. There's some evidence already.
A 2021 study showed that Indigenous communities in Peru that used satellite-enabled alerts saw deforestation decrease by 52% in one year.
Yes, but: Data availability is only part of the battle.
Acting on it means local governments and Indigenous communities need access to clear, understandable datasets, Global Forest Watch director Mikaela Weisse said.
6. 🔋 Quoted
Batteries weren't the only reason why there haven't been blackouts [in Texas] this year, but it was a critical piece of keeping the lights on.
— Jeff Bishop, chief executive of battery developer Key Capture Energy, speaking to the Wall Street Journal
He's quoted in this WSJ feature on the growing role of battery storage in helping power grids in multiple states grapple with high demand during heat waves.
Did someone forward you this newsletter? Welcome, and please sign up.
🙏 Thanks to Chris Speckhard and Chuck McCutcheon for edits to today's edition, along with the talented Axios Visuals team.