Good morning and welcome back. Prince's classic album 1999 was released 35 years ago today. RIP. Let's drive much too fast toward the news . . .
https://www.axios.com/newsletters/axios-generate-68469b7b-b6be-40f4-9501-692e6d44da1c.html?chunk=0#story0
Senate opens next phase of ANWR battle
That was fast: Senate Energy and Natural Resources Committee chairwoman Lisa Murkowski has scheduled a hearing Thursday on opening the coastal plain of Alaska's Arctic National Wildlife Refuge to oil exploration.
Why it matters: The announcement came just hours after the House approved the Senate budget blueprint. The budget is important procedurally because it paves the way for Murkowski — an Alaska Republican who favors ANWR drilling — to write ANWR legislation that's immune from filibuster in the closely divided Senate.
Flashback: Yesterday I looked at why producing oil from ANWR is no sure thing even if legislation reaches the finish line.
https://www.axios.com/newsletters/axios-generate-68469b7b-b6be-40f4-9501-692e6d44da1c.html?chunk=1#story1
By the numbers: wind projects in 2017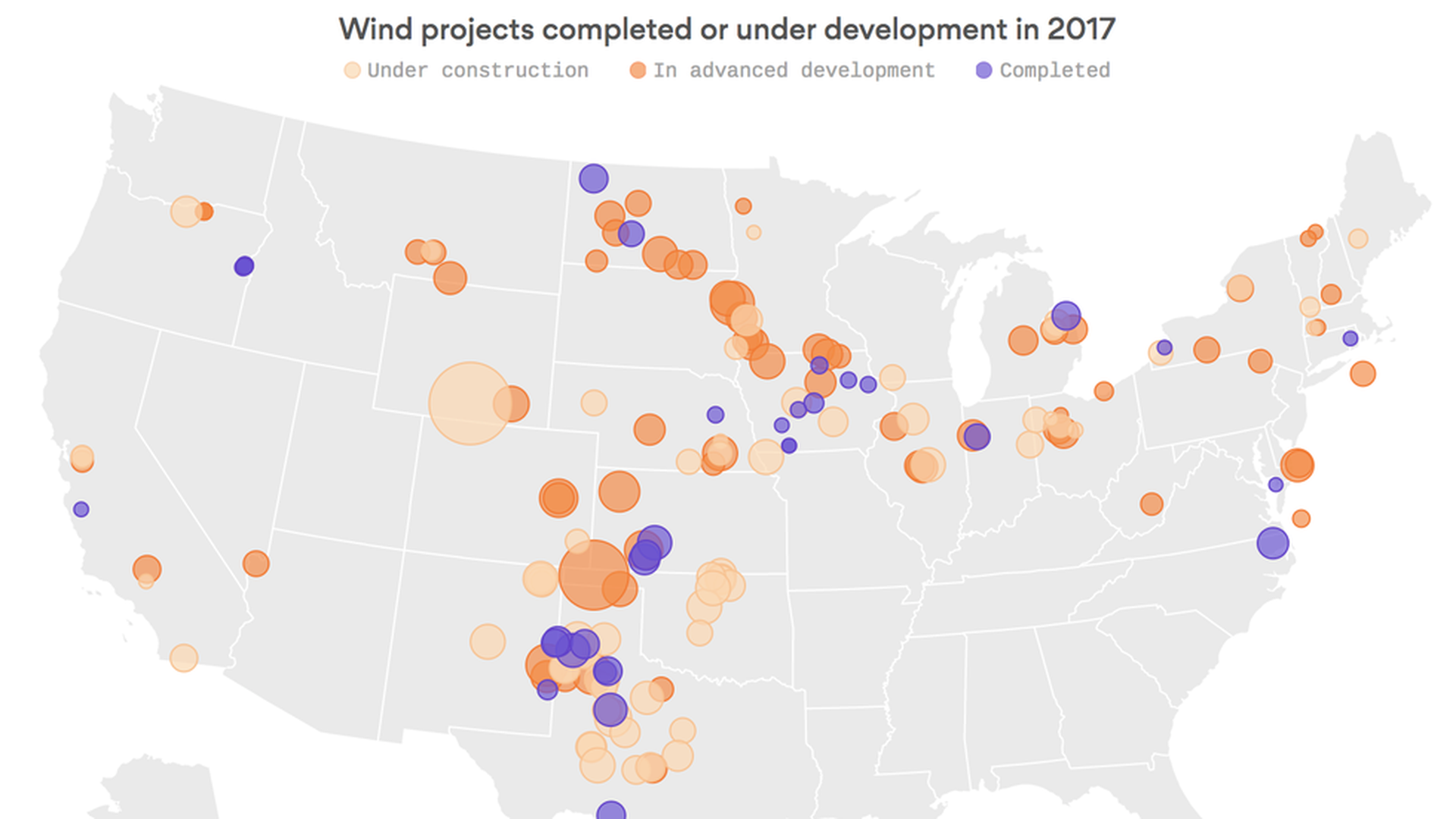 New data: The American Wind Energy Association, industry's main trade group, has released its latest snapshot of U.S. development. A few takeaways and numbers from the wealth of new data...
Check out the chart above. It's a very busy time in the industry, with 13,759 megawatts of power capacity under construction, and another 15,875 MW in "advanced" development — that is, projects that aren't under construction yet but are clearly in the pipeline thanks to steps such as a signed power purchase contract or other factors.
Growth: That combined 29,634 megawatts of capacity under construction or in the pipeline is a 27% year-over-year increase, according to AWEA. For context, the total amount of nationwide installed capacity at the end of 2016 was just over 82,000 MW.
Where it's happening: "Consistent with the previous quarter, 30% of combined activity is located in the Midwest. An additional 23% is located in Texas, followed by the Mountain West states (20%) and the Plains states (18%)," the report states.
All done: 2,892 MW of wind power capacity has been brought online through the first three quarters of the year.
Corporate procurement: The report notes that some familiar names — Anheuser-Busch, Cummins, JPMorgan Chase, and Kimberly-Clark — all signed wind power purchase agreements for the first time.
https://www.axios.com/newsletters/axios-generate-68469b7b-b6be-40f4-9501-692e6d44da1c.html?chunk=2#story2
On my screen: Puerto Rico, solar trade, Trump vs Steyer, lobbying
Contract probes grow: "Multiple congressional committees are investigating a $300 million contract awarded to a small Montana company in the hometown of Interior Secretary Ryan Zinke that was tapped to help restore Puerto Rico's damaged power grid," the Associated Press reports.
Speaking of Zinke, he's meeting with President Trump at the White House today, but the topics they'll discuss are not listed in the schedule sent around by the White House last night.
Solar tariff fight: Several conservative and free-market groups are ramping up opposition to potential new tariffs on imported solar panel equipment. Here's a piece of their new open letter to President Trump today:
"Like government policies that pick winners and losers in the energy marketplace, we oppose trade measures that distort markets by artificially raising prices and that jeopardize thousands of good paying jobs while inviting retaliation from our trading partners."
The letter is from 10 groups including the R Street Institute, FreedomWorks, the Competitive Enterprise Institute, and the American Legislative Exchange Council.
Why it matters: It underscores the tension between free market conservative groups and the protectionist trade posture of the president and several senior administration officials. The letter arrives as the U.S. International Trade Commission is preparing to make recommendations to the White House on solar trade protections next month.
Trump versus Steyer: "Wacky and totally unhinged" is how Trump described billionaire climate activist and donor Tom Steyer in a tweet this morning. Steyer recently launched a $10 million campaign to have Trump impeached.
Lobbying news: A few new energy and environment-related filings that have surfaced lately in the Lobbying Disclosure Act database...
https://www.axios.com/newsletters/axios-generate-68469b7b-b6be-40f4-9501-692e6d44da1c.html?chunk=3#story3
Oil market notes: earnings, deals, deepwater
Coming today: Exxon and Chevron, the two biggest U.S.-based multinational oil companies, will both report earnings later this morning. Keep an eye on the Axios stream for more.
Total profit: Via Bloomberg, France-based global major Total "posted the highest earnings from pumping oil and gas in more than two years, illustrating the improving fortunes of an industry that's endured the deepest downturn in a generation."
More deals, smaller deals: CNBC sizes up the latest report on industry activity from PwC, noting "American oil and gas producers and investors are still striking a lot of deals, but they're now focusing on smaller mergers and acquisitions, extending a trend that began in the first half of 2017."
The firm's latest quarterly report says there were 53 deals worth at least $50 million, which is 13% more than the July-September period in 2016, but the combined deal value of $23.6 billion is 58% lower than Q3 2016.
Read the full PwC report here.
Big oil eyes Brazil: "Brazil will auction eight blocks in its coveted deepwater oil region on Friday, a prospect that has lured top executives from the world's biggest oil companies to Rio de Janeiro for the bidding round," Reuters reports.
https://www.axios.com/newsletters/axios-generate-68469b7b-b6be-40f4-9501-692e6d44da1c.html?chunk=4#story4
Large oil companies roll out climate investments
Over in the Axios stream, my colleague Amy Harder reports that a coalition of multinational oil-and-gas companies are unveiling a trio of investments in low-carbon energy technologies and projects in London today. From her item...
Why it matters: Friday's announcements signal some new and concrete ways that multinational oil-and-gas players are steering money toward technologies to cut greenhouse gas emissions.
Who is involved: The investment arm of the Oil & Gas Climate Initiative, a group launched in 2014 of about 10 global oil and gas companies including Saudi Aramco, BP and Royal Dutch Shell, is behind the push. No U.S.-based companies are in the group.
Specifics: According to the announcement, the new investments are in:
A U.S.-based company called Solidia Technologies that has a patented technology that produces cement in a way that generates fewer emissions.
Achates Power, another U.S.-based firm that is developing more efficient vehicle engines. According to a company press release, the group has invested about $30 million into the firm.
An unnamed project that aims to design a natural gas power plant equipped with technology that captures and stores carbon instead of emitting it.
Yes, but: The announcements, according to materials viewed by Axios Thursday night, did not include specific dollar amounts. These are the first initiatives from a "billion-dollar investment vehicle" that the group launched in late 2016 — an amount that's not a big number in the grand scheme of oil-industry investments.
Be smart: Many of the lower-carbon investments made by oil and gas companies are real, but they're also a drop in the bucket compared with the investments made in their traditional fossil fuel products.
https://www.axios.com/newsletters/axios-generate-68469b7b-b6be-40f4-9501-692e6d44da1c.html?chunk=5#story5
The electric future
Disconnected: The Economist is out with an interesting feature on developments in wireless charging for electric vehicles and the companies emerging in that space, such as Virginia-based Evatran and New York-based HEVO Power.
What's next, part 1: "If wireless charging is to become more than a bespoke curiosity, though, vehicle manufacturers will have to get involved as well. This is starting to happen. Evatran says that, next year, at least two carmakers will start fitting its pickups to their products as they are being assembled," the story notes.
What's next, part 2: The piece also explores pilot projects in France and Israel of wireless charging of vehicles while they're moving.
Shiny: A Bloomberg feature has lots of cool photos and information on the models and concepts — including several electric vehicles — on display at this week's Tokyo Motor Show. Stuff like Mitsubishi's e-Evolution, described like this:
"This all-electric crossover SUV is also an AI Personal Assistant, which learns driver habits and gives spoken advice on what needs improvement, taking backseat driving to a whole new dimension. The prototype has three motors running a four-wheel drive system."