Good Tuesday morning! 
In some running news from America's oil and gas epicenter, runner Molly Huddle broke the American half-marathon record in Houston this weekend. The event is sponsored by oil companies including Chevron and Aramco, the U.S. subsidiary of Saudi Aramco.
Now to more actual energy news: My latest Harder Line column looks at how President Trump's energy agenda is stumbling into 2018. Ben Geman will catch you up on the rest of the news kicking off this short week. 
https://www.axios.com/newsletters/axios-generate-6735fa20-cd08-40f7-bccd-293790f4c50c.html?chunk=0#story0
Trump's energy agenda: messy business as usual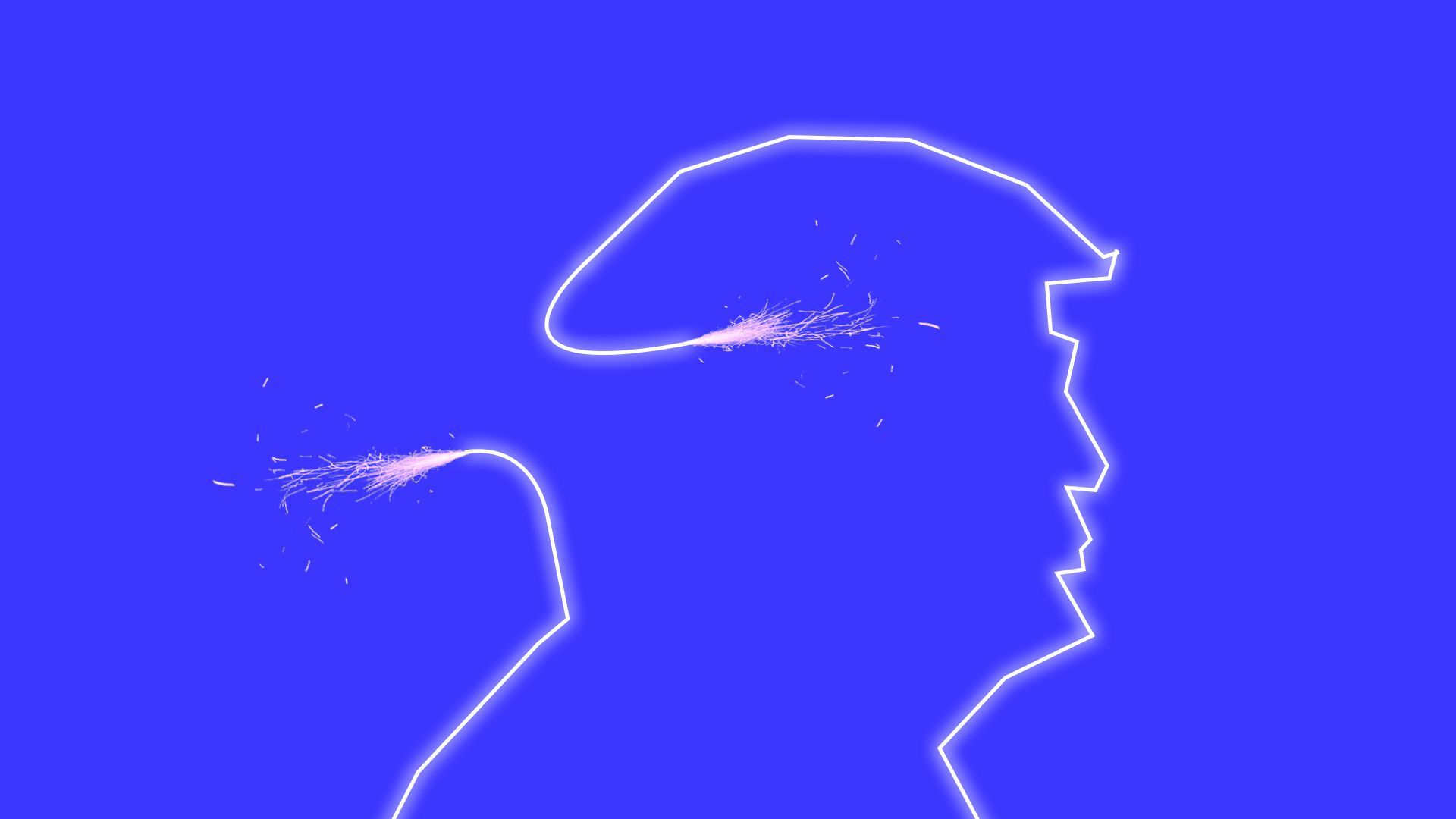 Illustration: Rebecca Zisser / Axios 
2018 is starting off in a stumble for President Trump's energy agenda.
Just last week, his Interior secretary triggered bipartisan backlash after a one-off tweet saying he was going to remove Florida from the administration's offshore oil and gas leasing plan. Separately, an independent federal agency rejected the Energy Department's plan to help boost economically ailing coal and nuclear plants.
The big picture: Over the past year, Trump's energy policies have been a relatively reliable source of party and industry unity amid an otherwise divisive agenda on everything from trade to foreign policy. This last week revealed signs of discord here, setting up a rocky beginning to a jam-packed year of energy policy moves.
My thought bubble: These issues actually represent business as usual when it comes to energy and Republican politics. But the Trump administration has pursued these policies in aggressive manners that are unconventional at best and politically transparent at worst.
Drill down for the details in the Axios stream here. 
https://www.axios.com/newsletters/axios-generate-6735fa20-cd08-40f7-bccd-293790f4c50c.html?chunk=1#story1
The OPEC deal's future at $70 oil
Buzz: Bloomberg reported yesterday that with Brent crude oil prices now around $70 per barrel, some analysts believe that OPEC and Russia may bail on their production-limiting deal earlier than planned.
From their piece: "Citigroup Inc., Societe Generale SA, and JMorgan Chase & Co. predict the coalition of oil producers may begin winding down their intervention from the middle of the year, before its scheduled conclusion in December. The producers are nearing their goal of clearing an inventory glut, and rising prices risk encouraging rival supply."
Yes, but: The story notes that oil ministers are "showing no signs of backpedaling."
OPEC president: RBC Capital Markets, in a note Monday, takes OPEC's pulse based on their observations at the Atlantic Council's Global Energy Forum in Abu Dhabi over weekend — an event that included Suhail Al Mazrouei, the UAE energy minister who holds OPEC's rotating presidency this year.
"Mazrouei used his multiple forum addresses to forcibly insist that there was no need for an OPEC production policy course correction in response to the recent run-up in prices," RBC observes.
"He also dismissed concerns that the 1.8 mb/d production cut would overtighten an oil market that has become increasingly sensitive to rising geopolitical risks or trigger a flood of US shale production which could send prices crashing later in the year," they note.
https://www.axios.com/newsletters/axios-generate-6735fa20-cd08-40f7-bccd-293790f4c50c.html?chunk=2#story2
More petro notes
Big picture: This morning The Wall Street Journal published a list of reasons why the oil price rally may not last, including:
An easing of geopolitical tensions in the Middle East that have helped push prices up.
Rising prices tempering what has been strong crude oil demand growth of late.
The OPEC-Russia production deal unraveling.
Higher prices fueling an even stronger supply response from "nimble" U.S. shale producers.
Market speculators reversing course. "As sentiment on oil has turned positive, hedge funds and other speculative investors have amassed a record number of long positions—bullish bets on oil. If sentiment sours, these investors could quickly unwind their positions, driving prices down," the piece notes.
Disaster: "An oil spill from an Iranian tanker that sank in the East China Sea is rapidly spreading, officials said Tuesday, alarming environmentalists about the threat to sea and bird life in the waterway," the New York Times reports.
BP oil spill: The company said Tuesday that it will take a $1.7 billion charge in its fourth quarter 2017 financial results for claims associated with the 2010 Gulf of Mexico disaster.
Reuters notes that this brings the total costs of the Deepwater Horizon catastrophe to $65 billion for BP thus far.
Good read: The Houston Chronicle has a nicely crafted feature about the growing Permian operations of Exxon, Chevron and Shell — and how it contrasts with the swashbuckling history of Texas wildcatting.
"The world's biggest oil companies—the majors—have arrived in the Permian, where they are forever changing how crude is produced in the nation's most prolific shale play. With deep pockets, advanced technology and global reach, they are elbowing aside the old ways—full of Texas passion, intuition and guts—and replacing them with the cool efficiency of manufacturing," the story notes.
https://www.axios.com/newsletters/axios-generate-6735fa20-cd08-40f7-bccd-293790f4c50c.html?chunk=3#story3
Solar boom pushes global clean energy spending upward
New data: Worldwide investment in renewables and "energy-smart" tech — such as efficiency, storage and EVs — rose 3% last year to $333.5 billion, according to data released Tuesday by the firm Bloomberg New Energy Finance.
The expansion of solar power led the way, rising 18%to nearly $161 billion last year, with roughly half of that happening in China. In the U.S., total investment in the technologies ticked up 1% to nearly $60 billion "despite the less friendly tone towards renewables adopted by the Trump administration," BNEF said in a summary.
Why it matters: The $333.5 billion in total investment last year is 7% shy of the record set in 2015, and even that understates the level of activity, chief executive Jon Moore said in a statement alongside the data.
"The 2017 total is all the more remarkable when you consider that capital costs for the leading technology – solar – continue to fall sharply. Typical utility-scale PV systems were about 25% cheaper per megawatt last year than they were two years earlier."
* * *
Speaking of renewables: On Monday, Royal Dutch Shell announced that it's investing $217 million to acquire a 44% stake in the solar power developer and operator Silicon Ranch, which has projects in over a dozen states.
One reason it matters: The company's return to the solar business is part of Shell's expanding alternative energy investments, although it remains a very small part of the oil-and-gas giant's overall portfolio.
In October, Shell bought NewMotion, a major European electric vehicle charging company, and late last year said it would boost spending on its alternative energies division from $1 billion to $2 billion per year until 2020.
More broadly, several European oil majors are increasing their alternative energy investments.
Go deeper: We've got a bit more here in the Axios stream, and the Tennessean has a detailed look at the players here.
https://www.axios.com/newsletters/axios-generate-6735fa20-cd08-40f7-bccd-293790f4c50c.html?chunk=4#story4
On our radar this week: IEA, FERC, climate change, Congress
IEA on the record: This morning, International Energy Agency chief Fatih Birol will appear before the Senate Energy and Natural Resources Committee. Later today, Birol will present findings from IEA's annual World Energy Outlook at a public event at the Center for Strategic and International Studies.
Speaking of IEA, markets will be watching their closely watched monthly oil report when it arrives Friday.
FERC: On Thursday, the Federal Energy Regulatory Commission will hold its first public meeting since rejecting Energy Secretary Rick Perry's proposal to ensure higher revenues for coal-fired and nuclear plants in some wholesale power markets.
Climate: Senior scientists from NASA and NOAA will present new data on 2017 temperatures and climate trends during a briefing Thursday.
Why it matters: Data will show last year as one of the warmest in the modern temperature record — and provide a fresh rallying point for advocates for more aggressive policies to stem CO2 emissions.
Nominations: The Senate Energy Committee will hear Thursday from the White House for two major DOE roles:
Melissa F. Burnison, the pick to be DOE's liaison to Congress (the official title is assistant secretary of energy for congressional and intergovernmental affairs).
Anne Marie White, the nominee for assistant secretary of energy for environmental management, which means that if confirmed she would oversee the ongoing, decades-long cleanup of Cold War-era nuclear sites.
https://www.axios.com/newsletters/axios-generate-6735fa20-cd08-40f7-bccd-293790f4c50c.html?chunk=5#story5
Parsing Ford's electric expansion
The North American International Auto Show, better known as the Detroit auto show, is underway.
Driving the news: The big annual show offers new glimpses at the trajectory of automakers plans, such as Ford's announcement on its expanded investment in EVs.
ICYMI: Ford Motor Co. execs at the Detroit auto show laid out plans over the weekend to boost investment in EVs to reach $11 billion by 2022, a major increase over previously announced plans to spend $4.5 billion by 2020.
The bottom line: The expanded investment is another sign of how the world's biggest car companies see EVs — which are now a tiny fraction of the global auto fleet — eventually becoming a major market segment.
A test for Ford: The company's sales of pure electric cars to date have lagged behind GM, Nissan and Tesla. Michelle Krebs, a top analyst for AutoTrader, tells Axios that it remains to be seen whether Ford can produce a true rival to GM's Chevy Bolt and its 238-mile range.
"Until they come out with a vehicle that you and I can buy that gets that kind of range, they will be seen as lagging. They have got to deliver the goods, and to their credit GM did," she says.
* * *
Big picture: Reuters has an informative look at the scope and location of multinational automakers investments in EVs.
Their analysis shows that Ford's investment brings automakers' announced spending on batteries and EVs to $90 billion and growing.