Axios Generate
April 20, 2023
🚀 Let's do this! Today's newsletter has a Smart Brevity count of 995 words, 4 minutes.
☀️ Breaking in solar: The Energy Department's loan office announced conditional guarantees of up to $3 billion for Sunnova Energy to provide homeowners with solar, storage and other services. Go deeper via Reuters
🎶 Exactly 25 years ago, Massive Attack released the album "Mezzanine," which provides today's mesmerizing intro tune...
1 big thing: Why the House GOP debt bill matters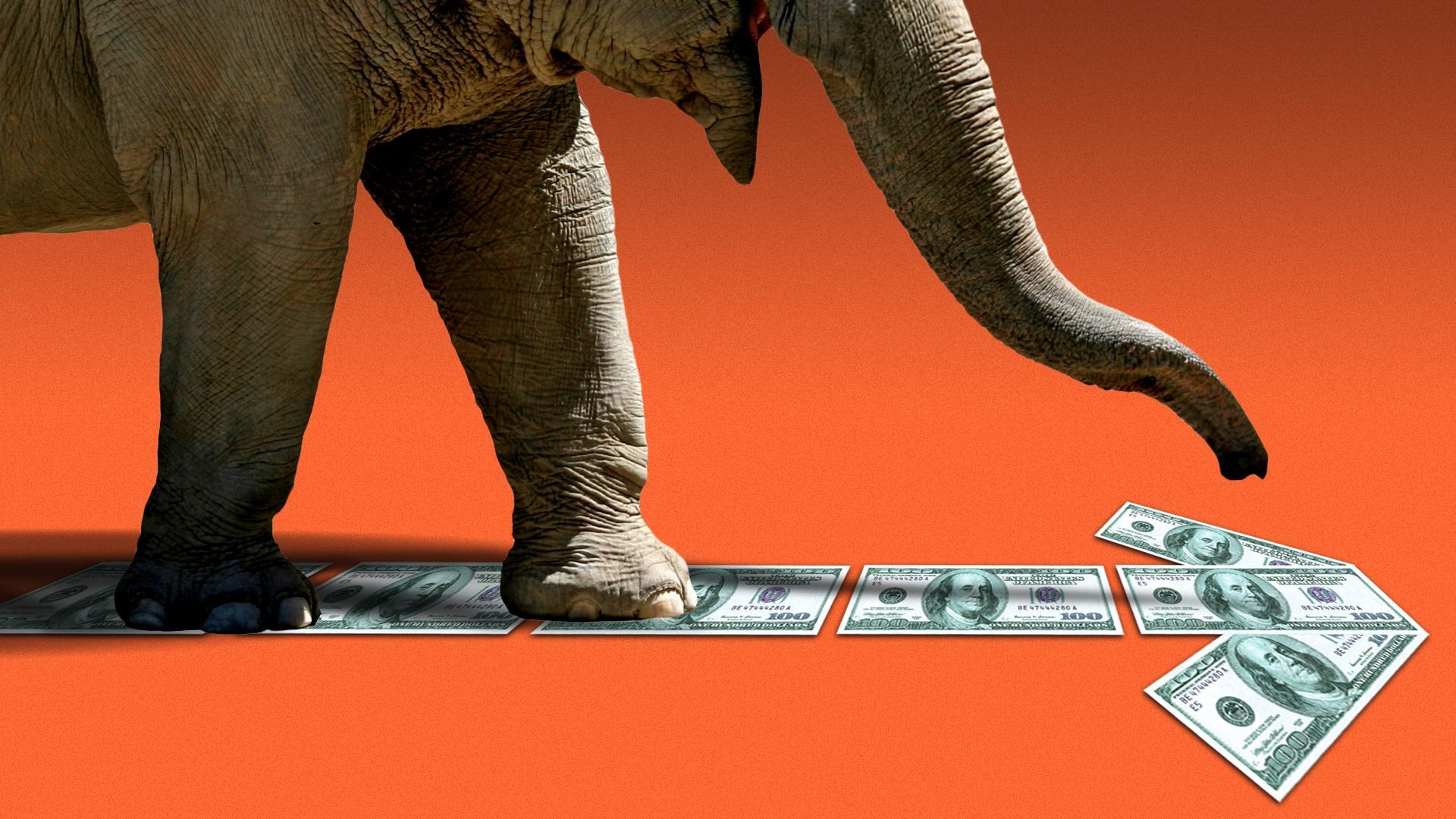 Huge demands attached to the House GOP's debt ceiling bill are unlikely to succeed, but squint just right and some pieces could form the basis for negotiations, Ben writes.
Driving the news: The Republican leadership's bill to raise the debt limit incorporates their big energy legislation, including provisions to speed energy project permits.
The proposal would also scuttle major low-carbon energy subsidies that are the centerpiece of the new climate law — a likely non-starter for Democrats and the White House.
Why it matters: The 320-page bill is a statement of the GOP's political priorities — and an opening offer in a fight with the White House, demanding a "clean" raise of the debt ceiling.
Our thought bubble: Via Axios Pro: Energy Policy's Jael Holzman and Nick Sobczyk...
McCarthy's gamble could either kickstart bipartisan talks to quicken government permits, or hit a brick wall of Democrats uninterested in a debt fix that changes environmental laws.
Not to mention, he'll have a hard time finding support to shrink IRA programs that are bringing jobs to red districts, too.
Of note: I highly recommend subscribing to Axios Pro: Energy Policy for vital Capitol Hill news and analysis.
Catch up fast: The GOP plan would mandate more oil and gas leasing, speed LNG projects, and require Congressional approval of major regulations, including climate rules.
The energy measures likely lack enough support to move through the divided Congress, let alone the White House.
There's lots of bipartisan interest in more efficient permitting — but also massive political divides over what "reform" should mean.
Yes, but: If the bill can even pass the House, we're curious to see whether any energy provisions become serious fodder for negotiations — specifically pieces aimed at China.
One would bar entities linked to the Chinese government from acquiring interests in federal lands leased for oil and gas production, or renewables development.
Another bars the sale or export of oil from U.S. strategic stockpiles to China.
The bottom line: Energy is in play in the high stakes debt ceiling fight — at least for the moment.
2. Tesla's big gamble: Trade profits for market power
Scenes from a price war: Tesla's profits and margins fell in Q1 as several rounds of price cuts hit the EV maker's financials, Ben writes.
Driving the news: Tesla reported a $2.5 billion Q1 profit and $23.3 billion in revenues (the lion's share from its car business), during a quarter that saw record deliveries.
The big picture: "We've taken a view that pushing for higher volumes and a larger fleet is the right choice here versus a lower volume and higher margin," CEO Elon Musk told analysts on a call.
"We expect our vehicles, over time, will be able to generate significant profit through autonomy," he said Wednesday.
Their Q1 investor deck says operating margins "reduced at a manageable rate."
Quick take: A dicey economy, growing competition, and Musk's unfiltered online persona are emerging as threats to the U.S. EV sales leader.
But the climate law lifted the cap on the number of vehicles per manufacturer eligible for federal consumer subsidies — a big win for Tesla, which had long ago hit the ceiling.
What they're saying: Price cuts and tax credits make the Model 3 and Model Y "far more attainable" for U.S. customers, Edmunds analyst Jessica Caldwell said.
"Given the limited number of affordable EVs on the market, these actions certainly help in the short term to increase sales volume and fend off the growing number of competitors."
But she notes problems facing Tesla, such an aging product lineup.
The bottom line: Tesla is gambling.
Axios auto expert Joann Muller tells me: Tesla's strategy of going for the jugular with price cuts assumes it will be more efficient at making EVs than legacy automakers.
But that remains to be seen, Joann adds. Once the giants get cranking at scale, they can be very efficient.
3. More EV notes: VW and Land Rover
✅ VW's electric ID.4 SUV is eligible for the full $7,500 consumer purchase subsidy under the climate law, the company and Treasury Department said, Ben writes.
Why it matters: The number of EVs that meet battery sourcing, vehicle assembly and price rules is pretty small. So each addition is noteworthy.
The intrigue: VW, for now anyway, is the the only automaker headquartered outside the U.S. with a vehicle on the list.
💰 The Jaguar-Land Rover brand said it's investing nearly $19 billion over the next five years on electrification efforts.
Why it matters: The luxury automaker is playing "catch-up with rivals" on the EV front, Reuters notes.
What's next: An electric Range Rover SUV and Jaguar sedan will both arrive in 2025, the company said.
4. 👀 Breaking: White House unveils new COP28 goals
The White House is using a high-level, multilateral climate meeting today to announce new voluntary efforts on methane and carbon management, Ben writes.
Driving the news: President Biden is today convening the Major Economies Forum on Energy and Climate, a club of big nations looking to collaborate on emissions efforts.
What's new: Ahead of the virtual meeting, the White House unveiled goals including...
A "Methane Finance Sprint" — a plea for nations to jointly raise at least $200 million in new public and philanthropic support for developing countries before the next big UN climate meeting (COP28) late this year.
A "Carbon Management Challenge" that urges nations to unveil "concrete announcements" at COP28 around carbon capture and removal.
Quick take: While this is all voluntary, it's consistent with the architecture of global climate diplomacy.
It rests heavily — and with mixed results — on peer pressure and trying to set new norms.
Of note: The White House also announced a $1 billion contribution to the multilateral Green Climate Fund using money previously appropriated by Congress.
5. Putin's shrinking energy leverage
European natural gas prices have collapsed dramatically, Axios Markets' Matt Phillips writes.
Why it matters: The decline in prices shows that with a bit of luck, and a global scramble for supplies from sources like the U.S. and the United Arab Emirates, Europe has found a way to live without Russian gas.
📬 Did a friend send you this newsletter? Welcome, please sign up.
🙏 Thanks to Nick Aspinwall and Javier E. David for edits to today's edition.